All You Need To Know About the Cambodia Tourist Visa
Are you eager to visit Angkor Wat—the city of temples—or does trying Cambodian cuisine sound more enticing to you? Don't miss out on this culturally rich country because you failed to check its entry requirements. DoNotPay explains whether you need a Cambodia tourist visa and what other conditions you need to fulfill to enter the country without problems!
Do I Need a Tourist Visa for Cambodia?
To enter Cambodia, U.S. citizens need to apply for a tourist visa (T-class), which grants a single entry and a 30-day stay. To apply for a Cambodia tourist visa, visitors will have to pay $30 and cash out an extra $30–$50 if they want to extend their stay for 30 more days.
Cambodia Tourist Visa—Requirements and Application Process
All you need to submit when applying for a Cambodia tourist visa are:
Your passport
Cash for the visa fee
Cambodia has stopped demanding passport photos for visa applications since 2017. Your passport must have at least one blank page and be valid for a minimum of six months after your estimated entry date to meet the Cambodia visa requirements.
Tourists should know that Cambodia suspended visa requests and currently has COVID-19 restrictions in place, including:
Limitations for gatherings
Closure of

Museums
Schools
Cinemas
Theatres
Once Cambodia mitigates COVID-19 restrictions, you can opt for three ways to apply for a Cambodia tourist visa:
On arrival
Online
At the Cambodian embassy
How To Apply for a Cambodia Tourist Visa on Arrival
After you enter Cambodia, you can complete an immigration card and apply for a visa at the airport you landed on or the land border crossing you passed through.
Check the table below to find all locations that issue Cambodia visas on arrival:
Type of Location
Details
Airports

Phnom Penh
Sihanoukville
Siem Reap

Cambodia-Vietnam border crossings

Bavet international checkpoint
Kha Orm Sam Nor international checkpoint ("Chau Doc crossing")
Phnom Den international checkpoint
Trapeang Phlong international checkpoint
Ha Tien international checkpoint
O'Yadaw international checkpoint
Trapeang Srer international checkpoint
Banteay Chakre international checkpoint

Cambodia-Laos border crossing

Nong Nokkhiane – Trapeang Kriel international checkpoint

Cambodia-Thailand border crossings

Cham Yeam international checkpoint
Poipet international checkpoint
O'Smach international checkpoint
Chong Sa Ngam/Choam international checkpoint
Prom international checkpoint
Ban Laem/Daung international checkpoint
How To Apply for a Cambodia Tourist Visa Online
If you choose to apply for a Cambodia tourist eVisa, you:
Have to pay an extra $6 service fee
Can use the visa to enter Cambodia within three months of the issuance
Need to wait three days for the Ministry of Foreign Affairs to process your request
How To Apply for a Cambodia Tourist Visa at the Embassy
To request a Cambodian tourist visa before your trip, contact or visit the Royal Embassy of Cambodia using the information from the table below:
Contact Information
Description
Phone number

202-726 7742
202-997 7031 (Khmer)

Fax
202-726 8381
Email
consular.camemb.usa@gmail.com
Address
4530 16th Street N.W. Washington D.C. 20011
Other Entry Requirements for Cambodia
Besides getting a tourist visa, other requirements you need to meet to enter Cambodia include:
You need to test negative for COVID-19 no later than 72 hours before your trip to Cambodia
Tourists need to provide proof of having minimum medical insurance coverage of $50,000 or buy a $90 insurance package from the Forte Insurance Company that's valid for 20 days
You need to make a $2,000 deposit in a designated bank that will cover any future fees you need to pay during the health insurance implementation process
These circumstances are subject to change, and you should contact the Royal Embassy of Cambodia for the latest information.
DoNotPay Helps You Apply for a Cambodia Tourist Visa With No Fuss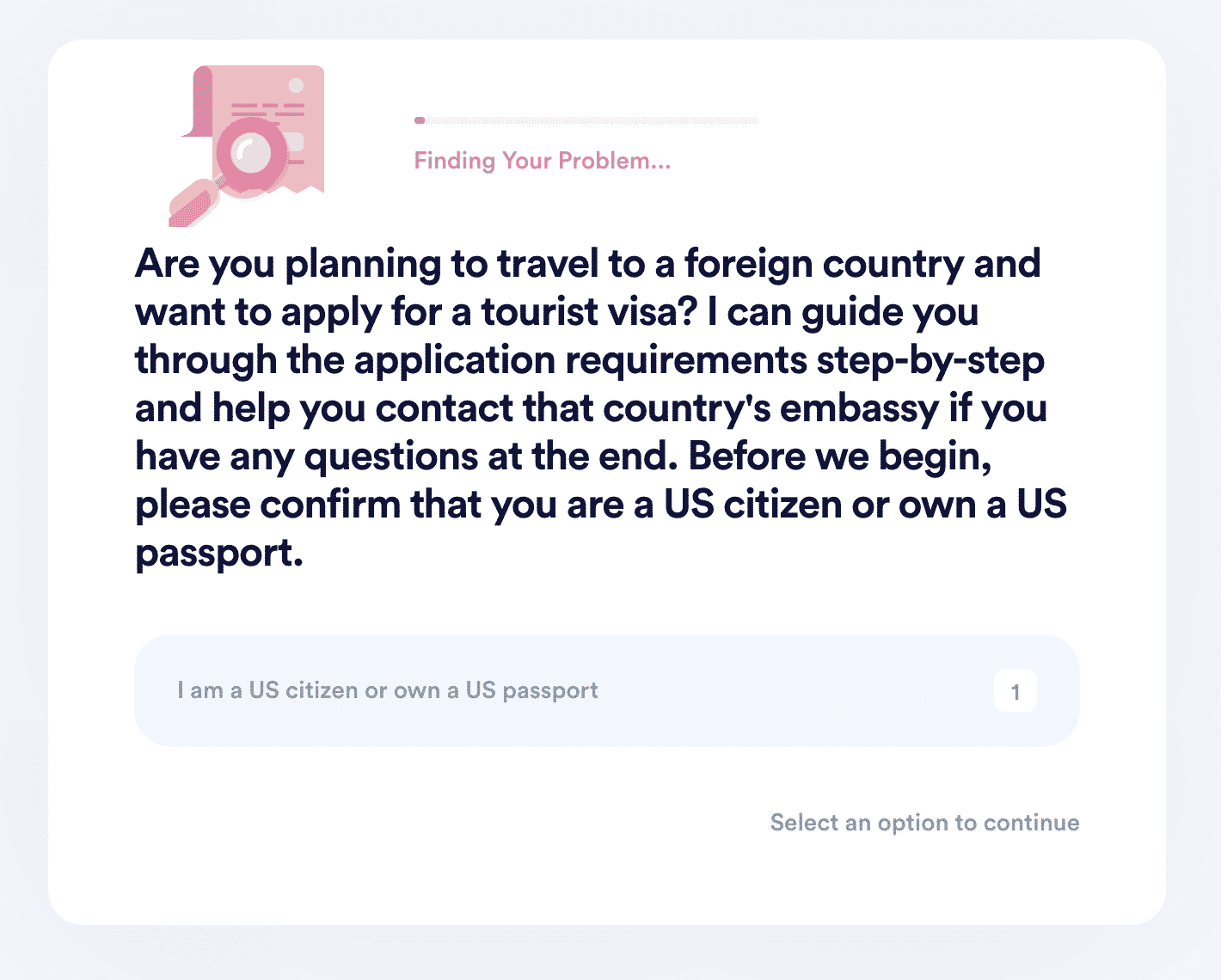 After Cambodia alleviates travel restrictions, expect longer visa application processing times due to the sudden increase in requests. If you plan on visiting Cambodia, you will want to apply for the visa in time to ensure you'll have it ready before the departure date.
By using DoNotPay, you're making sure you take the right steps towards the quickest possible application process.
DoNotPay can:
Contact the embassy of your destination country to inquire about remote applications
Send you a direct link to the online visa application page
Create a comprehensive PDF guide that explains the traditional visa application process and requirements for the country you're visiting
To receive assistance with any visa application:
Type Tourist Visa Guide in the search bar
Enter your next destination

Use DoNotPay To Get Help with Other Asian Visas
If you're only getting started with your trip across Asia, subscribe to DoNotPay to find out which countries require you to have a tourist visa and how to obtain it hassle-free! We covered the visa requirements from start to finish for the following countries in Asia:
DoNotPay Helps You Tackle All Kinds of Problems From the Comfort of Your Home
Are you too busy to go to Target, Walmart, or photo studios to get your passport photos taken? DoNotPay offers you the possibility of taking them yourself and having them edited without going anywhere!
Thanks to our app, you don't need to visit the post office if you want to initiate a return. You can also skip going to a notary office because we'll help you get your documents notarized.
Here are some other tasks you can complete with ease using DoNotPay:
We Help You Get Fuss-Free Subscriptions to Any Service
Interested in a specific service or platform? Make sure to get the best out of your free trial without getting charged and ending up with an unwanted paid membership. Even if you make a mistake, DoNotPay can end your subscription in a few simple steps!
Our system allows you to generate virtual credit card numbers to prevent platforms from getting your real bank details and using them for unauthorized transactions. We also offer burner phone numbers that will help you go through any subscription or verification procedure without disclosing personal details.