Is Calling the Cops on Neighbors for Drugs Legal?
Are your neighbors' drug-related activities bothering you? Do you want to report them to the police? Calling the cops on neighbors for drugs can be quite tricky, especially if you don't want to get involved with the wrong crowd.
can teach you everything you need to know about solving your neighbor-related problems in an instant! We can provide practical advice on how to deal with bad neighbors legally and resolve annoying issues effortlessly.
Do I Have Grounds To File a Complaint About My Neighbor's Drug Obsession?
You could argue that if other people are making, selling, or doing drugs, it's their problem, not yours. Unfortunately, it can quickly become your problem, especially if the neighbor's disruptive behavior and drug usage or distribution becomes a nuisance. If you suspect that illegal activities are taking place in your neighborhood, you should call the cops on your neighbors.
You should only report your neighbors if you've exhausted all other options to salvage the situation. You have the right to file a complaint if:
Your neighbors smoke weed, and the smell is reaching your apartment, exposing you and your children to secondhand smoke
Your neighbors are rude and aggressive to everyone because of their drug addiction
You found out that your neighbor is manufacturing and selling drugs illegally
You're sure that your neighbors are involved in illegal activities
Your neighbor is selling drugs to young kids
Before calling the police on your neighbors, check your state's laws to confirm what drugs are considered illegal there. It is important to have documented proof of your neighbor manufacturing or selling drugs to have a valid case.
Other Steps To Take Before Calling the Cops on Neighbors for Drugs
If your neighbors are only enjoying drugs without manufacturing or dealing them, you may want to take a different approach. Instead of calling the cops as the first step to solving the problem, take the high road and try these remedies first:
Talk to your neighbors
Call your neighbors' landlord
Send them a demand letter
Talk to Your Neighbors
Open communication is the best way to handle a situation where a neighbor's drug use is bothering you. Avoid being bossy and holier-than-thou when you have the conversation. Here's what you can do:
Bake some homemade (unhappy) brownies to take with you
Figure out a time of day they are sober enough to bother with what you have to say
Exchange pleasantries before diving into the issue
Be polite while talking to them—anger and frustration will only worsen the situation
Tell them how their drug use is affecting you, especially if you have children
Inform them of the side effects of drug use—not only the effects on them but the surrounding people as well
Offer solutions, such as:

Placing a wet towel between their door and the floor to stop any smoke from going out
Choosing a different place to do drugs, one that is well-ventilated
Placing scented candles to mask the smell
Quitting drugs entirely and seeking help for their addiction
Call Your Neighbors' Landlord
If your neighbors' pot smoke still wafts over to your apartment at all times of the day, you should get in touch with their landlord or the building manager. Express your concerns about the situation and ask them if there are any building rules related to drug use. Depending on the lease agreement, the landlord might issue a formal warning or evict the drug users from the apartment.
Send a Demand Letter
If your neighbors are still too high and mighty to address your concerns, send them a demand letter. Talk to other neighbors in your building to check whether they share your concerns. If they do, get them to sign your letter too.
A demand letter will warn the neighbors to put a stop to their drug dealing or usage and inform them of the possible legal consequences of not addressing the matter. It should be well-drafted to show that you mean business.
Do you need help in creating a killer demand letter? Use DoNotPay and take care of your complaint in minutes!
DoNotPay Can Send the Demand Letter to Your Neighbors
If you have inconsiderate neighbors who refuse to listen to your concerns, you don't have to resort to calling the cops on them—our app will create a rock-solid demand letter for you in the blink of an eye!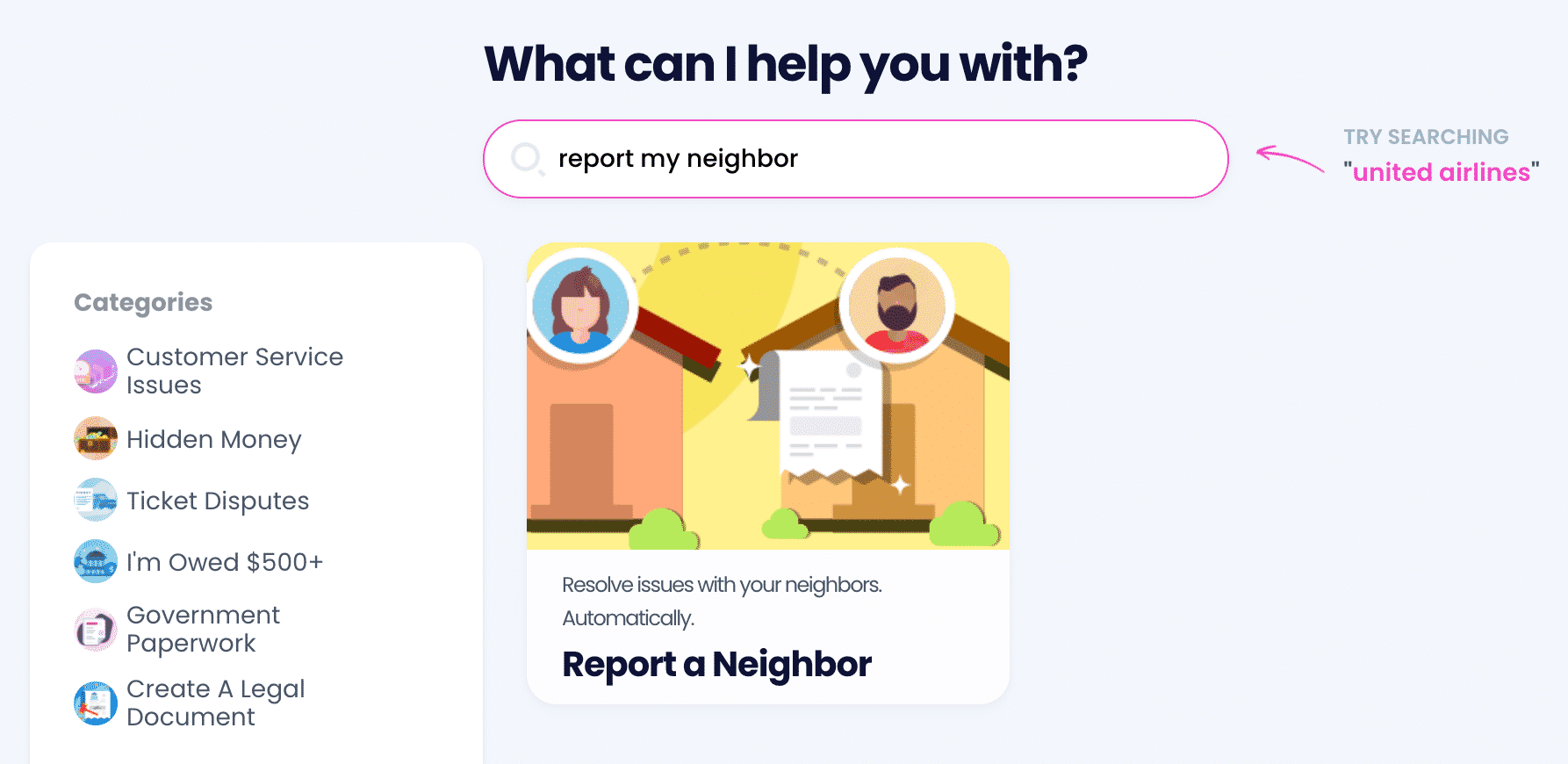 Here's what you need to do:
Select the Neighbor Complaint tool
Provide us with additional details about the complaint you have
Once we create the personalized demand letter, we will send it to your neighbor. Most of the time, that is enough to convince your neighbor to put an end to their annoying activities. If they don't, you can proceed to lodge a complaint with the local authorities.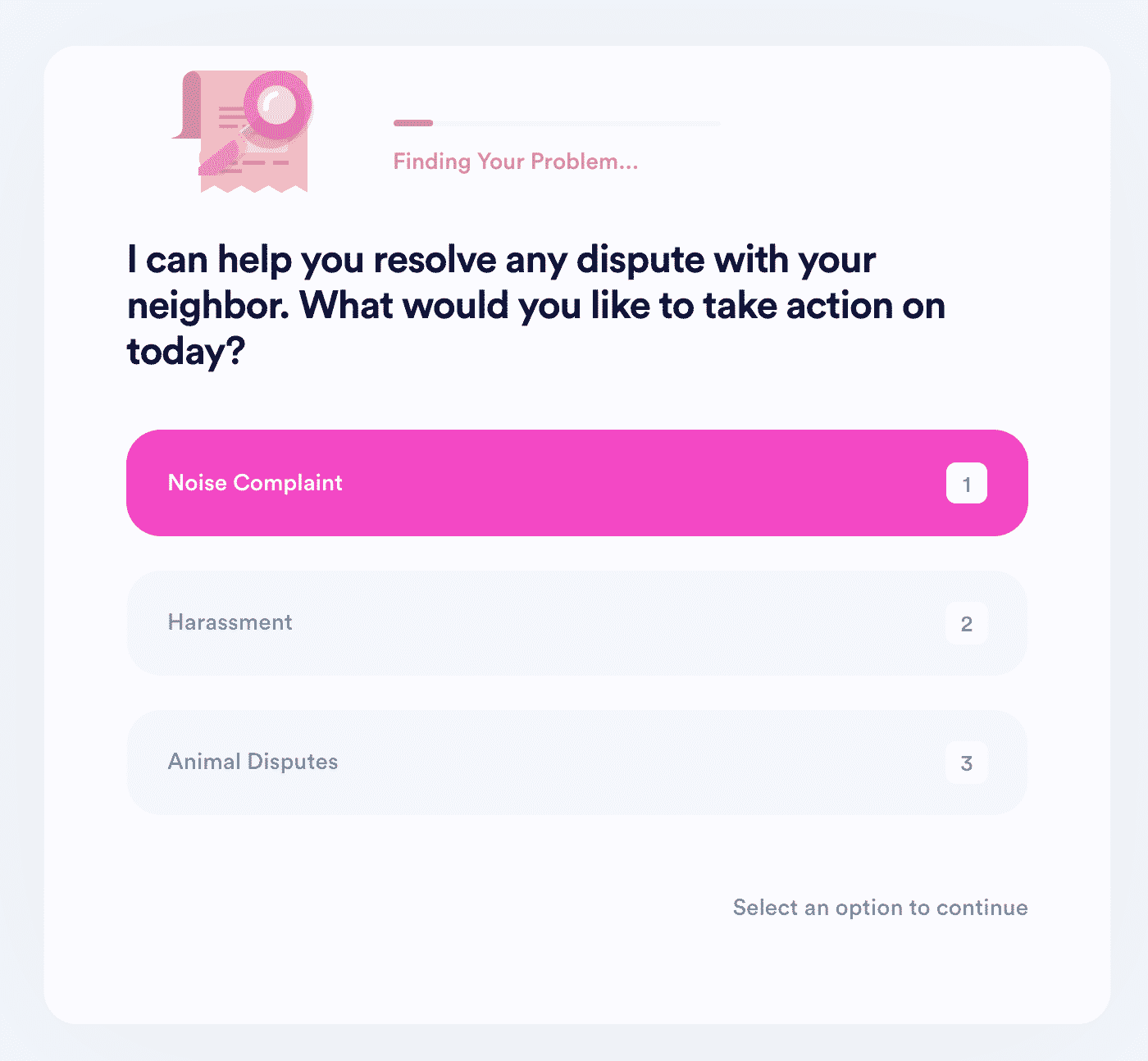 DoNotPay Can Be Your Hero in Dealing With Mean Neighbors
DoNotPay provides practical advice on various neighbor-related issues. Do you have more concerns you need to raise with your neighbors? Check out the table below to see a few of the neighbor issues we can help you out with:
| | | |
| --- | --- | --- |
| Noise Issues | Pet Problems | Other Concerns |
| | | |
More Nifty Solutions to Annoying Problems
If you're dealing with problematic neighbors or coworkers, you're not alone—our app can help you handle these issues with our Neighbor Complaints and Fight Workplace Discrimination products.
No problem is too big or too small for DoNotPay! Check out the best time- and money-saving solutions to different nuisances:
| | |
| --- | --- |
| Issues | Solutions |
| Email spam | Using DoNotPay's spam collector |
| High college fees | Applying for college fee waivers |
| Bothersome robocalls | Getting back at robocalls |
| Late delivery | Requesting a late delivery refund |
| No fax machine | Sending faxes online |
| High property taxes | Applying for property tax exemptions and appealing your property assessment |
An Array of Hacks To Help You Deal With Greedy Companies
Nobody likes to spend more money than they have to. DoNotPay is here to offer many penny-pinching hacks and also stop companies from taking advantage of you.
Almost every free trial nowadays isn't really free. Companies request your credit card info and auto-renew subscriptions. Fight this sneaky practice by using DoNotPay's virtual credit card next time you want to snatch a free trial. We'll also uncover any unwanted memberships you have mooching off of you and help you cancel them in a few clicks.
If you need to contact a company's customer service, avoid wasting your time and money on hold and count on our app to wait in your stead.
Do you need to get your money back, but you don't know how? Use DoNotPay to: