Get a Callcredit Trial Today Without Banking Info

Free trials are a great way to try out a service to see if you like it. However, many free trials often require you to give your credit card information. When life gets busy, you might forget to cancel the subscription if you decide you don't like it and end up paying for a service you don't need.
You can get a risk-free trial of Callcredit using a free virtual credit card with the help of DoNotPay. There are no strings attached and it is a free service.
What to find out more? Read on to discover how DoNotPay can help with as well as the many other services we offer.
How Does a Free Trial With Callcredit Work?
TransUnion, one of the four UK Credit Reference Agencies that collects and provides credit history and public record information to businesses and consumers, was previously known as Callcredit. Equifax, Experian, and Crediva are the other three companies. , aka TransUnion, uses Check My File for their free trial subscription.
To begin your free trial, you will go to the Check My File website and fill out the information. Here are a few things to keep in mind before you sign up:
You will then have 30 days to try the service, and as long as you cancel before the 30 days, you won't be charged.
If you decide to keep the service, you will be charged £14.99 per month.
If you miss the 30-day cutoff, you will be charged for the full month and you won't get a partial refund. You will simply retain access for the next 30 days.
We all know how busy life gets, and it is easy to forget to cancel those free trials. DoNotPay uses a virtual credit card so you don't have to worry about forgetting to cancel it. The subscription simply won't renew and you don't have to worry about charges on your credit card.
If you do intend to keep the service, you will simply change the card on file to your credit card.
How to Cancel CallCredit Free Trial on Your Own
If you decide that you don't want to keep the service after the free trial, you can cancel it on your own. However, keep in mind that you must cancel before 30 days or your free trial becomes a paid trial. There are a few different options for canceling, which include:
Freephone
0800 640 4265
Secure Message Online
Email
customer.care@checkmyfile.com
As you can see, this can be frustrating and time-consuming. If you use DoNotPay's virtual credit card to begin any free trial, you will eliminate these steps and be able to enjoy your free trial truly risk-free.
Steps For Using DoNotPay to Get Your Risk-Free Trial With Callcredit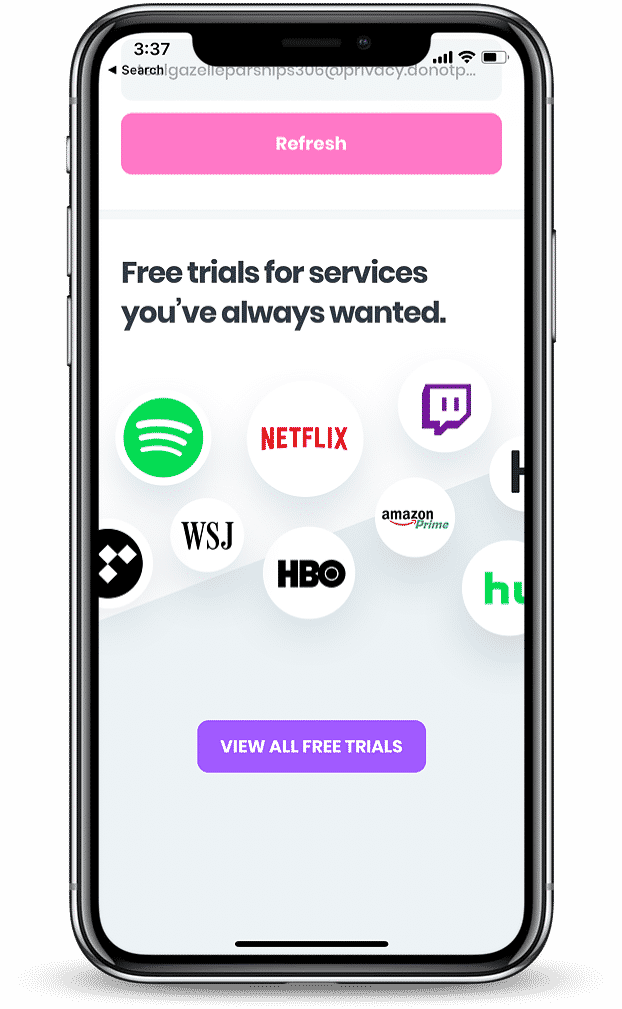 DoNotPay can make that risk-free trial truly risk-free with the help of a virtual credit card using these simple steps:
Search for the free trial card on DoNotPay and enter the company name that you would like to try.
We will generate a virtual credit card that you will use for your free trial. Copy and paste the card details exactly as shown on your screen.
Sit back and enjoy your risk-free trial! This card will simply deactivate after the first use, so there is no chance of you being charged ever.
Note: Our cards are US-based. Cards can be used for any service that accepts US-based cards.
And that's it! DoNotPay can help you relax knowing that you aren't going to be charged for a service you may not want. Just sit back, relax, and enjoy your free trial worry-free.
What Else Can DoNotPay Do?

DoNotPay doesn't just work with Callcredit. DoNotPay can also work with many free trials such as:
DoNotPay Can Help With Many Different Issues
DoNotPay doesn't just help you get free trials, we can also help with:
DoNotPay is a useful tool that can help with so many different issues you may run into in life. With the help of DoNotPay, get your without using your credit card.