DoNotPay Breaks Down the California Statutory Power of Attorney
California statutory power of attorney (POA) laws can be difficult to grasp at first, but DoNotPay will help you understand them in no time!
Our article will also explain the different types of POA and show you how to draft a non-statutory POA like a pro!
California Statutory Power of Attorney—The Basics
A California statutory power of attorney is a form issued by the State of CA that authorizes a person (the agent) to handle financial matters and make decisions in another person's (the principal's) name. This document is effective immediately and is considered durable unless stated otherwise. A durable power of attorney remains in effect even after the incapacitation of the principal.
A statutory power of attorney differs from a regular POA document in that it's created by law.
In case the principal wants to change the type of power of attorney, they can choose one of the following:
Limited Power of Attorney
With a limited power of attorney, the principal grants the agent defined and limited powers over specific tasks. They can also give powers to the attorney-in-fact for a specified amount of time.
Springing Power of Attorney
A springing power of attorney comes into effect when one or more physicians confirm that the principal is mentally or physically incapacitated. An attorney-in-fact may also be authorized to determine the incapacitation of the principal, but that's only the case if the POA document stipulates it.
What Does a Statutory Power of Attorney in California Contain?
The statutory power of attorney form in California contains the following sections:
Section
Details
Names
Once the principal chooses a person they'll appoint as their agent, they need to enter the names and the addresses of all parties
Powers
This section includes all the powers that are transferred to the agent. The principal needs to choose which ones they want to assign to their attorney-in-fact
Special instructions
In the special instructions section of the statutory POA form, the principal needs to state whether they want the POA to be limited or springing
Substitory agents
If the principal wants to have more than one person as their agent, they can state so in this section
Notary acknowledgment
Once the principal fills out the form, they need to sign it with their agent in front of a notary since it's required by California law. The notary will add legal weight to the POA by:

Confirming the identities of all signing parties
Making sure that both the agent and the principal are of sound mind and not under any influence
Witnessing the signing
Adding the notary signature
What Powers Does a California Uniform Statutory Power of Attorney Transfer?
A California uniform statutory POA authorizes the attorney-in-fact to make decisions in the principal's stead regarding:
Real property transactions
Tangible personal property transactions
Stock and bonds
Commodity and option transactions
Banking and other financial institution transactions
Business operating transactions
Insurance and annuity transactions
Estate, trust, and other beneficiary transactions
Claims and litigation
Personal and family maintenance
Benefits from social security or other governmental programs
Retirement plan transactions
Tax matters
Where To Get a California Statutory Power of Attorney
If you perform a Google search for a California statutory power of attorney document, several official forms will show up on the first page. It doesn't matter which one you choose as they're all drafted under the Uniform Statutory Form Power of Attorney Act Law.
In case you need a non-statutory power of attorney document, sign up for DoNotPay, and we'll generate a tailor-made POA for you.
Frequently Asked Questions About the California Uniform Statutory Power of Attorney
Before getting a California statutory POA, check out the frequently asked questions regarding the document, including:
Does a California statutory POA authorize the agent to make medical decisions?
Can an attorney-in-fact change a will?
Can you revoke a California statutory POA?
Does a California Statutory POA Authorize the Agent To Make Medical Decisions?
A California statutory POA doesn't authorize the agent to make medical or other healthcare decisions for the principal.
Can an Attorney-in-Fact Change a Will?
The agent named in the California statutory power of attorney cannot change, alter, or revoke the principal's will.
Can You Revoke a California Statutory POA?
The principal can revoke or terminate the California statutory POA at any time as long as they're competent.
Get a Tailor-Made California Power of Attorney With DoNotPay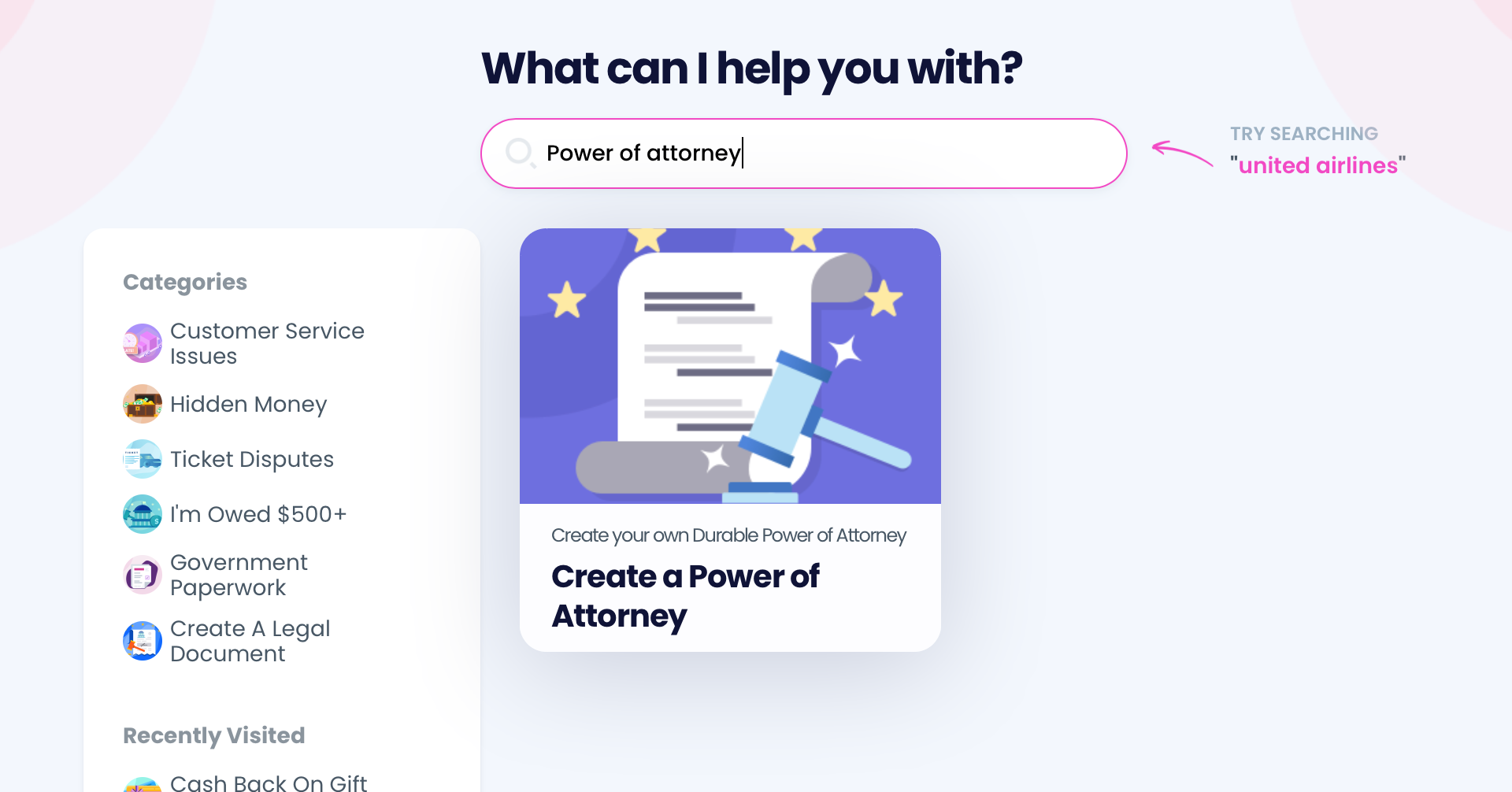 Need a California power of attorney letter but don't know where to get one? DoNotPay can generate one for you in a few easy clicks! Here's how:
Select our Create a Power of Attorney product
Fill in the necessary details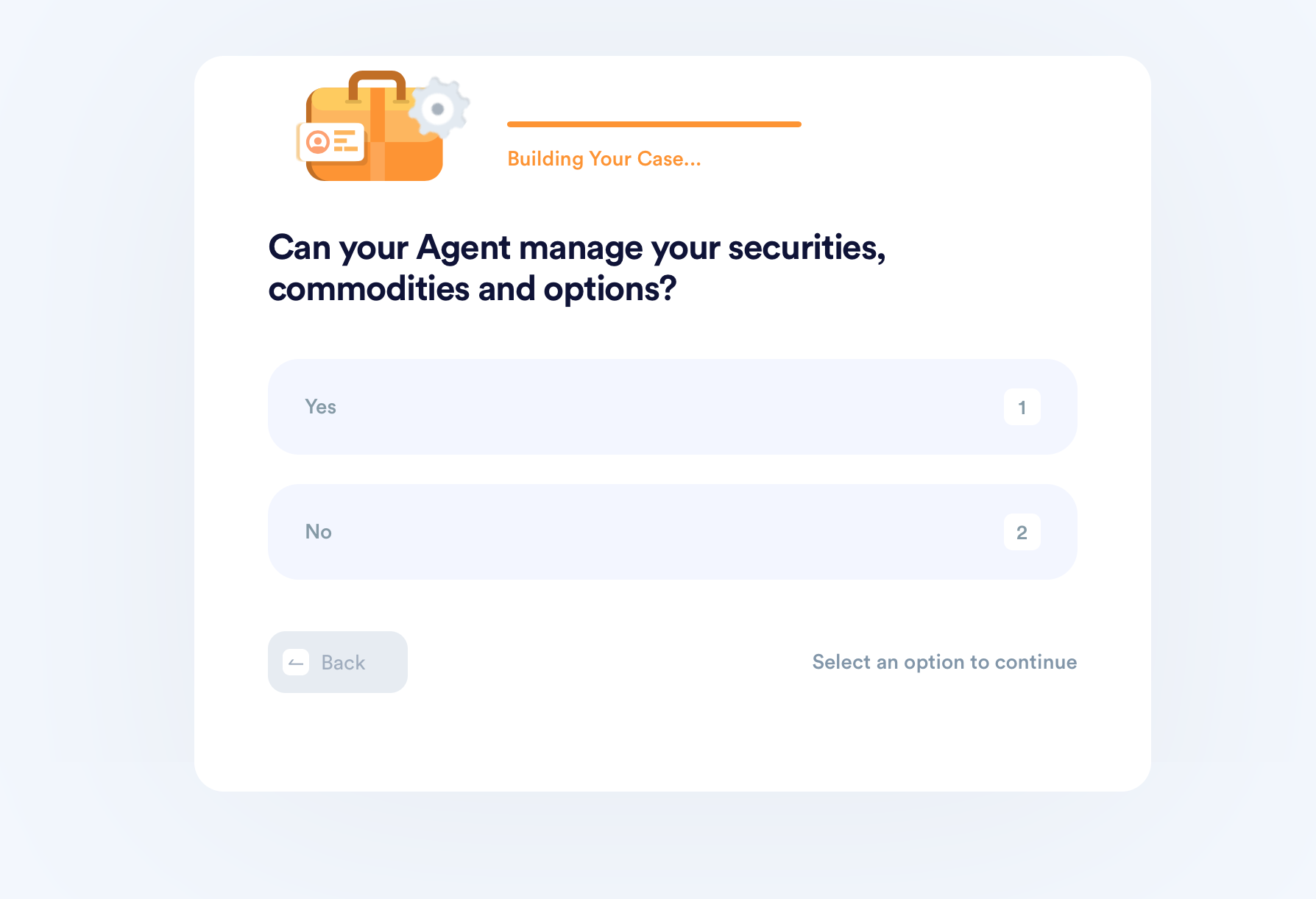 We'll generate a professional POA and two notices for you in no time, and then you can sign the document and get it notarized.
Check out DoNotPay's knowledge base to find more power-of-attorney-related articles, such as:
DoNotPay Resolves Both Bureaucratic and Legal Issues
One of our app's best qualities is its versatility. You can use your personal AI-powered assistant to overcome both legal and bureaucratic obstacles without breaking a sweat. No more waiting in lines or breaking the bank due to sky-high lawyer fees!
Take a look at what you get access to for a low monthly fee:
Can DoNotPay Do Anything Else?
The world's first robot lawyer is capable of so much more! No matter if you want to find your unclaimed money, apply for clinical trials, get rid of email or text spam, prepare for a government test, fight workplace discrimination, or get gift card cash back, DoNotPay can help!
What are you waiting for? Sign up for DoNotPay now to enjoy our nifty products!