California Statute of Limitations for Breach of Contract Explained by DoNotPay
Have you waited to file a breach of contract lawsuit, and now you do not know whether your case is still relevant? In this article, DoNotPay will explain everything about the California statute of limitations for breach of contract, i.e., how long you have to pursue the case in court.
If you do not want to file the claim for breach of contract yet, you can send a demand letter to your client to seek remedies and collect damages. Our app will help you create a professional breach of contract demand letter in a few minutes.
What Constitutes a Breach of Contract in California?
A breach of contract in California occurs when one party fails to perform their obligations as described in the agreement. If the breach destroys the essence of the agreement, it is a material breach of contract—the most severe type of breach.
To prove a breach of contract, the non-breaching party needs to demonstrate the following elements:
Existence of a valid agreement
Non-breaching party's fulfillment of terms of the contract
Breaching party's failure to fulfill the terms of the contract
Damages and losses the breach has caused
If you cannot prove each of the elements, the defendant might use it as their defense.
What Is the Statute of Limitations for Breach of Contract?
A statute of limitations is a law that dictates a specific timeframe within which a plaintiff may file a lawsuit. If the plaintiff fails to raise a claim within that period, their case can be dismissed.
The statute of limitations exists to ensure that lawsuits do not lose their relevance. It also reminds the plaintiff that they should start their case while the evidence is still accessible and the witnesses' memories are reliable.
Statute of Limitations for Breach of Contract in California
To determine how long you have to sue the breaching party, you will first need to determine your cause of action, i.e., the legal reason for suing. In case of a breach, the legal reason for suing is the other party's failure to perform their contractual obligations.
Check out the table below to see the time limit for different types of contracts in California:
| Type of Contract | Time Limit |
| --- | --- |
| Written agreement | Four years |
| Oral agreement | Two years |
If you're suing a government agency or office for a breach of contract, the statute of limitations is one year from the date when the contract was breached.
The statute of limitations is different for contracts that pertain to the sale of goods (as defined in the California Commercial Code). The timeframe for such contracts is four years, regardless of whether they are written or oral.
Are There Any Exceptions to the California Breach of Contract Statute of Limitations?
The exception to the statute of limitations is called tolling. Tolling is a term that describes the suspension of the statute of limitations for a specific period. The time begins to run again once the reason for tolling ends.
The reasons for tolling are as follows:
Defendant is a minor—Statute of limitations starts once the defendant is considered a legal adult—in California, at the age of 18
Defendant is out of state or imprisoned—Statute of limitations starts once the defendant returns to California or gets released
Can You Resolve Your Issue Out of Court?
Litigation can be expensive and time-consuming, but there is a way to resolve the issue out of court—sending a demand letter before suing.
Writing a demand letter will:
Speed up the process
Give the breaching party a chance to rectify the situation
Inform the defendant about your intentions to take legal action
Leave written proof that you wanted to resolve the issue out of court
How To Create a Demand Letter
Find the suggestions for drafting a demand letter below:
List all the facts about your case
Let the breaching party know that you expect them to fulfill their obligations described in the agreement—be formal and polite
Warn the defendant of your intention to sue if they fail to perform
Give a final due date by which the defendant should fulfill the terms
You can try to write a demand letter by yourself using online templates, but this is not advisable if you are unfamiliar with legal terminology. We have a more elegant solution for you—register for DoNotPay to get a formal demand letter in minutes.
DoNotPay Creates a Reliable Demand Letter in Three Steps
DoNotPay ensures that your demand letter meets all the necessary legal requirements, covers all the main points of your request, and caters to your needs. With our Client Breach of Contract product, you will have your letter in a few minutes.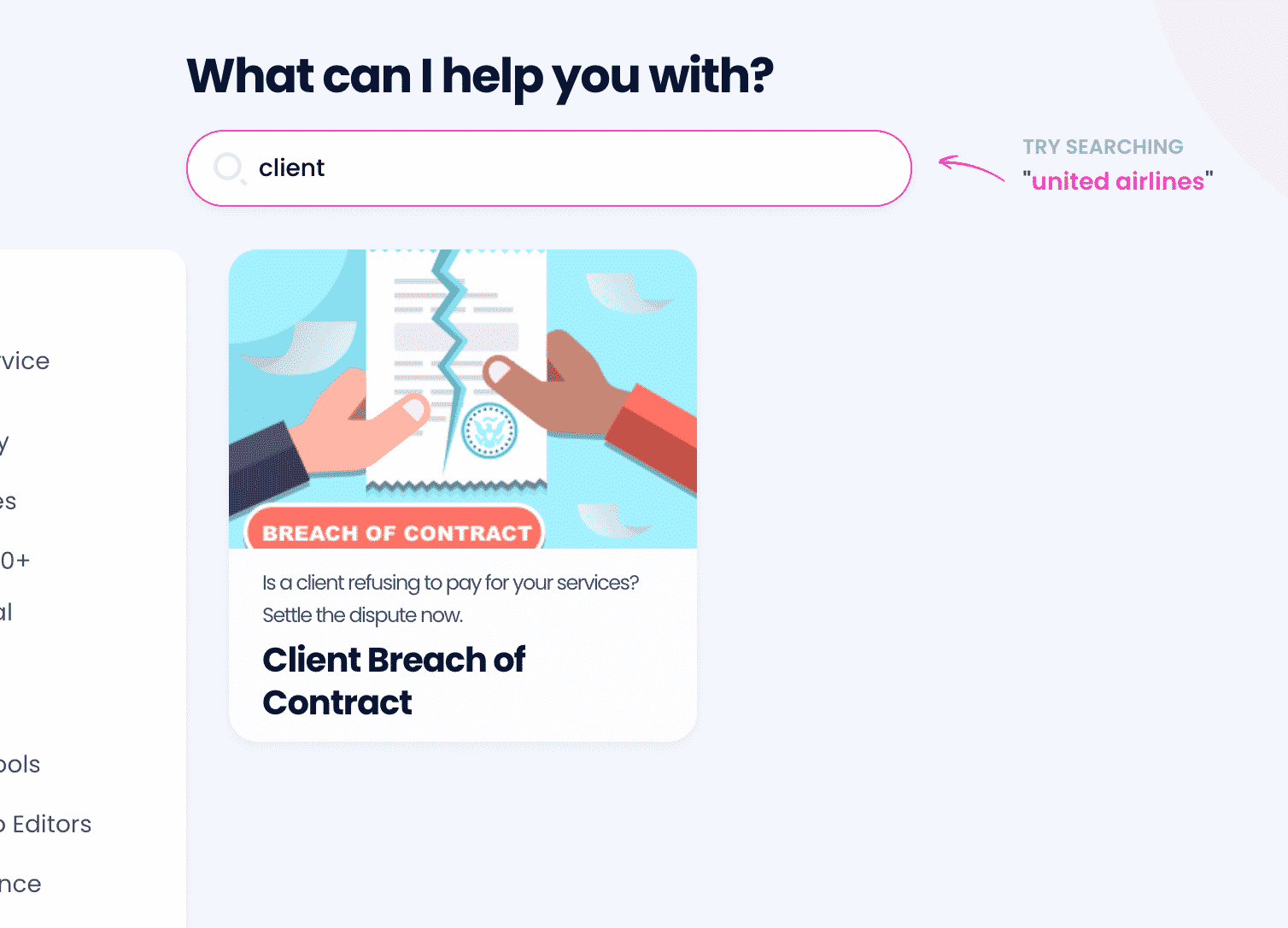 Register for DoNotPay and follow the steps below:
Open the Client Breach of Contract product
Tell us the necessary info about your case—information about your client, the date when the last payment was due, etc.
Describe the performed services
Indicate the final due date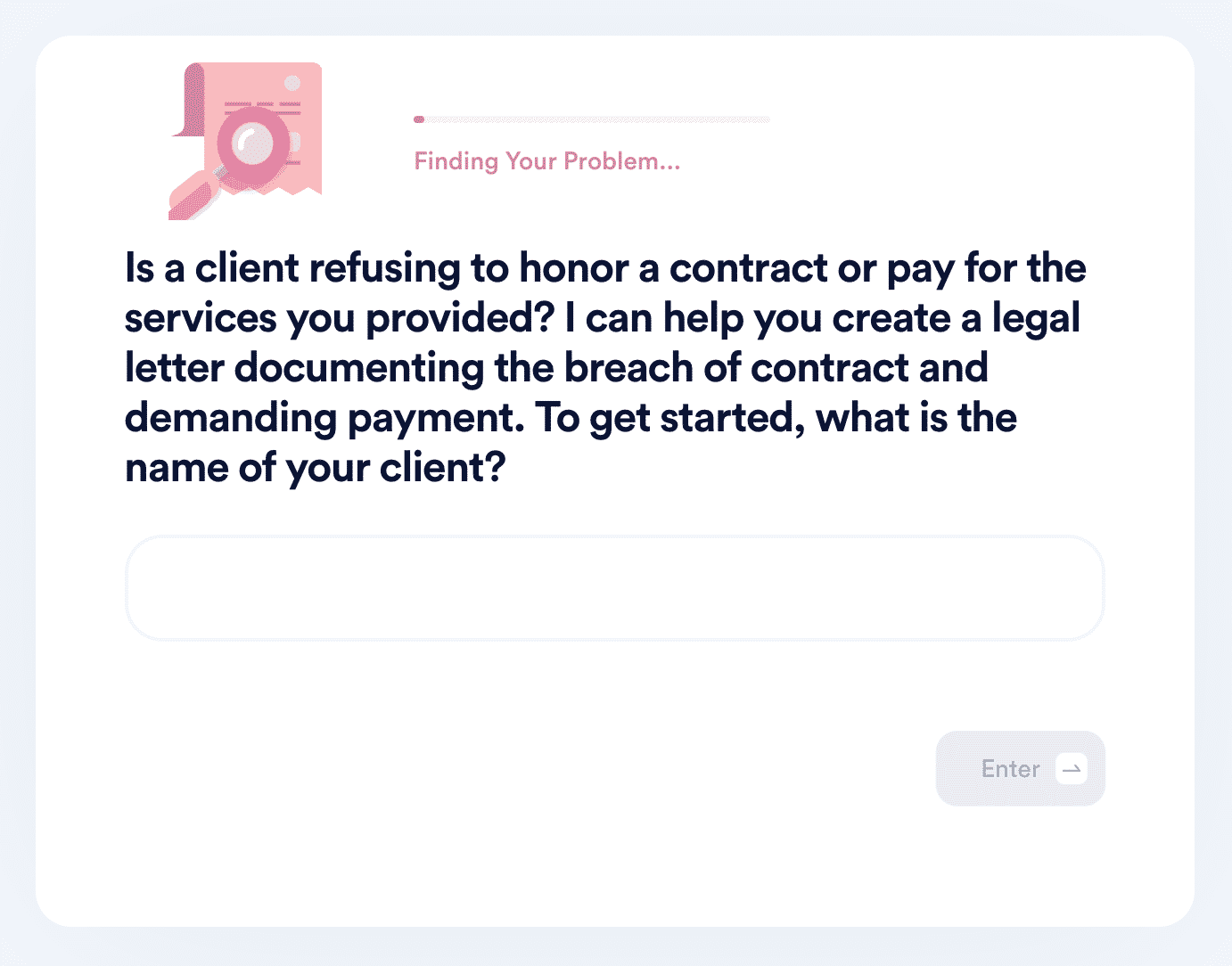 Get the Upper Hand With DoNotPay
The business world is extremely competitive—that is why it is always good to have some extra capital set aside when you need to invest in your company. You can leave the bureaucratic task to us—DoNotPay will draw up business loan request letters in your stead.
If your finances are taking a hit, rely on our app. With our assistance, you will be able to:
Fight fraudulent chargebacks
Remove fake negative reviews online
Register and protect your trademark
Send mail and faxes at no additional cost
Handle clients breaching contracts and get what you are owed
Whatever the task at hand, our AI-powered app will see it through successfully.
DoNotPay—The Assistant Every Business Needs
You cannot escape bureaucracy in business. What you can do is let DoNotPay deal with it. Whether you need to register a DMCA agent or complete an Employer Identification Number (EIN) registration, our app will lead the way.
Using DoNotPay, you will also not have to worry about 83(b) election forms or Privacy Shield self-certification. From generating to filing important documents and from dealing with employees to handling clients on your behalf, our AI-driven app is your go-to solution.
Grow and protect your business with the world's first robot lawyer!