Affording Education With California Scholarships
As tuition and attendance costs are on the rise in the Golden State, many students seek financial aid to pay for education. Out of all types of financial aid, grants and scholarships are the most popular option among California students as they don't require repayment. Scholarships outnumber grants, and you can get them for various reasons, the most common being academic merit and financial need.
What California scholarships can you qualify for, though? DoNotPay reveals the opportunities that can help you afford higher education in California.
How To Find California College Scholarships
Knowing that there are numerous California scholarships waiting for you, you may struggle with deciding where to start your search.
Some of the sources you can use to find California college scholarships include:
Federal agencies
The California Student Aid Commission
Dedicated non-profit organizations for students, such as:

The California College Pathways (CCP) initiative for foster youth
The California State Parent Teacher Association

The Financial Aid Department in your school
Organizations for particular student groups, such as:
How To Apply for Scholarships in California
To apply for scholarships in California, you will most likely have to submit the following documentation:
You can also opt for no-essay scholarships. Most will require you to submit only some basic personal information, such as your full name, school's name, and field of study.
Subscribe to DoNotPay to streamline your application process for no-essay scholarships! All you need to do is answer a few short questions and let our app apply on your behalf automatically!
Grants and Scholarships for California Students You Should Check Out
Choosing between all available scholarship opportunities in California can be challenging. Here are some of the best grants and scholarships for California students, organized by the following categories:
Scholarships for juniors in high schools in California
Scholarships for college students in California
California state scholarships and grants
California community college scholarships
Scholarships for graduate students in California
Scholarships for Juniors in High School in California
The perfect time to start looking and applying for scholarships is in your junior year of high school. Some of the best scholarships in California for high school juniors are:
The California Association of Collectors Educational Scholarship Foundation—Awards $2,500 to high school juniors or seniors who plan on pursuing higher education within 12 months of graduation
Jack Kent Cooke Young Artist Award—Offers $10,000 to classical instrumentalists, vocalists, and composers between the ages of 8 and 18 who did not enroll in college in the upcoming academic year yet
Scholarships for College Students in California
Undergraduate students in California should check out the following scholarships:
Ralph Hale and Martha L. Ruppert Educational Scholarship—Offers up to $10,000 to students who started progressing academically in their final years of high school or first years of college. Because of their low GPA, those students would be ineligible for scholarships based on academic merit otherwise
L. Gordon Bittle Memorial Scholarships—Awards students who are members of the Student California Teachers Association (SCTA) and are pursuing a career in public education with up to $2,000 per year
California State Scholarships and Grants
The State of California helps its residents afford higher education with various scholarships and grants, some of them being:
The Cal Grant

Competitive Awards
High School Entitlement Award
Transfer Entitlement Award

The Golden State Teacher Grant Program
The Law Enforcement Personnel Dependents Grant Program
California Community College Scholarships
Community college students in California can qualify for scholarships, such as:
The California Community Colleges Scholarship Endowment (CCCSE)—Awards over 3,000 community college students every year with $1,200 they can use for textbooks, lab equipment, and other supplies for class
The Palo Alto Rotary Club Vocational Scholarships—Offers up to $2,000 to students planning on enrolling in an accredited career program or vocational program at a community college in Santa Clara and San Mateo Counties
Scholarships for Graduate Students in California
Scholarships for graduate students aren't as common as other scholarship categories, but they do exist and help students afford their final stages of education. Some of the best ones in California include:
The Matsuo Bridge Company Ltd. of Japan Scholarship—Awards students pursuing a degree in civil engineering, welding engineering, welding engineering technology, and some other STEM programs
The David C. Lizárraga Fellowship—Offers various amounts of help to first-generation college students pursuing a master's degree in business administration or engineering
DoNotPay Helps You Find California Scholarships in a Flash!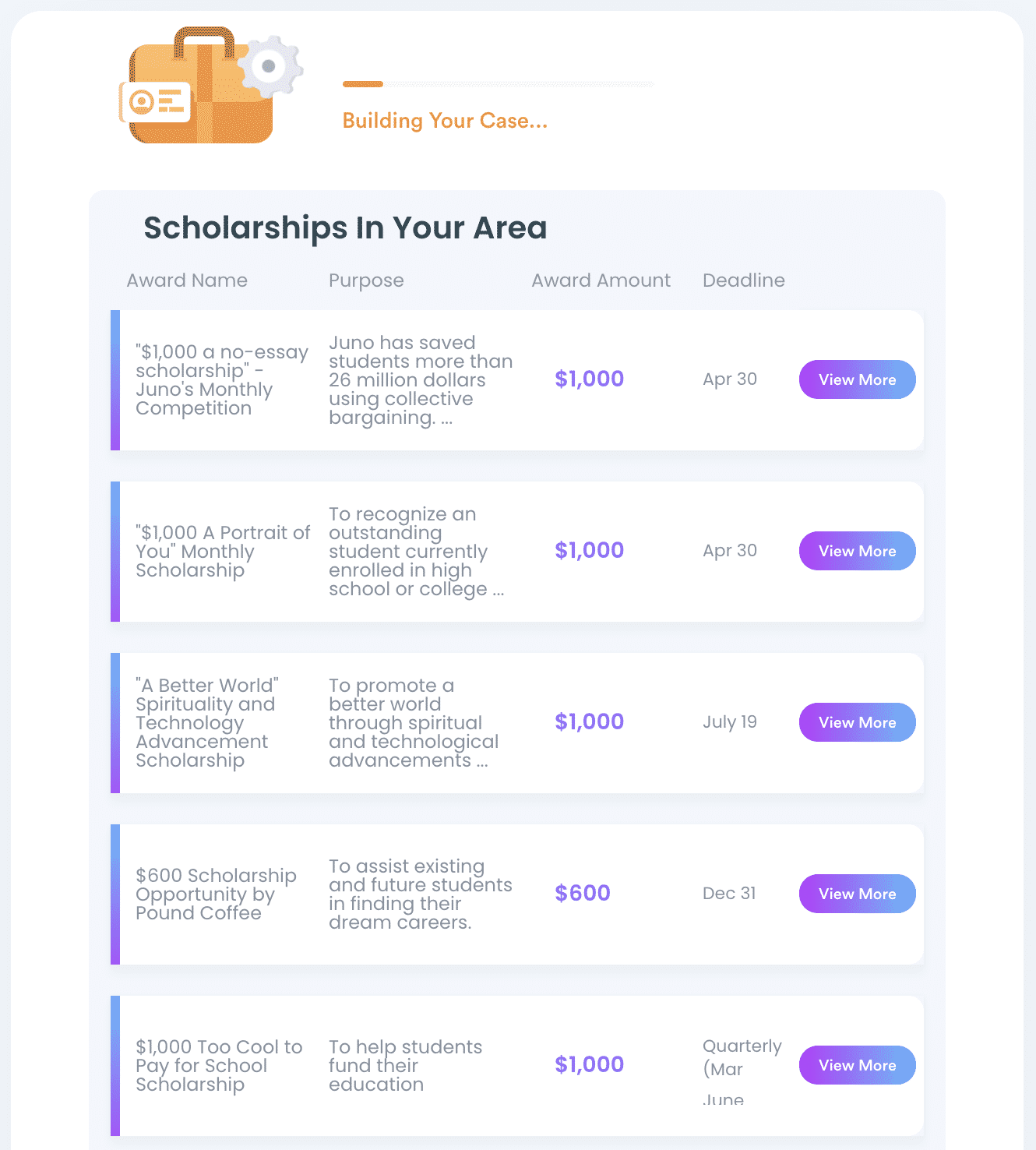 Now that you know your available opportunities, you can find even more using DoNotPay! Answer some questions about your field and level of study and additional information, such as your location, to find the best scholarships available to you.
Our app can help you:
Learn about requirements for different scholarships
Compare award amounts
Locate the best awards for you
To get a custom list of California scholarships, you need to:
Search for the Apply for Scholarships feature
Tell us more about yourself and your level of study
We will compile a list of all available California scholarships you're eligible for!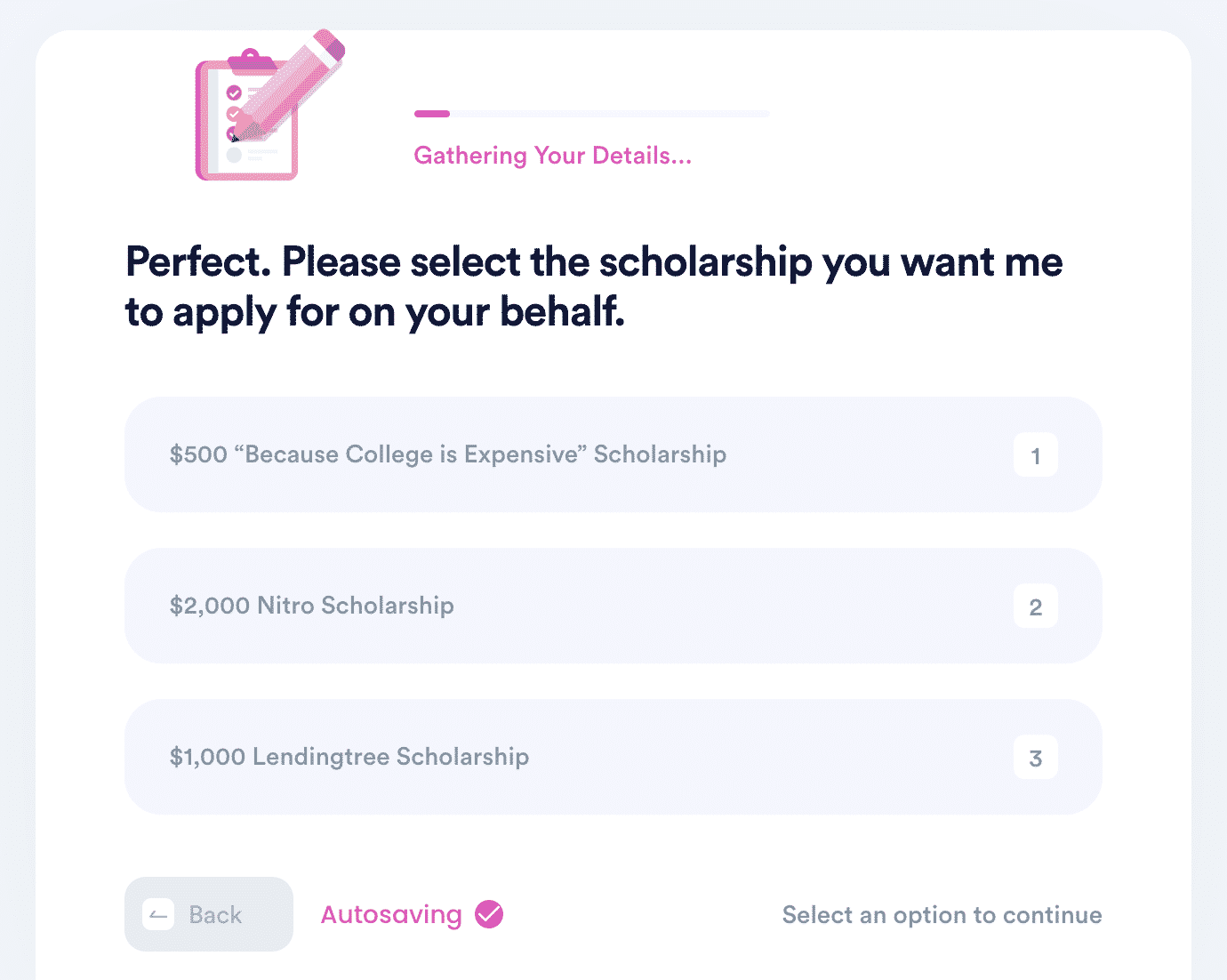 DoNotPay Offers Quick Solutions to Tedious Problems
Are you overwhelmed by your never-ending to-do list? We're happy to jump in with a perfect solution to deal with everyday tasks the easy way!
Once you subscribe to DoNotPay, you'll be able to schedule DMV appointments, lower your monthly bills, and contest parking tickets without breaking a sweat!
If you are looking for further assistance, our app will show you how to deal with the following tasks effortlessly:
Rely on DoNotPay's Legal Assistance Any Time!
If a company refuses to cooperate, use DoNotPay—the world's first robot lawyer—to sue it in small claims court! Getting the justice you deserve is only a few clicks away!
You can also use our app's various features to do the following: