California Residential Purchase Agreement
in a Nutshell
If you intend to sell or buy real estate in the Golden State, you will need to have a California residential purchase agreement. You need this legal document to make sure the entire process runs smoothly. to find out everything about this contract and create other agreements!
What Is a
California Real Estate Purchase Agreement
?
A California real estate purchase agreement is a contract between a buyer and a seller of property in this state. This type of agreement usually includes provisions and promises that the real estate is in good condition.
Every residential purchase agreement in California needs to include:
You need to be certain that everything is included in the document before signing it because, once you do, this agreement will be legally binding. Everything that is written in a real estate purchase agreement can be used in court against the other party.
Necessary Disclosures in the California Real Estate Purchase Agreement
Like any other state, California has a set of disclosures you need to have when buying and selling property. The buyer can end the agreement within three days in case they do not get any of the following disclosures:
Wood Destroying Pests and Organisms Inspection Report (BPC § 8516)

—The buyer should receive it after the inspection is complete

Water-Conserving Fixtures and Detector Notice (CC § 1101.4)

—The status of carbon monoxide detectors and info on any water-conserving fixtures that should be replaced

Water Heater and Smoke Detector Compliance (HSC § 13113.8)

—Proof that the water heater and smoke detector are in compliance with state law

Transfer Disclosure Statement (TDS) (CC § 1102)

—A specific statement the seller needs to complete

Natural Hazard Disclosure Statement (CC § 1103.1)

—If the property is in possible danger of any kind of natural hazards

Megan's Law

—All purchase agreements in California have to include the "Megan's Law" clause about sex offenders in the vicinity of the property

Local Option Real Estate Transfer Disclosure Statement (CC § 1102.6a)

—In case a local jurisdiction asks for it

Lead-Based Paint Disclosure

—A necessity for all real estate constructed before 1978

Homeowner's Guide to Earthquake Safety (CC § 2079.8, CC § 2079.9)

—Every homeowner needs to have instructions on dealing with an earthquake

Military Ordinance (§ 1102.15)

—Sellers need to inform the buyer if the property is located in the vicinity of a military base/facility

Environmental Hazards Guide (CC § 2079.7)

—Information about mold, lead, formaldehyde, and other hazardous material that can harm the buyer's health
DoNotPay Is Here To Help You Create a Legal Agreement
DoNotPay is the right choice if you want to fast and without stress. Our extensive database contains numerous contract templates, and you won't have to spend a fortune on lawyers to solve this issue for you. If you decide to write a contract with DoNotPay's help, you'll only need to follow these steps:
Open DoNotPay in a web browser

Choose the document you want to make

Provide answers to a few questions about yourself
You will get a perfect contract that was made according to your specific needs. The only task left is to take the document to the notary and make it official. Not every agreement requires this step, so you need to find out beforehand.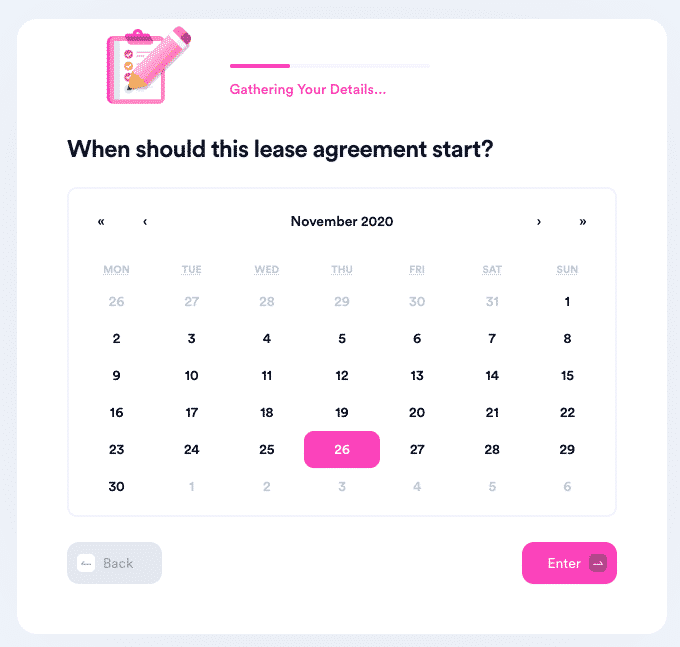 You might also want to consider learning more about the buyer representation agreement or the property management agreement. We have the most crucial information about other business and personal documents. Find out more about the:
You can find contract templates for most of these documents online, but using DoNotPay will ensure you have an agreement made to fit your specific requirements. Online free versions of templates are generic and won't help you with your case.
DoNotPay's Rich Database of Legal Documents
When dealing with real estate, you might come across various agreements required to seal the deal. DoNotPay can create a variety of legal documents from this field for you in a matter of minutes:
In case you need to protect your business interests, you can use our app to make a non-disclosure agreement, non-compete agreement, LLC operating rules document, or an independent contractor agreement. Our vast portfolio does not end there—your virtual assistant will draw up a general affidavit, promissory note, parenting plan, or a prenuptial agreement for you in a breeze.
Don't Let Companies Take Your Hard-Earned Money!
People love to subscribe to all sorts of services—especially if there are free trials involved. The problem is that most of them forget that they signed up for anything in the first place. Companies are aware of this, which is why they auto-renew memberships as soon as the free trials expire.
Don't let them get away with it—use DoNotPay to sign up for free trials and cancel subscriptions right before they renew. If you want to save even more money, use our platform to learn how to handle high bills, parking tickets, college application fees, canceled or delayed flights, or faulty services you should get refunded for.
Use DoNotPay To Stop Illegal Activities and Earn off Scammers!
Our AI-powered platform can assist you in dealing with all sorts of scammers. If you got any of the following, the world's first robot lawyer will help you seek justice:
Do you want to protect yourself and your loved ones from stalking and harassment as well? Use DoNotPay to learn how! If the situation with a stalker escalates, our app is going to help you take them to small claims court by preparing all the paperwork and your court statement.
Don't stop there—check out how you can bypass phone number verification, claim any type of warranty, or pass any government test with flying colors!