The Breakdown of
California Rental Agreement Month to Month 
Creating a legal document is not easy. Every state has its regulations regarding contracts and agreements that you must have a thorough knowledge of.
Writing a contract doesn't have to involve hours of research. We can help you learn all about California landlord-tenant law in one place. DoNotPay is here to explain how to create a bullet-proof month-to-month California rental agreement and save time and money in the process!
A
Month-to-Month Rental Agreement in California
Explained
The California month-to-month lease agreement defines the relations between a landlord and a tenant. The difference between this and other rental agreements lies in the terms of the lease.
Most lease agreements are fixed, which means the lease terms don't change until the agreement ends. A month-to-month rental agreement allows the landlord to change the lease terms, provided they issue a written notice first.
The advantages of a month-to-month lease are numerous, the most important being:
Ability to change the terms at any time, including the rent, or pet, smoking, and sublease policy

Flexibility to enforce the changes as long as the agreement is in effect 

Opportunity to renew the contract at the end of each payment term

Capacity to lawfully terminate the lease at any time 
California legislators have recently changed the terms of month-to-month rental agreements to make them more appealing to tenants. The state now limits the rent increase and the termination policy for tenants residing at the property for more than a year.
Month-to-Month Rental Laws in California
Before creating a periodic tenancy agreement, you must be familiar with all regulations regarding the landlord-tenant relationship. Check out the most important rules of month-to-month rental agreements in California:
The landlord and the tenant can terminate the lease with a 30- or 60-day notice

Notices must be hand-delivered or sent by mail

Landlords have to provide a

just cause

for terminating the contract with the tenant who resided on the property for more than one year. The causes include:

Not paying rent

Using the property wrongfully

Subletting the property without permission

Performing criminal activities on the premises 

The property owner can use

no-fault

just causes for terminating the lease, and they include:

Taking the unit off the market

Remodeling

Moving into the unit themselves

Landlords must provide a 30- or 90-day notice to increase the rent

Property owners need to give a 30-day notice for changing other lease terms
How To Write a California Month-to-Month Rental Agreement
When creating a periodic tenancy agreement in California, the landlord must adjust the conditions because the tenant may not stay long.
Here is an overview of the specific sections that every month-to-month rental agreement in California should include:
Month-to-Month Rental Agreement Section

Details

Introduction

Landlord and tenant's full names and the date of creating the agreement

Property

Address of the property, including street, city, state, and ZIP code

Terms of lease

This section includes:

The date the lease begins

The notice period for terminating the contract

Terms of payment and late charges

You should address the following:

Rent amount

Due date

First payment date

Daily charge for late fees

Deadline for accepting late charges

Security deposit

This section outlines the security deposit amount and conditions of keeping a whole or a part of the deposit 

Occupants

You should determine the allowed number of people living in the rental unit

Utilities

This section defines the utilities and services included in the agreement, such as cable, internet, or electricity

Pets

You can state your pet policy in this section, including the type, size, and number of pets allowed

Abandonment

This paragraph defines the period before the property is considered abandoned by the tenant

Additional terms and clauses

You can use this section to address miscellaneous terms, such as noise, parking, or sublease policy

Signatures

The signatures section should provide the landlord and tenant's full printed names and signatures
How Can DoNotPay Help You Create Legal Documents?
DoNotPay knows how expensive and time-consuming writing legal documents can be. 
If you want to create a residential lease agreement according to California laws but don't feel like writing it yourself, we can help you out!
Our new Standardized Legal Documents product allows you to create legal documents if you provide us with:
Names of the involved parties

Location of the rental unit

Start and end date for the agreement

Your contract requirements 
You will get a tailor-made contract in a flash. Here's how it works:
from a web browser

Enter the name of the desired document in the search box

Answer a few questions from our chatbot
All you need to do is give our app a couple of minutes to create your personalized, legally-binding agreement!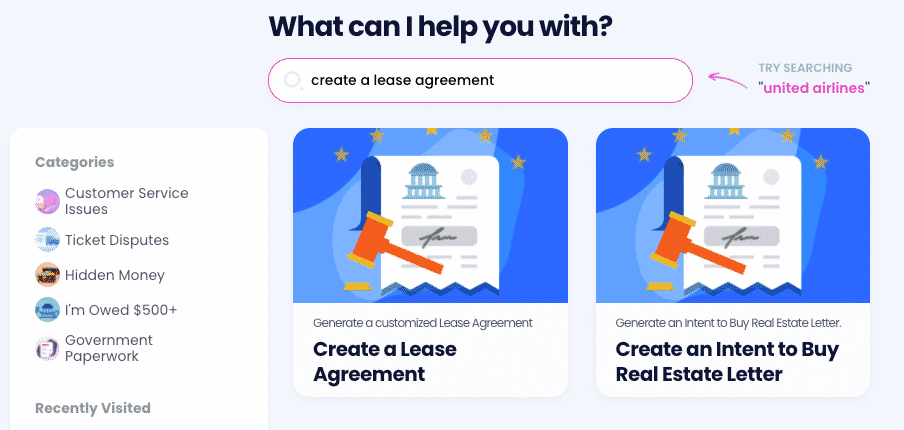 You don't have to use iffy contract templates to save money! can draft many legal and business documents for you, including:
Residential Lease Agreement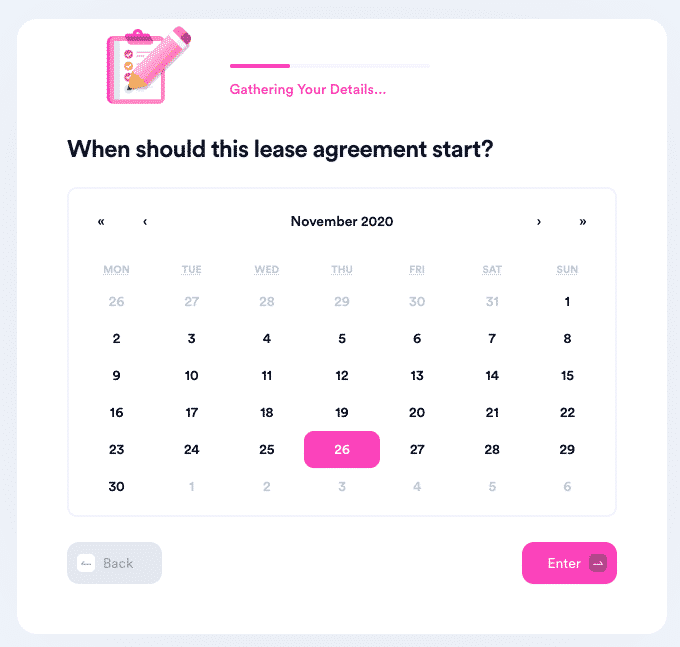 Forget About Bureaucracy With DoNotPay
There's no end to what our app can help you do. From drafting legal documents and asking for bill extensions and reducing property taxes to connecting with an inmate in a federal prison and contesting parking citations, DoNotPay can handle it all and cut through the red tape.
Need to pass a government test? Use our practice tests database to nail it. Looking to file an insurance claim? You've come to the right place. College applications drained your accounts? Request college fee waivers with our assistance.
The DoNotPay app is so versatile that it can easily locate any unclaimed funds under your name or any clinical trials that you're eligible to participate in. We can also schedule DMV appointments and take care of your small claims court documents.
Check Out What Else DoNotPay Has in Store
DoNotPay never stops upping the game. You can explore some of our latest features and see how you can access public records, receive free online fax, submit a warranty claim, or get compensation if you were a victim of a crime.
Alternatively, check out some of our most popular products that aim to reclaim your funds—from getting airline flight compensation and submitting refund and chargeback claims to canceling your unused subscriptions and getting class action cash from email, text, and robocall scammers.