California Property Tax Exemption at Age 55 in a Nutshell
If you own property in California, you must pay property taxes. Many Californians struggle with covering their property tax bills and are actively looking for ways to reduce property taxes on their own.
Luckily, California allows certain population categories to be exempt from paying the full amount of their property taxes. To apply for property tax relief in California, you must meet certain requirements and follow an established procedure. 
DoNotPay can help you understand various property tax exemption programs in California—such as California property tax exemption for age 55—and reduce your property taxes in a jiffy!
What Are the Key Points of the California Property Tax Program?
Property taxes in California are calculated by multiplying the home's assessed value by the current property tax rate. All property tax regulations are defined by Proposition 13 of the California law. According to the law, the standard property tax rate is set at 1%.
The taxable value of your home is established as soon as you buy the property. Inflation can increase your assessed property value, but not by more than 2% each year. That means that your property taxes can rise by 1% of the new value.
If you make structural changes to your home, the improvements will influence the property assessment value and increase your property taxes. 
You should know that different cities and counties in California can impose additional taxes or reassessments of your property, but citizens must vote to approve them first.
Are There Any Property Tax Exemptions for Seniors in California? 
If you are a senior citizen who needs help paying property taxes in California, you are in luck! There are various property tax relief programs designed to help senior citizens pay their property taxes. The most notable are:
Property tax assistance program

—this program provides cash reimbursement to its low-income senior citizens who are 62 or older 

Property tax postponement program

—the state gives senior citizens over 62 the option to pay their property taxes until they move, sell the property, or die

Replacement housing program

—this program allows citizens over 55 to transfer the old property's assessed value to their new home 
How Does California Property Tax Transfer for Seniors Work?
If you are at least 55 and residing in California, you can save a substantial amount of money on your property taxes. By Proposition 60/90, you can buy or construct a new home of equal or lesser value than your previous home and transfer the old property's base value to your new residence.
The replacement housing program allows the so-called empty nesters in California to save on property taxes that would inevitably increase after the sale of their old home. 
Proposition 60/90 allows citizens to transfer the base value of their previous home to a new home even if they change counties, provided the county has authorized such transfer.
California counties that have accepted the intercounty transfer are:
Orange

Ventura

Alameda

Riverside

San Diego

San Mateo

Tuolumne

Santa Clara

Los Angeles

San Bernardino
Eligibility Requirements for Property Tax Transfer for Seniors 
Before you file a request for entering a replacement housing program, you must be fully aware of Proposition 60/90 regulations. Take a look at the table below for some more in-depth info:
Proposition 60/90 Eligibility Requirements
Description

Claimant

Exemption claimant or the spouse must be at least 55 when the property is sold

Individuals cannot reapply for the replacement housing program, even if one spouse dies or the couple gets divorced. In case one spouse becomes disabled after filing for property tax relief, they may apply for a property base transfer due to disability

Original property 

The original property must be under the homeowner's or disabled veteran's exemption at the time of sale or at least two years after the new home was purchased or constructed

Previous property has to be reappraised at the current market value at the time of sale

Replacement property 
Apply for the Over-55 Property Tax Exemption With DoNotPay
Before you apply for California property tax exemption for age 55, you must prepare for a lengthy and exhausting research process. Applying for a property tax exemption is a difficult task. No state wants to make the process of reducing property taxes easy, and you don't want to risk getting rejected on a technicality!
DoNotPay can help you collect all the necessities and file an exemption claim in no time!
Our app uses the information you provide to generate a one-of-a-kind, customized guide. The guide contains details on necessary forms, documents, and the course of the application process for your exemption category.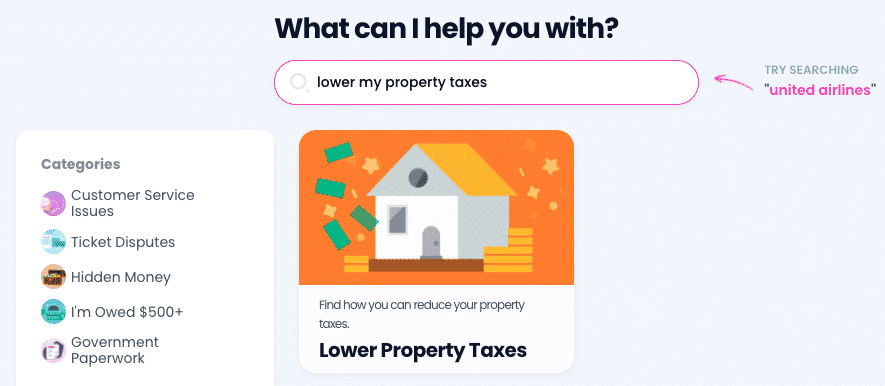 All you have to do is
Open DoNotPay in any

web browser

Go to the

Property Tax

feature

Provide short answers about you and your property

Wait for DoNotPay to create your tailor-made guide
You can use our guide to file a property tax appeal on a past property reassessment. Check out our learning center if you need information on: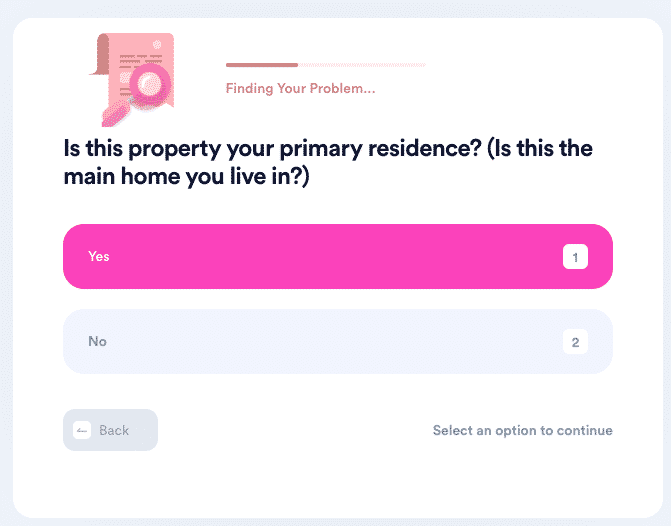 DoNotPay Leads the Way Against Spammers
Browsing the internet has never been more popular than today, but you must not forget to keep your private and financial information safe. You know you can cancel any streaming service or magazine subscription easily, but that won't stop them from using your personal details for marketing purposes.
DoNotPay has a solution for that! 
Is a company pestering you with incessant robocalls, spam emails and text messages? Use our Virtual Credit Card to catch them in the act and claim compensation for your troubles. 
To prevent that from happening ever again, use our card to sign up for free trials—not only will you not pay a dime for the service, but you will be automatically unsubscribed as soon as the trials are up! 
If you want to avoid revealing your personal phone number, we'll generate a temporary burner phone for you so the company won't have any way to reach you.
Already Been Scammed? DoNotPay Knows the Way!
If you've already made the mistake and divulged your personal info to the wrong party or experienced any other kind of crime or injustice, you don't have to sit tight and suffer the consequences. DoNotPay can assist you in taking anyone to small claims court!
We'll help you gather evidence—correspondence proving stalking or harassment took place, customer service call recordings, denied chargeback and refund claims, online fax transcripts, or proof of copyright violation. Then, we'll fill out the relevant legal documents for you and draft a court script that you can use in your hearing.