California Property Tax Assessment in a Nutshell
If you are a homeowner in California, you know how much of a financial burden property taxes can be. The most important aspect of determining your property tax rate is to get a correct assessment of your home's value. 
If you are struggling with paying your property taxes each year, you might be wondering what California property tax assessment includes. DoNotPay will explain the assessment process and provide a way to file a past assessment appeal! 
How Do California Property Tax Assessments Work?
Property tax rates in California are established according to your property's market value and your county's current assessment rate. Under Proposition 13 of the California law, your property's base-year tax rate mustn't increase by more than 2% each year. If the property changes ownership or the owner performs structural changes, it triggers a property reassessment, which can lead to higher taxes. 
California has established a Board of Equalization (BOE) to ensure fee collection, tax laws implementation, and property tax assessments for each county. If you are dissatisfied with the assessment of your property, you can:
Ask for a

property tax exemption

 

File a property tax appeal to BOE
What Constitutes California Property Tax Exemptions?
One way to reduce your property taxes is to file for a property tax exemption. California allows property tax relief to some citizens under certain circumstances. Unlike other states, California's property tax exemptions are established by the State Constitution. Here is an overview of the most common exemptions:
California Property Tax Exemption
Details

Main residence

The first $7000 in the value of your home is exempt from property taxes

War veterans can qualify for up to $4,000 exemption

Disabled veterans can be exempt from paying an even bigger sum, depending on age, income, and type of disability

Senior citizens who buy a new home

Citizens older than 55 can transfer the base-year value of their previous home to their new one if:

The new home is of equal or lesser value

They buy or have the new home constructed within two years of selling the first home

Disaster relief

Individuals whose home has been destroyed or damaged by a natural disaster can have the property tax rate reduced until their home is repaired 

Family transfer

People who obtain their property from parents or children will not face a full home value assessment
Appealing Property Tax Assessment in California
If you don't qualify for any of the exemptions, you can file an appeal to the Board of Equalization and have your property taxes reduced. 
Every county in California has either one or more appeals boards or a board of supervisors. Their job is to handle all tax-payers' complaints regarding their property value assessment. 
After you present the evidence of miscalculation and file an appeal, the appeals board must reassess the value of your home. One of the outcomes is that:
The value of your home decreases

Your home's value remains the same

The board calculates even higher property taxes for your home
The appeals board will inform you of their decision at the conclusion of the hearing or by mail after some time. Depending on the board's workload and the complexity of your appeal, the resolution of your case can take several months.
The decision of the appeals board is legally binding. If you are still dissatisfied, your only resort is to appeal to your state's superior court within six months of the board's original ruling. 
Appeal the Property Assessment of Your Home With DoNotPay
DoNotPay has created a nifty feature to help you appeal your home's assessment. The appeal process can be a stressful and lengthy procedure that requires a great deal of research and preparation. Why go through all that trouble when we offer all the information in one place?
DoNotPay will use the necessary info you provide to generate a personalized guide containing:
Forms you have to fill out

Documents you need to prepare

Steps you are required to take before your hearing

Instructions on how to negotiate with California county's appeals board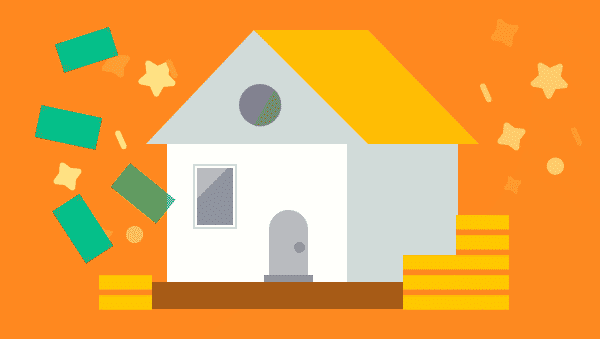 Your personalized guide will be available after performing a few simple steps:
Open DoNotPay in your

web browser

Inform us of your age, income, property location, and other necessary details

Wait for the app to create your customized guide
You can use the guide to check your qualifications for some of California's property tax exemptions as well.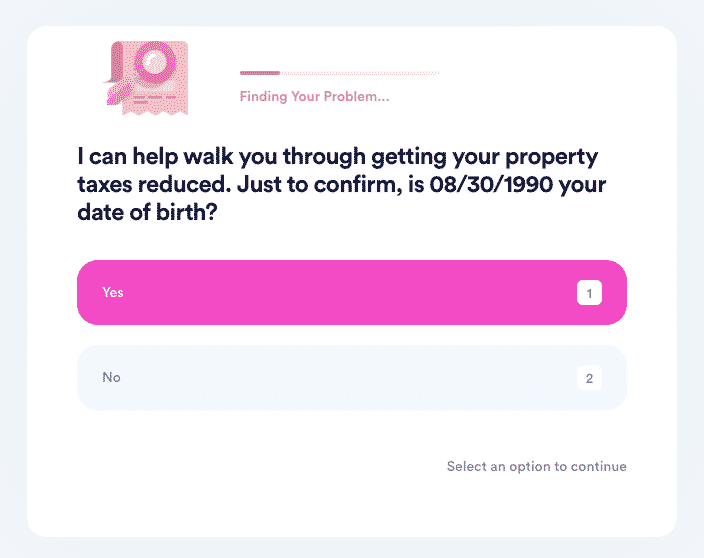 Let DoNotPay Teach You More About California Property Taxes
If you want more information on the states with low property taxes or need help paying your tax bills, stick with DoNotPay! Property taxes in California will be a lot clearer after you learn about:
DoNotPay Keeps Your Privacy Intact
DoNotPay can help you surf the web safely and securely. No need to provide your personal information to every company whose service you'd like to take for a test drive. Our Virtual Credit Card and Burner Phone products shield your data from prying eyes and dishonest merchants.
Feel like subscribing for a free trial? Make it truly free and avoid automatic membership renewals with our card. It can also help identify spammers and potential scammers who send bothersome robocalls and robo texts your way. As soon as they act on the virtual card number, DoNotPay will unmask them and demand compensation!
DoNotPay Can Help You Bring Any Business to Justice
Should a company refuse to grant you a refund or compensation, our app will help you take them to small claims court! 
We'll help you cancel the service in question to avoid any future charges, and we'll call their customer service so you can get info on your denied request. We'll draft the relevant court documents for your jurisdiction and give you instructions on filing them.
More Nifty Features That'll Make Your Day
You may not have breach of privacy issues or reasons to bring someone to court, but you surely have ample motivation to save or earn a few dollars here and there—especially if we catch you unawares!
DoNotPay can show you how to reclaim funds that you didn't know were under your name or make a denied warranty appeal to any company. We streamlined the processes of requesting refunds, college fee waivers, airline flight compensation, parking infraction dismissals, as well as applying to clinical trials that pay!