California Notary Acknowledgment Explained
To receive a California notary acknowledgment, you need to have a trust, will, real estate deed, affidavit, or some other legal document notarized first. 
Getting your documents notarized can sometimes be an arduous task. If you're not sure how and where to find a notary, DoNotPay provides information on numerous notary services.
What Is a Notary Acknowledgment?
A notary public will issue an acknowledgment certificate in the final stage of the notarization process. The purpose of this certificate is to confirm that the notary has verified:
The identity of the signer of the document

The signer:

Appeared for the signing of the document in person

Understood what the document was about

Signed the document willingly 
The certificate should include the following:
The name of the signer

A statement confirming the acknowledgment

A notary's

signature

and stamp
What Is a CA Notary Acknowledgment Process Like?
To better understand what to expect during a California notary acknowledgment process, here are the steps of a notarial act:
You and witnesses (if required) appear in front of a notary

All signers present their photo ID documents, e.g., passports, IDs, or driving licenses 

The notary confirms the identities of all signers of the document 

You provide the document you'd like to get notarized

The signers confirm that they:

Understand the content of the document 

Are signing it of their own free will

The notary witnesses the signing of the document (you should check with the notary whether you can sign the document beforehand)

The notary writes an acknowledgment certificate and puts their signature and stamp  
If you would like to see what a California notary acknowledgment form looks like, you can find one online.
Where To Find a Notary Public?
To find a notary, you can use one of the following options:
Look for a notary public at nearby public places, such as:

Browse through some websites, such as:
Some people use the regular, in-person notary services that include the following stages:
Finding a notary's office

Scheduling an appointment 

Gathering the necessary documents

Showing up at the notary's office at the agreed time
All these steps take lots of time and energy. Apart from that, if you don't bring the necessary documents or provide a required valid ID, the notary won't perform the service and will ask you to set up another appointment. 
That's why lots of people choose online notary services—they want to save time and, often, money. You can use different online platforms that provide online notarization of documents. They're practical but can be quite pricey. 
DoNotPay offers online notary services that are convenient.
How To Get a California Notary Acknowledgment 
You can choose one of the following ways to get a California notary acknowledgment:
| | |
| --- | --- |
| Notary Service  | Explanation |
| Traditional notary | You need to visit a notary's office once you've made an appointment |
| Mobile notary | Mobile notaries can visit you at any location of your choice, i.e., your home, workplace, hospital, jail, etc.  |
| Online notary | Online notaries perform the notary services remotely, via a live video call |
DoNotPay can connect you with an online notary in an instant. You don't have to spend:
Extra

money

for a mobile notary 

Your time:

Looking for a notary public

Traveling to a notary's office
The state of California doesn't allow online notaries public. Still, you should check whether you could get your documents notarized using a remote notary from another state, including one of the following:
DoNotPay can provide:
Assistance with creating a document—use our

Standardized Legal Documents

feature 

An online notary service—you will also be able to use all our services for the same monthly fee

An online fax service—use it to fax any document instantly
DoNotPay Helps You Get Your Document Notarized on the Spot
To get your documents notarized without any trouble, sign up for DoNotPay and follow these steps:
Choose our

Notarize Any Document

feature

Upload the document you'd like to get notarized

Type in your email address
Upon completing these simple steps, you should open your inbox and click on the link we emailed you. The link will direct you to a notary's schedule, where you can set up an appointment.
What's next? Show up at the agreed time for a live video call and get your contracts or any other formal paperwork notarized. 
Create Your Documents Using DoNotPay
Before setting up an appointment with a notary, you need to prepare all the necessary documents. If you need help creating any document, DoNotPay provides a fast and efficient solution!
Here's how you can get your document:
Type in the name of the document you need

Provide the necessary details to the chatbot (e.g., names, addresses, and additional relevant information)
DoNotPay generates a document tailored to your specific needs.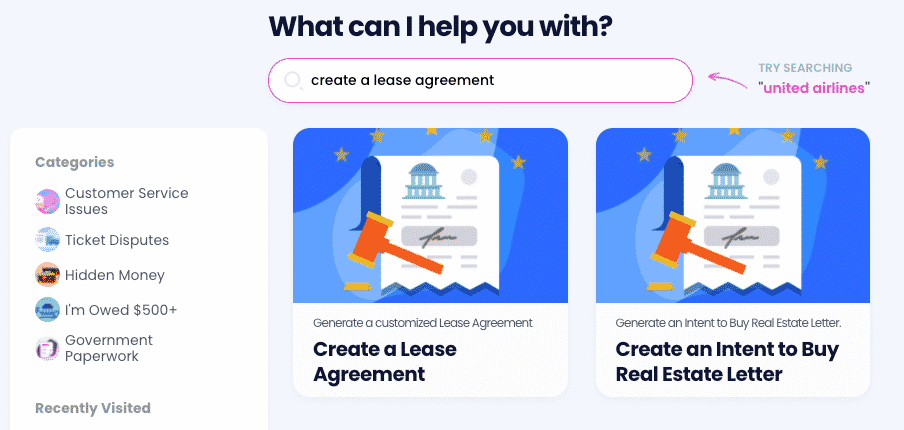 Here are some documents we can help you with:
Promissory note

Estoppel certificate

General business contract
Once you receive the document, you can switch to our Notarize Any Document feature instantly to get the same document notarized. 
How Else Can DoNotPay Help You Find and Save Cash?
Our Missing Money feature helps you find any unclaimed assets in your name in any state. An additional perk is that you can claim your money right in the app—no need for further research!
We can also make sure you don't pay for any unfair parking citations and get the rightful compensation from airlines for any canceled or delayed flight. 
Don't let big companies scare you into not claiming your warranties or insurance. DoNotPay helps you file these claims and appeal any rejections in minutes, which brings you closer to getting your money.
We can also delay your bill payments, get your college fees waived, or sign you up for paid clinical trials to earn some extra cash!
DoNotPay Keeps the Spammers Away
Whether you're dealing with email spam, text scammers, robocalls, or severe harassment, DoNotPay can help. 
Use our virtual credit card or the Burner Phone feature to sign up for free trials safely—without revealing your real info. DoNotPay will make sure that no company can reach you when you use our tools. 
We provide a fake email address, credit card info, and phone number that are in no way connected to your real data. 
We can also help you cancel services or request a refund without you having to contact the company directly.