Draw Up the California LLC Operating Agreement in a Few Clicks
Do you have a limited liability company in the Golden State, or are you thinking about forming one? You should consider writing the California LLC operating agreement to outline the financial and functional decisions of your business. Creating this or any other legal document can be a daunting task, especially if you don't have an education in law.
If you subscribe to DoNotPay, you can write any contract without wasting money on a lawyer or spending ages looking for templates online. 
LLC Operating Agreement Explained 
Having an operating agreement is important for all of the LLC members because this contract allows them to set basic rules regarding crucial issues, such as:
Decision making

LLC managing

Profit allocation 

Ownership percentage 

Membership interest transfer
The contract is legally binding, which means that all LLC members must follow the rules outlined by the agreement. 
Do You Have To Write an LLC Operating Agreement in California?
California is one of the states that require an LLC operating agreement regardless of the number of members. Even if you're running a single-member LLC, you have to write the agreement. 
While the state allows verbal operating agreements, you should consider getting your contact down in writing since verbal agreements are impossible to enforce.
Fulfilling legal requirements shouldn't be your only motivation to compose the agreement. This document can be super beneficial for your business because it:
Outlines the rules 

Overrides California's default LLC rules

Proves who the owners of the LLC are

Protects the limited liability status 
Which Info Should Your California LLC Operating Agreement Include?
Composing an operating agreement on your own can be challenging because you have to cover a lot of crucial info. If you still chose to write the contract by yourself, make sure to include the following sections:
Introduction/formation

Division of ownership

Management

Voting rights of the LLC members

Capital contribution

Distributions of profits & losses

Membership changes

LLC dissolution

Members' signatures
Introduction/Formation
You should open the agreement by recording the following info about your LLC:
Name

Purpose

Business address

The effective date of the agreement

Names of the members
If you want, you can also include the list of terms used in the contract.
Division of Ownership
Single-member LLCs don't need this section, but if your LLC has multiple members, it's crucial that you outline the division of ownership. Membership interest is typically represented by a percentage, and it depends on how much capital each member contributes to the LLC. Ownership interest is important because it determines the distribution of profit and voting rights of every member.
Management
By the State of California law, all LLCs are member-managed unless their operating agreements state otherwise. If you want to have a manager, you must specify it in your agreement.
Voting Rights of the LLC Members
Some of the questions that this section should answer are:
Will major decisions regarding the LLC be made by vote?

Will each member's vote have the same power?

Does the membership interest influence voting power?

Does each LLC member have the right to vote?
Capital Contribution
All members should agree on how much money or assets everyone has to contribute. This part of the agreement determines membership interest.
Distributions of Profits & Losses
Your agreement should also outline how profits and losses of the LLC will be distributed to members.
Membership Changes
Spell out what happens if one of the members goes bankrupt, passes away, gets arrested, or leaves the LLC for any other reason. If you fail to cover membership changes and transfers in your agreement, any person or entity can become a new member. 
To avoid this, you should specify that all membership transfers need to be decided by a majority or unanimous vote of other members.
LLC Dissolution
In this part of the agreement, you should specify the steps that are required to dissolve the LLC.
Members' Signatures
The contract has to include the signatures of all LLC members. 
Rely on DoNotPay and Write the California LLC Operating Agreement Without Hiring a Lawyer!
Drawing up an operation agreement by yourself is not only difficult but also risky. Should you miss to include any info, you will have to abide by the state's default LLC rules. Hiring a lawyer who will take care of the agreement is one option, but this solution is usually expensive. 
If you'd like to save both time and money, you should rely on DoNotPay. We have created a product that can help you create an adequate California LLC operating agreement in under five minutes!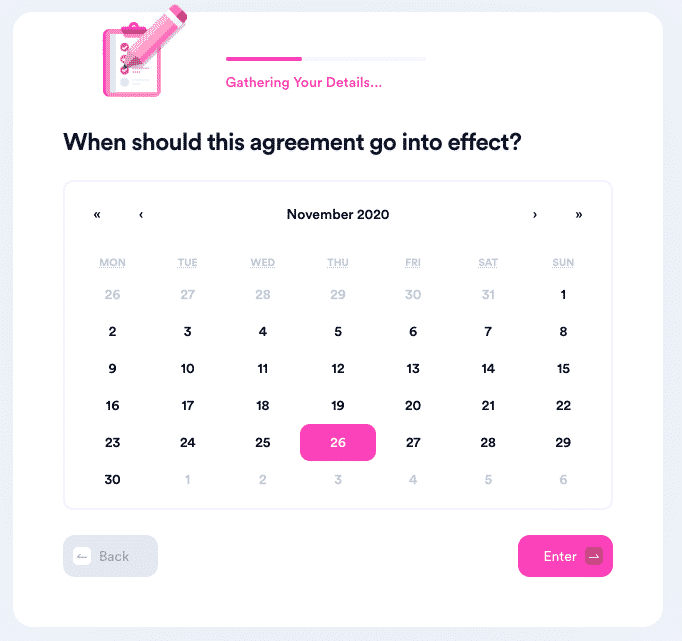 To write any legal document quickly and hassle-free, you should:
Type in the name of the document in the

Search

bar

Provide the required info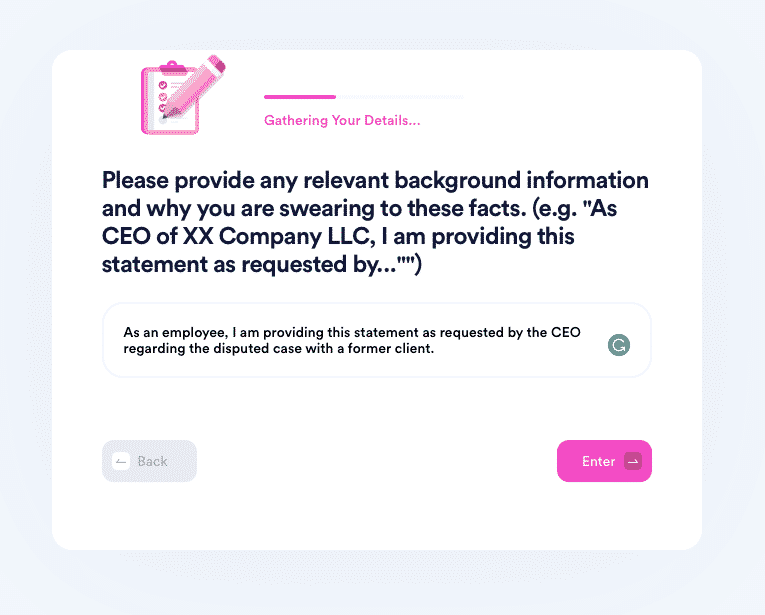 DoNotPay will generate a personalized agreement that you can print. To make the document official, you should get it notarized. Use our app to connect with an online notary and take care of your operating agreement notarization in a snap!
What Other Legal Documents Can DoNotPay Help Me Create?
You can use DoNotPay to create various types of legal documents, including:
Business Agreements
Real Estate Contracts
Other Documents

Intent To Purchase Real Estate

Quitclaim Deed

Estoppel Certificate

Promissory Note

General Affidavit
Save Some Coins With DoNotPay
Are various subscriptions and memberships burning a hole in your pocket? DoNotPay can help you cancel all of your memberships in a matter of minutes without having to contact customer service reps. 
Next time you want to register for a free trial, prevent unexpected costs with our virtual credit card. Once the trial is over, you'll be unsubscribed right away because our virtual credit card doesn't contain any money. We will also generate a random email address you can use if you want to protect your privacy and avoid spam marketing emails. 
Do you need help claiming warranties and insurance policies? DoNotPay can help with that too. 
Should you need assistance returning an item or requesting refunds for purchased products, canceled flights, or late deliveries, we've got your back!
Avoid wasting money on lawyers—DoNotPay is here to help you sue anyone in small claims court and create numerous legal documents in the blink of an eye!
DoNotPay Can Help You Earn Money Too
DoNotPay users can save hundreds of dollars thanks to our app, but did you know that we can help you earn a few bucks as well? Our app enables you to claim missing money under your name or file your application for paid clinical trials in less than five minutes.
You can even get compensation for reporting robocalls or apply for a crime victims compensation program in your state by signing up for our app and following a few simple steps.