All You Need To Know About the California Lease Agreement

The California lease agreement lets a property owner and a tenant make a binding rental agreement for residential or commercial property. This can benefit both parties, so if you are wondering how you can create your CA lease agreement, will walk you through it!
What Is the California Lease Agreement?
The California lease agreement is a legal document that property landlords use to make a legally binding contract with their tenants. With the agreement, both parties can specify the rent and state the responsibilities.
Both landlord and tenant will be bound to the terms of the agreement until the lease end date.
The lease or rental agreement is the crucial document of the tenancy. It sets out important issues, such as:
How long the tenancy can last

How much the deposit and rent will amount

How many people can live on the rental property
After signing, the tenant will have to pay the first month's rent and a security deposit before being given access to the premises.
How Can I Benefit From the CA Lease Agreement?
No matter if you are the lessor or the lessee, having a binding lease agreement is beneficial to you. The CA lease agreement will clearly define tenant and landlord responsibilities and make it easier to avoid any mishaps.
You will not have to worry about any misunderstandings. Additional benefits of having a lease agreement are:
Balanced cash outflow

Quality assets

Tax benefit

Termination rights
What To Include in the California Residential Lease Agreement
Making legal documents by yourself can be tricky and unnecessary when there is a much simpler option—DoNotPay. Our app will generate a legal contract for you in a few minutes, and you can avoid the unnecessary hassle of doing it on your own.
If you still want to make the CA lease contract on your own, we will help you avoid any mistakes by pointing out exactly what to include in it:
Include
What It Means
Names of All Tenants

All persons living in the unit should be named as tenants and sign the lease or a rental agreement. By doing that, every tenant will be legally responsible for their actions and use of the property. If one tenant decides to violate a term of the agreement, you will be able to terminate the tenancy for all of them

Limits on Occupancy

To make sure a tenant doesn't sublease the unit or invites multiple people to live in the unit without your permission, your agreement should clearly state that the tenants who have signed the lease are the only ones who can reside in the rental unit

Term of the Tenancy

You need to state if it is a rental agreement or a fixed-term lease.

The difference is that the rental agreements usually run from month-to-month and self-renew unless the landlord or tenant state differently.

With a lease, you set a specific beginning and expiration date

Rent

Your California lease or rental agreement should include all the info regarding the rent:

The amount

The due dates (usually the first of the month)

The acceptable methods of paying

Security Deposit

Include all the info concerning the security deposit, such as the amount and details on when you will return it

Repairs and Maintenance

Include a section regarding the responsibilities for repairs and maintenance in your lease or rental agreement

Entry to Rental Property

Make sure to clearly state your legal right to access the property and how much advance notice you can provide the tenant before entering

Restrictions on Tenant Illegal Activity

State what is prohibited on the property, for example, excessive noise or illegal activity, such as drug dealing

Pets

Say whether pets are allowed in the unit. If they are allowed, you should clarify what pets and the limit on the size or number of pets

Disclosures

Federal law requires landlords to make certain disclosures before tenants move in. California also requires that landlords disclose the availability of a state database of registered sex offenders

Other Restrictions

You should specifically mention in the agreement the important rules and regulations regarding parking and use of common areas
DoNotPay Will Help You Make the California Rental Lease Agreement
DoNotPay boasts a user-friendly feature that gives you access to a simplified guide for creating your CA lease agreement! All you have to do is go to DoNotPay in your and follow the next instructions:
Type out the

Lease Agreement

in the search box

Provide all the necessary information about the names, addresses, and other important details
DoNotPay will then create your document that both the landlord and the tenants will have to sign or notarize.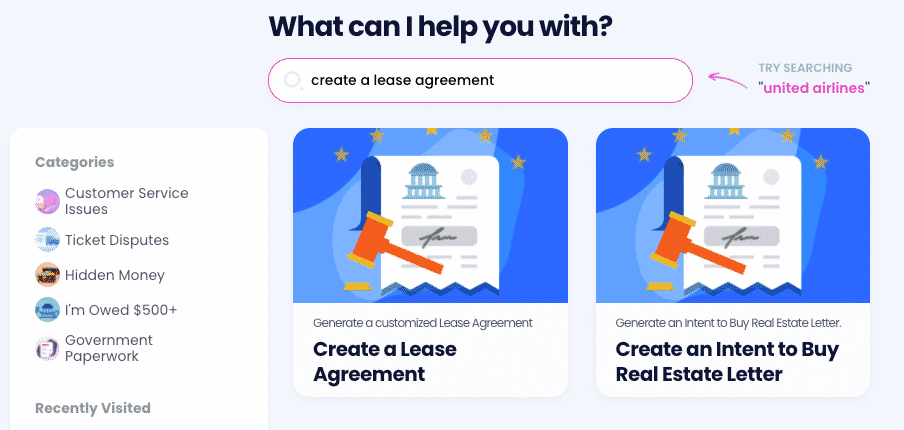 If you ever need help creating any of the following documents, DoNotPay has your back!
General Business Contract

General Affidavit

Promissory Note

Estoppel Certificate

Intent to Purchase Real Estate

Quitclaim Deed
DoNotPay Helps You Claim Your Money
Our virtual assistant app makes sure you get back funds that are rightfully yours.
Whether you need to claim insurance, warranties, or your property held by the state, we will help you do it in minutes.
DoNotPay can also help you initiate a chargeback on any transaction you disagree with. We can help you secure compensation from airlines, robocall and text scammers, or in case you've been a victim of a crime.
In case you are dealing with an unfair company regarding your subscription cancellation or any other matter, we can help you get your money back by suing them in small claims court.
Bypass the Administration With DoNotPay
There's no more need for extensive research, abundant paperwork, or endless phone calls with customer service reps.
DoNotPay brings the administrative nonsense to a minimum.
Book DMV appointments fast and easy, appeal your parking citations, sign up for free trials without disclosing your credit card info or phone number, or reach your loved ones in jail—all in less than five minutes.
We also generate any legal document, provide full access to public records, offer DMCA protection, and reduce your property taxes with a few clicks.