California Institution Men: How to Connect With An Inmate 
 (CIM) is located in San Bernardino County in Chino, California. It's a male-only state prison that has the capacity to hold more than 6,200 inmates inside the entire institution. Presently, capacity is at 2,976. It's frequently referred to as "Chino". But to prevent any confusion with the city itself, locals refer to the prison as "Chino Men's."
It's a 2,500-acre facility situated on arid farmland east of Los Angeles. It opened in 1941 and was the United State's first major minimum security facility built and operated.
CIM has a number of programs to help inmates achieve certain skills they can use when they're released to earn a living. These skills also help them in daily facility operations. CIM provides:
High school and GED courses
Adult basic education
A reading program to help eliminate illiteracy
There are also other vocation programs that are unique to this institution, which are:
Basic and masonry welding courses
Deep-sea diving class
Print and graphics course
Contact Information for the California Institution for Men
Here is the basic contact information for the :
| | |
| --- | --- |
| Physical Address | 14901 Central Avenue, Chino, CA 91710 |
| Phone Number | (909) 597-1821 |
| Warden | James Hill |
| Website | https://www.cdcr.ca.gov/facility-locator/cim/ |
| Fax | N/A |
| General Email | N/A |
How to Contact Inmates at the California Institution for Men
Visitation
Normal hours: Inmate visitation hours at CIM are normally from 8:30 AM to 3:00 PM Saturdays and Sundays. If you show up after 2 PM, however, you're not allowed to visit that day.  
Note: Be sure to check out the most current visitation hours here in light of COVID19. 
Phone
Most inmates have access to phones and can make outgoing collect calls. Phone calls have a 15-minute limit.
Mail
You're free to contact your inmate loved one by mail. But, all incoming mail is opened and inspected by the facility for contraband first before being forwarded to the inmate. Be sure to include the following information on the envelope to ensure prompt processing:
Inmate's full name, CDC#
California Institution for Men
P.O. Box Housing (preferable)
City, CA ZIP
If you're not sure where your loved one is housed, you can dial 916-445-6713 to contact the Department's ID unit. You'll need the inmate's date of birth if they have a common name. To obtain the CDC# or housing assignment of the inmate, you can use the institution's inmate locator or call the Public Information Officer (PIO). 
Inmate's mailing address (include full name and CDCR #) are found here.
Email
JPay and CDCR provided CDCR facilities with inbound electronic communications. All offenders can now receive photos and emails from their family and friends through JPay email through the JPay website. Mailroom staff will print out incoming electronic correspondence and forward it to the proper inmate.
How to Send Money to California Institution for Men Inmates
If you want to send your inmate loved one money, first you'll:
There are several ways to send money:
Electronic Funds Transfer (EFT)
Consider these tips:
Money posts to the offender's account within one to three days
It's a paid service with a fee
Family and friends may deposit money to a restitution only or a trust account
Choose one of these EFT vendors to send money: GTL/ConnectNetwork,  JPay, or Access Corrections
Lock Box
Here's a brief breakdown of the process:
No fee to send money via personal check, money order, or cashier's check
Fill the money order deposit coupon out with your name and address
Make your money order or check payable to JPay
Mail it to: JPay 2202 South Figueroa St, Box #3001, Los Angeles, CA 90007
Other instructions can be found here.
Mail Money Order or a Check to the Institution
There's a 30-day hold
No fee
Must have your full name and address on the money order or check
Make money order or check payable to CDCR
Be sure to include the Inmate CDCR # and Inmate Name on the check
How to Send Packages to California Institution for Men Inmates
To reduce time-consuming searches and contraband, individuals can't send inmate packages (quarterly packages) to inmates directly. These packages, however, are available through CDCR-approved and authorized private vendors.
Difficulties You May Have Contacting a Loved One in the California Institution for Men
You may come across various challenges when trying to contact your loved one at the California Institution for Men. These may include:
You'll have to pass a background check prior to visiting your loved one
All visits must be scheduled in advance
New visitation policy due to COVID
Connecting with your loved one at CIM isn't as easy as you might think it is. There are several hoops to jump through. Fortunately, using DoNotPay's "Connect With An Inmate" prison product can help with this burden significantly.
Get in Touch With Your Loved Ones via DoNotPay
With DoNotPay, you can avoid many of the hassles others find they're having to deal with when they try to contact their loved one at CIM. With DoNotPay's Inmate product, however, all you need is the inmate name, ID number, and facility and let DoNotPay facilitate communication. It's super simple and quick to reach your loved one successfully using DoNotPay.
DoNotPay Can Help You Locate Your Imprisoned Friend
Follow these simple steps with DoNotPay to easily write an inmate or a prison pen pal:
1. Locate the Connect With an Inmate service on DoNotPay.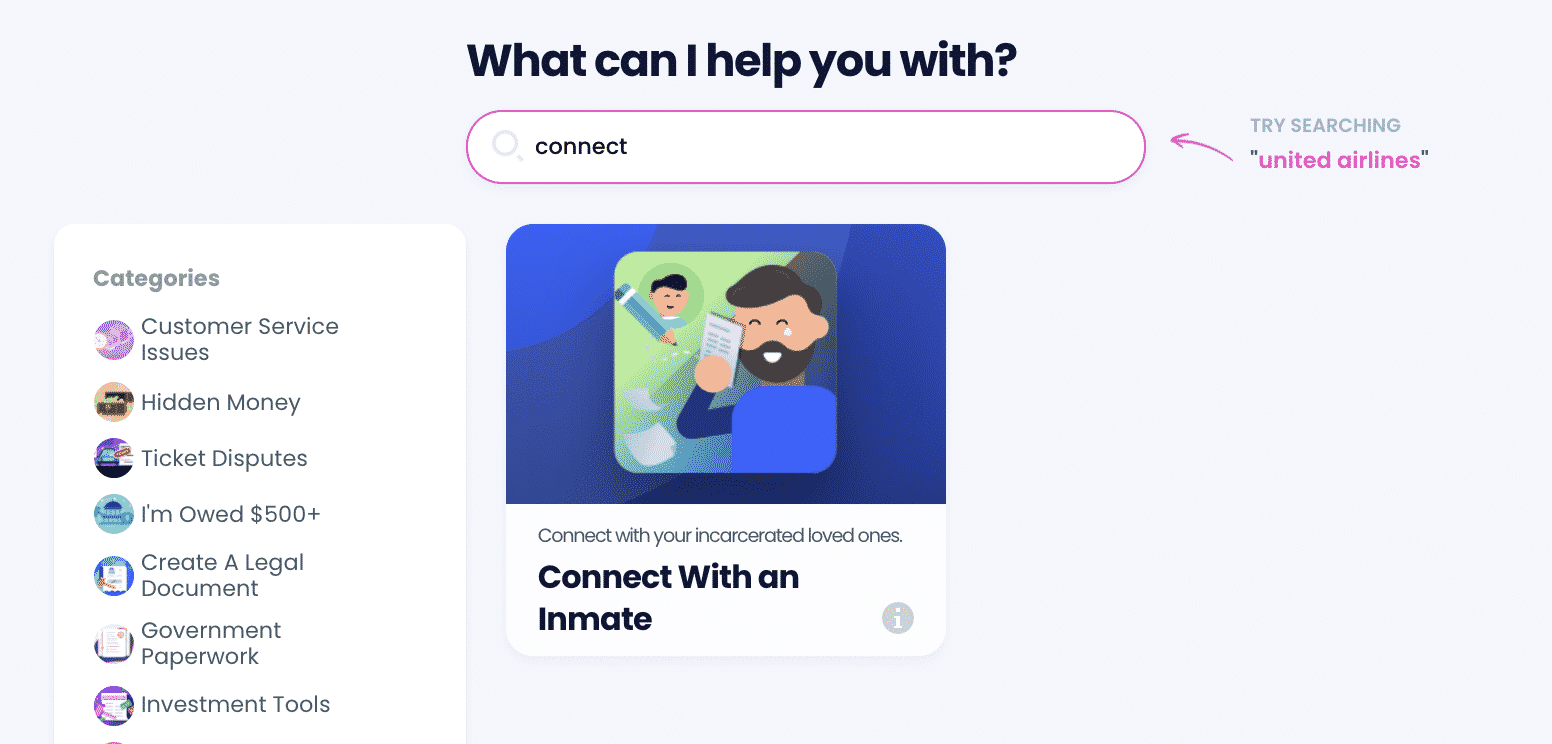 2. Choose whether you want to locate a loved one, create a virtual mailbox, or send a personalized letter.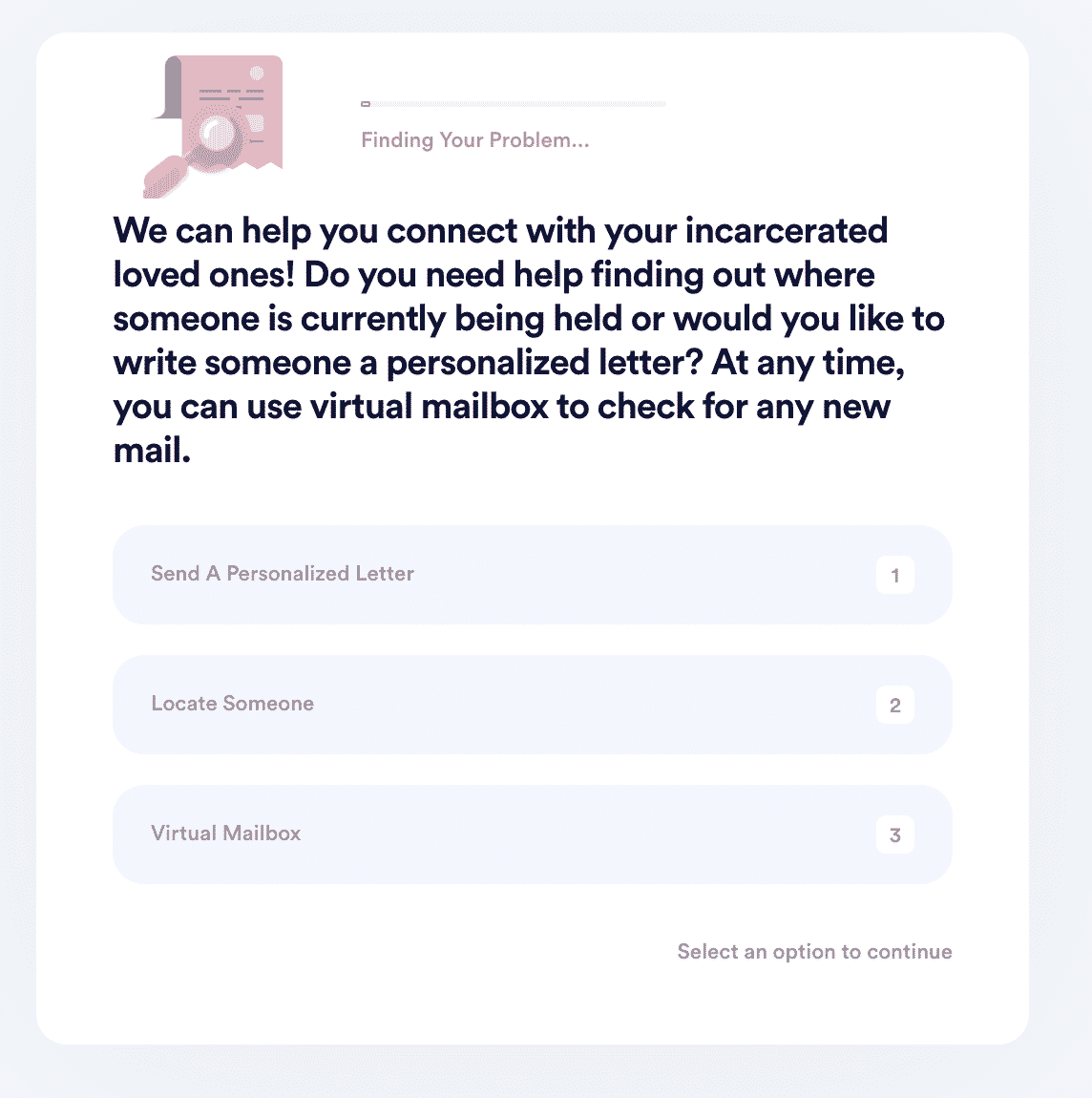 3. If you want us to find your loved one, provide his or her personal details and the state they are located in. We'll then conduct a search on the appropriate state database.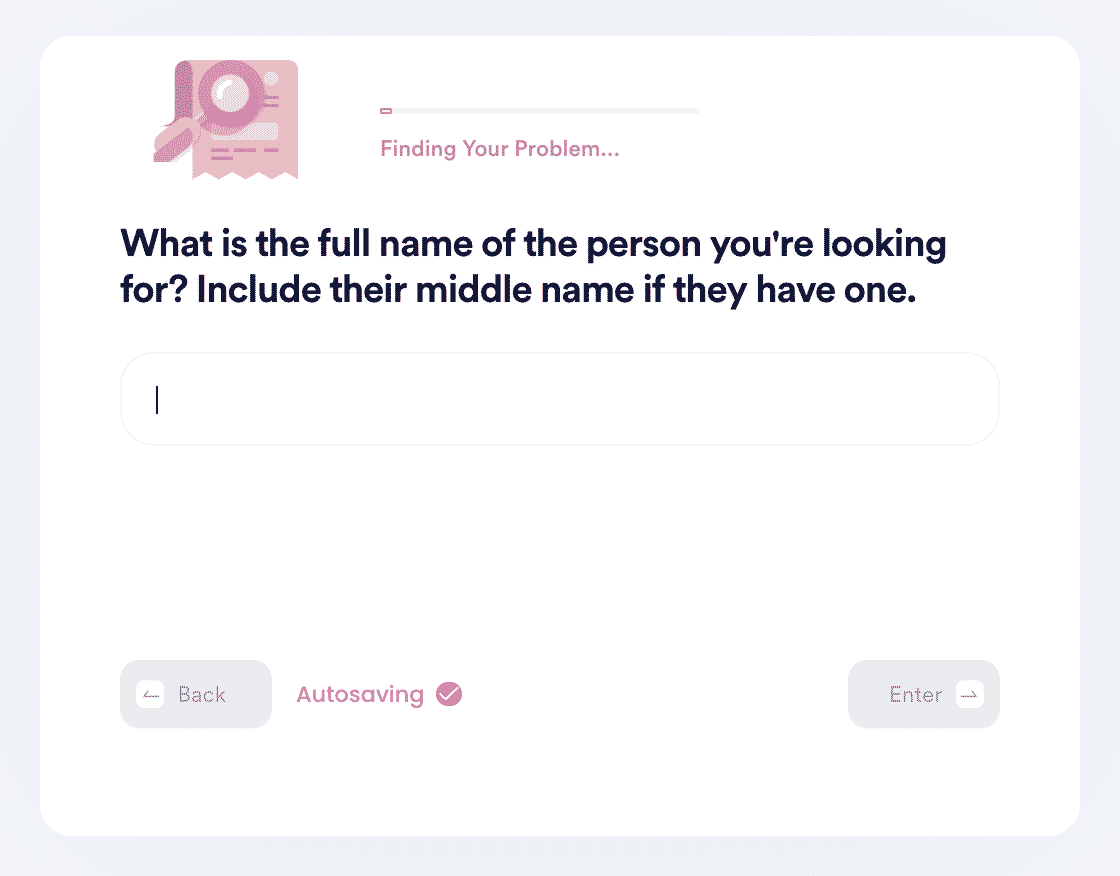 4. If you want to create a virtual mailbox, just provide your full name! We'll set one up for you so you can easily receive incoming mail from your loved one.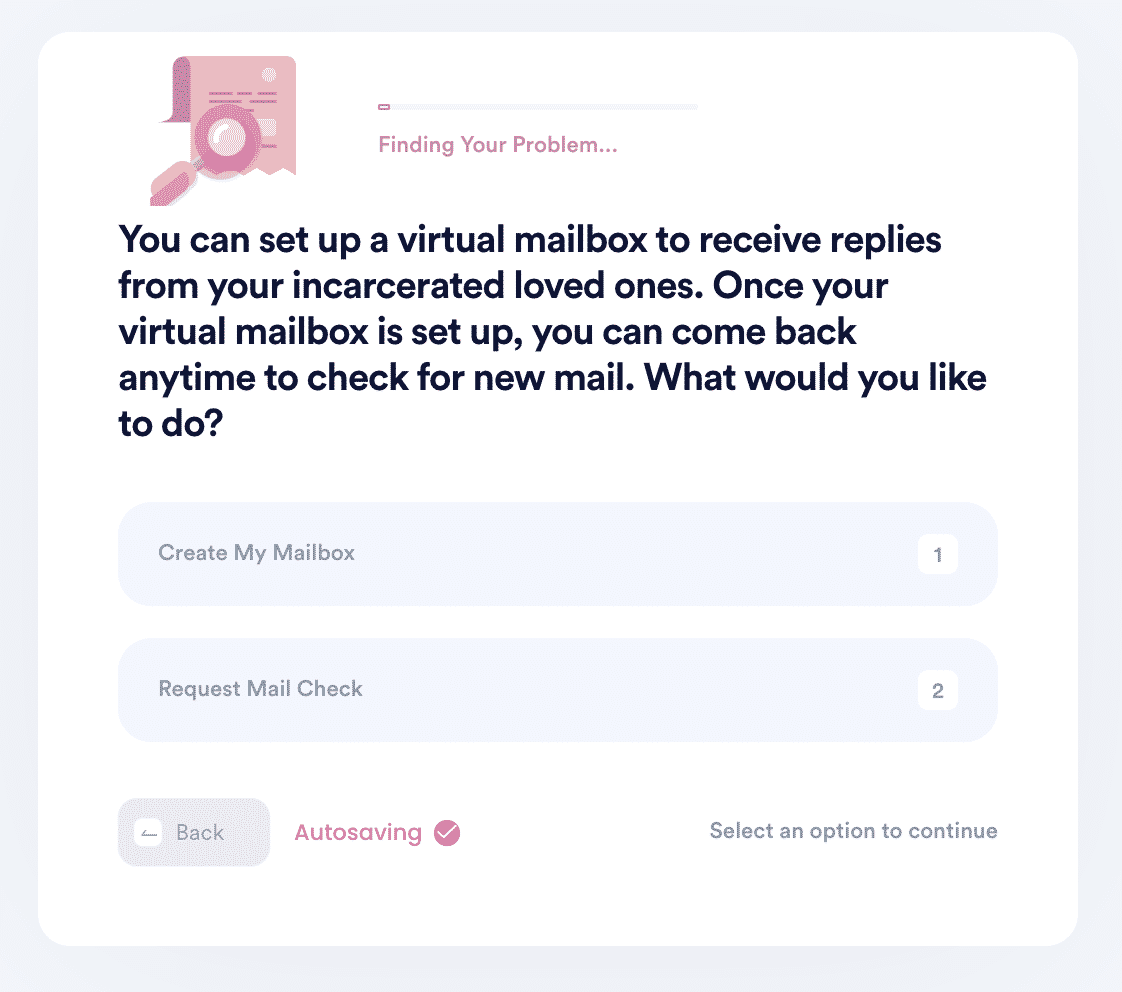 5. If sending a personalized letter, tell us which facility your loved one is located in and what you would like to say to them. You can even include a photo! Your letter will be delivered automatically - just wait 10 days for it to arrive to your loved one!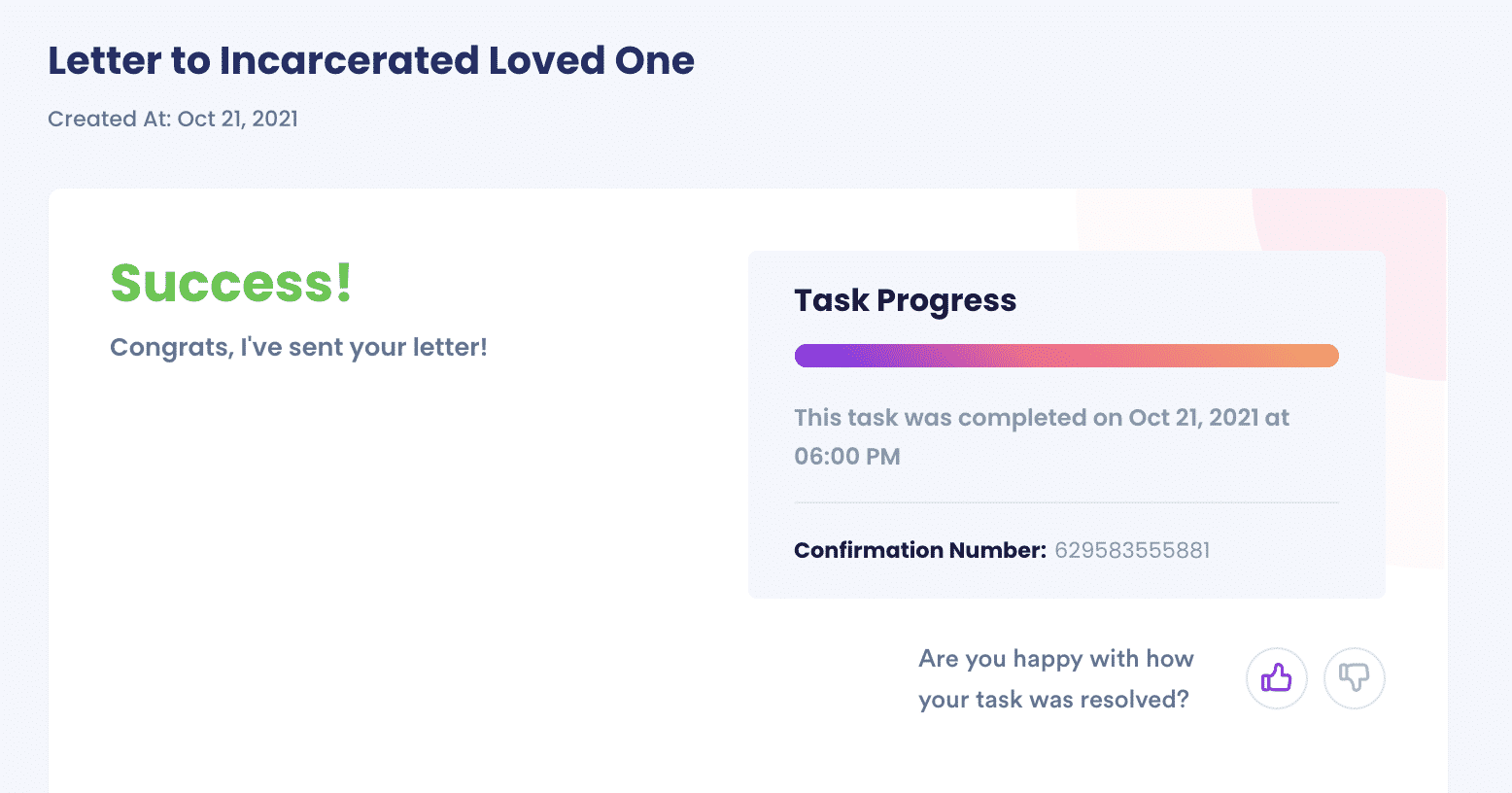 DoNotPay is here to help simplify the process of addressing a letter to an inmate, ensuring you don't include prohibited items in a package, and more so you can stay in contact.
What Else Can DoNotPay Do?
Along with assisting you write letters to inmates, DoNotPay can also help you:
Forget the hassle of trying to contact your loved one at  with the possibility of your communications never reaching them. With DoNotPay, you can rest assured your mail and emails will get to them every time.