A Three-Step Guide to the
California Independent Contractor Agreement
Finding a simple and time-efficient way to write legal documents isn't easy, especially if they need to be as detailed as an independent contractor agreement. You can't rely on the templates you find online—they are general and won't work for every type of contract or comply with every state's contract laws.
If you do your own research on how to write a contract, you will likely get lost in a sea of information. That is why we developed a product that allows you to draft contracts in minutes without any research! to draw up your California independent contractor agreement in a few clicks!
What Is an
Independent Contractor Agreement in California
?
Independent contractor agreements in California are made between a contractor and a client. Contractors and freelancers often use independent contractor agreements to outline the duties and responsibilities of the parties involved.
The contract can be in a written or verbal form, and it's used to spell out all the terms and rules of the working arrangement between the two parties. 
Having an independent contractor agreement in writing instead of verbal form is a more reliable option. A verbal agreement can be legally binding, but proving it in court is often more difficult than with a written contract.
What To Include in an
Independent Contractor Agreement in California
If you decide to write the independent contractor agreement on your own, you should know what crucial sections to include:
Names and addresses

Responsibilities

Payment details

Confidentiality

Termination clause
Names and Addresses
Spell out the names of both the contractor and the client. Include the addresses, contact details, and any other relevant info. You can also provide a brief description of the project/service at the beginning of the agreement.
Responsibilities
Elaborate on the responsibilities that each party will have to carry out concerning the project. Go into detail and don't leave anything out—it's important for everyone involved to understand their obligations clearly.
Mention what will happen if any of the parties don't do their part. That way, any confusion or misunderstanding can be avoided, and if any issues do arise, you'll know how to resolve them.
Payment Details
Explain how the payments will be made. Include details, such as:
What the payment method will be

When the payments should be made

What happens if someone is late with their payment
Confidentiality
Make sure that confidential information is well protected by including a section stating that no information can be leaked to another party/company. It's important that all parties know they shouldn't share details about the project/service with anyone outside the agreement.
Termination Clause
State the conditions of terminating the agreement early. Say how much notice is expected prior to terminating the agreement and what will happen if a party doesn't meet that condition.
DoNotPay Drafts the
California Independent Contractor Agreement
for You!
Following the steps above can be time-consuming and tiresome, especially when you have a more convenient option available! You can avoid the struggle of writing a contract by yourself if you go with DoNotPay!  All you have to do is provide us with a few short answers about you and your agreement, and we'll use that info to generate your contract instantly!
Complete the following steps and gain access to your agreement stat:
from any web browser

Type in

Independent Contractor Agreement

in the search box

Answer a few short questions
That's all! Our app will create your independent contractor agreement, and you can print or download it! Once you have your agreement, make sure that both parties sign it.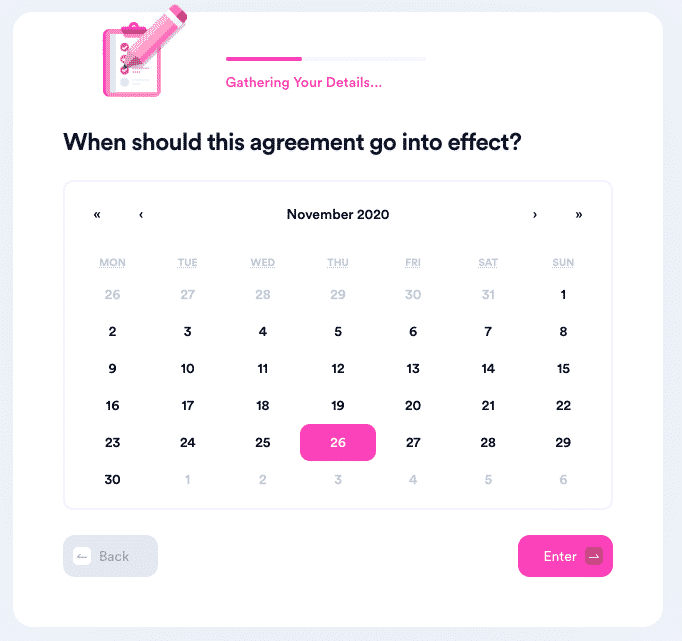 Do I Have To Notarize the Independent Contractor Agreement?
Certain contracts need to be notarized, such as trust agreements. Notarization isn't required for the independent contractor agreement in California, but it can be helpful. Should any issues arise, a notarized document will have a better chance of standing in court.
You don't have to go out of your way to get a document notarized! Aside from drafting agreements for you, DoNotPay also connects you to a remote notary in minutes. You can get your independent contractor agreement notarized online from any location!
We help you make an appointment with a notary in California, explain what notary acknowledgments are, and tell you how much a notary service in CA costs!
What Documents Can DoNotPay Make for Me?
DoNotPay can generate a number of documents on your behalf! Check out the list of the available agreements below:
Intent To Purchase Real Estate

Estoppel Certificate

Quitclaim Deed

General Business Contract

General Affidavit

Promissory Note
DoNotPay Provides Ready-Made Guides for Various Contracts!
If you're looking for help with more than the contracts mentioned above, look no further! We'll provide you with ready-made guides for drafting the following agreements:
Enjoy Services Worry-Free With DoNotPay
Do you want to try out a new service but are worried about being charged if you forget to cancel it before it ends?
With DoNotPay, you can sign up for free trials without worrying about auto-charges. Our virtual credit card makes sure you enjoy your trial run of the service and prevents any company from taking money out of your real account.
This free-trial card also protects you from email spam because it generates an alternate email address for the free trial sign up.
If you want to keep your phone number private and deter robocallers and text spammers, use DoNotPay's Burner Phone feature when subscribing to services.
In case the company does charge you, initiate a chargeback on your credit card transactions instantly with our app.
Discover DoNotPay's Amazing Features
DoNotPay is a virtual lawyer app that can take over annoying bureaucratic tasks from you.
We can cover anything you may need help with—dealing with customer service reps, booking appointments with the DMV, securing refunds and compensation from airlines, disputing your parking tickets, or getting you an extension on bill payments.
Our app can help you draft any legal document in minutes or access public records from state and federal databases.