A Complete Guide to California Financial Aid
Regardless of whether you are a California resident or an out-of-state student, the Golden State offers a variety of options to meet college students' financial needs.
In this guide, you will find out how California financial aid works, what options are on the table, and how to apply!
What Types of Financial Aid Are Available in California?
In California, financial aid comes in many forms, such as:
Grants
Scholarships
Loans
Work-study programs
California Financial Aid—Grants
The following table shows grants that are most frequently awarded to California college attendees:
Grant
Description
Cal Grant
This grant has three subcategories:

Cal Grant High School Entitlement Award
Cal Grant Transfer Entitlement Award
Cal Grant Competitive Awards

The subcategories ensure that students with different backgrounds, accomplishments, and financial needs can get the necessary aid

California Chafee Grant for Foster Youth
Students younger than 26 who spent at least one day in foster care between the ages of 16 and 18 can apply for this grant
Law Enforcement Personnel Dependents Grant Program
Spouses, children, and dependents of law enforcement officers who were disabled or killed in the line of duty are eligible for this generous financial aid program
The Golden State Teacher Grant Program
Future teachers can apply for this one-time grant if they agree to teach in high-need areas for four years
Middle Class Scholarship
Students with family income and assets below $184,000 can use this grant to cover from 10% to 40% of their tuition and attendance costs
Students enrolled in California schools can also qualify for federal grants such as:
Pell Grants
Federal Supplemental Educational Opportunity Grants (FSEOG)
Iraq and Afghanistan Service Grants
Teacher Education Assistance for College and Higher Education (TEACH) Grants
Scholarships in California
The State of California offers a plethora of private and institutional scholarships. If you're attending a school located in California, you should contact its financial aid department to inquire about school-specific scholarships.
Outside scholarships can help you fill any financial gaps you still have after receiving aid. Here are some tools to help you with your search:
California Financial Aid—Loans
California doesn't offer state-specific loans, but it does participate in the Federal Direct Stafford Loan Program, which allows you to get the following loans:
Direct Subsidized Loans
Direct Unsubsidized Loans
Parent PLUS Loans
Graduate PLUS Loans
Direct Consolidation Loans
Work-Study Programs in California
The State of California participates in the Federal Work-Study Program that allows students to work up to:
20 hours per week during the academic year
40 hours per week during breaks
Most California-based schools also offer employment programs for students who don't qualify or haven't applied for Federal Work-Study.
How To Apply for California Financial Aid
To apply for California financial aid, check out the forms you need to complete and the application deadlines:
Financial Aid Application
Description
Free Application for Federal Student Aid (FAFSA)
Students need to meet the following criteria to complete the FAFSA:

Have any of the following citizenship statuses:

U.S. citizen
T visa holder
Permanent resident
Eligible non-citizen

Be enrolled in an eligible school and program
Demonstrate financial need

Applications are open from October 1st of the current year through June 30th of the year after next (For example, for the academic year 2020/2021, FAFSA applications opened on October 1st, 2019, and closed on June 30th, 2021)

California Dream Act Application (CADAA)
CADAA requires students to:

Have a valid or expired DACA status or a Temporary Protected Status (TPS)
Be a U visa holder
Meet AB540 requirements for tuition exemption

CADAA applications for the next academic year begin on October 1st of the current year and end on March 2nd the following year
What To Do if a School in California Doesn't Offer You Enough Aid
If a school in California denies you aid or offers too little, you can appeal its decision by writing a rock-solid appeal letter.
Subscribe to DoNotPay to get a custom financial aid appeal letter without any hassle!
Use DoNotPay To Create an Appeal Letter and Get More Financial Aid!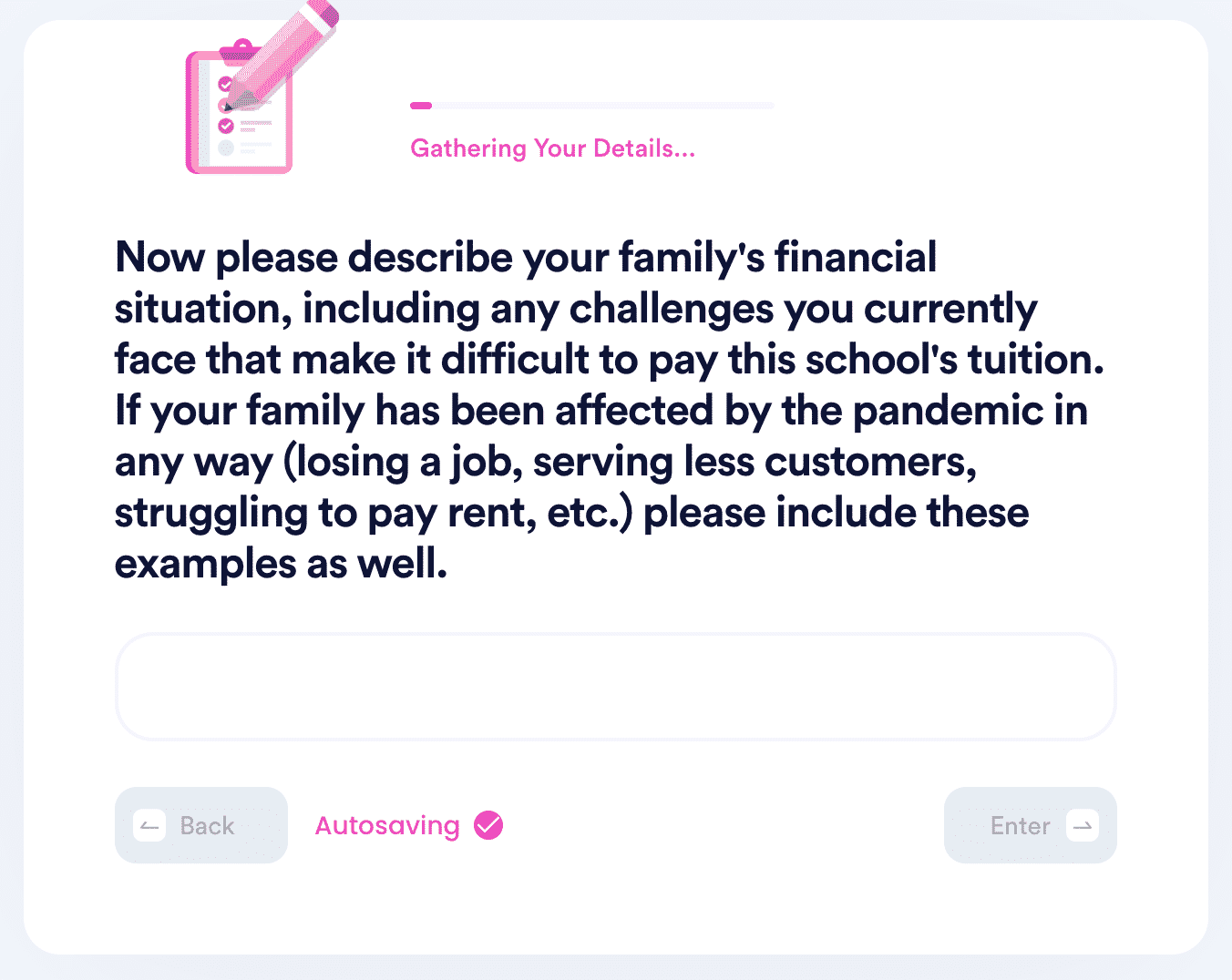 If you feel like your dream school underestimated your financial need, DoNotPay can help you get more aid in three simple steps:
Open DoNotPay in any web browser
Search for Appeal for More Financial Aid
Answer a few brief questions about your application
After you complete the final step, the service will generate a custom letter using the information you provided to make it as convincing as possible.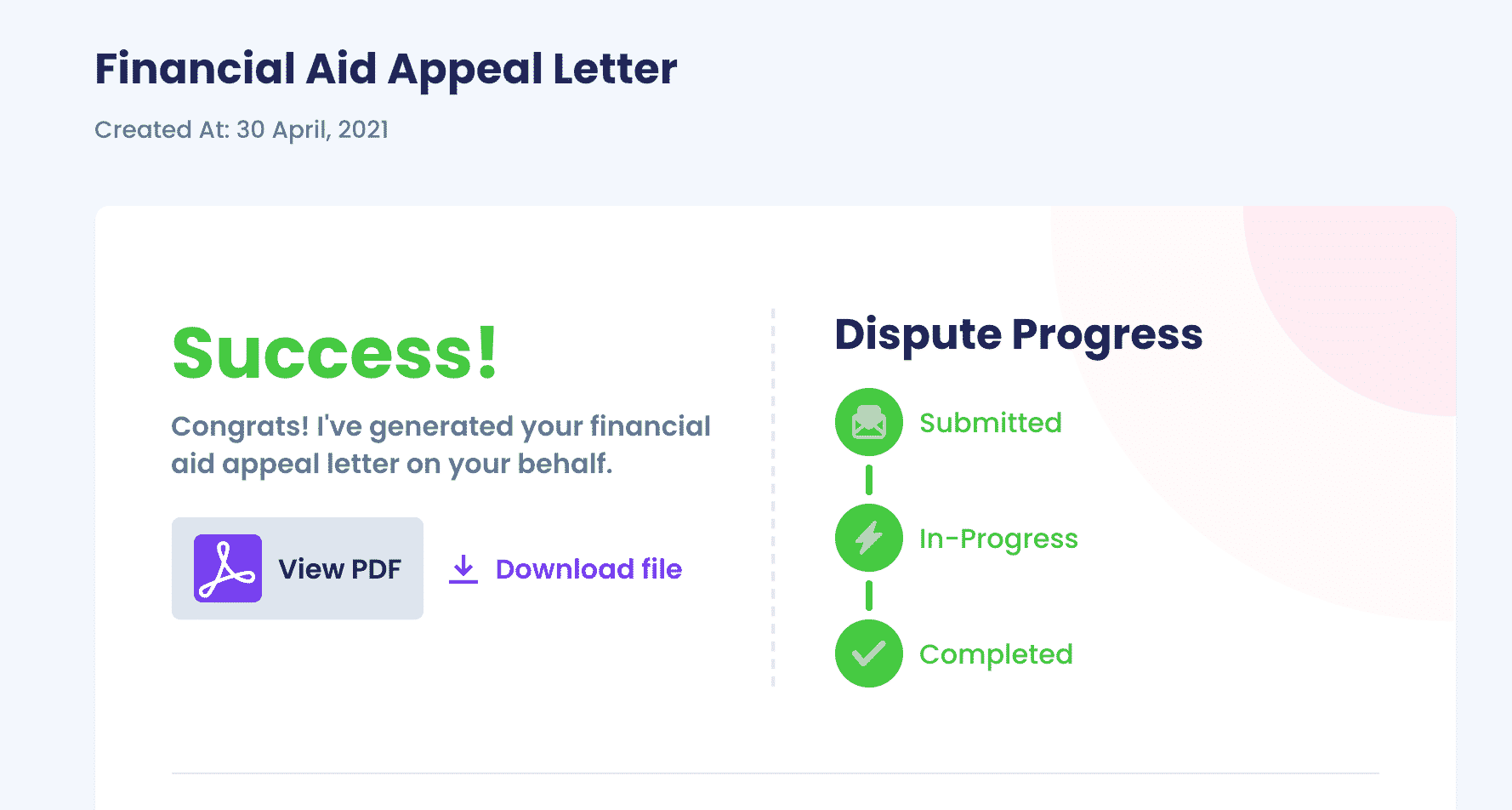 Handy Financial Aid Guides Are Only a Few Clicks Away
We can help you find out all the info about financial aid, such as how many years you can get it for or how it works for graduate schools. We even explained a variety of programs of the most popular schools in the U.S., such as:
Solve Any Issues Like a Pro With DoNotPay
DoNotPay is an AI assistant that is able to solve almost all issues you're facing. Whether that be your noisy neighbors, the annoying text and email spam you're receiving, or the frustrating robocalls that won't leave you alone. We'll even cancel your unneeded subscriptions and get you a few extra bucks you've been cheated out of.
The world's first robot lawyer app can help you get:
DoNotPay Helps You Deal With Any Administrative Issue Effortlessly
Tedious administrative tasks are always headache-inducing, but they don't have to be if you use DoNotPay. With our AI-powered app, you will be able to: