Should I Stick to the Predefined California DMV Power of Attorney Form?
Preparing a power of attorney (POA) isn't an easy task. Depending on the POA type, the document can grant immense authority to another person.
If you'd like to learn about a California DMV power of attorney, you're on the right page. We'll also present different ways of creating other POAs efficiently.
What Is a California DMV Power of Attorney?
If you'd like to let someone handle your vehicle, automobile, or vessel-related matters on your behalf, you should consider preparing a California Department of Motor Vehicle (DMV) power or attorney.
You can use a CA DMV POA form for various vehicles, such as:
Cars
Boats
Trucks
Motorcycles
This particular POA document is also referred to as the DMV Form REG-260 and is limited to vehicle or vessel transactions.
The person who gives the power to another individual is a principal. The principal grants the authority to an agent or attorney-in-fact.
An agent can manage various matters on the principal's behalf, including the following:
Get California registration
Transfer ownership according to law
Fill out and sign any required documents
What To Include in a CA DMV Power of Attorney
To make a CA DMV power of attorney document valid, you need to enter the following information:
Vehicle or Vessel Information
Other

Identification number, i.e., VIN or HIN
Year model
Make
The license plate or CF number
The motorcycle engine number (if available)

The principal's name
The name of the appointed attorney-in-fact
The principal must:
A California DMV power of attorney doesn't need to be signed by witnesses or notarized to be valid.
What To Do After Completing a DMV Power of Attorney in CA
When you have completed and signed the California DMV power of attorney and granted the power to your agent, you'll need to fill out additional forms available on the California DMV website.
How To Terminate a California DMV Power of Attorney
You can withdraw the power of attorney rights at any time for any reason. Here's how it works:
Issue and sign a written revocation
Get the revocation notarized
Provide the written revocation to your attorney-in-fact
Ways To Create a Power of Attorney
Power of attorney documents can come in handy when you cannot tend to some pressing matters. Unlike DMV POAs, other types of power of attorney do not come as a simple form you can fill out quickly. You usually need to create them from scratch.
Here are available options you can choose to create a POA:
Hire an attorney
Use POA templates
Register for DoNotPay
Should You Opt for Legal Services?
Turning to an experienced lawyer to draw up a power of attorney might be the best idea. An attorney will combine all state-specific legal requirements with your particular needs.
You should be aware that this type of professional assistance can be pricey, so you might want to inquire about the fees before meeting with the selected lawyer.
Are Online POA Templates Reliable?
You can download a POA template from various websites. While some are free of charge, they might not be the most reliable choice since they:
Can be too vague
Might not meet the necessary state-specific requirements
Cannot be applied to some specific circumstances unless modified and amended
To make sure an available online template is suitable for your state of residence and your specific situation, you should:
Research state laws
Get familiar with different types of POA
Hire a lawyer to check the document once you complete the form
Access DoNotPay Any Day
If you can't afford legal services and don't want to risk completing a template incorrectly, don't worry! Our AI-powered app can help you generate a power of attorney tailored to your needs. Sign up for DoNotPay to receive a POA document in a matter of minutes!
DoNotPay Is a Trustworthy POA Generator
If you'd like to make sure your power of attorney complies with legal requirements and fulfills your personal and business needs, you should prepare it with DoNotPay's help.
We gather the necessary laws, keep track of changes, and update our database accordingly.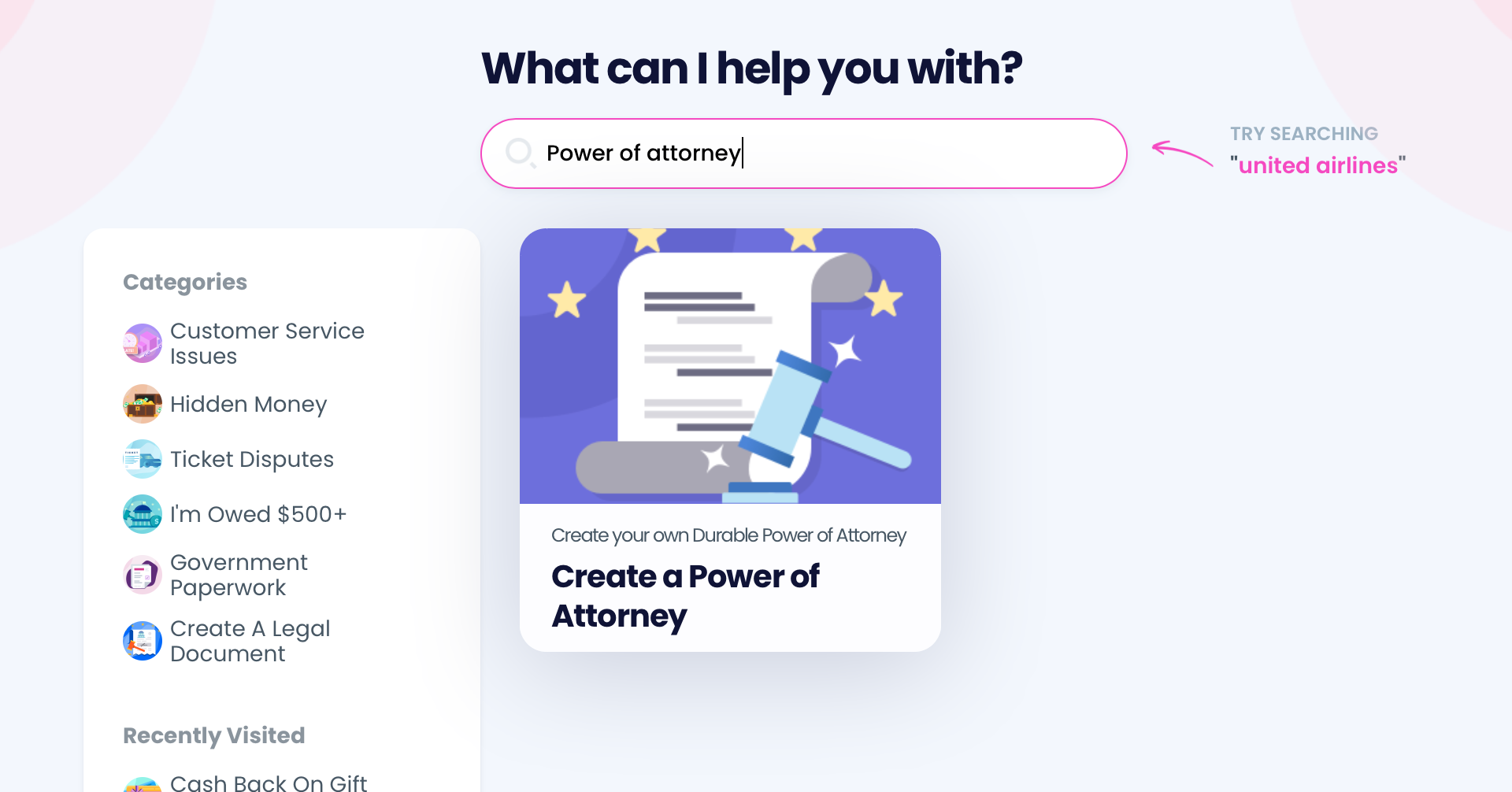 You don't need to spend time customizing templates and researching laws. Not only does our app save time, but we also help you save money. There's no need to hire a lawyer to prepare a POA.
What do you have to do? Subscribe to DoNotPay and complete these steps:
Choose our Power of Attorney feature
Provide answers to a few questions from our chatbot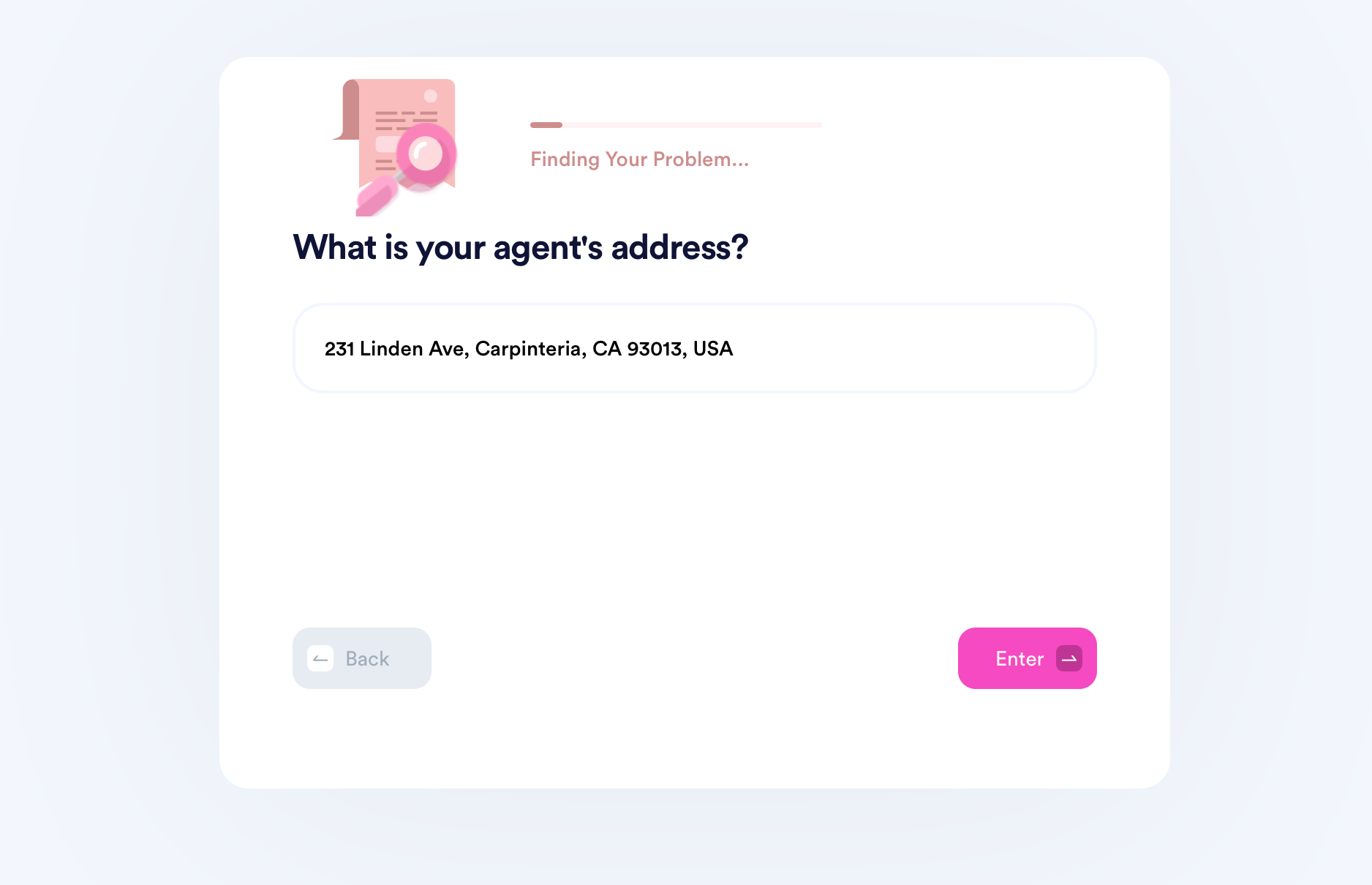 Once you complete these quick steps, we'll create a POA document customized to your situation and requirements.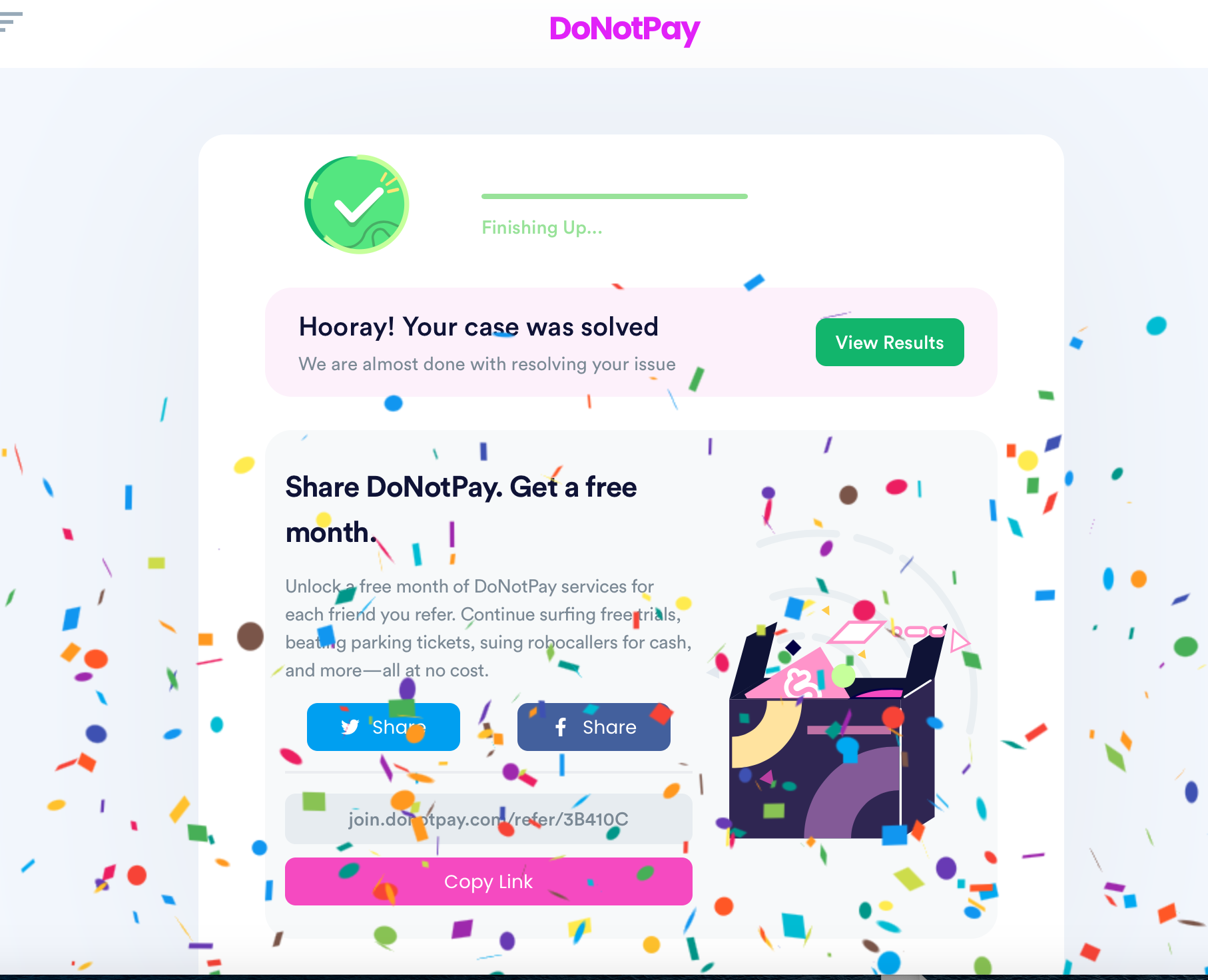 As most U.S. states require POAs to be notarized, you should accept our offer to connect you with an online notary public because you'll complete the whole process in a few clicks!
Use DoNotPay's Extensive Knowledge Base Anywhere Anytime
We provide lots of helpful guides regarding various administrative matters. For most of them, we also offer solutions that will help you overcome your issues smoothly.
To learn more about POAs, here's a breakdown of different POA types you can use for different purposes:
Paying for Lawyers? We Don't Think So!
For an average Joe, any mention of legal terminology and complicated administrative processes is likely to cause a headache, and understandably so! Still, you don't have to jump the gun and hire expensive lawyers for the smallest matters.
It's the 21st century, and everything is automated. Why would it be different with bureaucracy? DoNotPay can help you draft efficient neighbor complaint letters, prepare you for a small claims court appearance, or create standardized legal documents and have them notarized online.
Our app is a great resource for fighting workplace discrimination, stopping stalking and harassment, protecting copyrights, securing compensation for victims of crime, and even reducing property taxes—all at a fraction of the price of traditional legal help.
Need To Do Some Penny-Pinching?
Whether you're saving for rainy days or a new gadget, DoNotPay can provide numerous options to save and earn more cash.
Do you need help with utility bills? Are you wondering how to get those few dollars left on your gift cards? Are you unsure about how to find your unclaimed money? Our app has the answers to all those questions.
With our assistance, you'll be able to enter raffles, start free trials with no risks, participate in lucrative clinical trials, or claim refunds for late deliveries!