DoNotPay Breaks Down the California Divorce Process Step-by-Step
Have you decided to end your marriage, but the process seems overwhelming or difficult to understand? If so, don't worry—DoNotPay will fill you in and explain the California divorce process step-by-step! We'll show you how to get a friendly divorce and avoid spending a fortune on hiring lawyers or going to court.
Procedure To File for Divorce in California
Filing for divorce and ending your marriage in California consists of several steps, including:
Meeting the California residency requirements
Filing the petition for divorce
Waiting for your spouse's response
Reaching an agreement
Getting a Final Divorce Judgement
Meeting the California Residency Requirements
Before starting the divorce process in California, you must first meet the Golden State's residency requirements. This means that either you or your spouse must:
Have been a California resident for six months minimum before filing for divorce
Have lived in the county where you plan to file the papers for at least three months
Filing the Petition for Divorce
Because California is a no-fault state, it doesn't matter who files the initial paperwork as you will end your marriage based on irreconcilable differences. You can get the required divorce papers from the state's official website or your county's court clerk. The first set of forms will have to disclose your and your spouse's financial situation—assets, income, and other essential information.
Whoever files the petition for divorce will have to pay the filing fee of $435. If you can't pay that sum, you can ask for a fee waiver.
Serving the Divorce Papers
Serving the California divorce papers means providing your spouse with a copy of all the completed forms. In California, you can't serve the spouse on your own—you must hire a professional process server or enlist the help of anyone who is:
Neutral to the case
Over the age of 18
If you're on good terms with your spouse, you can serve the divorce papers via mail.
Waiting for Your Spouse's Response
After you've served your spouse, they'll need to file the papers with the court clerk within a month, or the court will issue a default judgment against them. In case of a default judgment, your spouse won't be able to have a vote when it comes to crucial divorce aspects, such as alimony or parenting time.
Reaching an Agreement
If your spouse completes a response in time, the two of you will be able to come up with the terms of your divorce in a marital settlement agreement. You can decide on issues such as:
By reaching a compromise on these divorce aspects, you won't have to hire a lawyer or go to multiple court hearings. The process will be quicker, and it will cost less overall. Getting an uncontested divorce means that you will stay in a friendly relationship with your spouse, which is crucial if there are any marital children.
Can't reach an agreement with your spouse? Try divorce mediation. During the sessions, a professional will guide and help you come up with solutions to reaching a middle ground. Resorting to mediation will save you time and money as you won't have to go to court or hire lawyers.
Getting a Final Divorce Judgement
After filing the papers, you and your spouse will have to wait six months—as mandated by the state—to get the final judgment form in California. Once the waiting period passes, the judge will ensure that the forms are correctly filled out and that the settlement agreement is fair to both parties before finalizing the divorce. If the judge isn't satisfied with the agreement, you might have to start the process from scratch. That's why this document needs to be drafted with utmost care. The most reliable and efficient solution is to .
Want a Professional Divorce Settlement Agreement? DoNotPay Can Help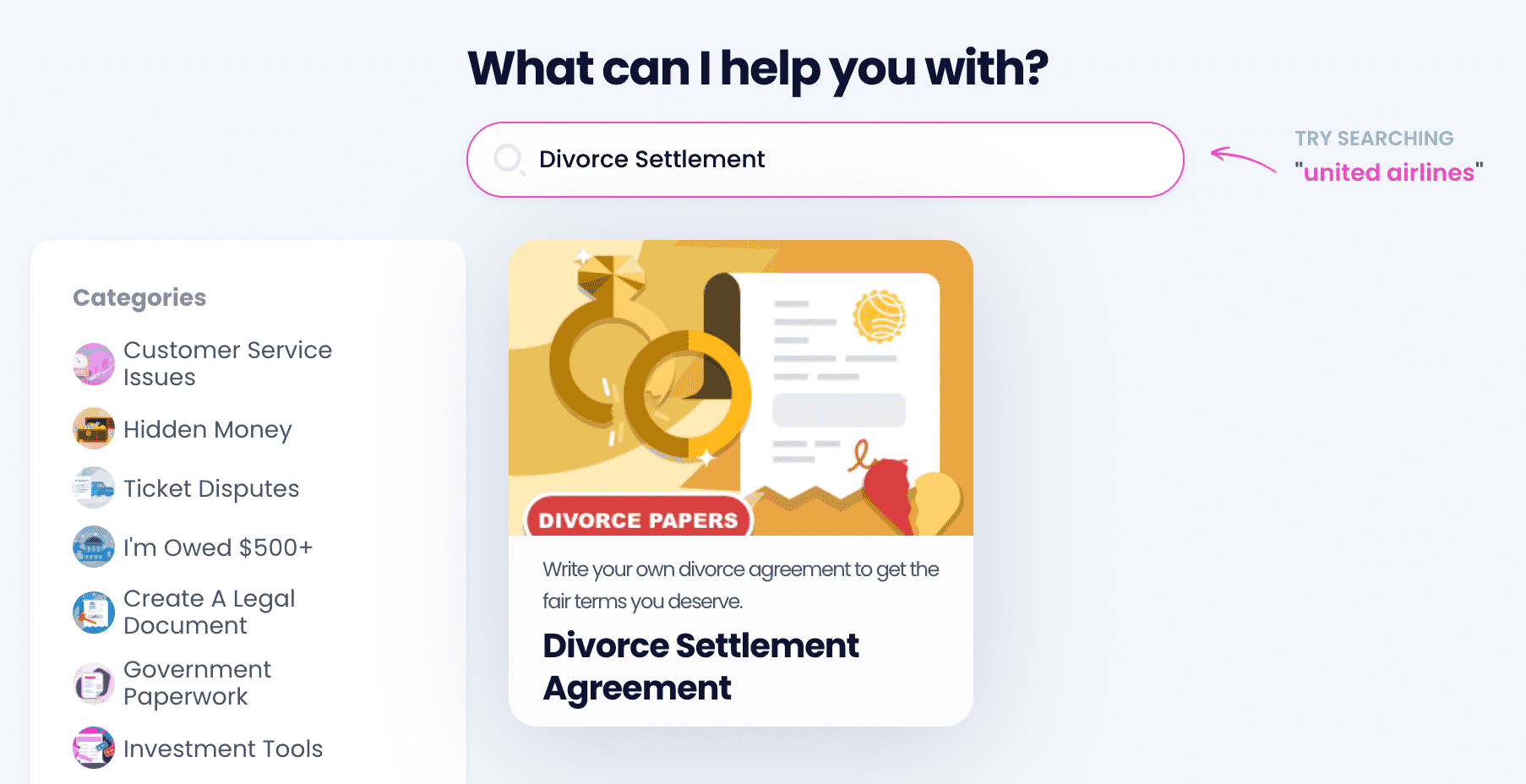 To get a divorce settlement agreement that's valid and compliant with the California divorce laws, you have to hire an attorney to draft one for you. Although reliable, this solution is expensive as attorney fees are sky-high. If you want to get a personalized agreement that won't break the bank, ! We can generate this contract for you in a jiffy and make sure you and your spouse get divorced on the terms you deserve.
All you have to do is:
Select the Divorce Settlement Agreement
Enter the necessary details regarding your:

Spouse
Assets
Income
Children (if any)

Opt for online notarization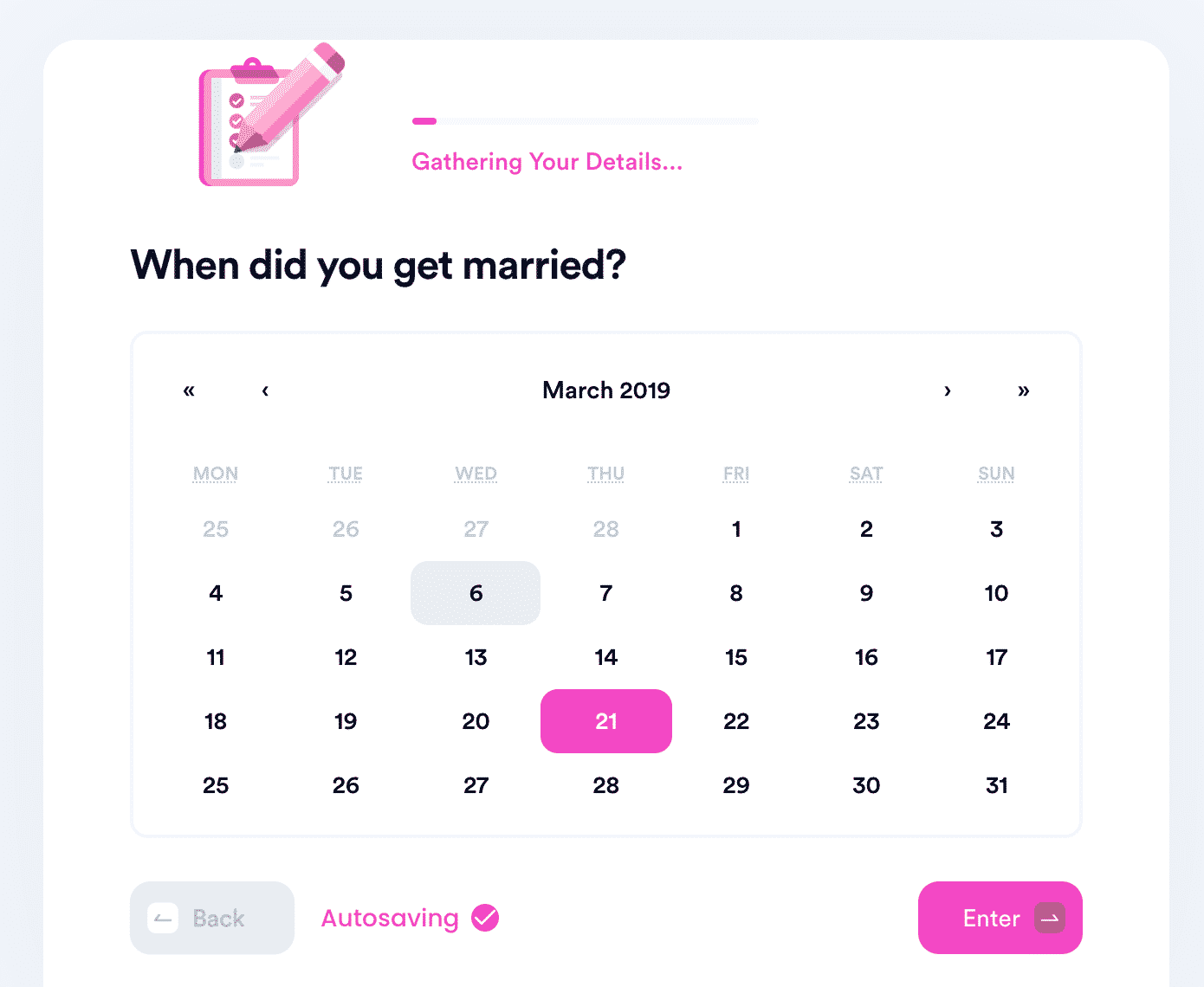 We'll use the information you provided to write a superb divorce settlement agreement and send it your way in no time.
Follow the link we send you via email if you want to schedule an appointment with an online notary. Our online notarization service enables you to add legal weight to your document via a video call.
Note that DoNotPay can help you only if you're getting an uncontested divorce.
Want to learn more about divorces? Check out DoNotPay's learning center and read our helpful articles, including:
| California-Specific Guides | General Divorce Articles |
| --- | --- |
| | |
Discover the Entire Spectrum of Our Features
A click or two will be enough to discover the amazing universe of DoNotPay's tools and products. Our app is here to show you the best way to get:
Financial Issues? Let DoNotPay Take Care of Them!
DoNotPay can track down your unclaimed money, submit insurance claims, or request compensation for delayed flights on your behalf. This way, you can save some money and get what you're owed. Our app can also make it easier for you to lower your utility bills, cancel active subscriptions and stop further charges, or appeal parking tickets.