File the Appropriate California Divorce Paper
Going through a divorce requires time, patience, and often money, even under the laid-back Californian sun. What California divorce paper do you need to file to end your marriage? We provide the answer and some additional tips to finalize your divorce as fast as possible.
What You Should Know About Divorce in California
Before completing and filing the necessary divorce paperwork in California, you should understand that there are different ways to end a marriage or registered domestic partnership:
Divorce
Annulment
The best scenario is a friendly divorce, with both spouses cooperating and agreeing on all crucial aspects. Keep in mind that even if your spouse doesn't want to get divorced, you can still go through the whole process and get a default judgment. In case you believe unbiased third-party professionals might help with resolving some issues, you could try mediation.
As California is a no-fault state, you don't have to prove that your spouse did something wrong during the marriage. Stating that you are not getting along—the legal term is irreconcilable differences—is sufficient grounds for divorce.
Different rules apply if your spouse is in the military, so you should talk to a lawyer in that case.
Where To Get the Divorce Papers in California
You can find the required divorce forms on the California Courts website. Here's what should be included in the divorce packet in California:
Everyone
Couples With Underage Children
Optional

Petition—Marriage/Domestic Partnership
Summons
Proof of Service of Summons

Declaration Under Uniform Child Custody Jurisdiction and Enforcement Act

Child Custody and Visitation Application Attachment
Property Declaration
To complete a preliminary disclosure, you need to include the following:
Declaration of Disclosure
Income and Expense Declaration
Schedule of Assets and Debts or Property Declaration
Declaration Regarding Service of Declaration of Disclosure
If you'd like to request a fee waiver, you'll need to fill out another form—the Request to Waive Court Fees. While the same divorce package is used in all courts across California, you should contact your local court clerk's office to check if they require you to fill out additional forms.
California Divorce Paperwork in Different Counties
To check what divorce forms you need to file in your county, you can:
Contact the court clerk's office
Use a local self-help center
Consult a lawyer
Get in Touch With Your Local Court
You can contact the court clerk's office directly by following these steps:
Access the California Courts Find Your Court page
Type in your city or ZIP code in the search box
Click on the Find button
Another option is to click the View All Courts link next to the Find button. On the provided list, click on your county to visit your county court's website. Once you get to the website, you should:
Look for the forms and filing sections
Get in touch with the clerk's office using the available contact information
Use a Local Court's Self-Help Center
To access your county court's self-help center information, you should:
Visit the California Courts Self-Help Centers page
Click on your county
Use the provided resources to find the necessary forms and information
Talk to a Lawyer
You can opt for the services of an experienced divorce lawyer at any point. If you'd like to cut your costs, you should go through the steps alone and consult a lawyer only when:
You don't understand some matters
There are complicated divorce issues
You're getting ready to file the forms (have your lawyer review them to confirm everything is accurate)
Where To File the State of California Divorce Papers
You must file for divorce in the county where you live. Before filing the divorce papers, you need to meet the residency requirements, i.e., you must live in:
The county for at least three months
California for a minimum of six months
In case you don't meet the criteria, you could file:
For legal separation
An amended petition for divorce once you've met the residency requirements in your county
How To Fill Out Divorce Papers in California
You can go through California divorce procedures alone, especially if you and your spouse agree on all matters.
The state of California helps you file for divorce without an attorney by providing an interactive online step-by-step tool. In case you don't understand the forms, you'll need to consult a family lawyer.
One of the essential documents in this unpleasant situation is a divorce settlement agreement. You must draft one since it:
Determines the responsibilities of you and your spouse in the post-divorce period
Incorporates all agreements regarding alimony, child custody, property division, etc.
To reduce costs and save time, to get a rock-solid divorce settlement agreement hassle-free.
DoNotPay Can Help You Prepare a Divorce Settlement Agreement in a Flash!
Would you like to avoid using pricey services throughout the divorce procedure? Opt for DoNotPay's easy yet efficient tool to prepare your settlement agreement when filing for an uncontested divorce. This amicable divorce takes the least amount of time, money, and paperwork since you and your spouse agree on all matters.
Our procedure is fast and easy. and:
Enter Divorce Settlement Agreement in the search box
Answer our chatbot's questions
Provide relevant information on your property and income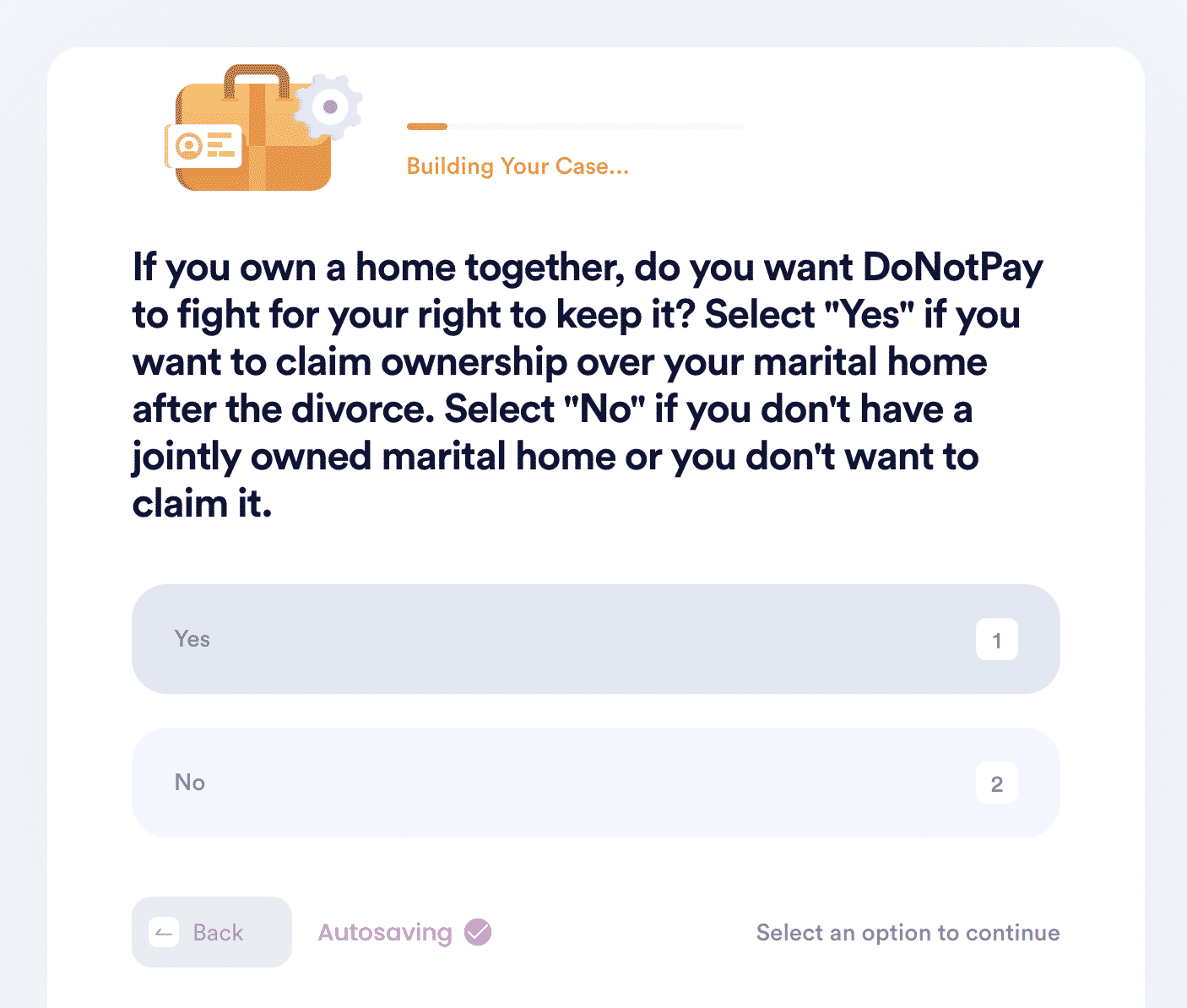 Our AI-powered app scans California family law to generate a document tailored to your specific requirements.
Do you need to have the agreement notarized? We simplify that step by connecting you with a remote notary.
Learn More About Divorce-Related Topics
Interested in finding out more about the divorce specifics in your state or county? DoNotPay offers the latest intel.
Check out our practical guides in the table below:
| | | |
| --- | --- | --- |
| General Divorce Questions | California-Specific Divorce Questions | County-Specific Divorce Information |
| | | Learn about the divorce requirements in the following California counties: |
Take Control of Your Finances
DoNotPay is a great way of taking care of your money, whether you're cost cutting or looking for some extra income. Your new virtual assistant will help you:
Explore All the Facets of Our Multi-Purpose Platform
Our app is great for helping you with your money, but the benefits of your DoNotPay subscription don't stop there. The portfolio of DoNotPay's products and services is so diverse that anyone can find something useful to make their daily tasks easier.
We can help you deal with annoying DMV appointments, protect your privacy by offering a burner phone number, or avoid trips to a post office with our mailing service!
Find a more comprehensive yet cheaper subscription—we'll wait!