California Discrimination Laws Set the Standard in the U.S.
California has long been known as one of the most employee-friendly states in the USA.
If you are an employee in a Californian company, you enjoy protection that goes beyond what many other states offer.
Employers in the Golden State are subject to strict state laws prohibiting workplace discrimination.
DoNotPay has all the info you need on California discrimination laws—here is our rundown of how California protects you.
California State Law Versus Federal Legislation
Federal anti-discrimination laws apply in California as they do in every state.
The key federal laws that govern anti-discrimination policy in the workplace are:
Title VII of the Civil Rights Act of 1964
California was ahead of the game and had already passed the California Fair Employment and Housing Act (FEHA) in 1959—four years before the Civil Rights Act was passed.
Over the following decades, the state has added legislation to bring the total of its anti-discrimination laws to 18, covering every aspect of discrimination in everyday life.
What Does California Discrimination Law Protect Against?
Under the FEHA, employees are protected against discrimination based on:
Race (including hair texture and style)

Gender

Pregnancy

, childbirth, and related medical conditions
Ancestry
Color
Religion (including religious dress and grooming practices)
Marital status
Chronic medical conditions
Genetic information
National origin

LGBTQ status
The FEHA and other California employment discrimination laws state that employees are protected against discrimination in the following work scenarios:
Work Process
Examples
Recruitment
Employers must avoid discrimination in every step of the recruitment process, including:

Internal and external recruitment
Application
Selection for interview
Candidate testing and evaluation
Background checking
Hiring

Compensation
Every aspect of a company's compensation should be non-discriminatory, including:
Working conditions
An employer must apply non-discriminatory practices concerning:

Dress codes and appearance rules
Task allocation
Job responsibilities

Leave
All employees must be given equal treatment in leave allocation, including:

Amount of leave time available
Conditions of leave

Promotion
All employees have equal opportunities for:

Promotion
Training
Self-development

Firing or termination
Any terminations carried out for disciplinary reasons or because the company is downsizing must be non-discriminatory
The biggest difference between federal and state law in California is that federal legislation only applies to companies with 15 or more employees. California companies with five employees or more are covered by the FEHA.
How Does California Discrimination Law Work in Practice?
The FEHA protects employees from discrimination by prohibiting the three most common areas of discriminatory behavior in companies, namely:
Disparate treatment
Disparate impact
Retaliation
Disparate Treatment
Disparate treatment is similar in concept to de jure discrimination, meaning the deliberate use of policies or procedures that discriminate against an individual or a group. An example would be the termination of a pregnant woman while a less-qualified but non-pregnant woman is retained.
Disparate Impact
Any action that results in discrimination in spite of anti-discrimination policies is considered to have a disparate impact—this is equivalent to de facto discrimination in federal law. Stipulating that a delivery driver must be able to lift a minimum weight may, for example, have a disparate impact against women or people of smaller stature.
Retaliation
Retaliation against employees who have been discriminated against is strictly prohibited under the FEHA—employers must be careful that they are not "seen to be" retaliating against an employee.
Many county courts in California will automatically favor the employee based on the balance of probability in such cases.
Should You Trust State or Federal Law To Defend You?
If you are experiencing discrimination at work in California, you may be tempted to use the "higher-level" law to protect you. In this case, you may be tempted to contact a discrimination lawyer and launch a lawsuit under federal law.
The truth is that the state of California will use whichever law—state or federal—that offers better protection for the employee.
As a victim of discrimination under either jurisdiction, you have to follow the correct process to enable you to commence private legal action against your employer.
If you are intent upon using the federal framework, you need to file a complaint—known as a charge of discrimination—with the Equal Employment Opportunities Commission (EEOC).
The California organization that enforces state anti-discrimination legislation is the Department of Fair Employment and Housing.
Both organizations work in the same way—after you have lodged your complaint, the DFEH or the EEOC will:
Inform your employer of the charge
Investigate the allegations
Suggest a settlement route, such as:

Mediation
State or federal legal action
Permission for you to pursue private litigation
If you choose to go the federal route and use the EEOC to fight your case, DoNotPay can help you !
What Can DoNotPay Do To Get You Assistance From the EEOC?
DoNotPay can lodge your charge with the EEOC in three easy steps—here's how:
in your web browser
Search for our Fight Workplace Discrimination product
Fill in the details of your case by following the prompts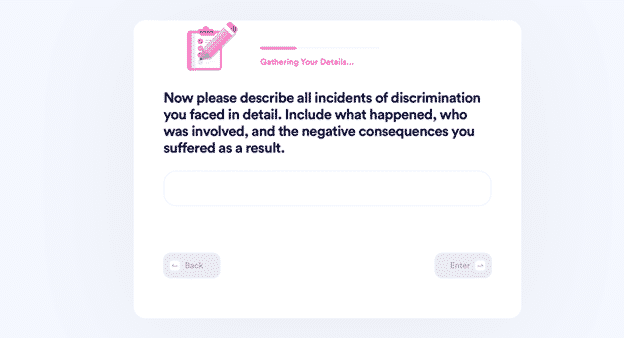 That's all you have to do—the EEOC will contact you to talk through your next steps.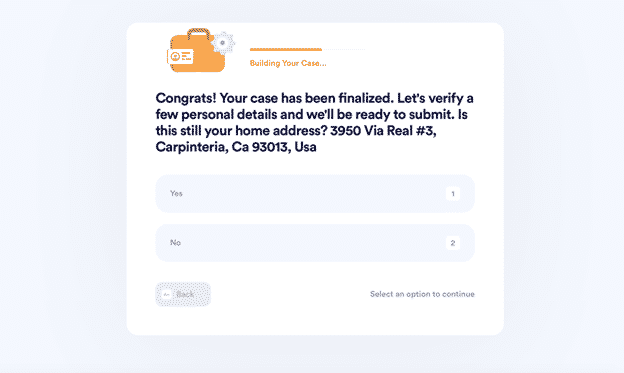 DoNotPay Is on Your Side
Is the discrimination you're facing at work turning into proper harassment or even stalking? Are you considering suing your manager or colleague in small claims court? These unpleasant situations usually require lawyers, but they come with hefty fees.
DoNotPay is a powerful AI-powered app that can lead you through a small claims court case against anyone or serve them with a cease-and-desist letter. If discrimination turns into a hate crime, we can help you file for crime victims compensation or make a claim on your insurance.
Whenever you need to draft, fax, or mail legal paperwork, you can open our platform and use our fast and reliable tools for that. With our help, you can even have your documents notarized by an online notary!
The Multi-Purpose Platform That Makes Your Life Easier
If you've had enough of that toxic atmosphere at work and want to escape somewhere for a week or two, DoNotPay might turn out to be the perfect travel buddy. Our app won't do much when you're drinking cocktails at a beach, but it will do wonders if you run into problems.
We can help you generate a child travel consent form, get airline compensation for canceled or delayed flights, jump the queue when you must contact customer service as soon as possible, or get a refund for all kinds of unsatisfactory purchases.
Do you prefer road trips? No problem! DoNotPay can help you prepare for your driving test or schedule a DMV appointment without sweat!
From fighting discrimination to solving travel woes—that's how diverse DoNotPay's portfolio is!