The California Defamation Law Explained
Under California law, defamation claims are considered civil lawsuits. It is quite unlike in other states where defamation is considered a criminal act punishable by fines and jail time. Nonetheless, it helps to know what constitutes defamation under California law. In this article, we will show you some examples of violations of the California defamation law and what to do if you or someone you know has been a victim of defamation.
How California Law Defines Defamation of Character
California law recognizes defamation as an invasion of interests in a person's or business's reputation. It's a general term that encompasses all acts that involve publishing false statements made by someone to harm another's reputation. Defamation of character is a civil lawsuit and very rarely it is considered a criminal lawsuit. Under the California Civil Codes (Cal. Civ. Code §45 and Cal. Civ. Code §46), there are two types of defamation: libel or slander.
Libel is a false publication through writing, printing, images, and any other forms of media.
Slander is when someone makes a verbal defamatory comment that is considered injurious.
What Is Online Defamation?
With the advent of so many social media platforms and review websites on the internet, there is also the rise of defamatory comments and posts. Although most online content is monitored and moderated, some libelous statements still make their way online. However, there are not many options if someone defames you or violates your privacy online. Nonetheless, California's libel law will apply to online posts, pictures, videos, and graphics that constitute an invasion of privacy. These include:
Posting false statements on Facebook
Posting photos or videos that seem to show someone committing a crime
Submitting Yelp or Google reviews that falsely accuse a business of unethical practices
Falsely accusing a professional of being incompetent on Nextdoor
Messaging a CEO on LinkedIn falsely accusing an employee of sexual misconduct
Examples of Defamation Lawsuits in California
In most California libel cases, the plaintiff has the burden of proof where he or she needs to prove that there are actual damages as a result of the defamatory statements. There are also certain types of statements that can be considered so injurious in itself that it exempts the plaintiff from having to prove actual damages. These are called defamation per se under the California Civil Code. For a defamation case to hold its weight in court, the plaintiff must be able to satisfy the elements of a defamation claim such as the statement is false, without privilege, and it aims to cause harm to business or reputation. Some of the well-known defamation lawsuits in California are as follows:
| | |
| --- | --- |
| Lawsuit | Description |
| Edwards v. San Jose Printing & Publishing Soc. (1893) | A newspaper article was published alleging a certain corporation of paying corrupt voters with Edwards accused as the person-in-charge of the cash handouts. |
| Christian Research Institute v. Alnor (2007) | A false statement on the defendant's website seems to imply that the plaintiff is under a Federal Criminal Mail Fraud Investigation. |
| Dethlefsen v. Stull (1948) | The defendant falsely accused the plaintiff of embezzling partnership funds. |
| Albertini v Schaefer (1979) | The defendant called the lawyer (the plaintiff) a crook. |
| Cunningham v. Simpson (1969) | A financial officer made comments to a car seller in the presence of his prospective buyers that "you've got a hot title". |
| Patton v. Royal Industries (1968) | When the plaintiffs terminated their employment from the defendant, the former went into business by themselves. The defendant then sent a letter to the plaintiff's prospective customers claiming the plaintiffs were "terminated" and "replaced with personnel having more experience and knowledge". |
Writing a Defamation Cease and Desist Letter
A cease and desist letter requests or instructs the recipient to stop a specific action and to avoid doing the same action in the future. Most letters include a warning that legal action may be taken if the recipient doesn't comply with the request. Some of the situations where a cease and desist letter is used include sending notices for breach of contract, copyright infringement, defamation, harassment, or debt collection.
A cease and desist letter is not technically categorized as a legal document. It is different from a cease and desist order, which is legally binding. Although there are cease and desist letter templates that you can download and use from the internet, there are some considerations to take when drafting your own cease and desist letter as follows:
Be mindful of the tone of the letter. It must have a soft-handed approach where it simply states what action the recipient needs to stop. The letter should not be too quarrelsome but not too lax either.
Be careful of making empty threats. Your letter should avoid including specific language such as filing lawsuits by a certain time as it requires you to follow through on your threats. Otherwise, the recipient will doubt the seriousness of the issue and consider your claim as being pulled out of thin air.
Make sure to include a clear reason for the cease and desist letter. The content of the letters should be thorough and well researched.
Draft a Cease and Desist Letter on
The best way to ensure that your cease and desist letter is effective is to let a legal expert draft or review the letter. However, this also comes with high lawyer fees. That is where can help. Our lawyer in an app can help draft a cease and desist letter quickly and efficiently. All you have to do is:
1. Search for Defamation Demand Letters on .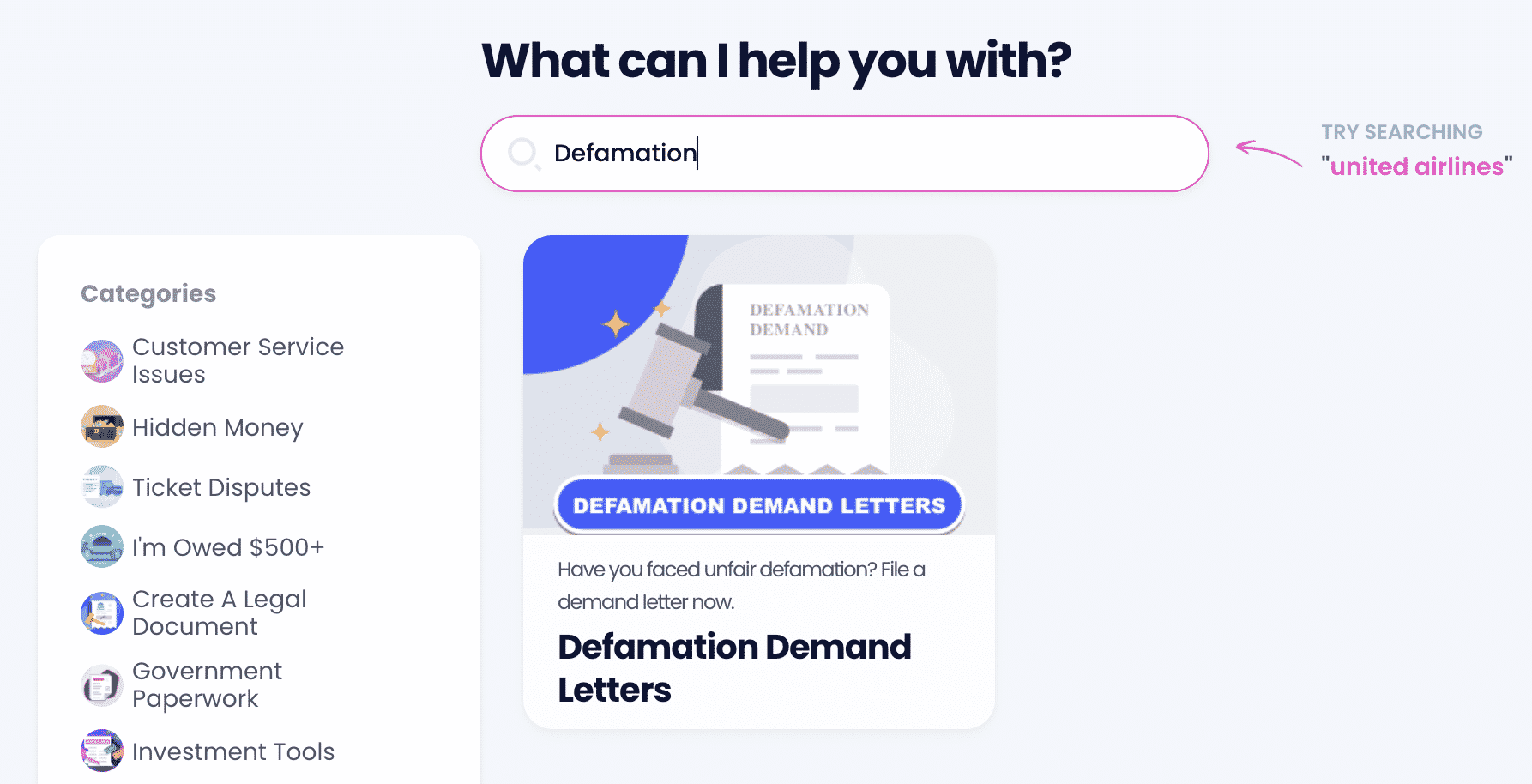 2. Tell us about your situation, including whether the statements were libel or slander, listing the statements that were made, explaining why they are false or misleading, and what consequences you have suffered as a result.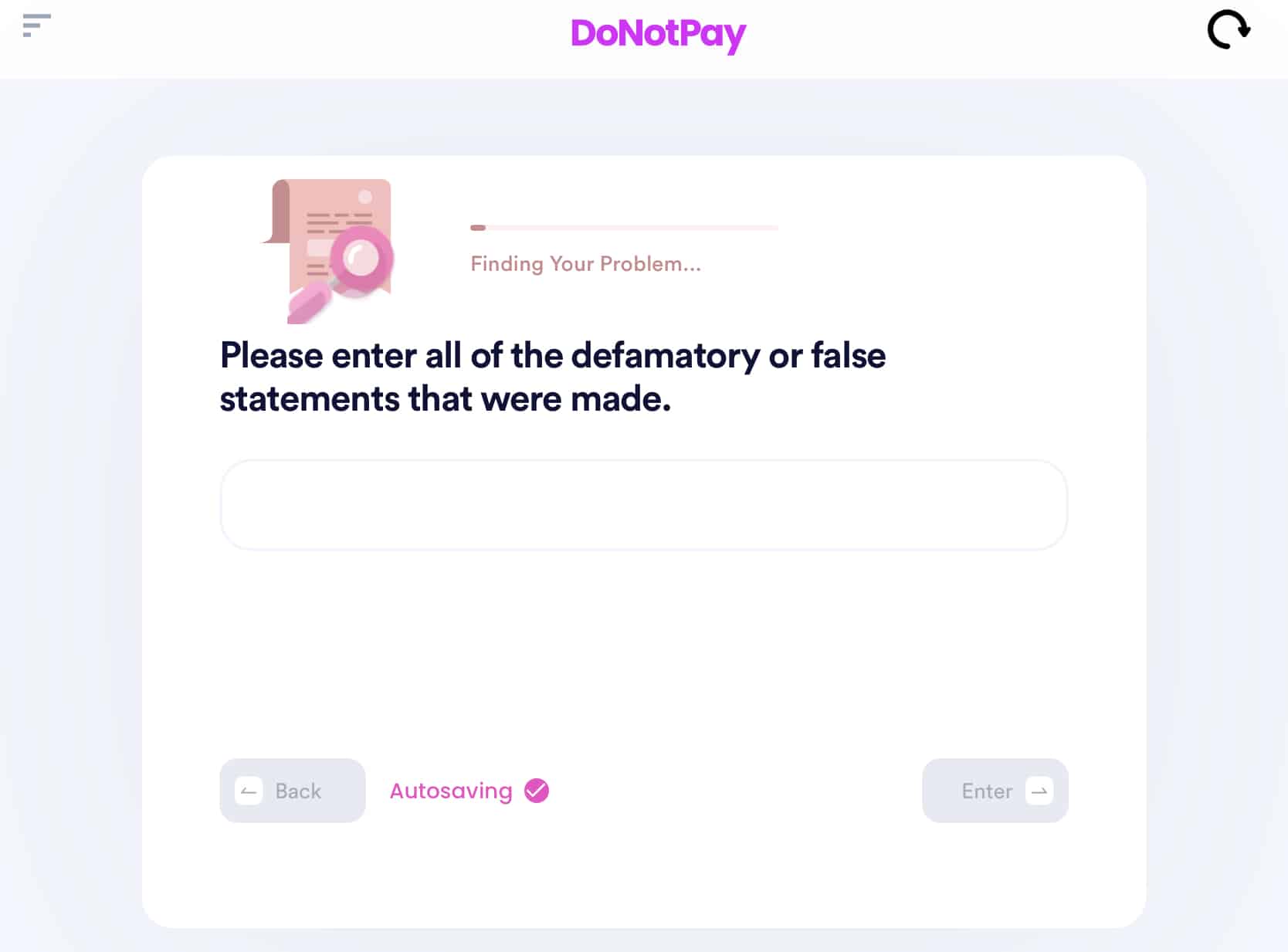 3. Based on your location, in this case California, DoNotPay will generate a formal demand letter on your behalf with the most relevant state legislation regarding defamation.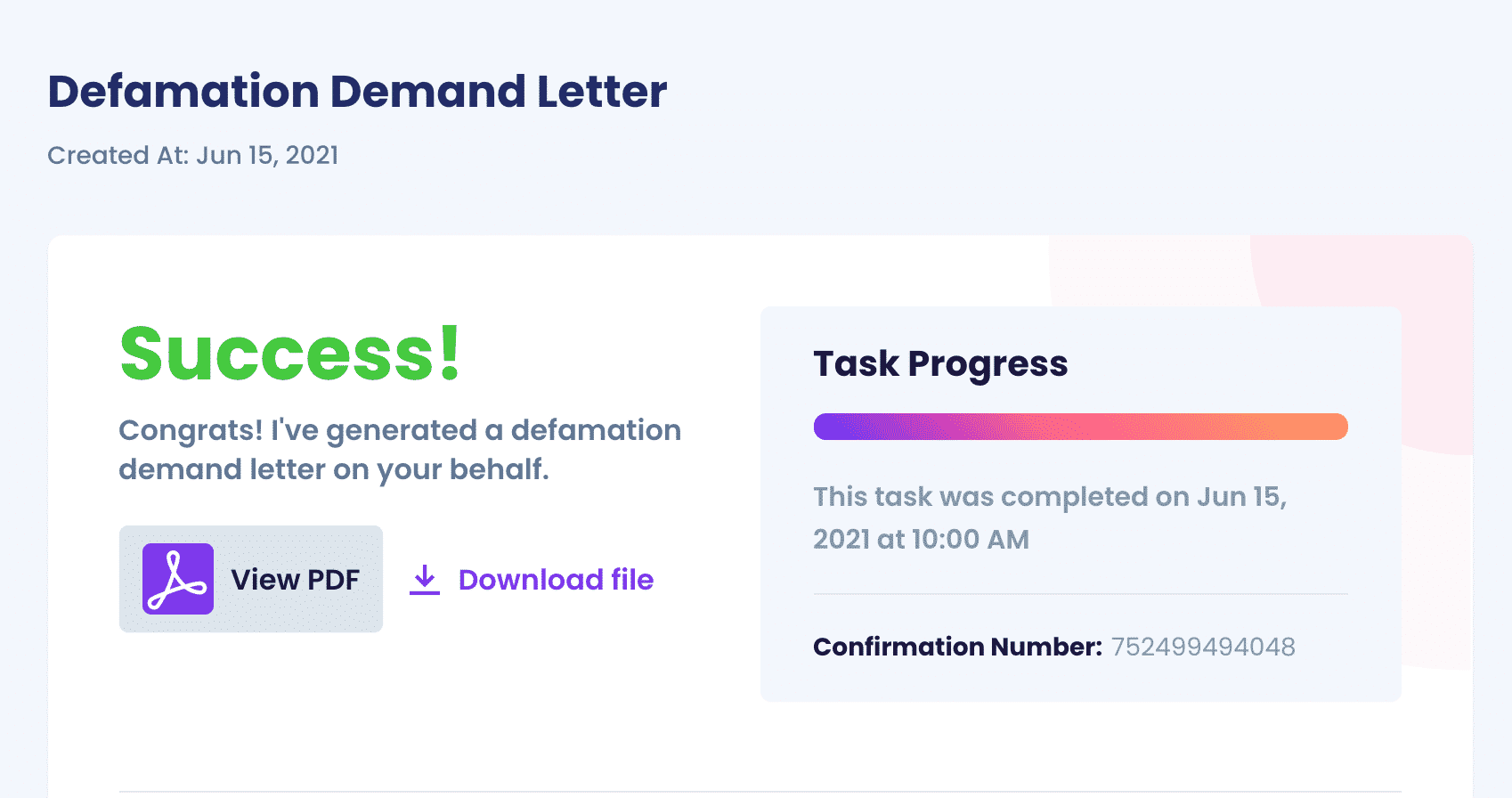 That's it! All we need is a little information from you, click Done, and the letter is on its way to the recipient.
What Else Can DoNotPay Do?