California Association of Realtors Residential Lease Agreement Deciphered
Maintaining a smooth landlord-tenant relationship is one of the central pillars of a successful property lease. The parties can easily achieve this and protect their rights by signing a lease agreement. Many Californians opt for the version made by the California Association of Realtors (CAR), a real estate institution based in Los Angeles.
If you aren't familiar with the CAR residential lease agreement, read our article and get acquainted with the essentials of this form. DoNotPay offers some practical tips on handling your California lease agreement and other legal documents in a matter of minutes.
What Is a CAR Residential Lease Agreement?
The CAR residential lease agreement is a specific form this institution offers to landlords and tenants as an alternative to a standard lease agreement. 
The CAR contract template contains a ready-made list of all recommended and obligatory provisions a lease agreement should cover. Besides that, it stands out from other California lease agreement templates because it:
Has a favorable structure that explains each section in detail

Is revised by lawyers 

Gets updated regularly

Aligns with the landlord and tenant rules proposed by the

Civil Code of California Law
Disadvantages of a CAR Lease Agreement
Many realtors use the lease agreement made by CAR, but not all of them choose this version. This contract can also only be used in California—it will be useless for you if you live in another state.
The contract form looks comprehensive, but the parties may spend a lot of time filling it out as it's 22 pages long. This can be too much if you have only a few terms to establish. Another disadvantage is that modifications are limited to the blank spaces only—you cannot add your own clauses.
Does a CAR Lease Agreement Require Notarization?
Having a lease contract notarized isn't mandatory in California, regardless of the form the parties are using. The agreement becomes enforceable when all the parties involved accept the proposed rules and sign it. You can have your signatures validated for extra security, but there are no state laws that impose this.
What Does a CAR Residential Lease Agreement Cover?
The table below shows the contents of the CAR lease agreement:
Provisions
Details

General information

Names of the landlord and the tenants

Physical addresses of the parties

Contact details

Signatures of all parties involved

Date of signing

Lease details

Start and end date of the lease

Property

Property description

List of available premises

Condition of the premises, including available furniture, appliances, landscaping, alarms, and carbon monoxide detectors

Neighborhood conditions

Parking and storage

Utilities

Responsibilities regarding utility payments

Availability of gas meters, electric meters, and water submeters

Rent

Payment amount, due date, and method

Late charge and returned checks

Security deposit

Amount

What the tenant can use a security deposit for

Returns

Additional clauses

Move-in costs

Repairs and alterations

Maintenance and reporting

Pet

and smoking policy

Keys and locks

Landlord's right to enter the property

Photographs, signs, and advertising

Joint and individual responsibilities and obligations

Duties upon vacating premises

Breaches and termination

Insurance and potential damage
The revised versions of the California Association of Realtors lease agreement from 2018 and 2019 propose two new mandatory disclosures:
How To Get the Best out of Your Contracts With DoNotPay
If you decide to write a California lease agreement yourself, you may face a real challenge due to specific requirements. When drawing it up, you should consider:
Your writing style and potential mistakes

All mandatory and recommended disclosures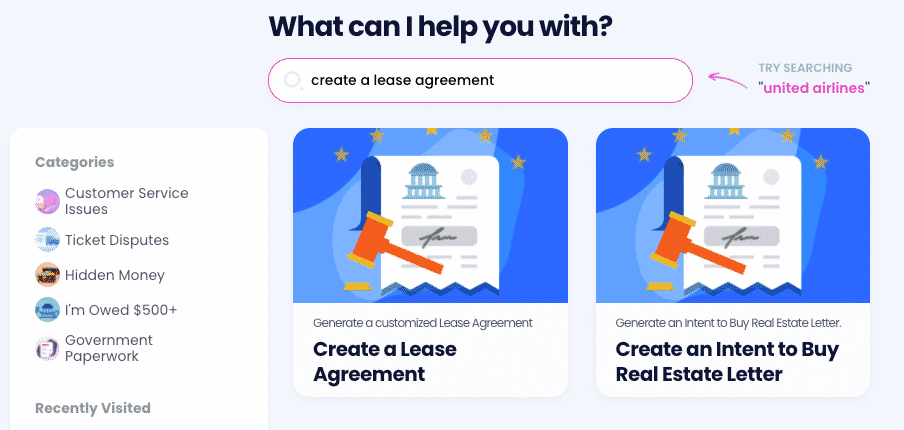 Attorneys can easily compose a professional lease agreement, but most people can't afford their assistance. Luckily, this is not the only option you have! 
DoNotPay offers a user-friendly tool that lets you choose the desired document template and customize it according to your needs. Tell us what details you want to add to your contract, and watch us generate it in a heartbeat!
that is universal and applicable in any state. We can also generate:
General Affidavit

Quitclaim Deed

Promissory Note

General Business Contract

Child Care Authorization Form

Intent To Purchase Real Estate
How To Draft Your Residential Lease Agreement With DoNotPay
Here's how you can use our service:
and log in to your account

Enter the name of the template in the search field

Respond to our chatbot's questions to help us structure your contract
Once we process your information and create your contract, you can get it notarized within the same app if you want to add legal weight to it. 
Need Help Fighting Bureaucracy? Use DoNotPay!
As the world's first robot lawyer, DoNotPay can help you resolve a plethora of tedious administrative issues. Our app will assist you in getting justice in small claims court, getting refunds from merchants, reporting annoying spam emails and text messages, reporting copyright infringement, bypassing phone number verification, and so much more!
You can also rely on DoNotPay's help when it comes to subscriptions. If you want to sign up for a free trial, cancel a service you no longer use, and skip the phone queue when doing so, our app will provide its assistance.
Our App Saves You Time and Money
Are you unable to pay your bills? Use the world's first robot lawyer app to cover them! Do you want to appeal your traffic or parking tickets? DoNotPay will help you appeal them in the blink of an eye.
Our app can do so much more than that, though—with DoNotPay by your side, you can sign up for clinical trials, ace government tests, claim any type of warranty, schedule an appointment with the DMV, and handle any other bureaucratic task.