Do You Have To Consult CACI for a Breach of Contract Case?
When a client fails to perform their contractual obligations, you need to prepare yourself to act correctly. As proper breach of contract procedures depend on state laws, you need to get familiar with these before taking legal action.
If you live in California, your attorney needs to consult CACI breach of contract instructions when preparing your case. This article provides information about these special instructions so that you can understand what lies ahead of you if you decide to sue for damages.
What Is the Breach of Contract CACI?
CACI—California Civil Instructions—refers to the official civil instructions and verdict forms that judges and attorneys are encouraged and recommended to use.
Among other areas, these instructions cover breach of contract cases, i.e., explain important elements of a breach of contract claim.
If you choose a lawyer to represent you in court, they should consult CACI to:
Establish the necessary elements
Build and control your case
As the CACI instructions change over time, your attorney should make sure they use the latest version available on the California Courts website.
Elements According to the CACI Breach of Contract
Based on the CACI jury instructions for a breach of contract:
Both written and oral agreements are valid and enforceable
You will need to prove four essential elements if you decide to start a lawsuit for a breach of contract in California
These elements include:
Existence of a valid contract—You need to prove the contract exists and is valid, i.e., you should provide evidence of:

Offer, acceptance of the offer, and consideration of the agreement
Both parties agreeing to the terms of the contract

Plaintiff's performance or excuse for nonperformance—You, as the plaintiff, have to prove that you either:

Have performed your contractual obligations
Were not able to fulfill the contractual terms because the breaching party—i.e., the defendant—made it impossible for you to honor your commitments

Defendant's breach of contract—You need to prove that the other party has failed or refused to perform their obligations under the contract
Damages—When suing for damages, you have to provide evidence of any losses you have suffered as a result of the (material) breach
How To Handle a Breach of Contract in California
When a breach of contract happens, you can consider taking some of the following approaches:
Options
Details
Refuse to perform
If the breaching party fails to fulfill contractual terms, you can decline to perform your part of the contract (e.g., refuse to pay for the agreed-upon but unperformed job)
Sue for breach of contract
You can seek monetary damages and other legal remedies at a court of law if you can:

Demonstrate the necessary elements of the breach
Provide evidence of the resulting losses
Handle the other party's affirmative defenses

Keep in mind that you need to file a claim within the statute of limitations

Send a demand letter
Before starting a lawsuit, you might want to try to resolve the problem directly with the breaching party by sending them a demand letter
How To Draft a Demand Letter
If you would like to avoid complex, lengthy, and expensive litigation, you should draw up a convincing demand letter to show the other party that you:
Know your rights
Will pursue legal action if they refuse to fulfill their end of the deal
Here is how you can create a demand letter:
Hire an attorney—Any lawyer can create a breach of contract demand letter, but you need to be aware that this option will probably be the most expensive one
Visit a collection agency—While a debt collector can help you compensate for your losses, they usually take up to 50% of the collected amount
Do it by yourself—If you would like to write a letter on your own, you could use online templates or samples. Keep in mind that most of these forms are too generic, so you will have to adjust them to:

Comply with your state laws
Meet your case-specific requirements

Use DoNotPay—Our AI-powered app is familiar with relevant state laws and can automatically generate a demand letter that covers specific aspects of your case
DoNotPay Can Create a Reliable Demand Letter for You
There is no need for you to spend:
Money on costly lawyers and collection agencies
Time inspecting and amending numerous templates to suit your case
DoNotPay knows what legal regulations you need to fulfill in your state, and we use this knowledge to help you prepare a watertight demand letter.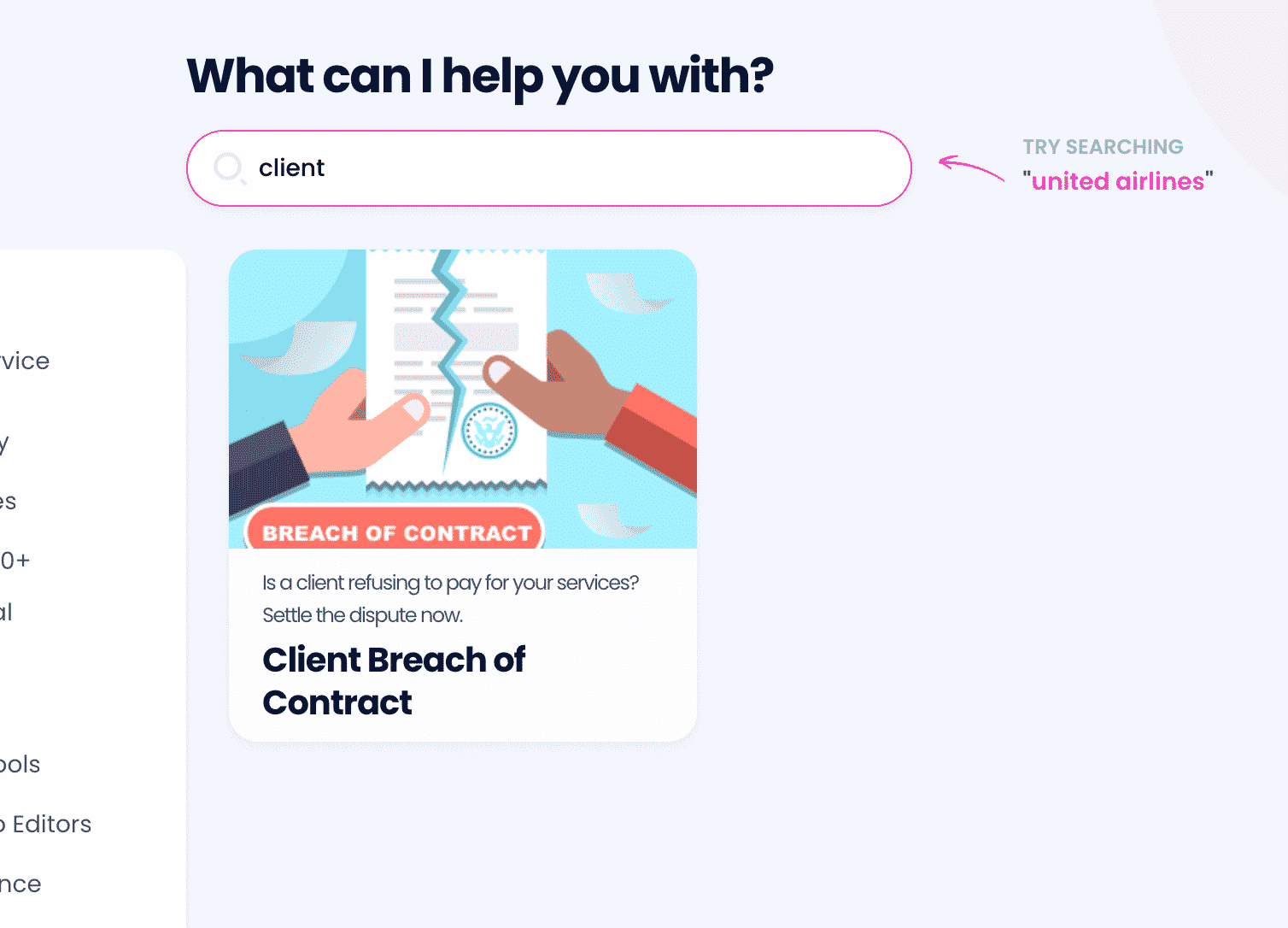 The process is straightforward—subscribe to DoNotPay and:
Open the Client Breach of Contract product
Answer questions about the breaching party and the agreement you have entered into
Select a new deadline for the performance of contractual obligations
Describe the performed services
Upload any evidence to support your request
Keep in mind that DoNotPay can also help you sue in small claims court if the other party:
Keeps refusing to fulfill the contractual terms
Get Down to Business With DoNotPay
If your to-do list is getting longer by the day, we offer numerous solutions. You can focus on growing your business while we handle the endless administrative tasks.
Here are some of DoNotPay's products and services that will assist your company tremendously:
DoNotPay Feature
Our App Will
Trademark Registration

Complete your company name, logo, or slogan registration application
Submit the application in your stead

Trademark Protection

Perform monthly checks
Notify you in case there is any trademark infringement
Help you file cease and desist letters

EIN Registration

Fill out and file your Employer Identification Number (EIN) application
Notify you of your new EIN

Register a DMCA Agent

Complete the DMCA agent registration process
Register the designated agent with the U.S. Copyright Office
There Is Even More We Can Do for You
Navigating the business world can be overwhelming. If your paperwork is piling up and disputes keep emerging, start using our app and declutter your workday from numerous chores.
The world's first robot lawyer can help you deal with the following:
Chargeback scams
Business loan applications
Faxing and mailing
Negative online reviews
83(b) election forms
Self-certification with the Privacy Shield program