A Detailed Guide to Writing a Buyout Agreement
Business partnerships include various important contracts, one of them being a buyout agreement. While you're not legally required to have a buyout contract, it can be beneficial for your business's future.
will teach you how to write a buyout contract and offer the best and easiest solution to draw up other legal documents in a snap.
What Is a Buyout Agreement?
A buyout agreement is a legally binding document signed between business partners. It specifies the buyout details in case one of the partners wants to leave the business. Other common names for this contract are:
Buy and sell agreement

Buy-sell agreement

Business will

Business prenup
Any type of business structure can benefit from the buyout agreement, including LLCs, partnerships, and corporations. The contract defines what happens with the withdrawing partner's interest after he or she leaves the business. The buyout agreement is useful in case one of the partners:
Passes away

Becomes disabled

Goes through a divorce

Declares bankruptcy

Incurs debts

Retires

Resigns
When and Why Should You Sign a Partnership Buyout Agreement?
While you can create a buy-sell agreement whenever you want, the safest option is to do it before entering a partnership. You will avoid numerous misunderstandings if you take care of everything in advance.
The agreement is useful for multi-owner companies since it protects the interests of the remaining parties. It ensures that the withdrawing partner's share isn't sold to an individual or company the remaining partners don't want to work with. By specifying what happens if one of the partners leaves the company, the agreement allows other owners to continue with the business worry-free.
Another important aspect of the buy-sell agreement is a buyout valuation. An accounting professional will determine the value of the business by taking the following factors into consideration:
Unpaid earnings

Shareholder loans

Owed profits
The valuation will help calculate how much the withdrawing partner's portion is worth.
Most buy-sell agreements include a non-compete clause. This is important because it prohibits the departing partner from working for or becoming the competition. It also ensures the partner in question won't develop business relationships with previous clients.
The buyout contract can also be created in single-member companies. In that case, the agreement specifies details regarding the sale of the company. This ensures that the business continues even if the primary owner retires or passes away.
What Happens if You Don't Write a Buy and Sell Agreement?
If you don't create a buy-sell agreement, you allow anyone to buy the part of the departing partner's share. You might end up working with someone you don't like or trust, which could jeopardize your business.
When it comes to single-owner companies, the lack of a buyout agreement means that the state your business is registered in can dissolve the company. You could face disagreements regarding your share's value.
Learn How To Draw Up a Buyout Agreement
You can create a buy-sell agreement in a few ways:
Hire a lawyer

Find buyout contract templates online

Write the agreement yourself
While hiring a lawyer might seem like the easiest and safest solution, not everyone has the means to do it. Contract templates could be a good option, but you need to ensure the agreement fits your business needs.
If you decide to draw up a buyout agreement yourself, you should still check out some templates to learn how to structure the contract. While each partnership is different and requires a unique buy-sell agreement, there are some basic questions you should answer:
What are the events that can trigger a buyout?

Who has the right to purchase the withdrawing partner's interest—current partners, family members, or a third party?

How much money will the departing partner get for his or her interest?

What are the payment terms? Will the buyer of the share pay a lump sum, or will your company accept installment payments?
Make sure to include each signing party's names, addresses, and signature.
Rely on DoNotPay To Create Legal Documents in the Blink of an Eye
Creating legal documents can be a hassle for most people. That's why DoNotPay has created a feature that can help you write any document in under five minutes. You won't have to spend significant amounts of money on a lawyer or waste hours searching for content templates online. Our feature will take care of any agreement for you.
To draw up business, real estate, or other contracts with our help, follow these steps:
Open your

account

Type in the name of the document you want to draw up

Respond to our questions

Print the contract and sign or notarize it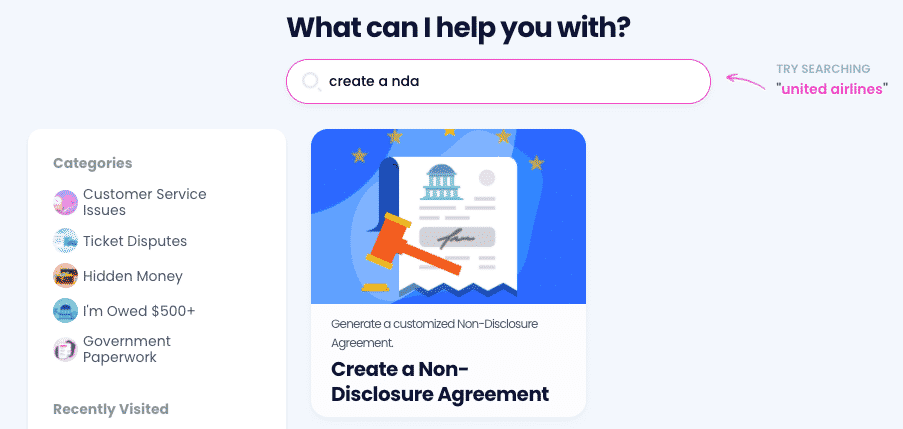 You can create an unlimited number of professional documents in a few clicks. Some of the contracts DoNotPay can help you write are:
Real Estate
Business Contracts
Other

Intent to Purchase Real Estate

Quitclaim Deed

General Affidavit

General Business Contract

Promissory Note

Estoppel Certificate

Child Care Authorization Form
More of What We Can Do for You
Our multifaceted app can call and record the conversation with the customer service of the company that just won't let you go! If you are having trouble canceling an unwanted service via the traditional channels, use DoNotPay to get it over and done with!
We can help you stop the persistent robocalls and robo texts from the nagging company and request a refund for unused services in a matter of minutes.
We'll also lend a helping hand in stopping spam mail—whether it's electronic or paper. Our Spam Collector product unsubscribes you from unwanted emails and cleans up your physical mailbox too!
DoNotPay Can Do Your Paperwork for You!
Feeling like you're in bureaucratic hell? Our app will draft the paperwork you need and get you out of any hurdle before you know it!
We can compose most of the documents that you require for any administrative purpose in your jurisdiction, most notably: