All the Info on the
Buyer Representation Agreement
in One Place
Being in the real estate business involves signing and making various legal documents because you are dealing with large sums of money. A buyer representation agreement is one such contract. DoNotPay can inform you about this agreement and help you create numerous others.
What Do You Need To Know About the Buyer Representation Agreement?
A buyer representation agreement is a contract between a real estate agent and a home buyer. Also known as a buyer-broker agreement, this document specifies the obligations of the real estate agent as well as the buyer's role.
The broker agency usually drafts the buyer representation agreement, ensuring their agent gets compensated adequately. If a real estate agent doesn't have a buyer representation agreement, nothing is stopping the buyer from replacing them. This could leave the agent without the real estate commission even though they've already put in a lot of effort in finding a home for their client. 
The person buying the house can also initiate the drafting of this contract. The buyer benefits from the buyer representation agreement because the agent will try harder to help them find a house and offer a higher level of service.
What Should a Buyer Representation Agreement Cover?
You won't find one contract template covering everything a buyer representation agreement should include. Some general key points should give you a broader picture of what this contract needs to include. Take a look at the table below for more details:
| | |
| --- | --- |
| Must Include | Explanation |
| Personal Information of Both Parties | Include the names, email addresses, and phone numbers of the agent and the buyer |
| Exclusivity | See if it is an exclusive or a non-exclusive agreement |
| Contract Length | Decide on how long the agreement should last. These contracts are valid for a period of three to six months, but they could last longer if needed |
| Compensation | The seller usually pays the real estate agent's commission, but it could happen that your buyer agreement includes the commission as well (a flat rate or a percentage of the purchase price) |
| Description of the Property | Describe the type of property and the price range the buyer is looking for. This might allow the person buying a home to hire more agents for different property types |
| Disclosures | Agents need to disclose certain info in the agreement, such as whether they are dual agents. They also need to state whether the property comes with a net listing agreement. This agreement is illegal in most states |
Types of Buyer Representation Agreements
You may choose among three types of buyer representation agreements:
Nonexclusive (Not for Compensation)

—The buyer can hire more than one agent, and they are not obligated to compensate the agent if they don't make a purchase through them

Nonexclusive (Right To Represent)

—The person buying a house can hire multiple agents, but they must pay the agent's commission

Exclusive (Right To Represent)

—The buyer can hire only one agent. There is a specified commission that they need to pay to the agent within a certain period
Get Legal Documents Using DoNotPay
DoNotPay is the perfect choice for anyone looking to create a legal agreement fast and easily. Our procedure is as simple as it gets, and it saves you the money you'd otherwise have to pay for a lawyer. You also don't have to trouble yourself by writing a contract by yourself and not including all the relevant clauses.
Follow these three steps to get the document you need:
Access DoNotPay

from any web browser

Write the name of the agreement you need in the specified field 

Provide us with some necessary information, such as your name and address
DoNotPay is a better choice than any free contract template available online because our app makes a document tailored to your needs. The only step left is to add the signatures of both parties, making the deal official.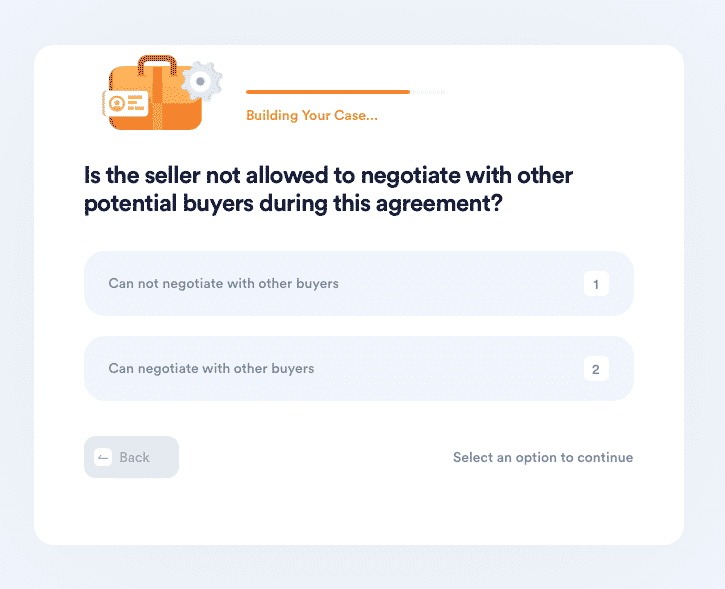 DoNotPay is a perfect way to inform yourself about different types of legal agreements you might need to create. Here's a brief overview of those documents:
What Legal Documents Can DoNotPay Create?
DoNotPay can help you make various types of real estate-related agreements that come hand in hand with the buyer representation agreement. Create the quitclaim deed, estoppel certificate, intent to purchase real estate letter, or residential lease agreement. If you are interested in other fields, check out the rest of the options available in our extensive database:
General Business Contract 

General Affidavit

Promissory Note
Once DoNotPay generates the agreement of your choice, you may have to take it to the notary to make it official.
DoNotPay Is the Champion of Customer Advocacy
If you've never experienced an issue with a purchased item, you should consider yourself extremely lucky. When shopping goes wrong, you usually have to brace yourself for unpleasant and annoying exchanges with customer support centers. 
DoNotPay is here to make exercising your consumer rights easy. Long holds when calling customer service reps and incessant marketing spam emails can stay in the past. We will help you avoid irritating text messages from online retailers by teaching you how to bypass phone verification when signing up. 
Ask for refunds, claim warranties, fix credit card issues, or sue retailers in small claims court—these are just some of the services our platform provides. 
With DoNotPay, you can start free trials for new services risk-free. If you want to get out existing subscriptions, canceling them has never been easier!
Wait, There's More!
Our full portfolio includes features as diverse as contacting inmates and requesting college application fee waivers for students from low-income families. 
If you have a problem with bureaucracy, the chances are DoNotPay knows how to fix it with your minimal involvement. 
Leave the grunt work and unnecessary expenses behind. We will help you pass various government tests with flying colors, find unclaimed money in all states, or get out of parking tickets before you know it!