The Buyer-Broker Agreement From A to Z
Buying a home is a big deal on its own but especially when you need to deal with a sea of contracts and legal documents or terms that you don't understand. You don't have to worry, though! We'll break down all you need to know regarding this matter.
Establishing a business contract with a real estate agent is a good idea, and the buyer-broker agreement is a perfect way to do it. Knowing what to include in the agreement and how to create it on your own is not always that easy, so we came up with a guide that will make creating one a piece of cake!
In case you need guidance on how to create any contract, including a residential lease agreement or a non-disclosure agreement, you can count on DoNotPay!
What You Should Know About the Buyer-Broker Agreements
The buyer-broker agreement is used to protect both you (the buyer) and the real estate agent who is representing you. The broker will assign a real estate agent you will work with, and the agreement will outline everything that the agent will do for you.
If you, as a buyer, aren't satisfied with the agent's work or anything else, you can ask the broker to assign you a new agent.
What Should Be Included in the Buyer-Broker Agreement?
You have to cover all the important points when creating a buyer-broker agreement by yourself. The templates found online are usually incomplete and unreliable, so we present you with every crucial point you have to state in your contract:
Duties

Term length

Termination

Compensation

Representation and exclusivity

Property description
Duties
The duties and responsibilities that your agent should honor have to be clearly stated in the first section of your buyer-broker agreement. You can include the tasks like:
Showing you properties

Explaining the procedures and documents

Helping you write and send property offers
Think about the tasks and duties that will suit your needs the best, discuss them with the agent, and state them in the document.
Term Length
After assigning the duties to the agent, you should decide how long you want the buyer-broker agreement to last and specify it. Keep in mind that during this time, both you and the agent will have to honor everything that is laid out in the contract.
Termination
If either you or the agent feels like the agreement isn't working out, establish how the agreement can be terminated. Include the details on how much notice the other party has to give you, as well as the amount they will have to pay you in case they skip out on the advance notice.
Compensation
Think about the compensation types and decide what you want your agreement to include. Either retainer fees or payment is used as the means of compensation. Choose the one you want and explain it in the agreement.
Representation
Pick one of the two types of representation:
Designated representation

Dual representation
The first one means that the agent shows you properties listed by other agents from their real estate agency.
Regarding the dual representation, your agent will represent both you and the seller and show you only the properties that the seller listed.
Exclusivity
You should also choose whether you want an exclusive or non-exclusive agreement and include it in this section. With the exclusive agreement, you would be able to work only with your agent, while with the non-exclusive, you can also collaborate with others to buy a property.
Property Description
At the end of your agreement, elaborate on the type of property you are looking for. Include all the specifics you want, and mention the price range.
Use DoNotPay's Neat Features To Draw Up Contracts and Legal Documents Hassle-Free!
Handling legal documents and finding ways to create them on your own is a nightmare. Thinking about everything that should be included and being afraid of forgetting something crucial is not a fun experience. So why go through it?
With DoNotPay, you can have any legal document at your fingertips! The best part is that it takes almost no effort at all on your part! We do most of the work, and all you have to do is follow the three easy steps listed below:
Load DoNotPay from your

web browser

Give us the name of the contract or agreement that you need us to generate

Supply us with the required info regarding your document
You're almost done! We will create your document, and you can either print it or download it.
The last step is having the parties involved sign or notarize the document, and voila—your contract is finished!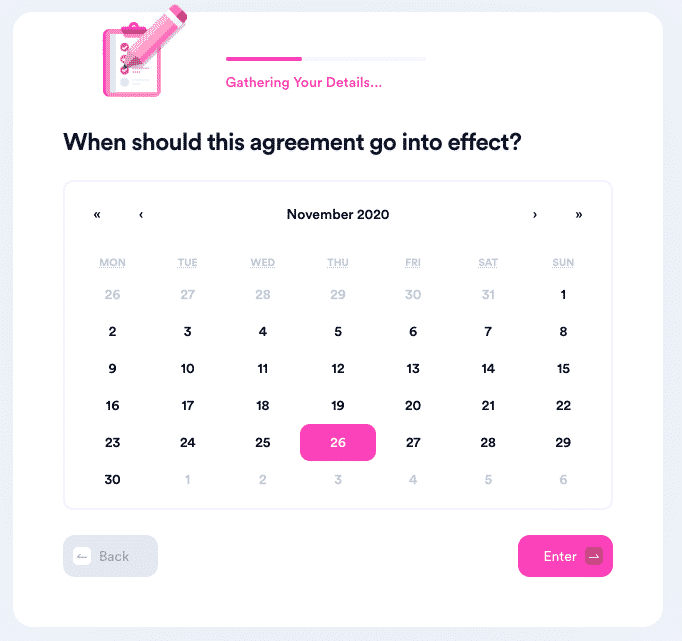 We help you with an abundance of contracts and agreements! See the list below for the info on what legal docs our app can assist you with:
Real Estate Contracts
Other Contracts

Intent to Purchase Real Estate

Estoppel Certificate

Quitclaim Deed

General Business Contract

General Affidavit

Promissory Note
Enjoy Services Worry-Free With DoNotPay
Do you want to try out a new service but are worried about being charged if you forget to cancel it before it ends?
With DoNotPay, you can sign up for free trials without worrying about auto-charges. Our virtual credit card makes sure you enjoy your trial run of the service and prevents any company from taking money out of your real account.
This free-trial card also protects you from email spam because it generates an alternate email address for the free trial sign up.
If you want to keep your phone number private and deter robocallers and text spammers, use DoNotPay's Burner Phone feature when subscribing to services.
In case the company does charge you, initiate a chargeback on your credit card transactions instantly with our app.
Discover DoNotPay's Amazing Features
DoNotPay is a virtual lawyer app that can take over annoying bureaucratic tasks from you.
We can cover anything you may need help with—dealing with customer service reps, booking appointments with the DMV, securing refunds and compensation from airlines, disputing your parking tickets, or getting you an extension on bill payments.
Our app can help you draft any legal document in minutes or access public records from state and federal databases.