Purchasing a Place? Learn More About
Buyer Agency Agreements
!
Browsing through property listings is the first step towards owning your place, but you need knowledge and experience to get there. If you have no expertise in the real estate business, it is probably best to hire someone to do your bidding.
Having someone else manage one of your most important purchases may seem unsettling, but with buyer agency agreements, you can rest assured nothing will go wrong.
In case you don't know how to write a contract, DoNotPay will provide all the information you need.
Buying Agent Agreement
—Everything You Should Know
A buyer agency agreement—otherwise known as a buyer's representation contract—is a legal document drawn up between a property buyer and a real estate agent. By signing the buyer's agent contract, a client authorizes a real estate agency or a specific broker to represent them in the home-buying process.
Most of the time, the agent requires a buying agent agreement, but the purpose of the contract is to protect both parties in case one of them doesn't keep their end of the bargain.
What Should Be Included in
Buyer Agency Agreements
?
Real estate agencies have numerous names for buyer agency agreements. Aside from the name, different agencies add different clauses in their contracts, but the crucial ones stay the same everywhere:
Contract length

—This provision should specify how long your contract will be active. Many buyer agent agreements last 90 days, but the agent and client should discuss and determine the length of the contract among themselves

Buyer representation

—The contract obligates you to commit to the real estate agent you are signing the agreement with. In case there are disputes and disagreements between you and your agent, you can require a different one within the same agency

Agent obligations

—This clause outlines your agent's responsibilities, like finding and showing you available places, making and negotiating offers, and similar duties

Compensation

—The property seller usually pays the commission of both the seller and buyer agents, but you should study the clause thoroughly regardless of that

Property specifications

—You should provide clear guidelines about the items you are looking for in a home, like size, price, neighborhood, or other specifications

Termination rights

—Outlining the terms of a contract cancelation is important for both parties. The clause should explain how to carry out the termination, how much compensation the agent will receive, and how much notice you should give beforehand
Types of Buyer Agency Agreements You Should Sign When Looking for a Property
Similar to a listing agreement, there are several types of contracts associated with buyer agency agreements. The table below features the most common contracts every buyer should sign when hiring a broker:
| | |
| --- | --- |
| Type of a Buyer-Agent Contract | Description |
| Exclusive Right-To-Represent Contract | It is the most common type of buyer-agent contract. It specifies the responsibilities of both parties and the commission the agent receives. By signing this contract, the buyer agrees not to hire another broker while the contract is active |
| Non-exclusive Right-To-Represent Contract | It outlines the obligations of both the buyer and agent and defines the compensation terms in case the broker finds the property that buyer ends up buying. The buyer is allowed to purchase the house that another broker finds |
| Non-exclusive Not-for-Compensation Contract | This type of contract specifies that the buyer isn't in obligation to pay the commission to the agent. It also states that the buyer can hire other brokers and that both parties can terminate the contract at any time |
DoNotPay Is Your Ultimate Assistant for Drafting Legal Documents
Dealing with legal paperwork can be tricky, especially if you don't have any law education or practice. If you are reluctant to pay expensive legal assistance fees, you may end up drawing up contracts and other legal documents on your own. The internet is overflowing with contract templates, but if a sample doesn't cover everything you need, you may have to find another way.
Fortunately, DoNotPay created the Standardized Legal Documents feature—a practical and helpful service for generating contracts and other legal documents with zero trouble.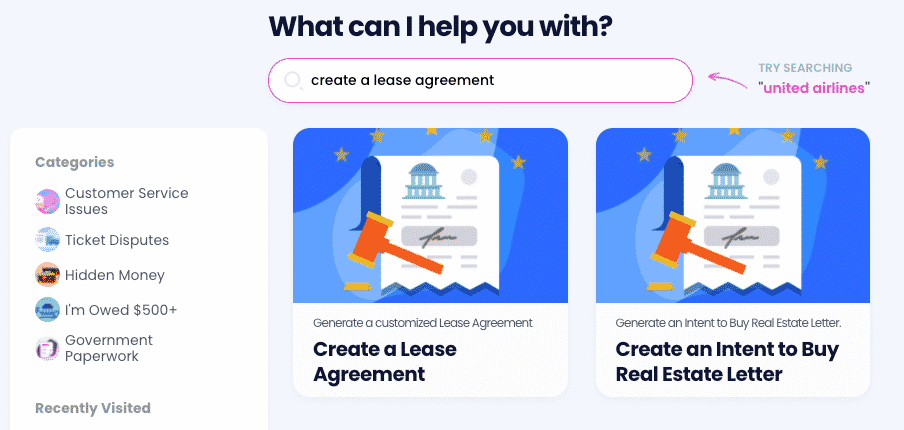 With our comprehensive U.S. laws and rules database and user-friendly platform, creating legal documents is as easy as ABC!
If you want to draft a contract, here's what you should do:
Access our app from any

web browser

Enter the name of the legal document you want to draw up

Respond to a few questions from our chatbot
Once you complete the questionnaire, we will generate a customized document that you can:
Download

Print

Sign

Fax

to involved parties
What Documents Can I Draw Up With DoNotPay's Help?
You can use DoNotPay to create a multitude of legal documents, including:
We don't stop there! Use our learning center to find all the vital information about other contracts and documents, such as:
Keep Your Money Safe With DoNotPay
Don't let greedy companies threaten your consumer rights by holding back refunds, refusing to cancel your subscriptions, or charging you after your free trial ends.
DoNotPay helps you try out different services without providing your credit card info or phone number—you will never again have to deal with unexpected post free trial charges!
Our app also helps you avoid paying unnecessary parking tickets, delay challenging bills, or waive your college application fees. 
If any company refuses to issue you a refund or an airline won't compensate for canceled flights, we can help you sue them in small claims court.
DoNotPay Is a Time-Saving App
How many customer service reps do you have to deal with only to file an insurance claim or book your DMV appointment?
DoNotPay helps you sort out these tasks and much more in only a few clicks. 
Get your revenge on robocallers, report text scammers, find validated clinical trials, claim your warranties, get in touch with your loved ones in prison, and protect your creative content—all in less than five minutes. 
No more hours-long phone calls, emails, or in-person visits. 
We cover everything from freeing your inbox from spam to providing excellent prep tests for government exams! Save time with your all-in-one app!