Why Do You Need a Buy-Sell Agreement for Your Business?

If you have a business partner, you need to think about what might happen in case the partner leaves your company for any reason. 
Situations like these can be unpleasant. To avoid any further complications, you should prepare a reliable buy-sell agreement.
A company should have lots of legal documents to ensure the business processes run smoothly. 
As writing a contract requires knowledge and experience, even with lots of templates you can use, most people still hire lawyers for this task. With DoNotPay, you can avoid unnecessary costs of hiring an attorney as we offer plenty of legal document templates that can be fully customized to your needs. 
What Is a Buy-Sell Agreement?
A buy-sell agreement is a contract that defines how a partner's business share can be transferred in case that partner leaves the company or dies. This type of arrangement can also set a way to determine the business value. 
In most cases, buy and sell agreements stipulate that the remaining business share needs to be sold to other business partners. A buy-sell agreement is also called a:
Business will

Business prenup

Buyout agreement

Buy and sell agreement
The purpose of a buy-sell agreement is to ensure a smooth ownership transition when a business partner:
Dies

Retires

Chooses to leave the business for any reason
Based on this agreement, the remaining partners or the company buys the business share of the retired, deceased, or leaving partner. 
DoNotPay can assist you with the preparation of various business agreements and protect your interests if something goes wrong. 
Types of a Buy-Sell Agreement
There are two main types or forms of buy and sell agreements. 
| | |
| --- | --- |
| Buy-Sell Agreement | Explanation |
| Cross-purchase agreement | Remaining business partners or owners buy the share of the business that is for sale |
| Redemption agreement | The business and legal entity purchases the share of the business for sale |
In some cases, business partners can choose a mix of the two above-listed agreements where individual partners buy a part of the business share and the business partnership purchases the remainder.
Another common practice is for business partners to buy life insurance policies on one another. This allows the remaining partner(s) to use the policy proceeds for the purchase of the business share of the deceased partner.
In case of a sole proprietor's death, a key employee can be the successor or buyer.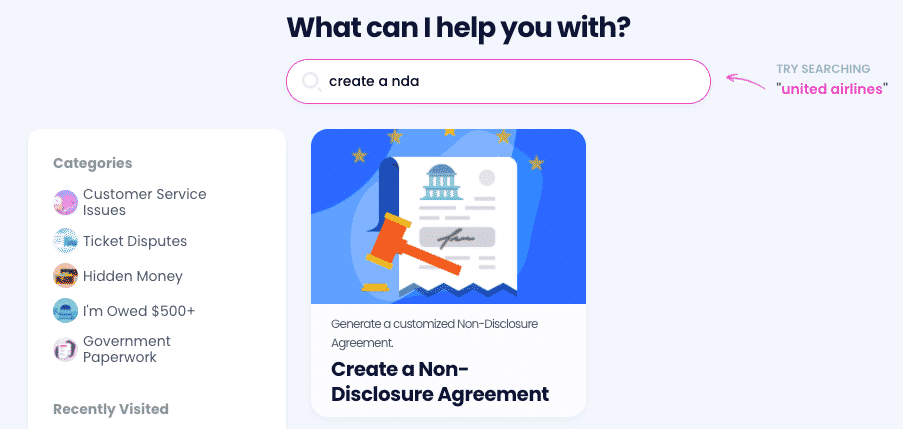 Creating legal documents is not easy, and it is common to hire an attorney, a certified accountant, and other experts. DoNotPay can help you save up and write numerous contracts on your own, such as a bill of sale, NDA, non-compete, or an independent contractor agreement.
DoNotPay Is Your Trustworthy Legal Documents Assistant
DoNotPay can help you create different agreements to protect your personal, family, and business interests. Apart from the contracts already mentioned in the previous sections, we can assist in the preparation of a lease agreement in case you decide to allow another business or person to use your business or personal property.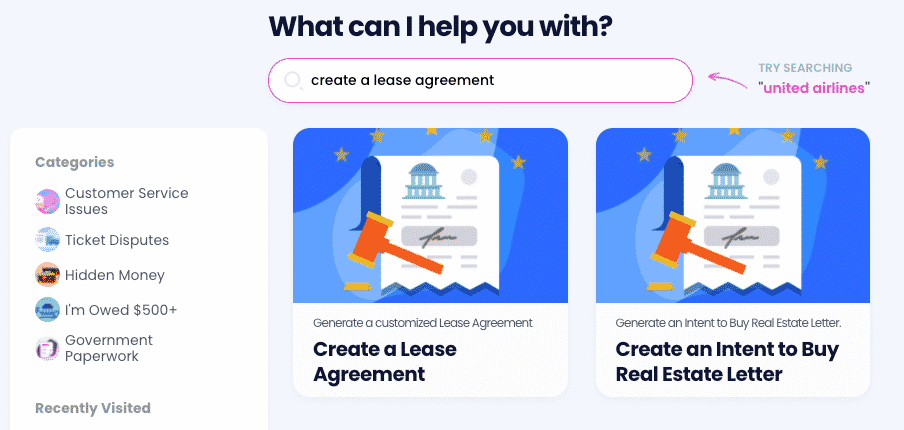 Use our legal document database to create your rock-solid agreements. Here is how:
Open DoNotPay in a

web browser

 

Enter the name of the document (for example, an

Operating Agreement

)

Provide the necessary details to the chatbot (names, addresses, and other relevant data)
In a few clicks, DoNotPay will create a document tailored to your business or personal specifications.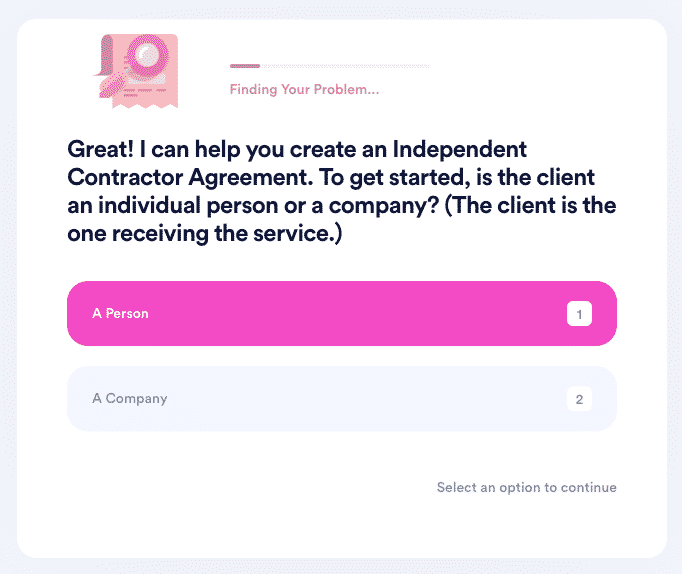 If you are thinking of getting married, our app will help you draft a prenuptial agreement. Should something go wrong and you need to ensure your children's interests come first, opt for a custody agreement. 
Protect Your Business With a Buy-Sell Agreement
If your company does not have a buy-sell agreement, you can end up with:
Your business partner's spouse or partner running the business with you

A bank getting a share in your business

Your former business partner's children becoming the management members
These are some of the potential scenarios that can easily happen should you fail to stipulate the methods and criteria in the buy-sell agreement. You can get business partners that either do not know anything or do not care about the business you have been running for years. 
To prevent these events, you need a buy-sell agreement that establishes:
The fair price of shares

A business continuity plan

An exit plan for business partners

A business interest plan
What To Consider When Drafting a Buy-Sell Agreement
Buy and sell agreements help you overcome possibly challenging situations by protecting your business and personal interests. 
A well-created buy-sell agreement should restrict all owners from selling their shares and interests to outsiders without the remaining owners' approval. 
Most agreements define that a deceased partner's interest needs to be sold to the other owners or the business. This is how a buy and sell agreement restricts the estate from selling the business share to an outside investor. 
These agreements can also set the methods to assess the value of the partner's share. This set valuation method can be helpful in different matters, such as:
Buying and selling of shares

Preventing disputes among remaining owners
Should these situations occur, the valuation method from the buy-sell agreement will be used. 
How Else Can DoNotPay Help You Find and Save Cash?
Our Missing Money feature helps you find any unclaimed assets in your name in any state. An additional perk is that you can claim your money right in the app—no need for further research!
We can also make sure you don't pay for any unfair parking citations and get the rightful compensation from airlines for any canceled or delayed flight. 
Don't let big companies scare you into not claiming your warranties or insurance. DoNotPay helps you file these claims and appeal any rejections in minutes, which brings you closer to getting your money.
We can also delay your bill payments, get your college fees waived, or sign you up for paid clinical trials to earn some extra cash!
DoNotPay Keeps the Spammers Away
Whether you're dealing with email spam, text scammers, robocalls, or severe harassment, DoNotPay can help. 
Use our virtual credit card or the Burner Phone feature to sign up for free trials safely—without revealing your real info. DoNotPay will make sure that no company can reach you when you use our tools. 
We provide a fake email address, credit card info, and phone number that are in no way connected to your real data. 
We can also help you cancel services or request a refund without you having to contact the company directly.