A Guide to Composing a Business Transfer Agreement
Whether you want to sell or purchase a business, having a properly written business transfer agreement is of utmost importance. If you're not sure how to write one, you're not alone! Composing any legal document is stressful and complicated for most people. Luckily, you can rely on our guide to learn what a business transfer agreement should look like. 
Besides providing valuable info regarding many legal documents, DoNotPay can also help you create a myriad of contracts in less than five minutes. Register for DoNotPay to find out which documents you can create with little to no effort. 
Business Transfer Agreement Explained
A business transfer agreement is a legal document that outlines the terms of the sale of a business and its assets. It is also known as a:
Business sale agreement 

Business purchase agreement

Agreement for purchase and sale of servicing

Agreement to sell business
The agreement is signed between a current business owner and a buyer. This contract should spell out a verbal agreement between the two parties and confirm the terms of the transaction. 
A business transfer agreement is useful if you want to sell:
Your company's office or real estate 

The name of the company

The customer list 

The accounts receivable

Furniture, supplies, or machinery from your business 
Crucial issues that your business purchase agreement should address are:
Which assets are being transferred?

What's the number of shares that are being sold?

Who is selling the business?

Who is going to be the new owner of the business?

Will the existing employees be re-hired?

When will the transfer of ownership be completed?

Will loans, accounts payable, and other liabilities be transferred as well?
Learn Which Elements Your Business Purchase Agreement Needs To Include
Business ownership transfer is a complex procedure, which is why your contract will probably include many elements. While each business purchase agreement is different, they all need to cover some basic info. 
You can consult our table to see which sections your business purchase agreement should consist of:
Sections To Include

Description

Signing parties and business description

The first paragraph of the agreement should state the names and addresses of both the buyer and the seller of a business. This section also needs to include the name, location, and purpose of the business that's being sold

Assets

It's crucial to list all the physical, financial, and intangible assets that the current owner wants to sell. The contract also has to include the assets that aren't going to be sold

Liabilities

Sometimes, the buyer of the business assumes liabilities such as:

Accounts payable

Owed taxes

Outstanding loans

This part of the agreement should disclose if and which liabilities will be transferred

Terms

The terms section of the agreement should spell out the following info:

Sale price

Closing date of the transaction

Payment method 

Disclosures

Both signing parties are obligated to disclose impediments to the deal. These are some examples:

Pending lawsuits

Fines

Outstanding debts

Signatures

The agreement won't be valid until both parties sign it (preferably in the presence of a notary)
How To Draft a Business Transfer Agreement
You can create a business transfer agreement by yourself, even though this option is risky, especially if you're not familiar with legal terms. You can also:
Rely on business transfer agreement templates 

Set aside enough money to hire a lawyer
Hiring a lawyer is costly, but it's the safest solution to getting a properly written business purchase contract. 
Are you on a tight budget? If you can't pay hundreds of dollars for a single document, you should take a look at a few contract templates to see how your document should look like. Note that you'll probably have to modify the sample you choose to ensure it's suitable for your business transfer needs. 
DoNotPay Can Help You Create Other Contracts
While you might have to pay a lawyer or spend some time modifying a template for your business transfer agreements, creating other documents doesn't have to be this complicated. DoNotPay has created a useful product that you can use to draw up various business, real estate, and other contracts with zero effort.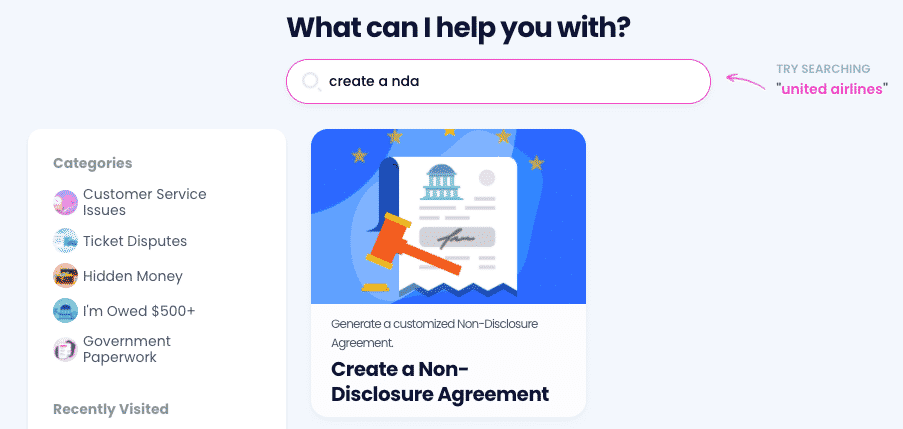 To draft an unlimited number of documents through our app, you should complete this simple three-step process:
Search for the document you wish to create

Provide the required details
You'll get a personalized contract that you can print or download hassle-free!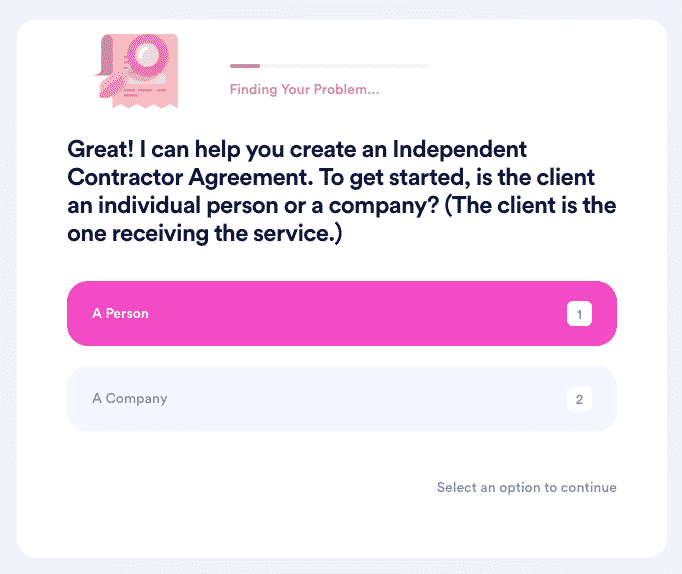 Take a look at the following list to see some of the contracts we can generate for you:
Child Care Authorization Form

Intent To Purchase Real Estate

Quitclaim Deed

General Affidavit

General Business Contract
Notarize All Your Documents in Five Minutes With DoNotPay!
Since most documents require notarization, DoNotPay has developed another awesome feature. With us, you can find an online notary in any state—including Utah, Texas, Arizona, and Pennsylvania—and manage document notarization without leaving your house. 
You can book a virtual meeting with a notary who works around the clock and get your documents notarized via an audio-video call. 
Save Some Coins With DoNotPay
Are various subscriptions and memberships burning a hole in your pocket? DoNotPay can help you cancel all of your memberships in a matter of minutes without having to contact customer service reps. 
Next time you want to register for a free trial, prevent unexpected costs with our virtual credit card. Once the trial is over, you'll be unsubscribed right away because our virtual credit card doesn't contain any money. We will also generate a random email address you can use if you want to protect your privacy and avoid spam marketing emails. 
Do you need help claiming warranties and insurance policies? DoNotPay can help with that too. 
Should you need assistance returning an item or requesting refunds for purchased products, canceled flights, or late deliveries, we've got your back!
Avoid wasting money on lawyers—DoNotPay is here to help you sue anyone in small claims court and create numerous legal documents in the blink of an eye!
DoNotPay Can Help You Earn Money Too
DoNotPay users can save hundreds of dollars thanks to our app, but did you know that we can help you earn a few bucks as well? Our app enables you to claim missing money under your name or file your application for paid clinical trials in less than five minutes.
You can even get compensation for reporting robocalls or apply for a crime victims compensation program in your state by signing up for our app and following a few simple steps.