Business Insurance Cost for a Startup—How Much Is It?
When you start a business, you will come across expenses every step of the way, many of which you do not even think about. As a business owner, you will be in charge of paying startup costs, utility bills, and salaries, buying equipment, obtaining licenses, and so on.
Another source of expense is insurance that is necessary to run a business responsibly. How much will that take out of your budget? This article will show you what the average business insurance cost for a startup is and what different insurance policies you need.
If you cannot cover the cost by yourself, you can take out a small business loan to keep your business going. We will explain how these loans work and how you can get them with ease if you use DoNotPay.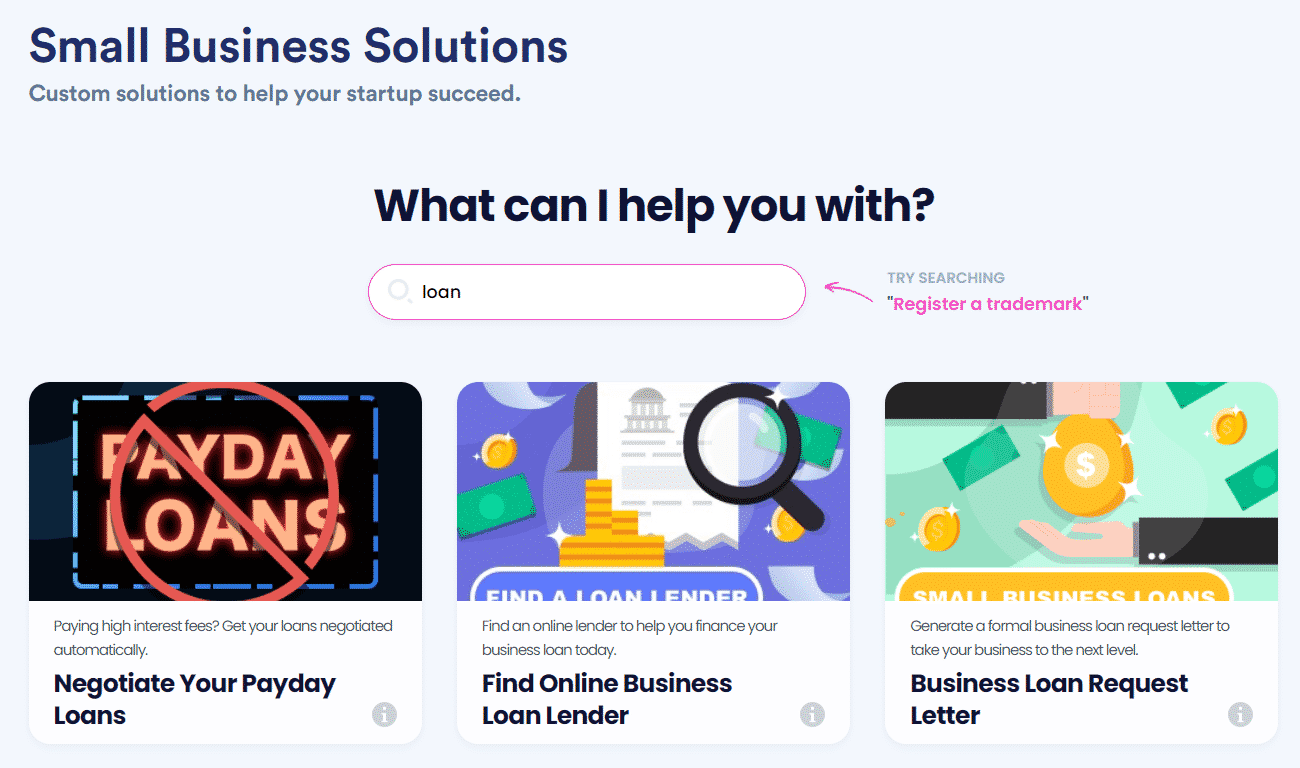 Startup Business Insurance Costs
While you cannot know for sure if and when something unexpected will befall your company, that does not mean you cannot prepare for it.
Business insurance protects your startup from risks that may occur. The best-case scenario is that these risks never turn into actual problems, but you should have something to fall back on if they do.
Insurance protects your intellectual and physical property, staff, and financial assets from:
Lawsuits
Damage
Theft
Employee injury
Loss of income
The business insurance cost for a startup depends on the number of policies you take out and the price of individual policies. On average, the cost can range from $400 to over $5,000 per annum.
Before you take one out, you should get a quote from multiple companies and see which one offers the best value-for-money deal.
Business Insurance Cost for a Startup—Policy Types
In the following table, you can find information about some of the most common business insurance policies:
Insurance Type
What It Covers
Annual Cost
Coverage Amount
General liability insurance

Advertising injury
Property damage
Bodily injury

$400–$1,000
$1–$2 million
Commercial auto

Property damage
Injuries
Uninsured motorists

$1,200–$4,000
$250,000–$500,000
Business owner's property

Fire
Hail
Vandalism
Theft
Windstorm

$500–$3,500
$1–$2 million
Professional liability insurance
Costs of failing contractual obligations for:

Architects
Engineers
Consultants
IT professionals
Medical staff
Financial and business advisors

$1,000–$3,000
$500,000–$2 million
Cyber insurance

Legal fees
Ransomware
PR and marketing services to reverse brand damage
Credit monitoring
Forensic services
Court settlements

$1,000–$3,000
$1 million
Key-person life insurance
Life or disability insurance for employees or the founder
$300–$5,000
$500,000
Need Additional Money To Cover the Costs? Consider Small Business Loans!
If you need financial assistance to cover one-time or recurring costs, you can take out a small business loan and keep your company up and running this way.
While loans can help you keep your business operating, they come with specific terms and schedules, which you will need to fulfill if you want to avoid a lawsuit or a loss of assets. The terms that lenders define are the following:
Loan amount
Repayment schedule
Purpose of the loan
The last one means that you must define the exact reason for borrowing the money—lenders will review whether it is necessary for your startup to take out a loan. The purpose of the loan can vary and may include:
Business expansion
Cash flow management
Day-to-day expense coverage
Equipment acquisition
Land acquisition
License and insurance payment
Once you determine the source of your need for financial help, you can find a loan that offers aid for the same purpose.
Small business loans come from the following three types of sources:
Online loan dealers, such as Kabbage, PayPal, and OnDeck
If you do not know what lenders there are and which one you should pick, you can register for DoNotPay and use our Find Online Business Loan Lender feature to let us do the research for you.
Types of Loan
As you can apply for financial assistance from different sources and with various terms, there are several types of small business loans you can choose from. Some of them include:
Obtaining a Small Business Loan Using DoNotPay
Applying for small business loans can be a demanding process as lenders demand extensive paperwork and information to decide how much of a risk it is to accept a loan request. During the process, you will need to submit various documents, such as:
Resume
Personal and business credit score reports
Budget sheets
Business plan
Financial statements
Multiple legal documents
Business owners often omit a detail or a piece of paperwork, which results in many companies failing to secure a loan. DoNotPay is here to make sure you do not suffer the same fate and secure the best small business loan available!
Our app will run a checklist of all the required documents you have to submit, and we will also make sure you do not leave out any details about yourself and your company. This way, your application will include everything necessary for you to prove you qualify for the loan.
When you sign up for DoNotPay, all you need to do is:
Navigate to the Business Loan Request Letter tool
Gather your personal and business credit scores
Prepare paperwork to prove your eligibility
Answer a few questions from our chatbot
Upload all the necessary documents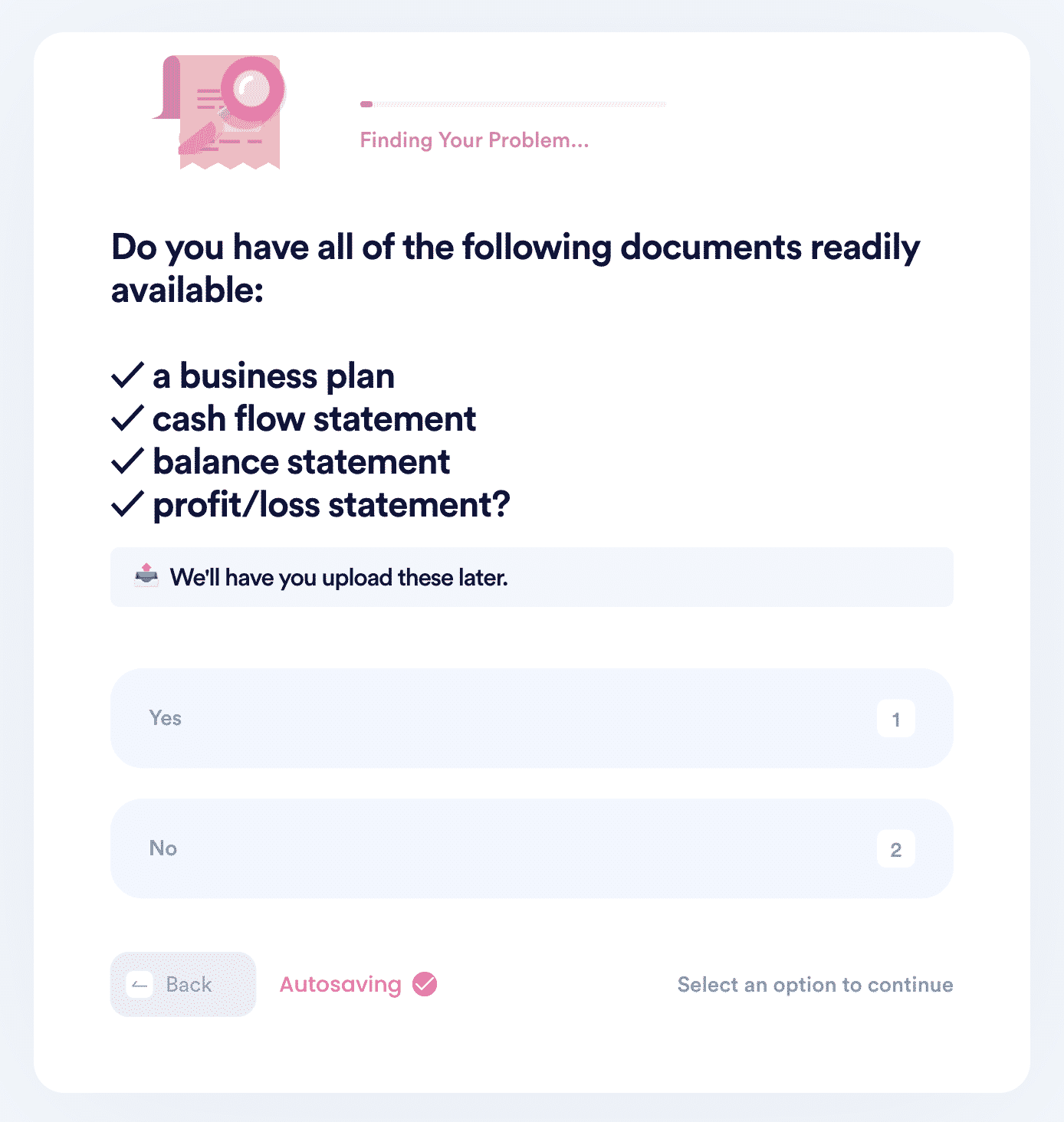 Let DoNotPay Help You With Boring Administrative Tasks While You Focus on Becoming a Business Mogul!
DoNotPay can assist you in dealing with a number of business-related tasks. We have developed a plethora of simple-to-use products that make running a business much easier and less stressful.
Do you need help registering your business name as a trademark? We have got you covered! Not sure how to write a convincing letter to request a small business loan? DoNotPay helps with that, too!
Use our app to get a perfectly generated chargeback rebuttal document, formally request payment from clients who breach the contract, and find out how your employees can file 83(b) election forms in a matter of clicks!
Check Out Our Other Nifty Products!
That is not all DoNotPay has to offer. Our awesome tools will make tedious administrative tasks easier to manage so you can concentrate on your business instead of wasting time waiting in lines and filling out forms. Rely on DoNotPay to:
Take care of DMCA agent registration and Privacy Shield program self-certification
Make sure no one else is using your trademark
Get rid of fake online reviews that harm your business reputation
Manage Employer Number Identification (EIN) registration
Enjoy the convenience of faxing and mailing from the comfort of your home or office