A Complete Guide to a Bucks County Divorce
Getting a divorce in PA can be a nightmare, especially if the process drags on for years and costs you a small fortune. You can get a quick and low-cost divorce if you opt for an uncontested one.
DoNotPay has all details on a Bucks County divorce, including a guide to a painless out-of-court divorce settlement. If you register for our platform, we will also provide you with a marital settlement agreement—one of the essential uncontested divorce papers.
All the Info You Need About a Divorce in Bucks County, PA
If you're considering filing for divorce in Bucks County, PA, you need to familiarize yourself with the most important elements of the divorce proceedings. They are:
Residency requirements
Grounds for divorce
Cost of the divorce
Duration of the divorce
What Are the Residency Requirements for a Divorce in Bucks County?
To file for a divorce in Bucks County, you or your spouse must have lived there for at least six months before starting the divorce process. You are required to file the divorce papers with the local court in your county of residence.
Grounds for a Divorce in Bucks County
Pennsylvania recognizes both no-fault and fault-based grounds for divorce. Check out the detailed explanation in the table below:
No-Fault Grounds
Fault-Based Grounds
No-fault divorce implies that both spouses:

Want a divorce
Agree that the marriage is irretrievably broken
Were separated for at least two years before they filed for divorce

The grounds for a fault-based divorce in PA are:

Adultery
Abandonment
Cruel treatment
Bigamy
Abuse
Imprisonment
Mental incapacity of one spouse
How Much Can a Divorce Cost in Bucks County?
The cost of a divorce depends on different factors, such as whether the divorce is:
Contested—A contested divorce implies that the parties disagree on terms such as alimony, asset and debt splitting, and child support. The complexity and the need for a lawyer affect the overall cost of a contested divorce, which can be around $13,000 for each party
Uncontested—An uncontested divorce occurs when the parties agree on all the terms of the divorce. This type of divorce will help you avoid hiring lawyers and attending court hearings, which means it will cost you significantly less than a contested divorce
The Duration of Divorce in Bucks County
It is hard to determine how long a divorce will last as the duration depends on the complexity of each case. Consider the following factors when predicting the duration of the divorce:
Type of marriage dissolution—A contested divorce will take longer because it typically involves numerous court hearings
Mediation—If you and your partner need help to solve your divorce-related issues, the process will last longer
Ability to settle all differences before filing for a divorce—If you and your spouse can agree on all the terms of your divorce before filing for it, the process will take less time to complete
Waiting period of 90 days—PA imposes a mandatory waiting period between the filing of the divorce papers and the final hearing. A judge can't issue a Divorce Decree before that
Which Bucks County Divorce Forms Do You Need?
If you and your spouse have agreed to file for an uncontested divorce in Bucks County, the PA divorce forms you'll need to file are as follows:
Notice to Defend and Divorce Complaint
Acceptance of Service
Certificate of Service
Divorce Decree
Marital Settlement Agreement
Affidavit of Consent of Plaintiff
Affidavit of Consent of Defendant
Waiver of Notice for Defendant
Notice of Intention to Request Entry of Section 3301, Divorce Decree, and Counter-Affidavit under 3301
Instructions on Filing for an Uncontested Divorce in Bucks County
Once you settle all the divorce issues with your spouse and collect the necessary divorce papers, you're ready to file for your friendly and uncontested dissolution of marriage. Here are the steps to follow:
Create a divorce settlement agreement to spell out the terms of your divorce
Fill out all the divorce forms you collected
File the paperwork with the Court of Common Pleas
Make copies of all the documents for both you and your spouse
Serve the divorce papers to your spouse
Wait for the defendant to file a response
Attend a final hearing
Draft Your Marital Settlement Agreement With DoNotPay
DoNotPay can create a legally formatted, fully customized, and professionally written marital settlement agreement for an affordable price.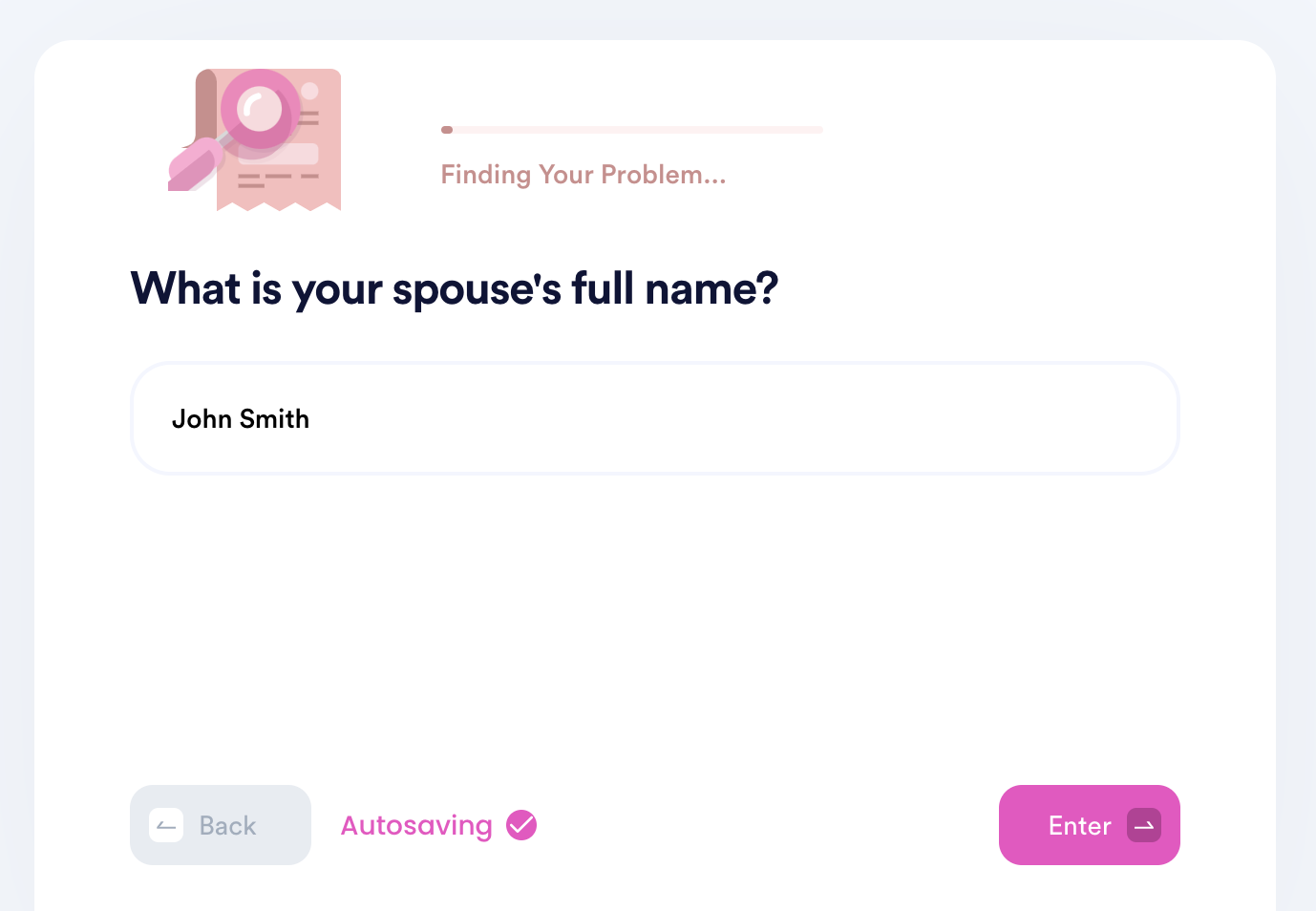 Register for DoNotPay and follow the guide below to draw up your document:
Enter Divorce Settlement Agreement into the search bar
Answer a few questions about your situation, including how you want to divide your assets
Get your document notarized with DoNotPay
DoNotPay will draft an agreement according to your answers and send it to you. If you decide to have the document notarized with our help, we will book an appointment with an online notary. They will witness the signing in a virtual environment.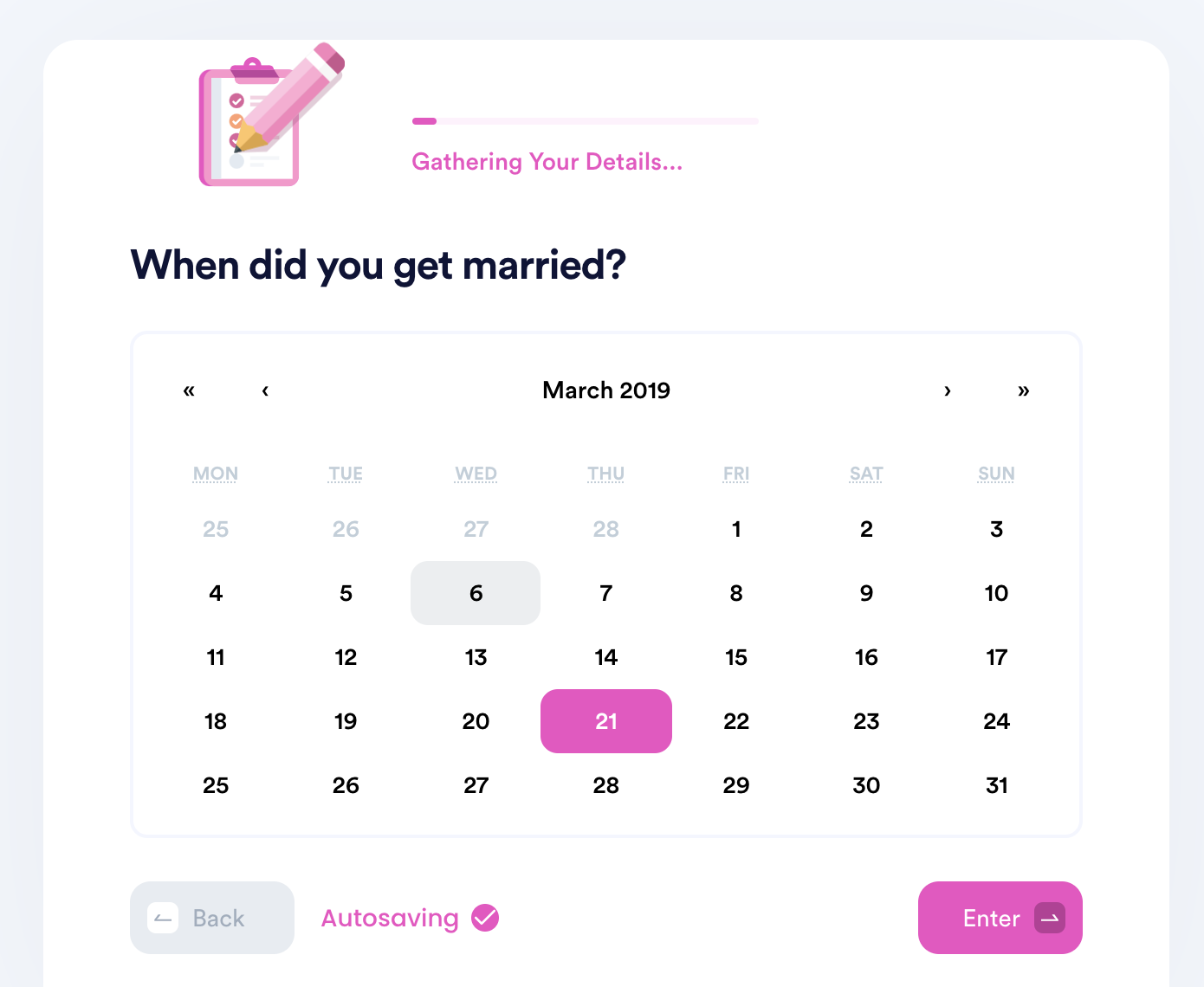 You can use DoNotPay's learning center to explore more divorce-related topics, such as:
Save Time With DoNotPay
DoNotPay is not done helping you! We offer you assistance in completing a variety of tasks quickly and efficiently, such as: