Reduce Your Property Tax Assessment With
Broward County Property Tax Appeals
Florida is one of the states that benefit from low property tax rates, but these vary from county to county. Broward County sits higher than most, but at 1.07%, it is still only at the average rate for the U.S.
DoNotPay is here to help you reduce your property taxes in Broward County, and we have all the info you need to get help with paying your property tax bills.
How Does Property Tax Work in Broward County?
Property tax is payable on any real estate you own, and the revenues it generates are vital to keeping the funding for local services and amenities flowing.
Broward County uses your property tax income to fund the following:
| | | |
| --- | --- | --- |
| Budget | Use | % of Total Spend |
| General operating budget | Running expenses for parks, libraries, sheriff's office, fire rescue services, mass transit, road maintenance, and similar | 50% |
| Enterprise capital outlay | Building costs of airport and port improvement projects | 13% |
| Capital budget | Construction expenses for parks, libraries, drainage, road construction, and similar | 9% |
| Enterprise debt servicing | Interest and long-term debt servicing costs, as well as contingency reserves | 16% |
| Enterprise operating budget | Day-to-day running costs for airports, water and sewerage, and port authorities | 12% |
Your property tax bill is calculated by multiplying the local tax rate by the value of your property, as determined by county authorities.
Tax Rate
The tax rate in Broward County is worked out each year by adding the budgets for each of the above activities together and determining how much each property should contribute to ensuring enough money is available.
The tax rate is expressed in a dollar amount per $1,000 of property value, known as a mill rate. Broward County's mill rate was $5.669 in 2020, and the rate generally remains stable from year to year. The only major variances in the mill rate are caused by inflation or the need to fund special projects that need to be approved by voters in the county. In this way, voters have some control over the tax rate.
Assessed Value
Broward County runs annual property assessments to determine your property's fair market value. The assessed values are set on January 1 each year and are based on the sales value approach. This approach compares recent sale prices of similar properties in your area and uses them to assign a value to your home.
The value on which your property tax is calculated is not the same as your home's market value, though. Your bill uses the assessed value of your property, which is equivalent to its market value minus any exemptions you qualify for. The most important factor that limits how much your property tax can increase each year is the Florida Save Our Homes exemption, which guarantees that your assessed value cannot go up by more than 3% annually.
Over time, the assessed value of your home may move away from its market value. If property prices in your area decrease, you stand to pay more property tax than you should.
What Do You Do if Your Property Assessment Is Wrong?
Property assessments in Broward County are based on theoretical models, so mistakes can happen.
If you feel your property tax assessment is unfair or believe your home has been overvalued, you can appeal the assessment.
The appeal process is complicated and needs careful preparation on your part. There are several steps to take, as follows:
Contact the Broward County Assessor

Lodge an appeal with the Value Adjustment Board (VAB)

Attend a VAB hearing

Argue your case
Contact the Broward County Assessor
Your first step is to contact the County Assessor and arrange a meeting to discuss your home's valuation. If you can prove that the market value of your home is lower than the Assessor's appraisal, you may be able to resolve the case without any further action. The Assessor will correct the mistake, and the issue is solved.
Lodge an Appeal With the VAB
If the Assessor refuses to accept your arguments, your next step is to petition the VAB. The process costs $15 and must be done within 25 days of receiving your property valuation notification (called a Truth in Millage or TRIM notice).
Attend a VAB Hearing
Once the VAB has received your petition, it gives you a hearing date and appoints a special magistrate to deal with your case. The special magistrate is an independent property assessor or attorney who is not connected to the County Assessor's office.
Argue Your Case
You have to present a set of arguments that prove that your property valuation is too high. To achieve this, you need to collect the following documents:
Evidence

Explanation

Sales data

You should collect evidence of property sales for similar properties in your area in the last three months. The evidence must show that the properties that sold for a higher price than your property would fetch had features that increased their value compared to your home

Independent valuations

You can have your property valued by the following:

Independent property assessor

Realty agent

While an independent assessor is more expensive, their valuation carries more weight than a realtor's. Both should be prepared to act as witnesses in the hearing

Evidence of maintenance needs

If your home requires maintenance or repairs that affect its value, you should collect quotes from contractors to verify the expense needed to restore the value of your property
During your hearing, you and your witnesses can be cross-examined, just as you are entitled to cross-examine any witnesses brought by the County Assessor.
The deadline for lodging an appeal is normally in mid-September each year.
How Can DoNotPay Help You With a Broward County Property Tax Appeal?
DoNotPay understands that property tax appeals can be a daunting prospect, so we have found ways to help you.
On our app, we can offer you a personalized property tax guide that gives you all the information you need on:
Property tax exemptions—

what is available, which documents you need, and where to apply

Property assessments

—featuring advice on how to negotiate with the County Assessor, how the appeal process works, what documents to collect, and where to lodge your appeal
Where Can You Find DoNotPay's Property Guide?
Our property guide is readily available if you follow these steps:
Go to DoNotPay in your web browser and

sign up

Look for the

Property Tax

product

Fill in some information about yourself, your property, and your location

Get your customized property guide after a few minutes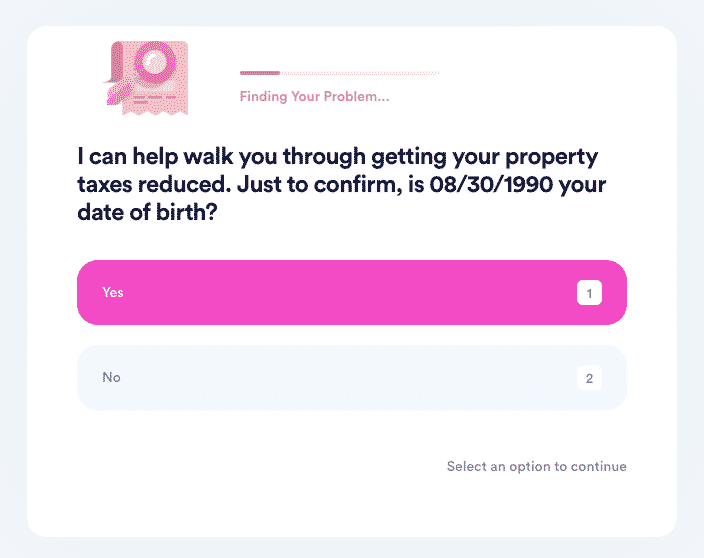 What Else Can DoNotPay Do for You?
DoNotPay can also help you claim property tax exemptions you are eligible for in Broward County.
The most important property tax exemptions available are:
Falling for Scams Is Less Likely With DoNotPay
Thanks to AI technology, DoNotPay is a great resource for protecting your privacy and finances from potential scammers. Our bots can help you report robocalls, keep your inbox clean from spam email and shady text messages, or even deal with stalking and harassment, if it comes to that. 
In case the issues escalate, skip the expensive lawyers and sue the offenders in small claims court with ease. 
Another great way to increase your online security is to use our virtual credit cards and sign up for any free trial without risking unwanted charges. You can even avoid sharing your contact info with our Burner Phone feature. 
The Solution to Your Driving Woes
DoNotPay provides invaluable help to future and current drivers. By helping you ace that driver's license test, scheduling a DMV appointment the easy way, or contesting parking tickets, our app saves you money and time. 
If you need to file a car warranty or an insurance claim, we will help you deal with the necessary paperwork within minutes. Trying to get out of a car wash membership? DoNotPay can cancel it in an instant. 
Our platform works above ground as well. You can use DoNotPay to secure refunds from airline companies or compensation for delayed and canceled flights.