How to Get A Building Permit Easily in Broward County
Most states take construction seriously, and you might get hefty fines or sentences for building without a permit. Broward County is no different as it's committed to the health and safety of the workers and the community. Therefore, owners or contractors must get a building permit before they commence any construction process.
When you submit your application, they'll review plans and drawings submitted to see if they comply with the state laws. They also perform regular inspections of the site to see if the work done complies with laws to protect the health, safety, and public wellbeing.
If you don't know where to start when seeking a , we'll help you find out how it works and show you tricks to do it faster with DoNotPay.
Reasons to Get A Building Permit in Broward County
There are many reasons to obtain a building permit and go through inspections during your construction project. These include:
| | |
| --- | --- |
| Makes selling easier | If you decide to sell your property, you'll be required to reveal if you made any improvements or repairs and the building permits for each. Without them, you may have to break down the changes before selling. |
| Protects property value | Breaking down some parts of your house and not complying with community codes can make your property devalue greatly. |
| Improves safety | When you follow code guidelines, the county government can affirm that your family, workers, and future owners will be safe on the property. |
| Saves you money | Starting a construction process is dangerous as you might get fined heavily, be required to redo the entire project, and have your permit fees doubled. |
Remember, if you build without a permit, and you're required to get one when selling, any changes the architect suggests to your plans will be used to inspect your building -- not the old plans.
This means you may have to demolish some structures and build new ones to accommodate your new plans.
How to Get A Building Permit in Broward County
isn't complicated. Here are some steps you can follow:
Visit ePermits OneStop to find out what permits you need, whether it's a building permit renewal, electrical, fence, or mechanical permits
Visit the Broward.org website and download the permit from there
After downloading your permit forms, fill them out appropriately
Submit your application by visiting the Broward County Development Services Division
Review the plans and drawings with a certified inspector or architect who will suggest some changes
When the application is complete, prepare for the inspector to arrive at your workplace anytime
Get A Building Permit With the Help of DoNotPay
If it's your first time getting a business permit, you may not know how to navigate through government offices to find the assistance you need, and you may also be afraid of making a mistake during your application.
What you need is an assistant who will hold your hand every step of the way. DoNotPay will not only help you apply for your permit, but we'll also follow up to see what else you need to do.
Getting a Building Permit Easily in Broward County Using DoNotPay:
If you want to apply for a building permit Fast in Broward County but don't know where to start, DoNotPay has you covered.
Create your application letter in 6 easy steps:
1. Go to the Planning Permissions product on DoNotPay.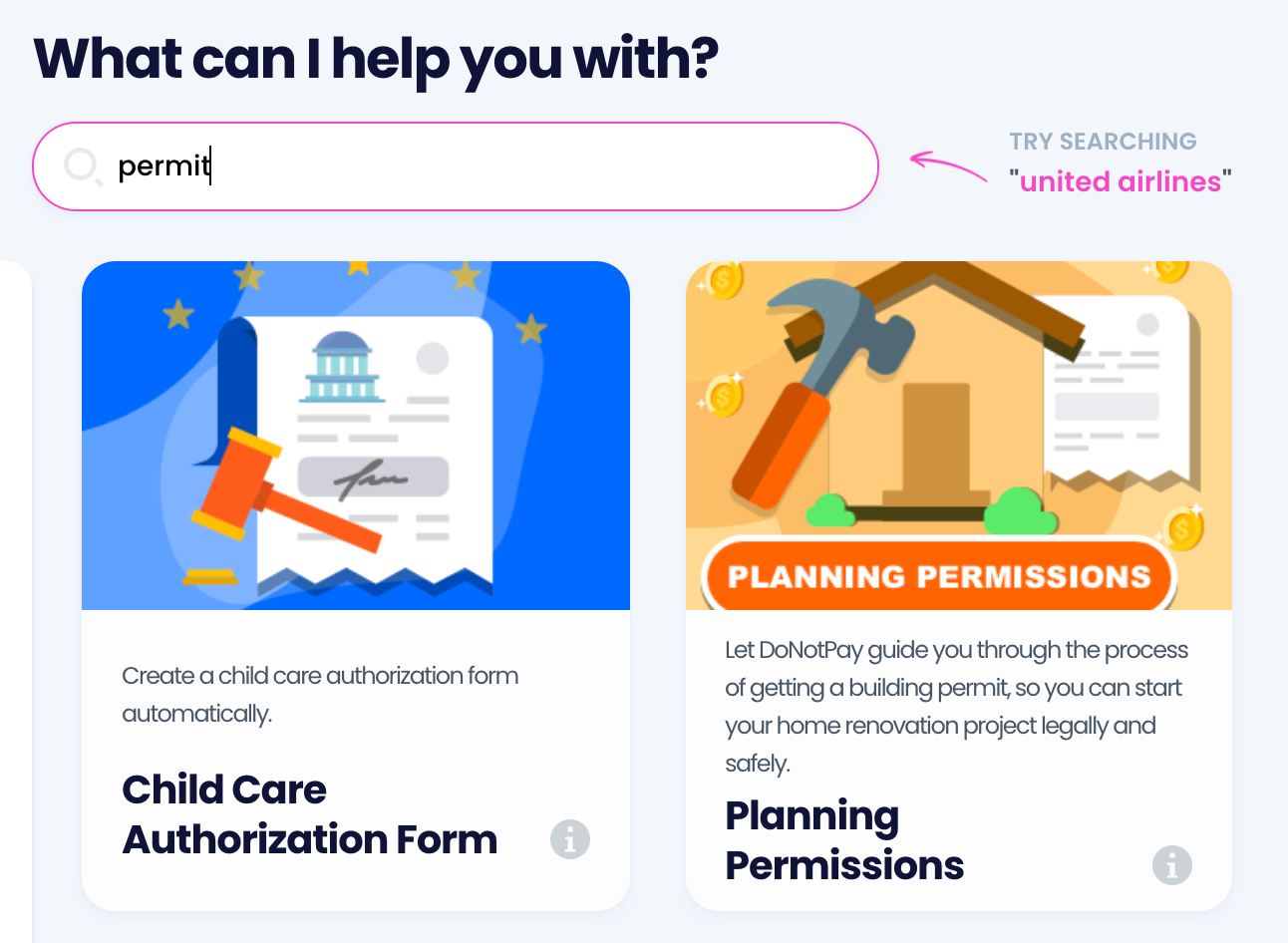 2. Choose one of the following options:
Check whether your project needs a building permit or if it's exempt
 Generate a permission request letter to send to your HOA
Generate a guide on how to complete the building permit application
3. Choose the focus of your project (new ADU, pool, shed, fence, etc.) and answer a few questions about your plans, including the size of the structure and estimated cost.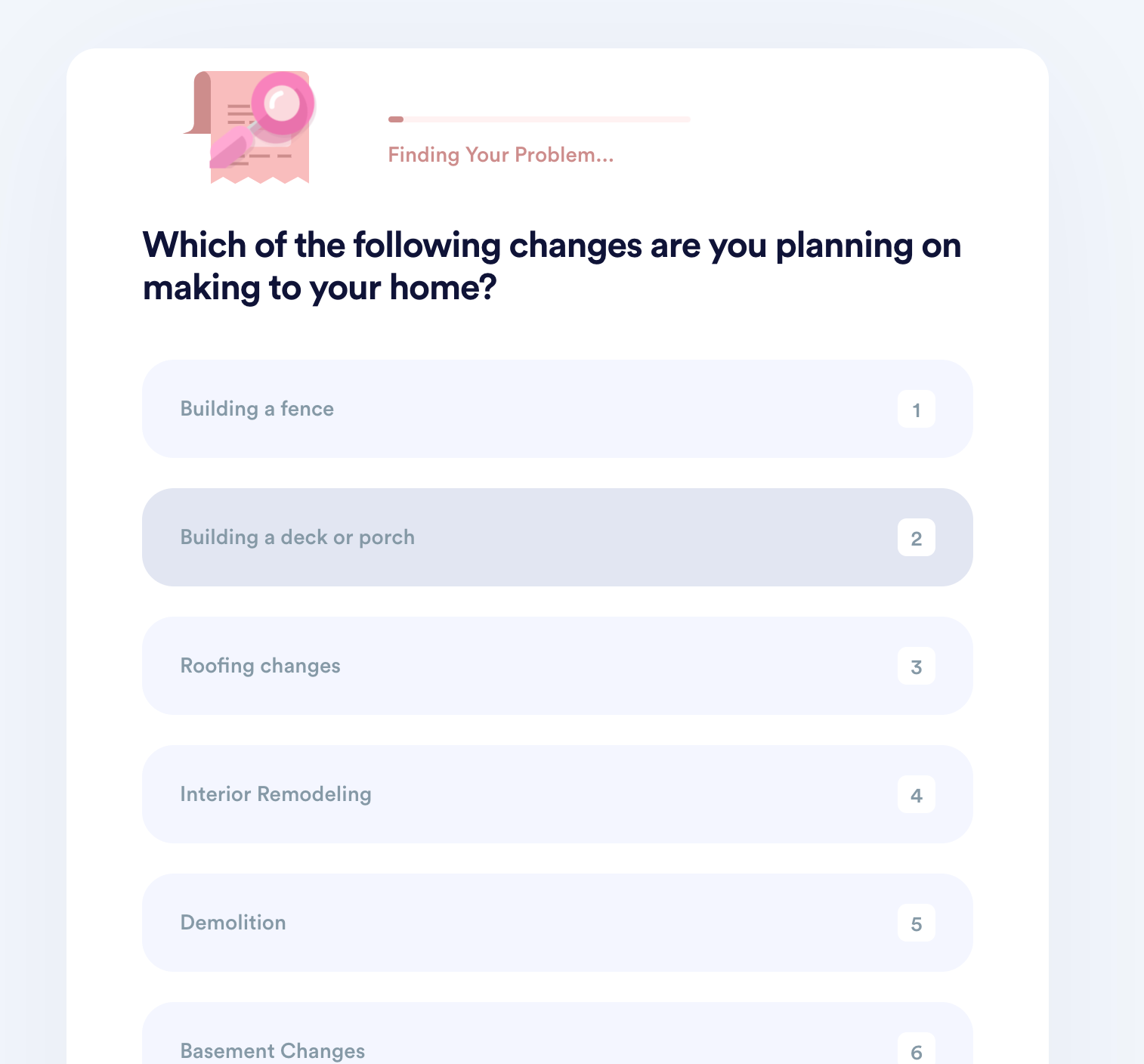 4. Indicate whether you're hiring a contractor and include the estimated start date and timeline for the project.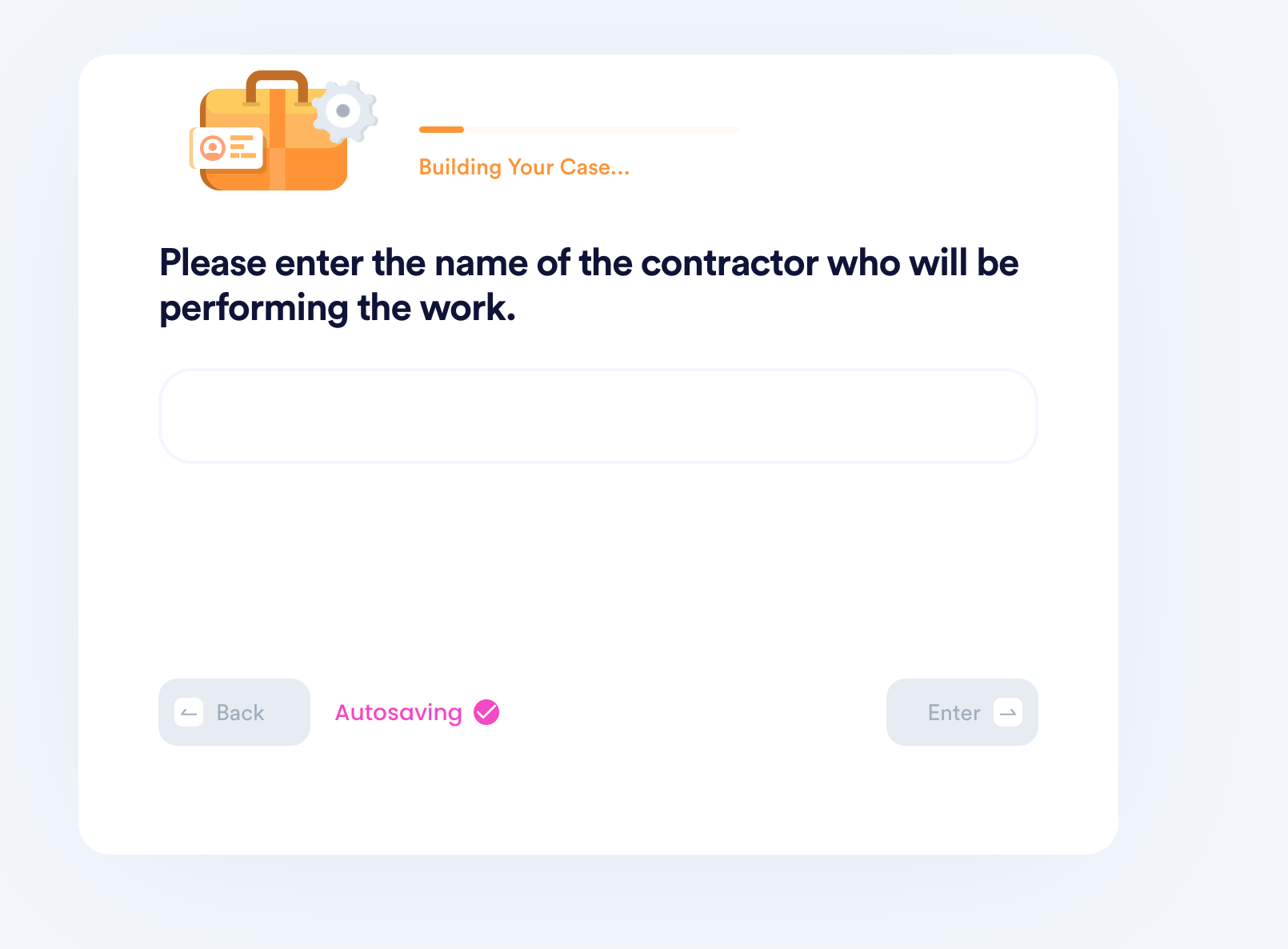 5. Indicate whether any public sidewalk/street space will be used during construction.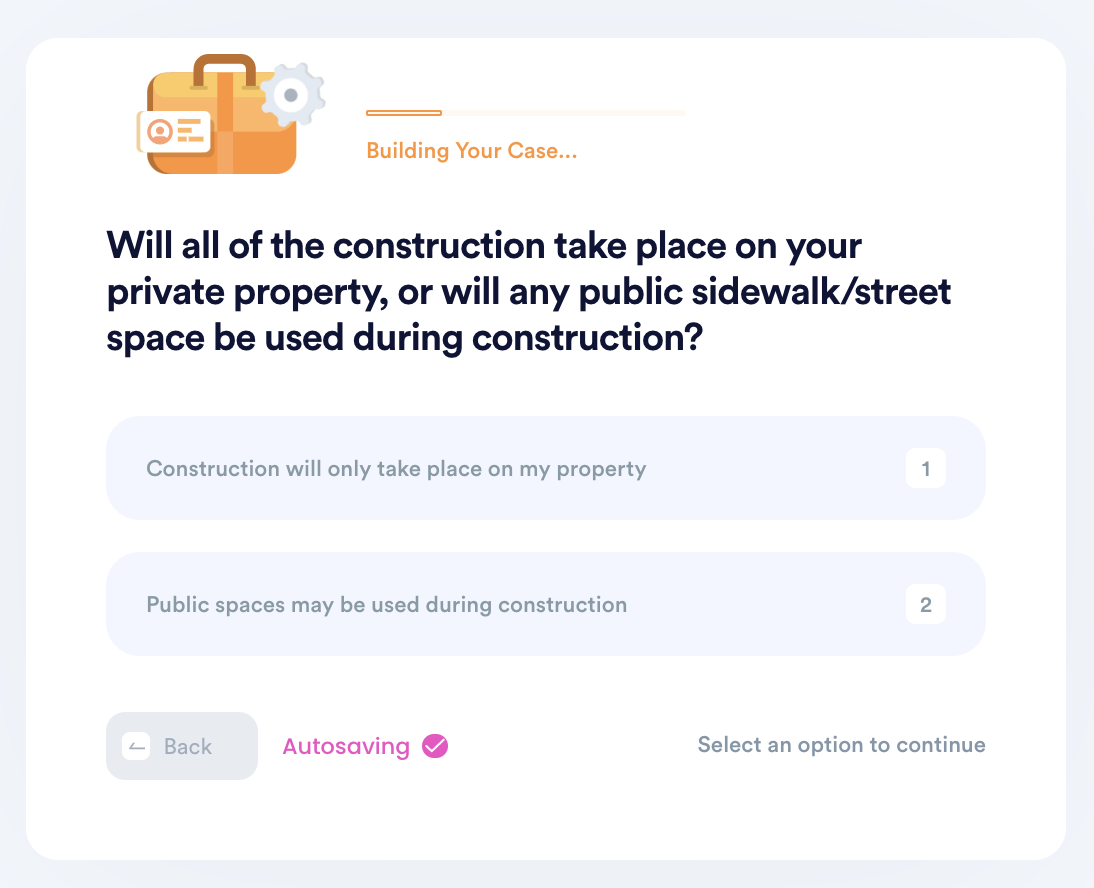 6. And that's it! DoNotPay will help guide you through the building permit process by checking if your project needs a building permit, contacting any HOAs you're a part of to request building permission, or generating detailed instructions on how to start and complete your building permit application process.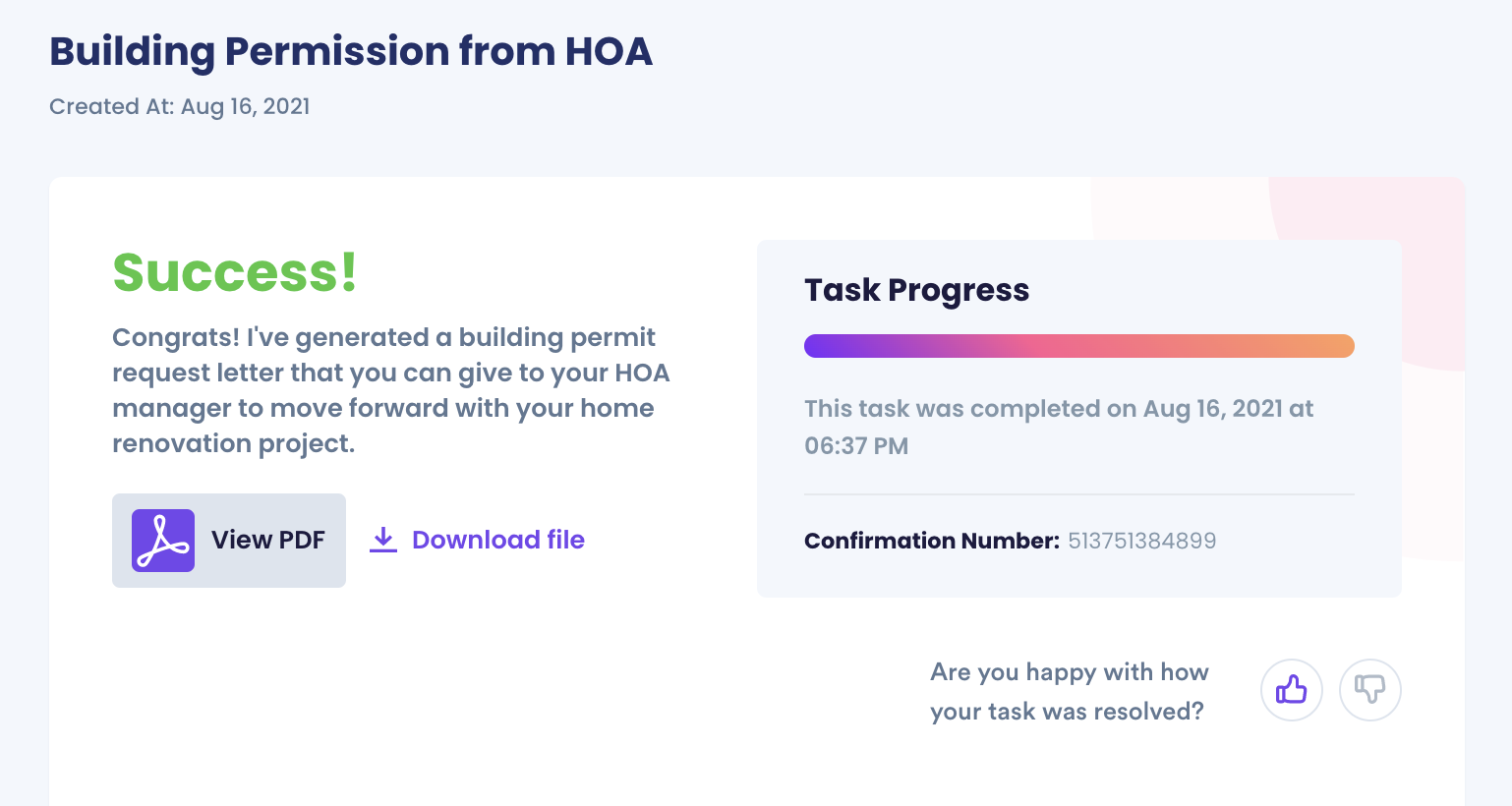 Why Use DoNotPay to Get A Building Permit
The reason why many Americans trust us at DoNotPay is that we handle every problem as if it were ours. We're resilient and we'll work so hard to find the right solutions you want anywhere, anytime.
We're also
Fast—Because of our experience, we'll help you fill out your documents fast and even fill them out for you where necessary
Straightforward—You don't have to struggle with anything as we'll complete the entire process for you, and all you have to do is to go get your permit
Successful—You can rest assured knowing we'll find the cheapest and most efficient way to get your building permit for your entire project
Can DoNotPay Help Me With Other Permits?
But of course. DoNotPay works across all types of companies and can indeed help you with other permits such as:
What Else Can DoNotPay Do?
As a property owner, you may also want assistance while filling in your property taxes, getting insurance, or dealing with other problems related to your property. We also assist people with dealing with all kinds of legal problems.
Read some guides below to find out what more DoNotPay can do: