Brooklyn College Financial Aid Dissected
"A poor man's Harvard" is an accurate depiction of Brooklyn College, given the quality education it provides and distinguished citizens that graduated from this school. If you want to get into Brooklyn College but the tuition is out of your league, applying for financial aid is the way to go.
In this article, DoNotPay will give you the deets on applying for Brooklyn College financial aid—including the criteria you should meet and the procedure you must follow. We will assist you in getting a substantial financial award from this and any other college you set your eyes on!
Available Types of Financial Aid at Brooklyn College
Brooklyn College offers three basic types of financial aid to its students, and those are:
Grants
Loans
Work-study programs
Students can use them individually or combined to finance their education. To learn more about these available forms of financial relief, check out the table below:
Types of Financial Aid
Explanation
Grants
Grants are treated as financial awards for eligible students and don't have to be repaid. Brooklyn College participates in both NY State and Federal Student Financial Aid Grant programs. To apply, students have to meet specific criteria, including:

Being U.S. citizens or eligible non-citizens
Being enrolled in a degree program
Sustaining a satisfactory academic progress

State grant programs may impose additional eligibility criteria

Loans
To get a federal loan, students must first go through the entrance and exit interviews with the Brooklyn College Financial Aid office. They have to agree to pay back the student loan with interest rates (typically lower than consumer rates). Other factors to keep in mind are the following:

The size of the loan will be determined after all available gift-aid has been applied for
Some loans have interest-free grace periods before the student starts repaying and can be deferred or partly repaid after graduation

Federal work-study programs
They help students earn money to pay for their education by working part-time on and off-campus. They are available for both undergraduate and graduate students
How To Apply for Financial Aid at Brooklyn College
Students seeking financial aid from Brooklyn College should complete the Free Application for Federal Student Aid (FAFSA) form and a state financial aid application.
The first step towards filling out the FAFSA is obtaining an FSA ID from the U.S. Department of Education. Students (and their parents) can get it online by providing the Brooklyn College federal school code—which is 002687.
Next, students can complete the FAFSA online or as a paper form. Take a look at the table below for a more detailed explanation of each method:
Complete the FAFSA Online
Fill Out the FAFSA paper form
Filling out the online form ensures:

Expediency—Students will get the results via email the next business day, and Brooklyn College will get the record in the next five to seven days
Practicality—Guides help students answer the questions
Safety—Encryption keeps the information on the form safe
Accuracy—Students can review their answers and spot inconsistencies fairly easily

Students can pick up a paper form by calling the Federal Student Aid Information Center. Other factors to consider are the following:

Students have to mail the form in an attached pre-addressed envelope
It takes two to three weeks to process paper FAFSA submissions
Students can check the application status on the FAFSA website or by calling the Federal Student Aid Information Center
Apply for State Financial Aid
Apart from federal financial aid, NY State residents can count on the Tuition Assistance Program (TAP) as well.
The application process requires the students to:
Complete the FAFSA—the confirmation page will give them a link to the TAP application for New York State Financial Aid
Create an HESC PIN—it enables students to fill out their application letter and make changes to the provided information
Complete the application—the TAP online form is already pre-filled with some of the information from the FAFSA form. Students have to provide the missing details and submit the form
Brooklyn College encourages students to apply for financial aid as soon as possible after October 1st of the year preceding the term they are seeking assistance for. The priority deadline for filing at Brooklyn College is March 1st.
Has Brooklyn College Denied You Financial Aid or Offered a Low Amount? DoNotPay Can Help!
Have you applied for a grant at Brooklyn College? It happens fairly regularly that a school denies or offers an unsatisfactory financial aid amount to an applicant. If that is the case with you, worry not—DoNotPay is here to help you appeal the university's decision and ensure a higher financial award!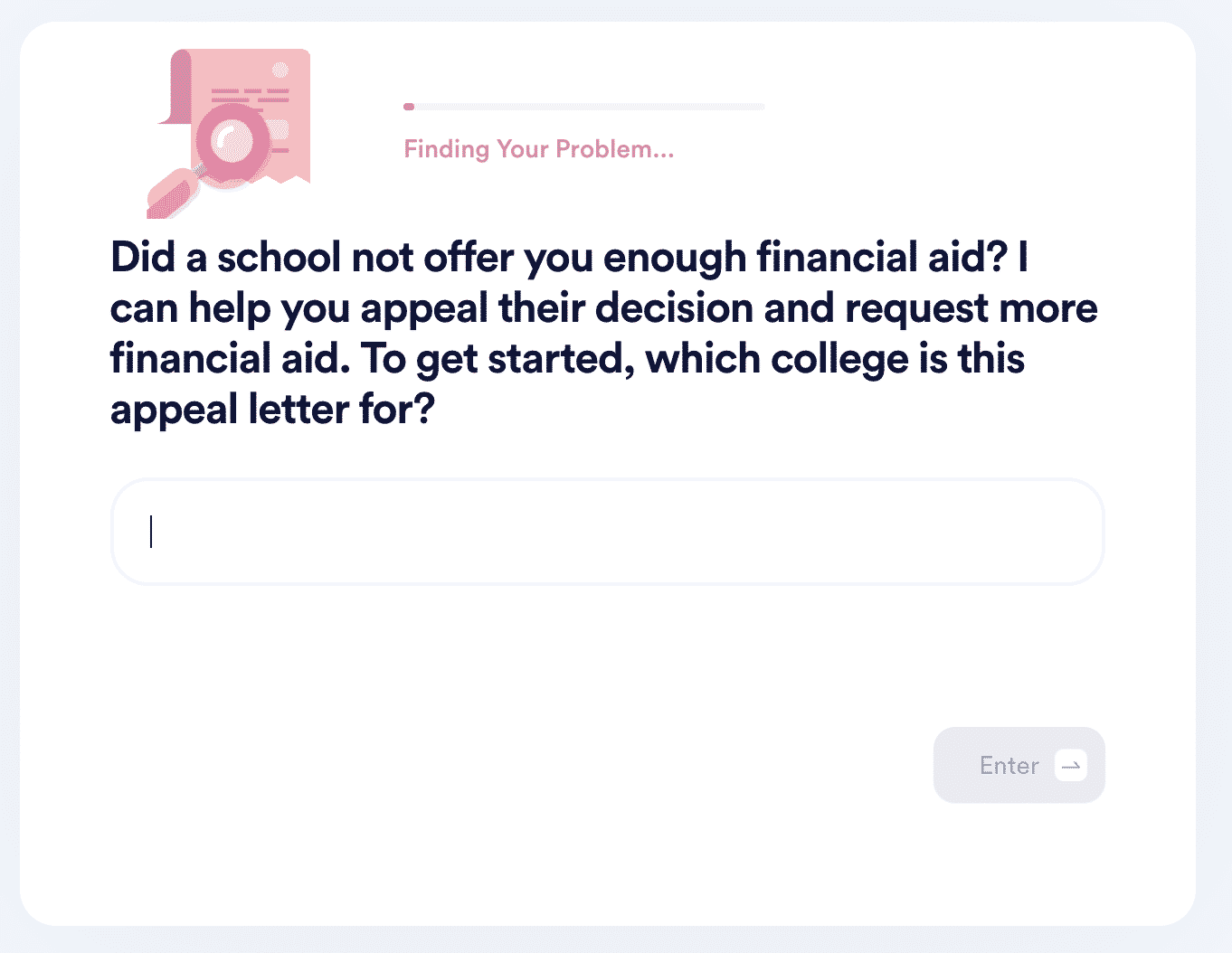 Our app's Appeal for More Financial Aid product will help you draw up an appeal letter, asking the college to reconsider their decision. To get the process going, you should:
Access DoNotPay from a web browser
Go to the Appeal for More Financial Aid tool
Answer our chatbot's questions regarding:

The college you want to attend
Possible changes to your financial situation since you originally applied
We will create an appeal letter that follows all necessary guidelines and send it on your behalf instantly! You can expect the college's answer to your plea in no time!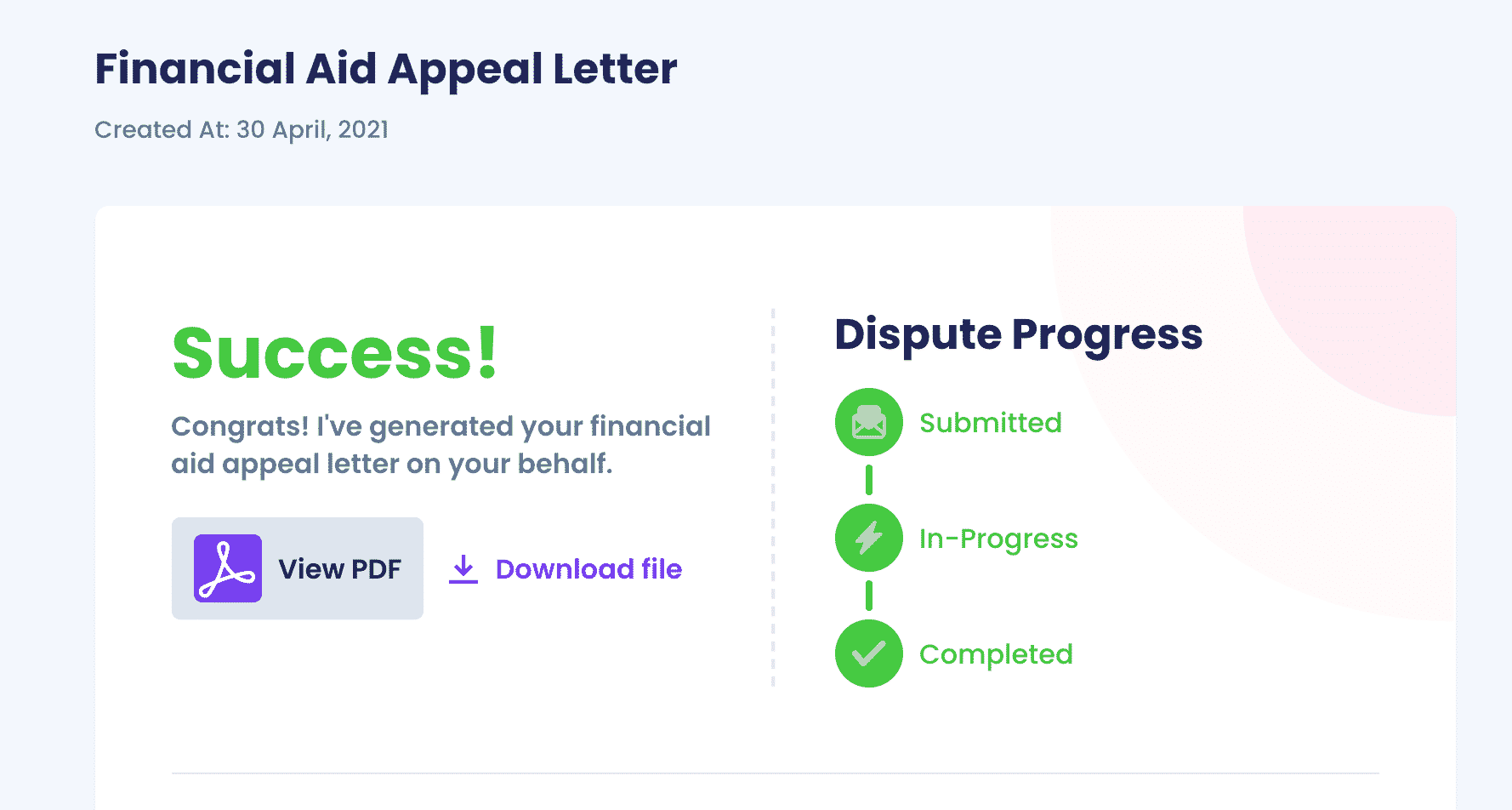 Other U.S. colleges may be able to provide you with more suitable financial assistance. Check out the table below for more details:
Do you need additional information on financial aid? Find answers to some of the common questions, such as:
Get an Extra Buck or Two With DoNotPay
Besides being able to assist you with almost any legal issue, DoNotPay can also help you get some extra money! We can cancel any unused memberships and prevent you from being charged after free trial periods are over with our virtual credit card.
Can't claim a warranty or get cash back for a gift card? Subscribe for DoNotPay and consider it done! We can also help you return items to almost any company or even help you get a refund in a few clicks!
Helping you jump the customer service queues is also not a biggie for us, as well as taking the company that wronged you to small claims court!
No Problem Is Unsolvable for DoNotPay
By subscribing to our platform, you get access to a plethora of handy features that can help you with: