Brewery Startup Costs Explained
Who hasn't daydreamed about opening a small craft brewery with their friends? While the reality of starting a business from scratch can seem intimidating, it is still a worthwhile effort. The brewing industry is estimated at $22.2 billion in retail sales, so the venture can turn out quite lucrative.
The only way to make money, however, is to invest a particular amount yourself. In this article, we will break down the overall brewery startup costs and address the following questions:
What one-time expenses you need to cover
What recurring costs you should prepare for
How to apply for a startup loan using DoNotPay
One-Off Microbrewery Startup Costs
The average startup cost for a brewery ranges from $500,000 to $1 million depending on the following factors:
The size of the brewery
Level of production
Location
Microbreweries and nano breweries require a smaller budget in comparison to large-scale productions, but the startup costs are still substantial.
Take a look at the table below for an overview of the one-time startup costs for a microbrewery:
Microbrewery Startup Cost
Average Amount
Space rental
$50,000
Initial operational costs
$60,000
Equipment:

Filtration and labeling machines
Fermentation tanks
Malt mill
Hydrometer
Kettles, boilers, bottling, and canning lines
Refrigeration system
Cleaning equipment
Waste disposal system
Beer tap hand

$26,000–$100,000
Inventory
$16,000
Licenses and permits:

State-issued business license
Brewer's Notice from the Alcohol and Tobacco Tax and Trade Bureau (TTB)
State-issued liquor license
Operating agreement
Retailer's license

$100–$13,800
Insurance and legal fees
$7,500
Website
$300–$700
Marketing
$500–$5,000
Signage
$1,000
Total
$161,400–$254,000
Recurring Microbrewery Startup Costs
The recurring costs for a microbrewery include:
Labor—The average rate for non-union brewers is approximately $12 per hour
Materials and ingredients:
Malt—40 to 50 cents per pound
Hops—$4 to $5 per pound
Yeast—13 cents per-six-pack
Packaging—20 cents per bottle
Utilities—Depending on where you are based and the size of your brewery, the water bill can be between $125–$150 a month, while the cost of electricity ranges from $350 to $400
Equipment repairing and maintenance—The condition of your equipment will influence the overall upkeep costs. It is a good idea to set aside a couple of hundred dollars each month for emergencies
What if You Need More Cash Than Anticipated?
Since it is difficult to determine the exact budget for your microbrewery, running out of funds is more common than you'd think. Instead of abandoning the project altogether, why not apply for a small business loan?
Small business loans are a way to procure the necessary resources for small to medium size business ventures. You can get a loan from:
When it comes to startup loans, securing one is a bit more challenging. New businesses lack longevity and demonstrable credit history, which are the basic borrower qualifications. If you are thinking about applying for a loan, you need to find a lender that is willing to invest in a startup.
What Kind of Loan Can You Get?
You should pay attention to the loan terms and interest rates for each type of loan. Some of the best solutions for up-and-coming businesses are:
SBA loans—The Small Business Administration (SBA) is a solid choice for startups since it provides access to nationwide lenders. A huge number of banks and non-profit organizations collaborate with the SBA, increasing your chances of getting a loan. The interest rates vary from program to program but typically start at 5.5%. The repayment terms are also quite generous, ranging from five to 25 years
Microloans—This type of loan is great if you have only made a slight miscalculation and need a quick, small investment. Note that the maximum amount for microloans is $50,000
Equipment financing—Any type of asset-based financing is a great choice for breweries since the business model relies on heavy machinery. The rates typically start at 7.5%, and you are required to put in a down payment
Crowdfunding—Many entrepreneurs turn to websites like GoFundMe or Kickstarter to avoid the strict lender requirements. With crowdfunding, you receive funds directly from the general public, and there are no interest rates or loan terms
Friends and family—It is common to ask for loans from close friends or family when you are launching a new business. You can work out the loan terms together so that all parties can benefit
DoNotPay Can Increase Your Chances of Getting a Loan Approved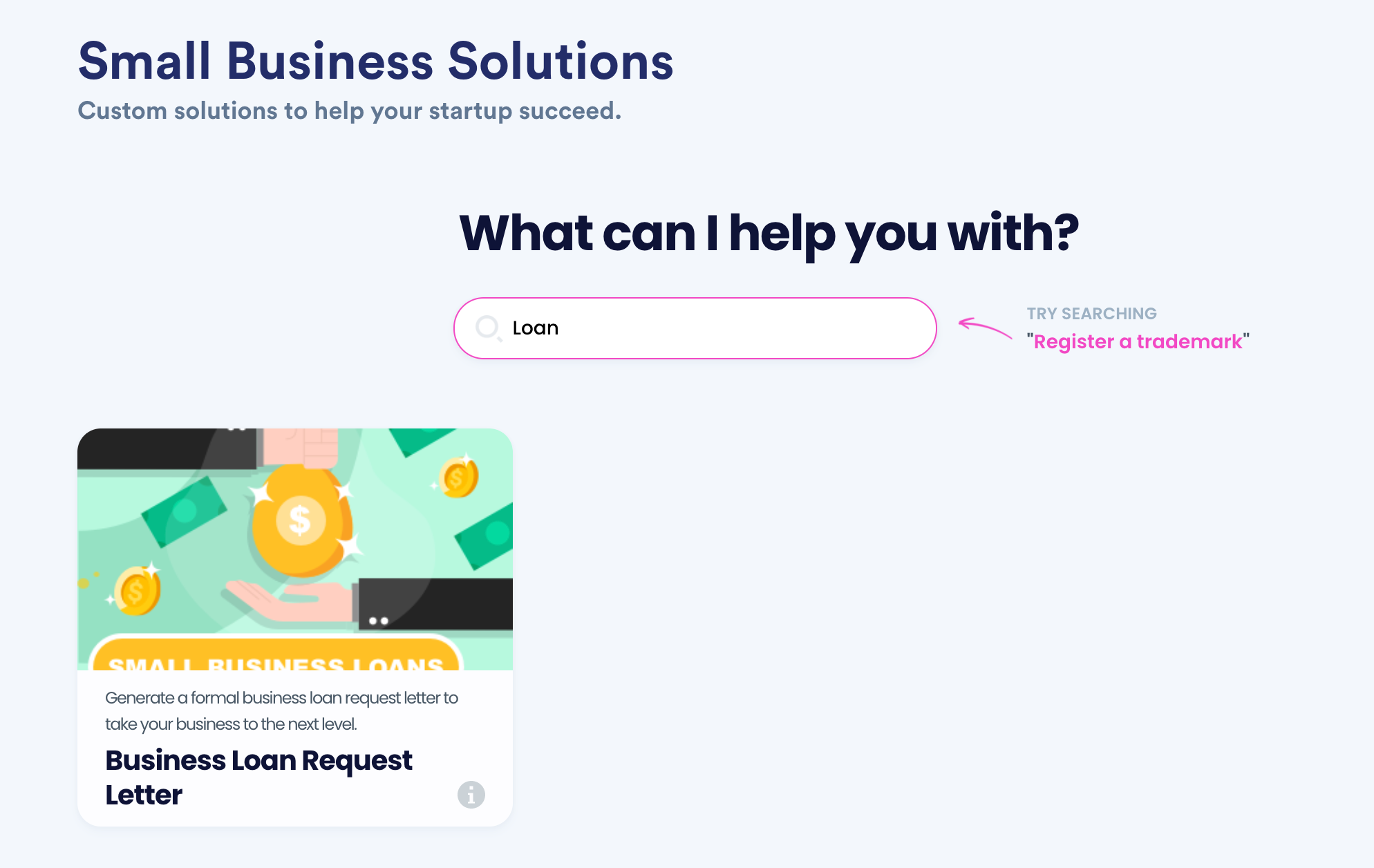 If you want to cover the startup costs for a microbrewery without draining your savings account, make sure you are eligible for a loan. The application process is quite complex, starting with the amount of paperwork you will need to file.
Before you apply, gather the following documents:
Business plan and financial projection
Personal and business credit score reports
Financial statements on:

Balance
Profit and loss
Cash flow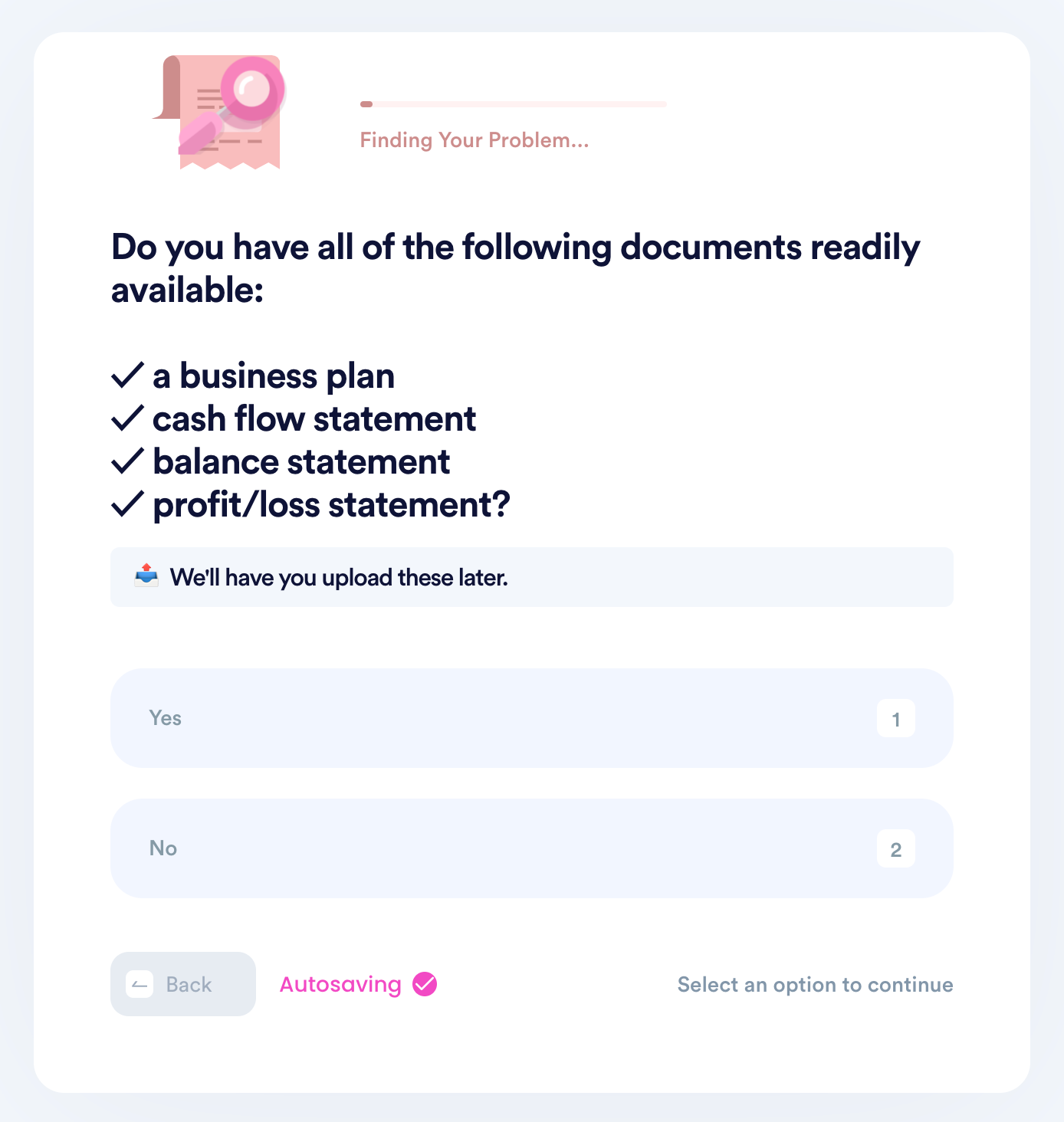 Once you have all the documents, you need to compose a loan request letter introducing your business and the loan details. That is where DoNotPay comes in!
Our Business Loan Request Letter product can generate a watertight application form with a few clicks, helping you make your case with the chosen lender.
Here is how to access the product:
Select the Business Loan Request Letter product
Answer questions regarding your business and the loan you want
Upload the required documents
DoNotPay will deliver your letter to the loan provider in no time.
Need help finding a suitable lender? Our app has got you covered once again. Our integrated Find Online Business Loan Lender product will pick the top lenders for your needs!
Don't Let the Complex Procedures Stress You Out! Rely on DoNotPay and Run Your Business Like a Pro!
DoNotPay has created a plethora of simple-to-use features that will help you run your business the best way possible. Here are some aspects we can help you take care of:
Registrations
Legal Documents

Get an Employer Identification Number (EIN)
Register a DMCA agent to avoid copyright violations

Send a cease and desist demand if someone is using your trademark
Draw up a watertight letter requesting a loan for your business
Draft a demand letter to send to a client who refuses to pay you
Get a customized chargeback rebuttal letter and fight unfair chargeback requests hassle-free
What Else Does DoNotPay Have in Store for Your Business?
You can use our app to resolve many other business-related issues. DoNotPay can help you deal with fake reviews that are ruining the reputation of your business by analyzing the harmful review and figuring out the best way to go about it.
Do you wish to protect the privacy of your clients and prevent their data from being collected while they are on your website? Use our app to file a self-certification request with the Privacy Shield program.
If you need help automating the filing of 83(b) election forms, DoNotPay has the right solution for you and your employees or shareholders! With our app, you will be able to finish the entire process with a few clicks.
Another perk of using our app is that we can help you fax and mail any documents or letters without having to leave your home or office.
DoNotPay will help you handle all your business tasks in the blink of an eye!