Breaking A Lease In Georgia Without Any Expenses
Anyone renting a house or apartment in Georgia must sign a lease before moving in. This lease agreement protects both the tenant's rights and the landlord's property. Although you may have fully intended to commit to a year or more of renting your home, circumstances may arise that require you to consider breaking your lease.
Whether you face financial hardship, feel like your home is not being well maintained, or something in between, there are many legal and nonlegal reasons to break your lease. Even if your reasons don't fall under the protection of tenant laws, you may still be able to find ways around your lease. This DoNotPay guide will help you understand different reasons for breaking your lease in Georgia, as well as tips on how to get you started.
What Are Valid Reasons for Breaking My Lease in Georgia?
In the state of Georgia, several legal reasons will allow you to break your lease without any penalty. These include:
Cases of domestic violence - If you are a victim of domestic abuse in your rental home, you can legally terminate your lease without penalty. To do so, you must be able to provide a copy of a court order, such as a Temporary Protective Order, and a written notice of termination. While the lease termination is not immediate, it will become effective 30 days after your next rent payment is made.
Active military duty - If you are an active military member, you may terminate your lease without penalty if you are deployed or relocated. You must provide at least 30 days' notice to be protected.
Landlord harassment - If your landlord is constantly coming to your home without first giving you at least 24 hours' notice, this is considered landlord harassment and is a violation of your lease agreement. You can legally break your lease without any repercussions.
An uninhabitable home - Landlords are required to provide a safe and clean living environment for their tenants. This includes working plumbing, heating, and other utilities maintained by the landlord. If your landlord has not ensured functioning facilities, you can legally break your lease without consequences.
While this list includes legal reasons to break your lease, there may be other reasons that your landlord could be sympathetic towards but aren't protected by tenant laws. These could include financial hardship, moving for a new job, or moving in with a family member who needs assistance. The only way to know what exceptions your landlord will make for you is to start a conversation with them.
What Are the Consequences of Breaking My Lease?
If you don't follow the proper channels in Georgia to break your lease for legal reasons, or if you want to move for reasons not covered by tenant laws, you may face some serious repercussions. These may include:
Being sued by your landlord and having your wages garnished
Having your security deposit withheld
Issues finding a new rental if your landlord provides a negative reference
Taking a hit to your credit score if your debt gets reported to the credit bureau
To avoid these potential problems, you will want to follow the law as closely as possible. If you are determined to break your lease but are unsure of the best way to go about it, DoNotPay is here to help. We can offer a few tips to help get you started or do the hard work for you with our Break Your Lease product.
Breaking Your Lease on Your Own
The best way to ensure a favorable outcome when you want to break your lease is to follow the proper steps:
Clearly understand your lease to ensure you are not surprised by possible fees incurred when you break your lease early.
Know the law and understand your rights as a tenant.
Get everything in writing in case you need to offer documentation.
Gather proof, especially if you need to terminate your lease for legal reasons, and present documents in court.
If you feel intimidated by the idea of confronting your landlord, or if the thought of taking these steps on your own is daunting, you are not alone in this. DoNotPay is ready to do the tedious work of contacting your landlord and collecting the information necessary to break your lease so you can move forward with finding a home that is better suited for you.
DoNotPay Can Help
If you need to break your lease but aren't sure where to start, DoNotPay can guide you through it. Here's how you can get started in 3 easy steps:
1. Search Break My Lease on DoNotPay.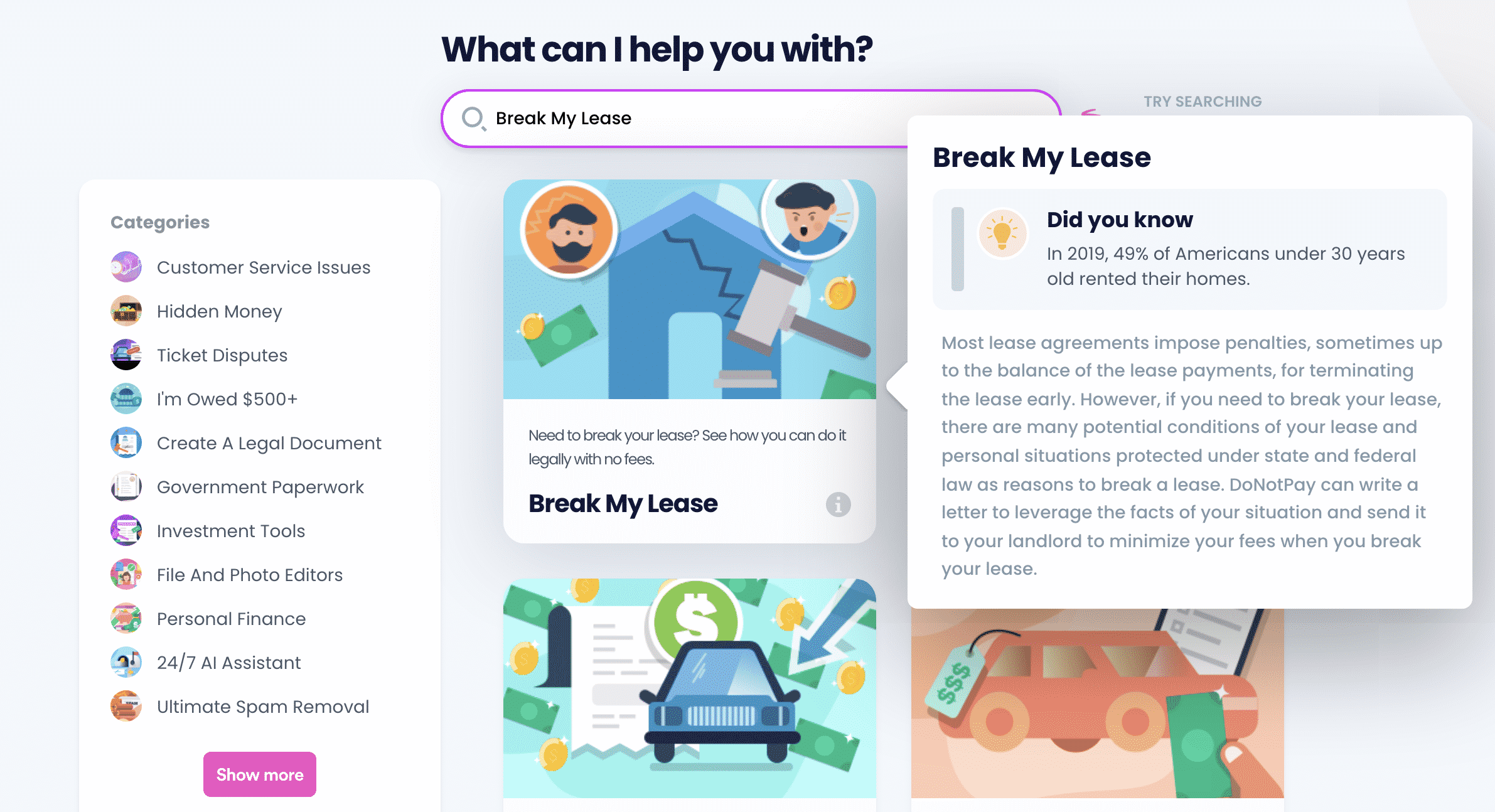 2. Prepare a signed copy of your lease that you can use as a reference and enter the state the lease was signed in.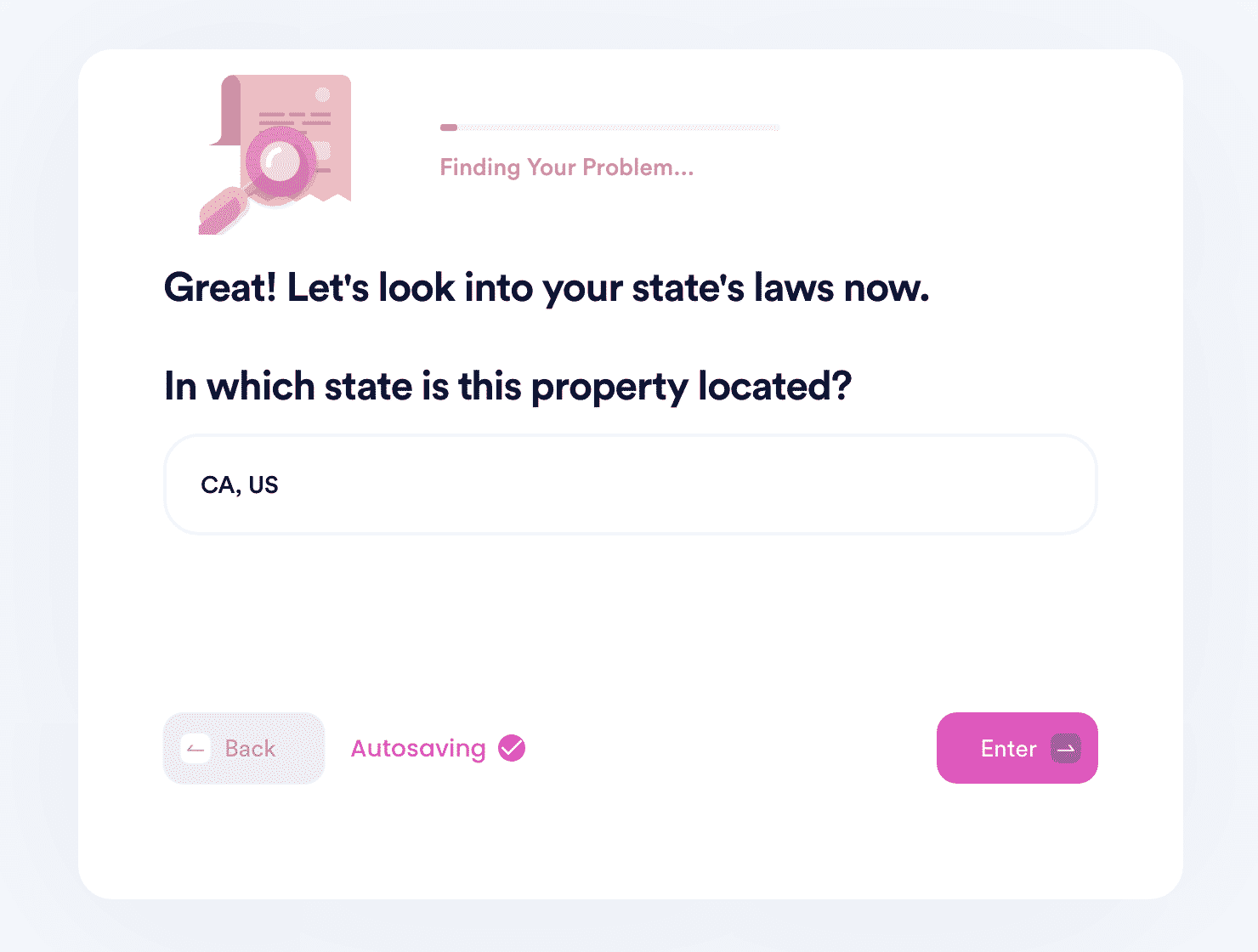 3. Let us guide you through the 4 potential options.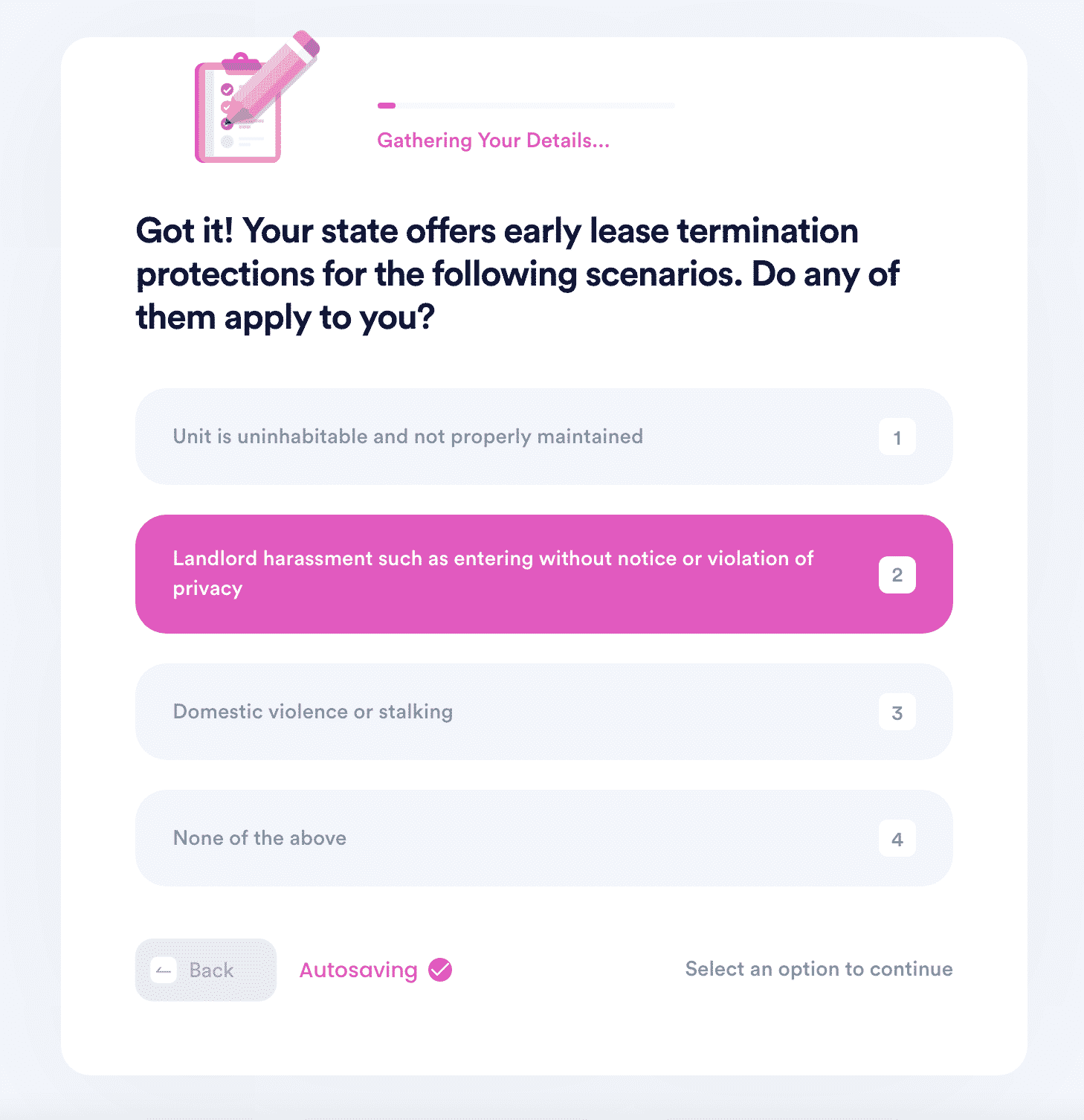 If you're a uniformed service member breaking a lease to fulfill your service obligations, we'll send your landlord an SCRA Protection Letter.
If you're breaking your lease for a reason protected by your state's tenant laws, we'll write your landlord a letter detailing your protections for breaking the lease under the relevant law.
If your reasons for breaking your lease aren't protected by federal or state law, but you'd like to try to convince your landlord to let you break the lease through mutual agreement, we'll draft a hardship letter making your case to your landlord.
If there are no remaining options for breaking the lease with protection, but your state requires landlords to mitigate damages to tenants who break their leases, we'll notify your landlord of that obligation and minimize the remaining rent you have to pay.
Breaking Your Lease State by State
The steps towards breaking your lease are similar across many cities and states. If you have more questions about breaking your lease in your specific state, check the appropriate link in the table below.
Regardless of where you live, DoNotPay products can help you understand everything you need to know about your lease and how to get out of it with minimal penalties successfully.
What Else Can DoNotPay Do?
DoNotPay offers many services and products designed to make life easier for you. We can help with so many issues, legal and nonlegal alike. A few of our products can help you:
Sign up for DoNotPay today to learn more about our great services!