Breach of Contract in Virginia Simplified by DoNotPay
A breach of contract occurs when a promisor fails to perform an obligation set by an agreement without a legal excuse. This article will explain all you need to know about a breach of contract in Virginia.
We will also discuss the available options you have to seek remedies and collect damages. The best way to make sure the breaching party takes you seriously is to send them a breach of contract demand letter. DoNotPay has a solution that will help you draw up a professional demand letter in minutes.
Breach of Contract in Virginia—The Basics
In Virginia, to prove that a breach of contract took place, the plaintiff has to provide evidence that the other party failed to carry out their end of the agreement without legal excuse. When providing proof, the plaintiff needs to focus on the following three elements:
A legally enforceable agreement was made
The promisor breached the contract
The promisee suffered damages that the breach caused
Existence of a Legally Enforceable Agreement
The injured party needs to prove that the contract exists—i.e., that both parties agreed to its terms. If you have a written agreement, its existence will be easy to prove, but if the contract is oral, the process will be more difficult.
The Proof of the Promisor's Breach
The promisee must prove that the promisor failed to complete their end of the agreement. You can do that by claiming a material breach.
Many disputes can arise when you try to prove breach of contract, like:
Who breached the contract first
What the disputed terms of the agreement mean
Whether the promisee waived the promisor's breach by their own actions
Whether there was fraud in the moment of entering into the contract
Keep in mind that the promisor might use affirmative defenses to breach of contract by providing a valid legal reason as to why they did not fulfill what they promised.
Proving the Damages Made by the Breach
You will have to demonstrate that, due to the promisor's failure to uphold their part of the agreement, you suffered losses. Once you prove this, you will be able to collect damages, which is usually done through payments.
Is Enforcing an Oral Contract Possible in Virginia?
If a contract contains offer, acceptance, and consideration, it's enforceable. There are certain types of contracts that must be in writing for them to be enforceable under the Virginia Statute of Frauds, though. The agreements that this applies to are as follows:
Sale of real estate
A non-marital co-living arrangement
Lease of real estate for longer than one year
Promise by a person to be legally responsible for a debt of another
Ratification of an agreement by a minor
A contract that is impossible to perform within one year of the date when it was entered into
Agreement on consideration of marriage
How To Demand Compensation in Virginia
To seek compensation for a breach of contract in Virginia, you can choose one of the options from the table below:
| Way of Seeking Compensation | Brief Explanation |
| --- | --- |
| Draw up a demand letter | You need to be familiar with legal terminology to be able to create a demand letter by yourself. You will find plenty of demand letter templates, but they might prove lackluster as they are generic and lack the important, case-specific information you need your letter to cover |
| Hire a lawyer | Hiring a lawyer is the safest way to get a demand letter, but you should be prepared for sky-high fees |
| Sign up for DoNotPay | Our user-friendly platform offers a product that draws up airtight demand letters with all the essential information you need |
Draft Your Demand Letter in a Few Simple Steps With DoNotPay
If you want a demand letter that will comply with all the Virginia contract laws and be fully personalized, then DoNotPay is the optimal choice. Our app will use the information you provide through a simple questionnaire to create a rock-solid demand letter in a few minutes.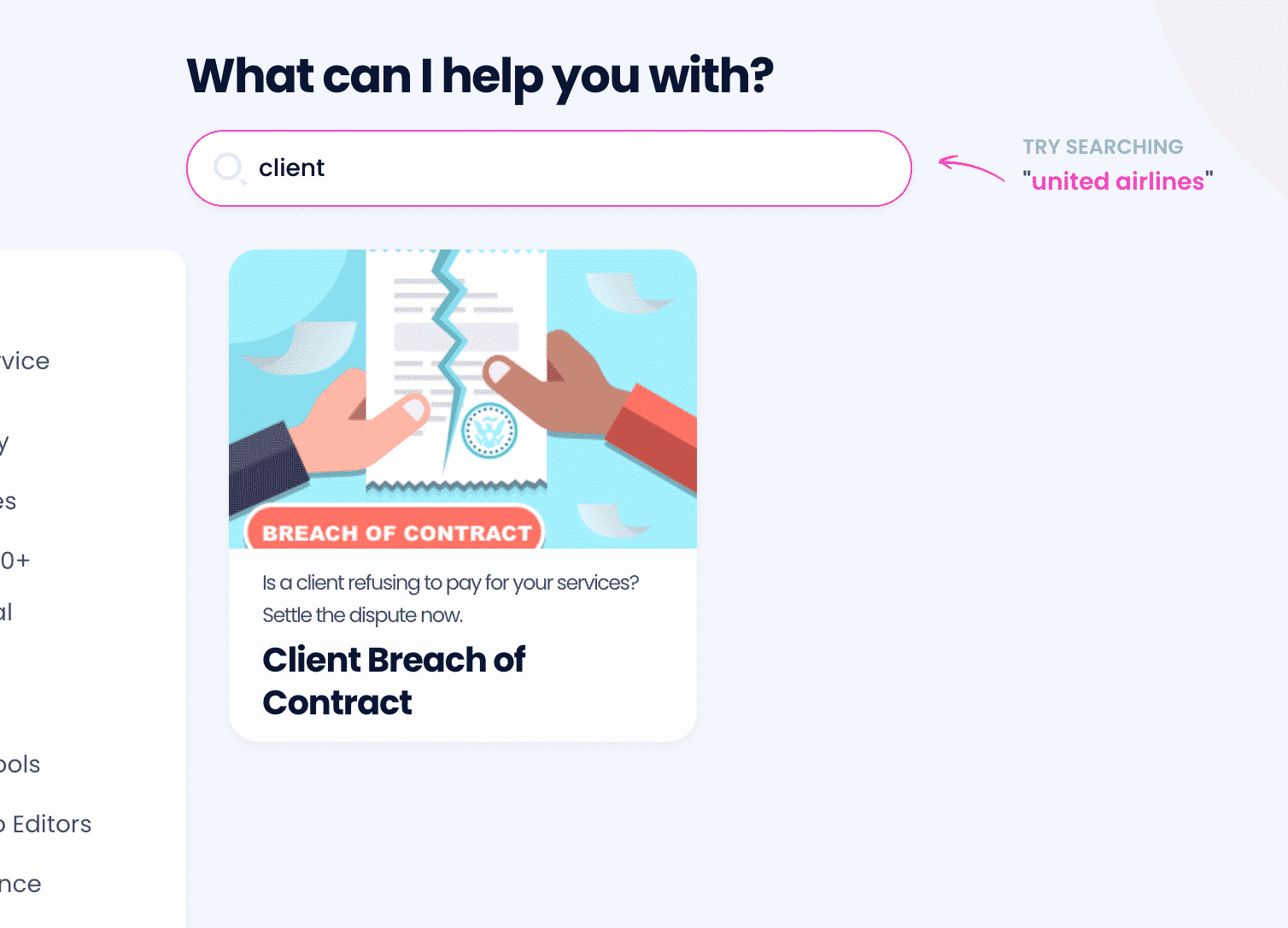 To create your letter, register for DoNotPay and follow the instructions below:
Select the Client Breach of Contract product
Provide information about your case
Specify the date by which your client has to pay you
Add any photo evidence that you have
Once you complete the steps, DoNotPay will generate your demand letter automatically.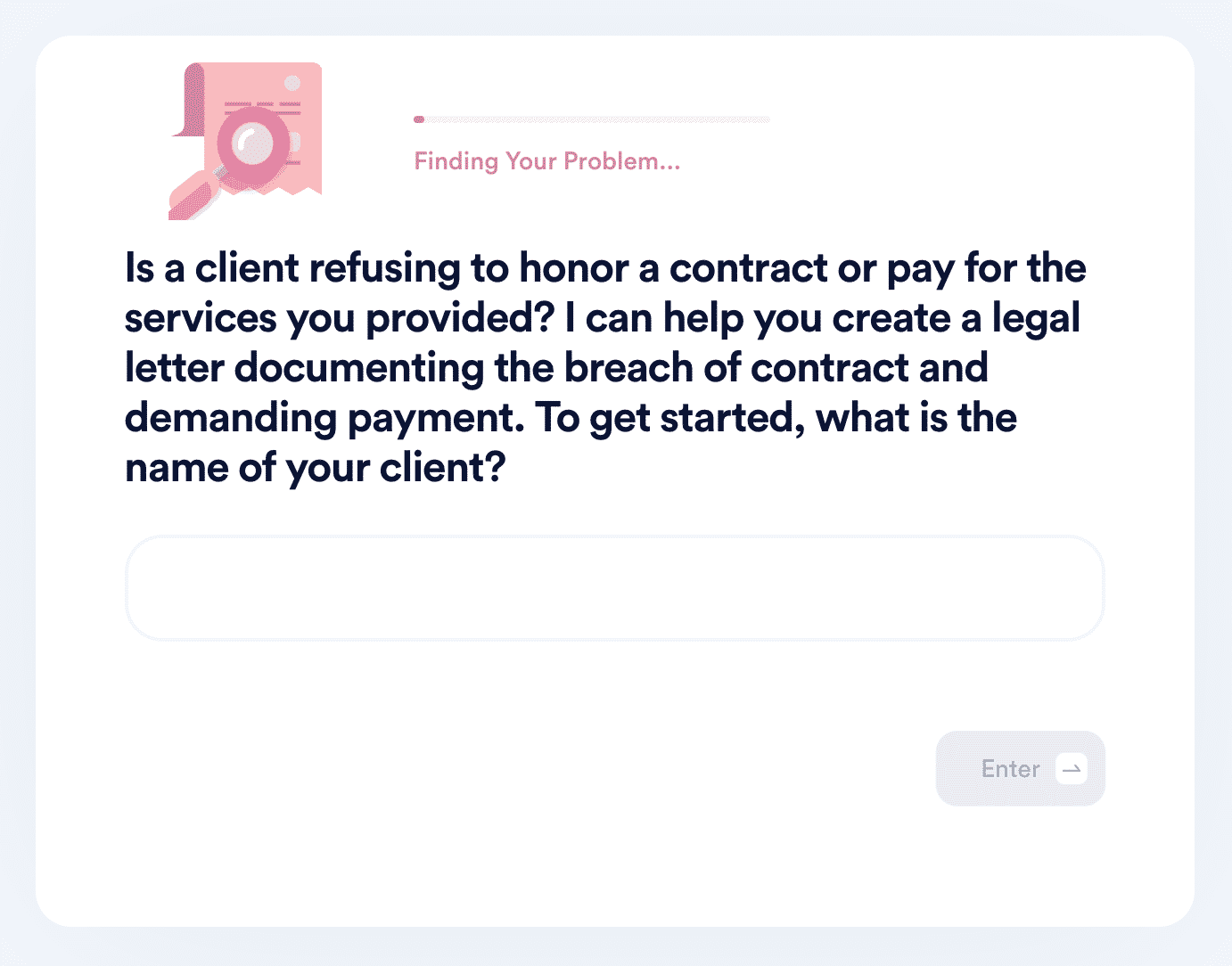 Sue the Breaching Party in Small Claims Court With DoNotPay
If the client decides to ignore your demand letter, you might want to escalate the matter. Our app can help you sue your client in small claims court.
DoNotPay is the world's first robot lawyer recognized by the ABA Louis M. Brown Award for Legal Access.
To get our assistance, follow these instructions:
Open the Sue Now tool
Enter the amount of money you're owed
Select the Court Filing Forms option
Describe the situation—why you are filing the lawsuit
Apart from filling out the necessary court forms, collecting all the required paperwork, and filing the claim in court, DoNotPay will produce a script of what you should say at your court hearing.
DoNotPay Offers More Help for Your Business
Running a small business is no small feat. When you're drowning in red tape, DoNotPay is here to lend a helping hand. Whether you need to register your trademark or protect it later on, we have got it covered. With our help, you will keep your logo, slogan, and business name safe.
Are you also yet to register for an Employer Identification Number (EIN)? Not to worry—our app can file the IRS SS-4 form in a few clicks. With the world's first robot lawyer at your fingertips, you will also be able to create your 83(b) election forms with ease—ready for your employees to sign them right away.
In case you are struggling financially, we can assist you with a business loan application.
Communication Has Never Been Easier With Our App
Keeping up with clients can be challenging, especially if each has a preferred method of communication. Luckily, our multifunctional app makes it easy to both fax and mail contracts, letters, and documents.
You can also count on our assistance when you need to:
Fight fake negative reviews online
Deal with a client regarding a breach of contract
Dispute fraudulent chargebacks
Thanks to DoNotPay, there is no need for back-and-forth communication. We will handle the necessary demand letters and forward them on your behalf.
We can also help you manage your DMCA agent registration and Privacy Shield program self-certification.