Breach of Contract Statute of Limitations in Texas—Explained by DoNotPay
Did your employer refuse to pay you? Were you in the process of buying real estate, only to discover that the seller breached your contract? How long do you have to file a lawsuit? DoNotPay will tell you all about the breach of contract statute of limitations in Texas and provide other useful information.
Our app can help you claim damages and seek remedies by drafting a breach of contract demand letter in a few simple steps.
What Constitutes a Breach of Contract in Texas?
A breach of contract in Texas occurs when a promisor fails to perform their duty as described in a legally binding agreement. There are four main elements of a breach of contract that you need to demonstrate in your claim:
| Breach of Contract Elements | Explanation |
| --- | --- |
| Existence of a valid contract | The plaintiff has to prove that the contract exists and is enforceable. Proving the existence of an oral agreement can be challenging |
| Promisor's failure to perform under the contract | Plaintiff has to show that the defendant did not fulfill their contractual obligations |
| Promisee's tendered performance | The plaintiff must demonstrate that they held their end of the bargain |
| Plaintiff's losses brought upon by the breach | The non-breaching party has to prove that they suffered losses and damages due to the breach of contract |
What Is a Statute of Limitations?
The statute of limitations refers to a time frame during which the plaintiff can sue the breaching party. The purpose of the statute of limitations is to ensure that the case stays relevant because the evidence can be lost and witnesses' memories fade.
The period starts from the moment the non-breaching party establishes that a breach of contract occurred.
Texas Statute of Limitations for Breach of Contract
Texas has a four-year statute of limitation. This means that you, as the plaintiff, have four years to file your claim against the breaching party. The Texas statute of limitations refers to:
Breach of contract
Debt collection suits
Breach of fiduciary duty
Specific performance of a contract for conveyance of real property
If you do not start your lawsuit within four years from when the contract was breached, you forfeit your right to file a claim.
Are There Any Exceptions to the Texas Statute of Limitations for Breach of Contract?
There are two exceptions to the statute of limitations in Texas:
Fraudulent concealment
Discovery rule
What Is Fraudulent Concealment?
If the defendant hid the fact that they are in breach, the injured party has the right to sue as soon as they find out about the breach—regardless of the statute of limitations. The statute of limitations begins once the information about the fraudulent concealment is out.
What Is the Discovery Rule?
The discovery rule is similar to the fraudulent concealment—the plaintiff was unaware that the breach occurred. What makes the discovery rule different is that in this case, the statute of limitations does not begin until the plaintiff discovers the injury caused by the breach.
Can You Resolve Your Dispute Out of Court?
Before taking any action in court, you should know that the defendant may raise affirmative defenses, which may cause you to lose your case. You can prevent this by drafting a watertight demand letter. Sending the demand letter before the lawsuit can save you a lot of money and time as litigation is often expensive and time-consuming.
Other reasons why sending a demand letter should be your first step is that it:
Informs the defendant of the final notice
Gives the breaching party the time to perform what they were supposed to under the agreement
Warns the defendant of your intention to sue
How To Draft a Demand Letter
Having a professionally formatted demand letter is of the utmost importance because if matters go to court, a judge might see it as your good faith to settle the case without involving the justice system.
You have a few options for drawing up a demand letter in Texas:
Getting a lawyer—Hiring a lawyer might seem like the safest option, but it is also the most expensive one
Writing it yourself—If you aren't well versed in the legal terminology, this option might be risky. You will have to rely on generic demand letter templates, which might not cover the specifics of your case or comply with your state laws
Registering for DoNotPay—You won't need to go through the trouble of finding the right lawyer for the job because our app can create a professional demand letter in a few minutes
DoNotPay Generates Rock-Solid Demand Letters
The world's first robot lawyer has your back in any breach of contract dispute—we can create a strong and straightforward demand letter fast.
Our AI-powered app will use the information you provide and combine it with all the relevant state laws to create an airtight demand letter tailored to your case. Whether the breach was material, partial, or anticipatory, DoNotPay will help you present your demands.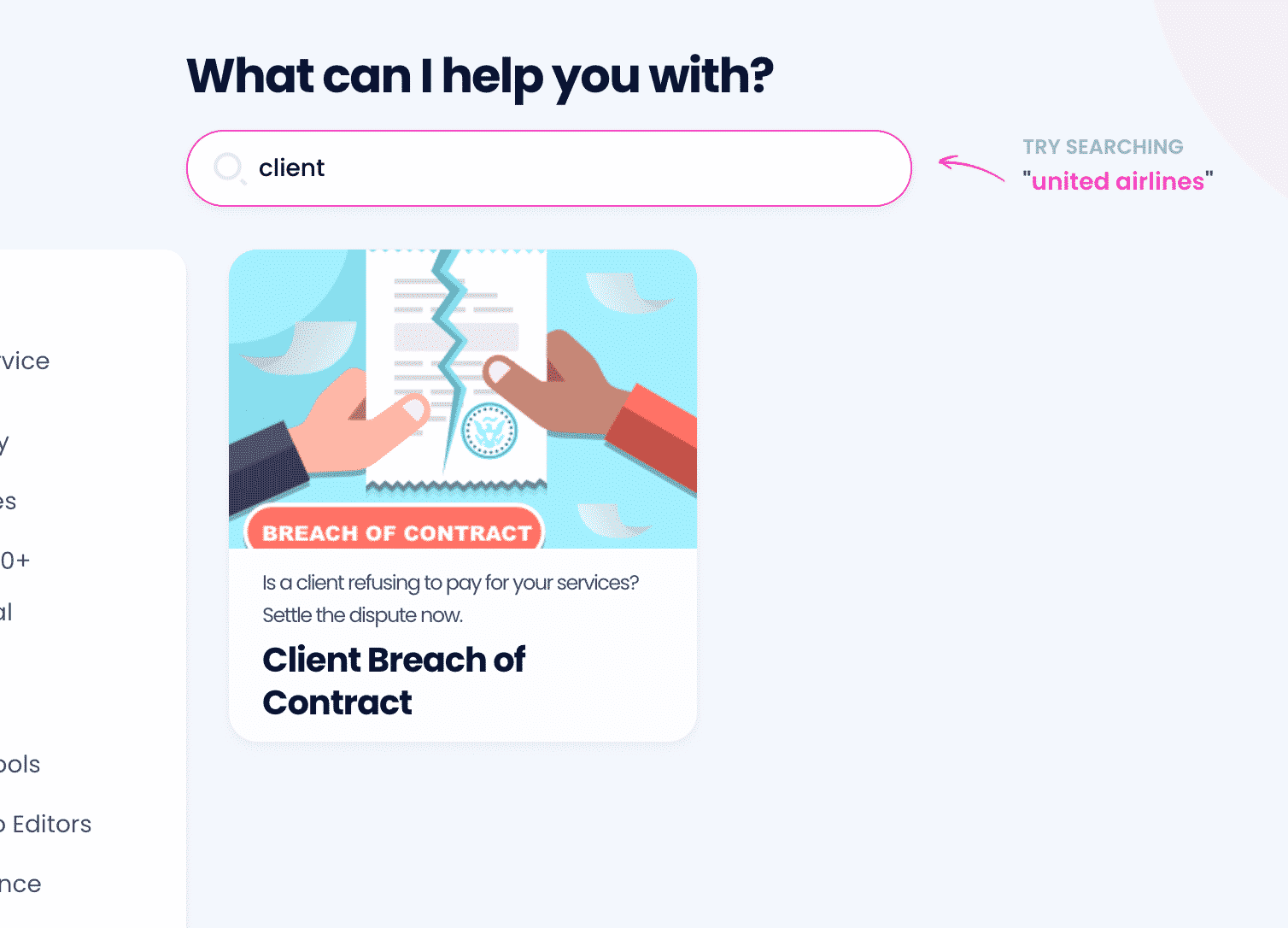 To get a customized demand letter, sign up for DoNotPay and do the following:
Find the Client Breach of Contract product
Provide the required details, such as:

Information about your client
Services you performed
Amount that your client owes you
Last date of your payment request

Specify a new deadline by which the client has to pay you
Upload a photo proof (if you have any)
As soon as you provide the required details, we will draft your personalized letter.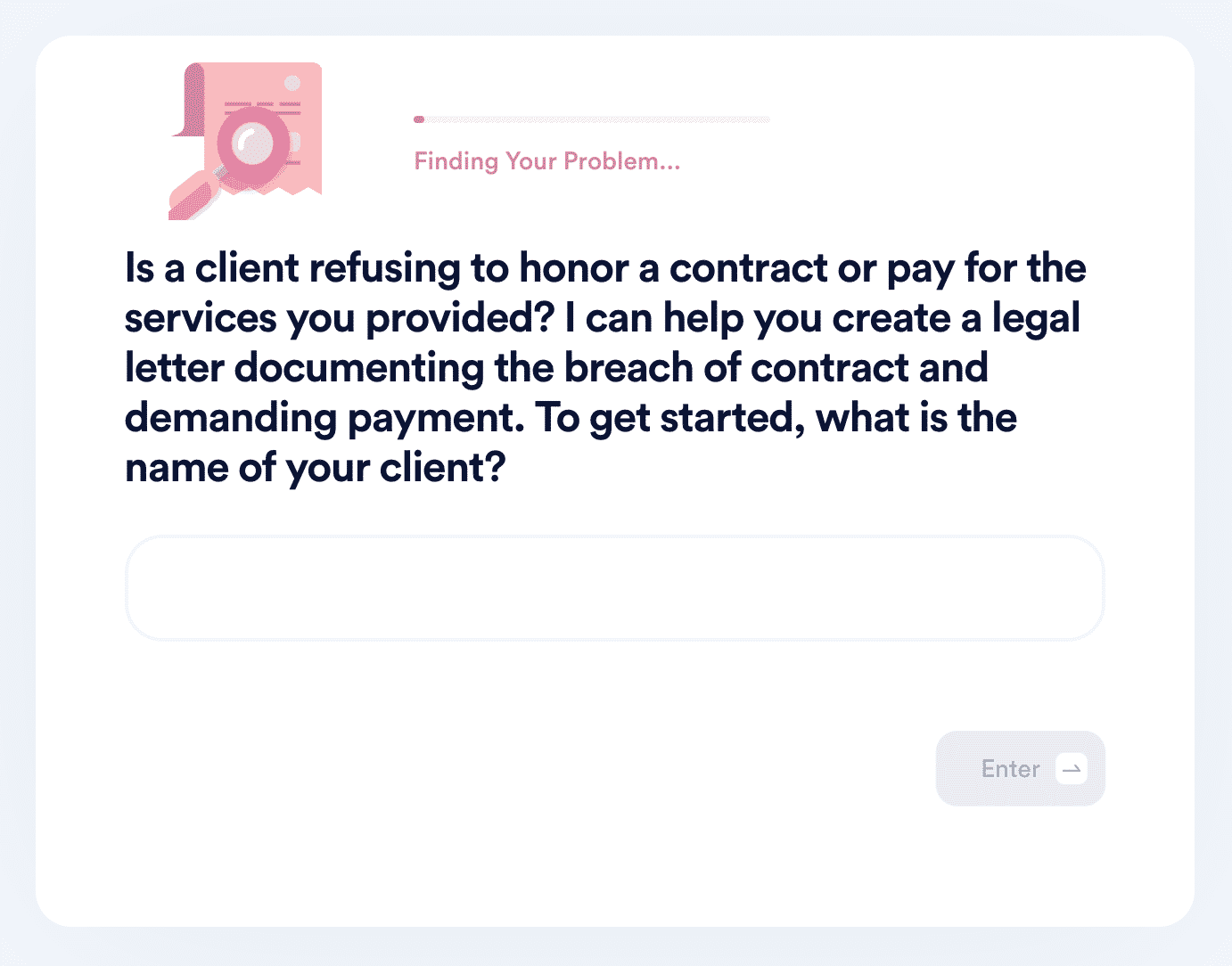 DoNotPay Offers More Help for Your Business
Running a small business is no small feat. When you're drowning in red tape, DoNotPay is here to lend a helping hand. Whether you need to register your trademark or protect it later on, we have got it covered. With our help, you will keep your logo, slogan, and business name safe.
Are you also yet to register for an Employer Identification Number (EIN)? Not to worry—our app can file the IRS SS-4 form in a few clicks. With the world's first robot lawyer at your fingertips, you will also be able to create your 83(b) election forms with ease—ready for your employees to sign them right away.
In case you are struggling financially, we can assist you with a business loan application.
Communication Has Never Been Easier With Our App
Keeping up with clients can be challenging, especially if each has a preferred method of communication. Luckily, our multifunctional app makes it easy to both fax and mail contracts, letters, and documents.
You can also count on our assistance when you need to:
Fight fake negative reviews online
Deal with a client regarding a breach of contract
Dispute fraudulent chargebacks
Thanks to DoNotPay, there is no need for back-and-forth communication. We will handle the necessary demand letters and forward them on your behalf.
We can also help you manage your DMCA agent registration and Privacy Shield program self-certification.