Everything About the Breach of Contract Statute of Limitations in Pennsylvania
When a breach of contract occurs, it is necessary to know what actions you should take next. Before filing a lawsuit, you must research the state-specific requirements and the available legal remedies. DoNotPay will provide you with the necessary information about the breach of contract statute of limitations in Pennsylvania.
We can also compose a breach-of-contract demand letter for you to help you get the justice you deserve.
The Breach of Contract Statute of Limitations in Pennsylvania—How Long Do You Have?
Before you can file a lawsuit, you need to be aware of the relevant statute of limitations in your state. This statute determines the amount of time you have to file a lawsuit against the party that harmed you. If you do not act on time, the claim will be time-barred and eventually dismissed.
In the Coal State, the statute of limitations for breach of contract is four years. The same time frame applies to both verbal and written agreements. You should know that the law permits the parties to shorten the statute of limitations. This means that you might need to act sooner and file a lawsuit earlier.
When Does the PA Breach of Contract Statute of Limitations Begin?
The statute of limitations starts on the date the contract was breached, even if you were unaware of it at the time.
Can You Prevent the Statute of Limitations From Running?
Under particular circumstances, it is possible to toll the statute of limitations. Take a look at the table below to see when you can pause it for a specific period:
| When You Can Toll the Statute of Limitations | Brief Explanation |
| --- | --- |
| If the plaintiff is a minor | The statute of limitations does not accrue until they turn 18 |
| If the defendant fraudulently concealed the breach | Merely failing to disclose a violation is not enough—they need to engage in an independent act of concealment |
Breach of Contract Pennsylvania—Three Main Elements
To successfully send a demand letter or file a lawsuit for a breach of contract in Pennsylvania, you must prove the following elements:
Existence of a valid, enforceable contract
Defendant's breach of duty
Damages evoked by the defendant's actions
Proving the Existence and Validity of a Contract
Proving the existence of a contract should not be a problem if it was a written one. If you had an oral agreement, it is a bit harder to prove it happened. It is essential to know that specific contracts must be in writing, and courts will not enforce the agreements that the parties confirmed only with a handshake.
A contract also needs consideration to be valid—both parties need to surrender a legal right to get a benefit they want.
Proving That the Defendant Did Not Complete Their End of the Bargain
Once you prove the existence of a valid contract, you must show that the other party failed to perform a duty or requirement listed in the contract. It is also paramount that the contract breach is material—significant enough to affect the agreed outcome.
Proving That the Defendant's Actions Incurred Damages
You must prove you suffered damages as a result of the breach. Here are the most important requirements regarding damages:
Damages must directly result from the breach and should be predicted in the contract
You should not be in the same position you would have been in had the contract been completed
Damages need to be reasonably certain. You will not be able to recover damages if you cannot prove how much money you would have gained had the breach not occurred
Create a Letter of Demand for Breach of Contract in Pennsylvania With DoNotPay's Help
Once you can prove the required breach of contract elements, you should write a demand letter. This task can be challenging for individuals lacking legal knowledge, so you can either hire a lawyer and pay a hefty sum or turn to DoNotPay for help.
Our app can generate this legal document for you without trouble. You only need to complete these steps:
Choose our Client Breach of Contract product
Answer a few questions about the client and the agreement you made
Add a payment deadline for the client
Attach photos as evidence (if any)
Unlike generic templates you can find online, DoNotPay will provide you with a legal document specifically tailored to your case.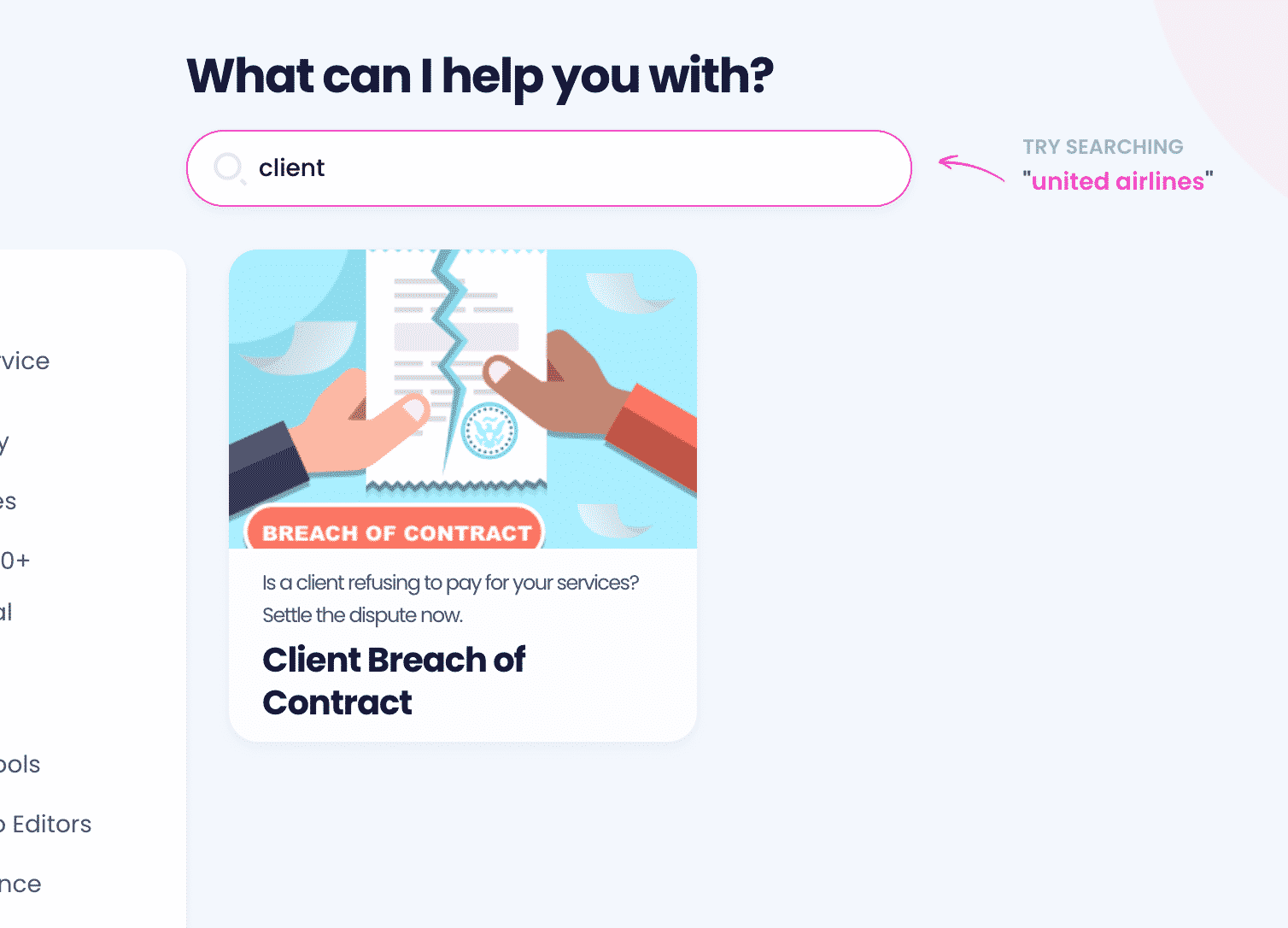 File a Breach of Contract Lawsuit With DoNotPay's Help
In case you've sent a demand letter and the defendant hasn't responded, you have the right to file a lawsuit. The easiest way to take the other party to the small claims court is with DoNotPay's help. We are adept at dealing with legal matters and were even awarded the Louis M. Brown Award for Legal Access in 2020.
DoNotPay can help you win the case by:
Gathering the essential paperwork
Filling out the necessary court forms
Making a script for your court appearance with compelling arguments to boost your chances of winning
Submitting the complaint on your behalf
You can also find out more about the breach of contract remedies and affirmative defenses in our detailed guides.
Build Your Business From the Ground up With Your Reliable Pocket Assistant!
To make the running of your business less stressful, DoNotPay has created numerous handy products that can help you deal with any issue right from the start. With our assistance, you can:
Get the perfect letter requesting a loan for your business
Handle the Employer Identification Number and DMCA agent registration procedures in a few clicks
Manage Privacy Shield program self-certification to make sure your clients' privacy is protected while on your website
If you are considering completing trademark registration, DoNotPay will be your trusty companion and help you finish the whole process in no time! We can even make sure no one uses your trademark as their own by performing routine checks and sending cease and desist letters to the offenders instead of you.
Resolve Pesky Business Issues With DoNotPay
Our app boasts many other useful and easy-to-use products that will help you resolve an array of business-related problems. Whether you need help filing 83(b) election forms as effortlessly as possible or wish to communicate with your clients and business partners without heading over to the post office, we have got you covered!
DoNotPay can also help you remove bad, fake online reviews that could harm your business reputation, deal with clients who avoid paying for your services, and contest unjustified chargeback requests.
Rely on our app and stay on top of your work while we deal with business issues on your behalf!