Resolve a Dispute Over a Breach of Contract in Ohio
Finding yourself in a situation involving a breach of contract is not uncommon in business relationships. When that happens, you need to decide whether starting a lawsuit would be the best option or if it would cost you more than what you have already lost.
DoNotPay provides relevant information about a breach of contract in Ohio and suggests ways to resolve the issue—including creating a breach of contract letter for an out-of-court settlement.
What Is an Ohio Breach of Contract?
A breach of contract in Ohio happens when one party does not:
Fulfill any of the contract terms
Provide a just cause for the breach
If you—i.e., the non-breaching or injured party—have fulfilled your obligations determined by the contract, you are legally allowed to seek damages.
Ohio Laws on Breach of Contract
Different laws apply to breach of contract cases depending on the:
Subject of your contract
Parties involved in the agreement
If you decide to sue for breach of contract, your lawsuit could be governed under one of the following laws:
Ohio common law
Uniform Commercial Code
Ohio consumer protection laws
Keep in mind that:
The breaching party might raise an affirmative defense in court
You should try to resolve the dispute outside of court to avoid lengthy and expensive legal proceedings
Ohio Breach of Contract Statute of Limitations
The statute of limitations starts from the date the breach of contract happens. Time frames for filing a lawsuit vary depending on the type of contract (e.g., written or oral) and actions (e.g., sales or against the state).
Take a look at the following table to see the breach of contract statute of limitations in Ohio:
| Type of Contract | Statute of Limitations |
| --- | --- |
| Oral contracts | Four years |
| Written contracts | Six years |
There are exceptions to the above-listed time frames, and the prior statute of limitations remains for the following actions:
For sales of goods—Four years
Against the state—Five years
To recover title or ownership of real estate—21 years
As these time frames change, you should check the latest version of the Ohio Revised Code, breach of contract sections 2305.06 and 2305.07, before starting a lawsuit.
Prove the Elements of a Breach of Contract in Ohio
If you decide to sue the other party, you will need to prove the following three breach of contract elements:
The existence of a contract—In Ohio, a valid contract consists of a(n):

Offer
Acceptance
Consideration

The other party's breach of contract—You must show that the breaching party has failed to perform their contractual obligations
Resulting damages—You need to demonstrate that you have suffered harm and injury as a result of the other party's non-performance and breach of contract
Keep in mind that while an oral contract is as valid as a written one in Ohio, you might have a hard time proving the terms of an oral agreement if the other contractual party contradicts you.
What Can You Hope for in a Breach of Contract Lawsuit?
If you prove that the other party has breached the contract, a judge will award damages or another type of remedy. The purpose is to place you in the same position you would have been in if the breaching party had fulfilled the contractual terms.
In breach of contract cases in Ohio—for material or other breaches—the damages usually equal the:
Price paid in the original contract
Value of the underlying contract
Some agreements also contain the following provisions about damages:
Damages
Specifics
Liquidated damages
If your contract has provisions about liquidated damages, you—as the injured party—might get additional damages
Attorney's fees and litigation costs
You can receive attorney's fees if:

It is specified in the original agreement by an attorney fee provision
You win a breach of contract lawsuit
Punitive damages are available only for insurance contracts in Ohio.
How To Seek Compensation for an Ohio Breach of Contract
You could try to settle the dispute out of court since litigation can be costly and time-consuming. You should send the breaching party a demand letter outlining the facts of the agreement and reminding them of their obligations.
If you're looking for ways to create a demand letter, here are some options you can consider :
Do it by yourself—You should get familiar with relevant state laws or use online demand letter templates to help you. Keep in mind that you need to inspect the template you decide to use as some are too generic and might not:

Comply with your state laws
Be suitable for your case

Consult an attorney—While this might be your first thought, keep in mind that attorney's fees can be extremely high
Hire a debt collector—You could turn to a collection agency if you would like to get compensated for your losses fast. Keep in mind that agencies can charge up to 50% of the collected amount
Use DoNotPay—Our affordable yet efficient robot lawyer can help you prepare a reliable demand letter fast
DoNotPay Is a Way to an Effective Demand Letter
Our AI-powered app can generate a demand letter automatically. We combine legal requirements with the information you provide to create a letter that complies with your state laws and addresses your specific situation.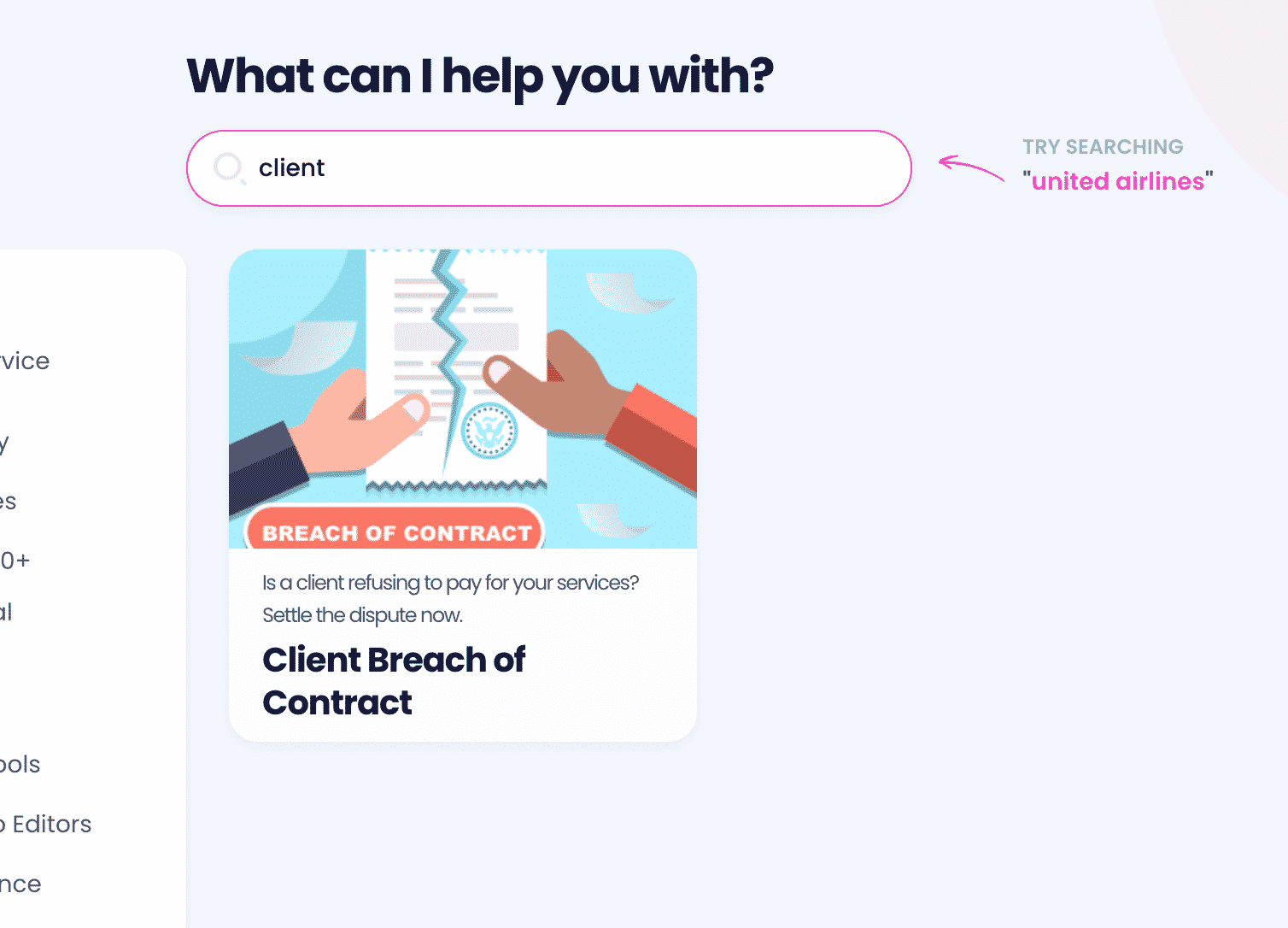 Follow these simple steps:
Opt for the Client Breach of Contract product
Answer a few questions about the breaching party and the contract
Indicate a new payment deadline for the other party
Upload photographic evidence, if available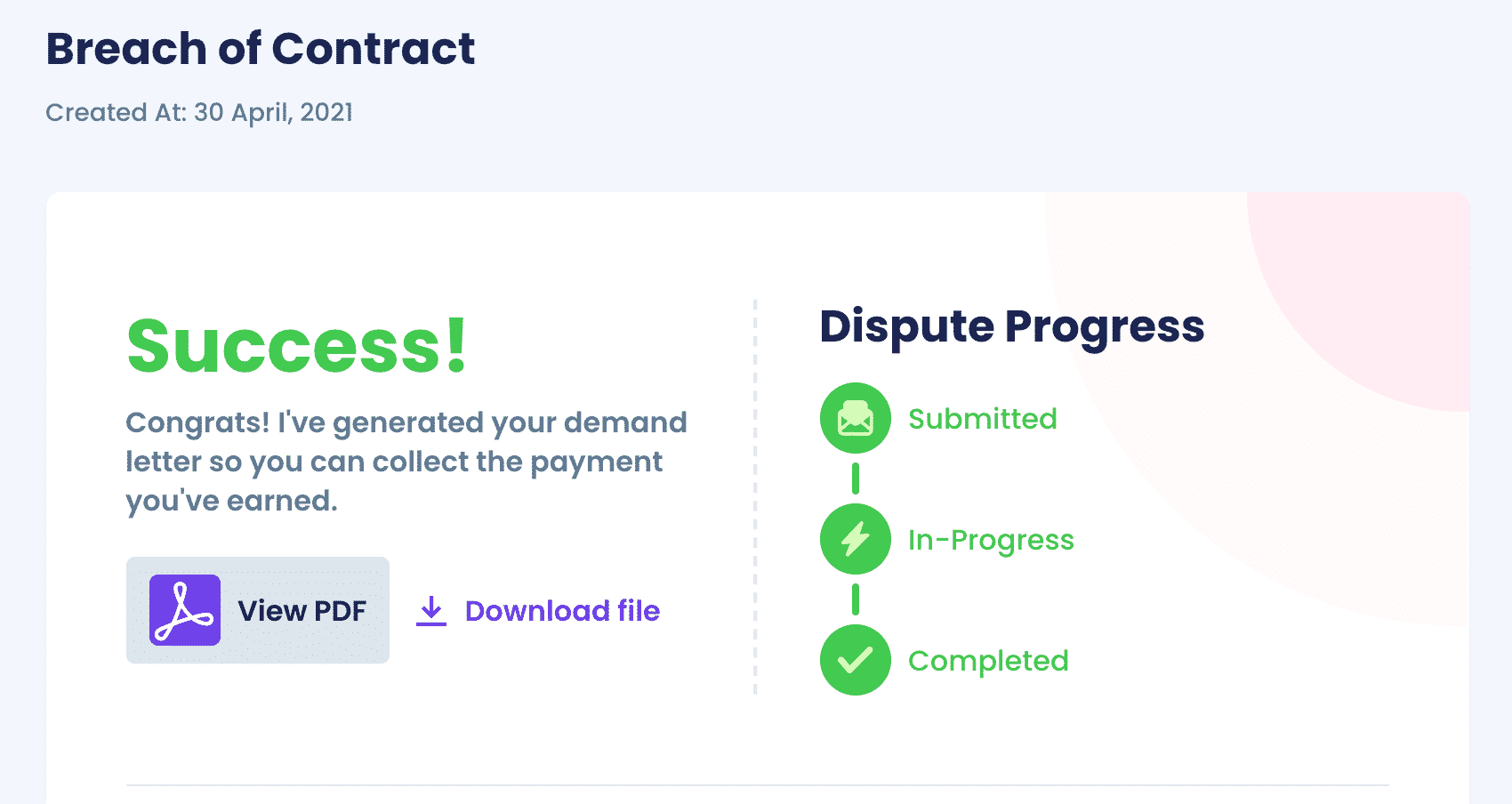 DoNotPay draws up the demand letter automatically and can even deliver it to the other party on your behalf.
In case they do not respond, we can help you sue them in small claims court.
DoNotPay Offers More Help for Your Business
Running a small business is no small feat. When you're drowning in red tape, DoNotPay is here to lend a helping hand. Whether you need to register your trademark or protect it later on, we have got it covered. With our help, you will keep your logo, slogan, and business name safe.
Are you also yet to register for an Employer Identification Number (EIN)? Not to worry—our app can file the IRS SS-4 form in a few clicks. With the world's first robot lawyer at your fingertips, you will also be able to create your 83(b) election forms with ease—ready for your employees to sign them right away.
In case you are struggling financially, we can assist you with a business loan application.
Communication Has Never Been Easier With Our App
Keeping up with clients can be challenging, especially if each has a preferred method of communication. Luckily, our multifunctional app makes it easy to both fax and mail contracts, letters, and documents.
You can also count on our assistance when you need to:
Fight fake negative reviews online
Deal with a client regarding a breach of contract
Dispute fraudulent chargebacks
Thanks to DoNotPay, there is no need for back-and-forth communication. We will handle the necessary demand letters and forward them on your behalf.
We can also help you manage your DMCA agent registration and Privacy Shield program self-certification.