Create an Effective Breach of Contract Letter Before Action
While experiencing a breach of contract is never pleasant, it is not uncommon in business transactions. You need to get familiar with your rights and take legal steps to compensate for your losses.
One of the most efficient options is creating a breach of contract letter before action and sending it to the other party. This article sheds light on why you should create this type of letter before starting a lawsuit and how you can do it.
What Is a Breach of Contract Letter?
A breach of contract letter before action is a demand letter you create to:
Inform the breaching party that they:

Have not met the contractual requirements
Are in breach of contract

Urge them to fulfill the terms of the contract
Why You Should Prepare a Breach of Contract Notification Letter
Preparing a breach of contract letter should be the first step to asserting your rights and resolving the dispute outside of court.
Aside from that, you should send a demand letter to accomplish the following:
Create a Breach of Contract Letter To
Details
Save your resources
To prepare a demand letter, you do not need to:

Hire an expensive lawyer
Use the services of a pricey debt collector
Inspect and adjust numerous breach of contract letter templates

Instead, register for DoNotPay to:

Create a watertight demand letter
Save your time, energy, and money

Motivate the breaching party
A well-made breach of contract letter before action can make the other party realize that:

You will start a lawsuit unless they perform their end of the deal
They might:

Lose the case unless they offer affirmative defenses
Have to cover extra expenses since litigation is lengthy and pricey

Collect evidence
Sending a demand letter provides:

An excellent opportunity for you to gather all necessary facts and documents to support your claim
Evidence for court as it proves that you have tried to reach an out-of-court settlement
How To Write a Breach of Contract Letter
When preparing a breach of contract letter, you should explain:
The issue in a polite and neutral manner—You should not be aggressive as it might provoke the other side and make them defensive and unwilling to negotiate
The nature of your complaint—You need to outline the facts from the agreement you have entered into and inform the other party they are in breach
Additional aspects a breach of contract letter before action should cover are:
Background information—You should explain the background of the dispute in a way that third parties—e.g., a judge and jury—understand it since you might use this letter in court
Your claim—You need to express explicitly what you are asking of the other party, e.g., to:

Pay for the work you have performed
Deliver the agreed-upon services or goods

Time frame—While you should provide a new deadline for the other party to fulfill contractual terms, you also need to keep in mind the statute of limitations, i.e., how long you have to file a suit in your state
Consequences of non-performance—You should inform the breaching party that you will take the matter to court unless they refuse to honor their commitments
Should You Use a Breach of Contract Letter Template?
While you can search for a notice of breach of contract sample or template online, you need to keep in mind that some:
Are generic—You will need to check whether they comply with your state laws
Might not be suitable for your case or type of breach (actual, material, anticipatory, etc.)
As it might take you a lot of time to check whether a breach of contract template provides all relevant sections and covers legal aspects, you should use DoNotPay instead.
DoNotPay Is a Trusted Generator of Breach of Contract Letters
Our AI-powered app knows relevant legal requirements and will ensure your breach of contract letter before action:
Includes all necessary information
Fulfills the requirements of your specific case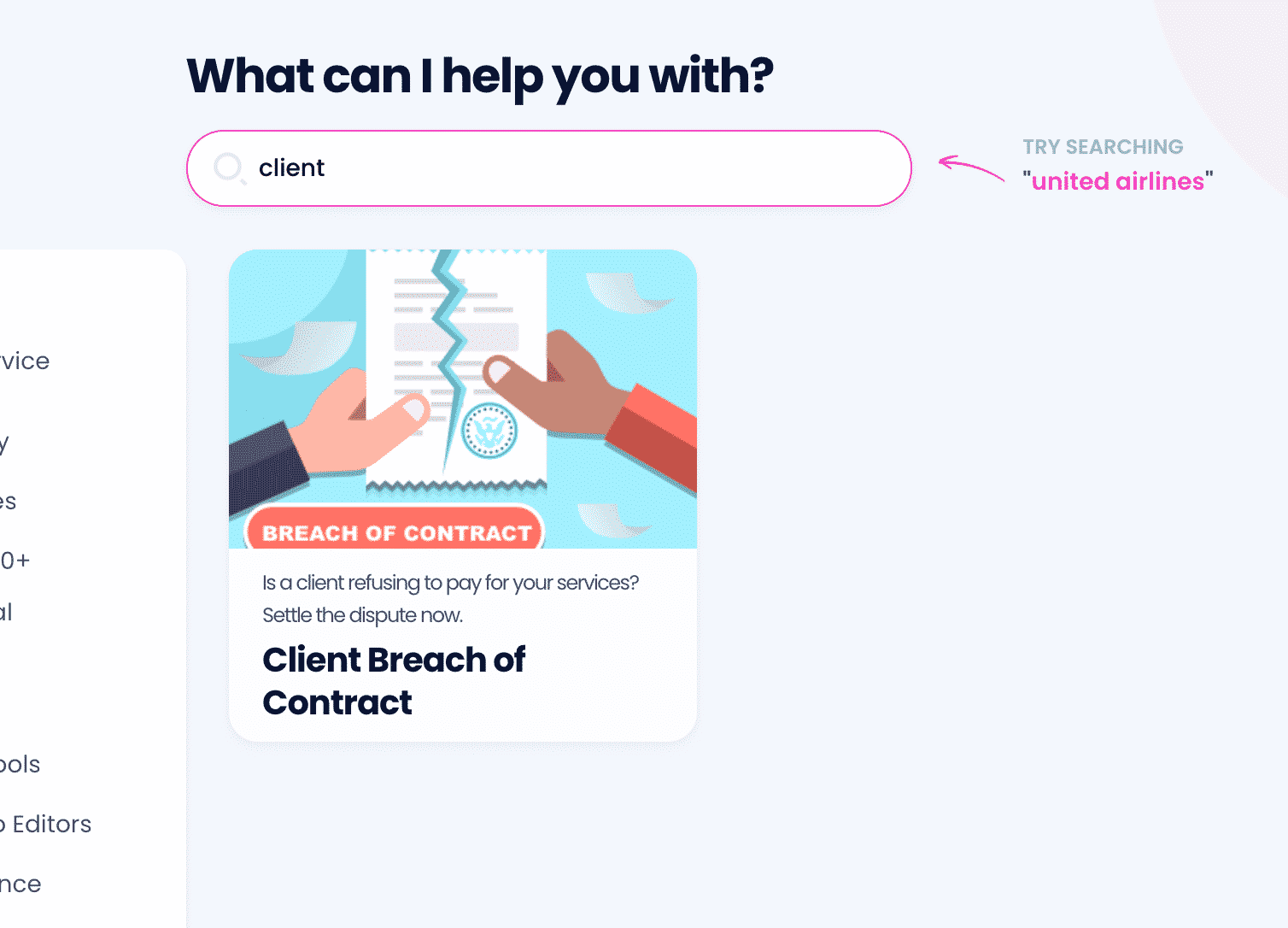 If you would like to receive an airtight demand letter, sign up for DoNotPay and follow these steps:
Opt for the Client Breach of Contract feature
Provide the specifics of your contract, such as:

Name of your client
Terms of the agreement
Payment deadline
Amount the breaching party owes you

Indicate the final payment or delivery date
Add photographic proof, if available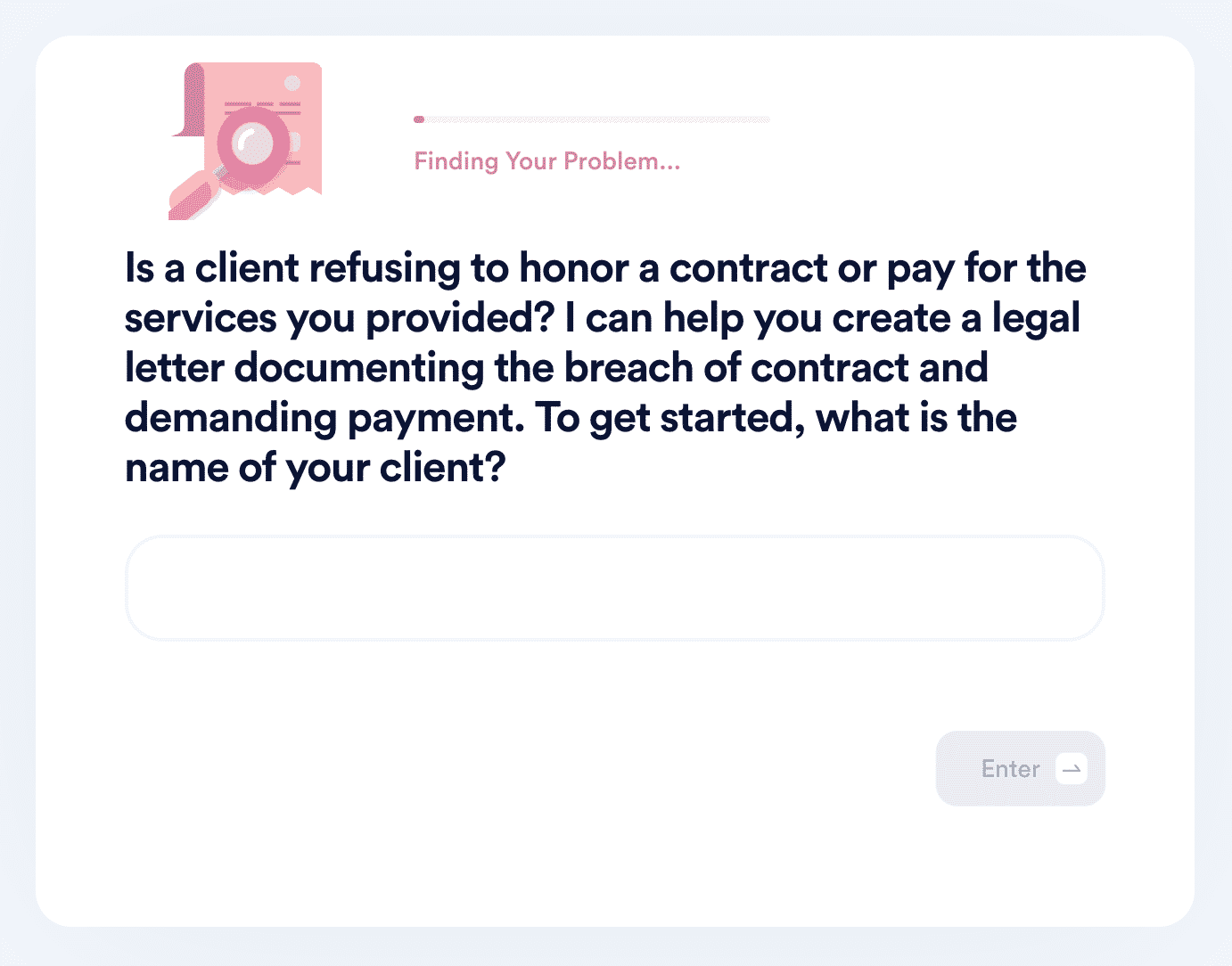 As soon as you have entered the required information, our app creates a demand letter that you can download, print, and send to the breaching party.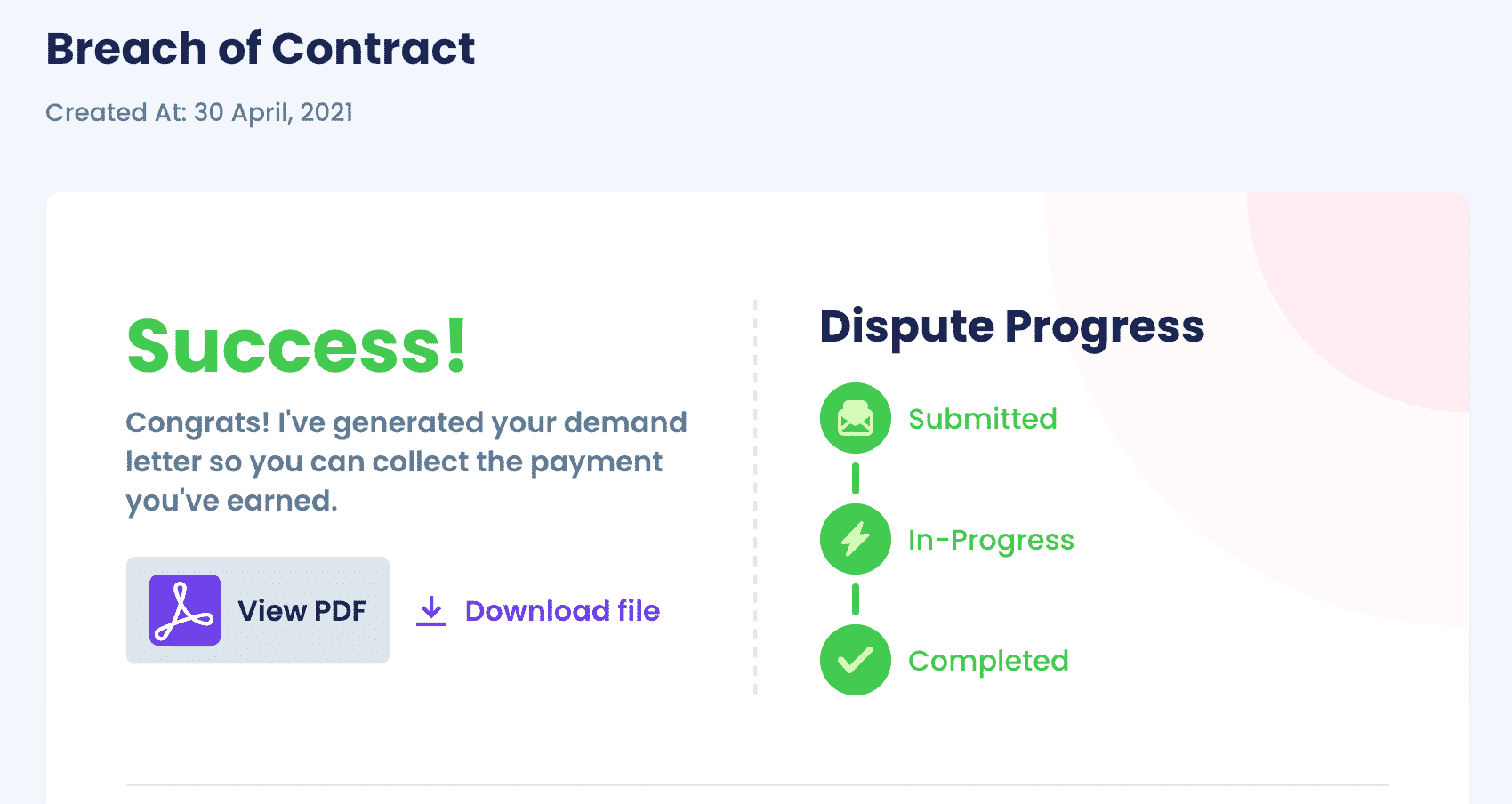 Keep in mind that DoNotPay can also help you sue in small claims court if:
State-Specific Breach of Contract Regulations
If you would like to learn how to deal with a breach-of-contract situation in different states, you should check out the following table:
Get the Upper Hand With DoNotPay
The business world is extremely competitive—that is why it is always good to have some extra capital set aside when you need to invest in your company. You can leave the bureaucratic task to us—DoNotPay will draw up business loan request letters in your stead.
If your finances are taking a hit, rely on our app. With our assistance, you will be able to:
Fight fraudulent chargebacks
Remove fake negative reviews online
Register and protect your trademark
Send mail and faxes at no additional cost
Handle clients breaching contracts and get what you are owed
Whatever the task at hand, our AI-powered app will see it through successfully.
DoNotPay—The Assistant Every Business Needs
You cannot escape bureaucracy in business. What you can do is let DoNotPay deal with it. Whether you need to register a DMCA agent or complete an Employer Identification Number (EIN) registration, our app will lead the way.
Using DoNotPay, you will also not have to worry about 83(b) election forms or Privacy Shield self-certification. From generating to filing important documents and from dealing with employees to handling clients on your behalf, our AI-driven app is your go-to solution.
Grow and protect your business with the world's first robot lawyer!