Breach of Contract Lawsuit—Everything You Should Know in One Place
Contractual breaches are not uncommon in the business world, and you should be informed on what to do in such situations. The party who broke the agreement should suffer appropriate consequences since they are causing setbacks and losses for the other party.
DoNotPay can explain when you should file a breach of contract lawsuit and help you create a demand letter before you initiate the procedure.
Can You Sue for Breach of Contract? Learn About the Requirements
You have the right to sue for a breach of contract if you meet the particular requirements. The judge will consider the following:
Whether the contract is valid
If any changes were made after the signing
If the breach was material
The damages you are asking for
What requirements are listed in the contract
When Should You Consider Suing for Breach of Contract?
A rule you should be aware of when considering to sue someone for breach of contract refers to the Statute of Limitations. These laws set the deadline within which a lawsuit or claim can be filed. The deadlines depend on the:
Circumstances of the case
Type of case
Your state
Place where the suit or claim is filed (federal or state court).
Do You Have Grounds for a Lawsuit if You Have an Oral Contract and Not a Written One?
It is possible to file a lawsuit if you have an oral agreement, but it will be more difficult to prove the violation. In some states, you must have a written document to sue for breach of contract.
Most states have a law called the Statute of Frauds determining what contract must be in a written form to be legally enforceable. The following agreements should not be oral:
Real estate sales
Any contract that includes a specific amount of money determined by the state
Arrangements to pay another individual's debt
A property lease for more than a year
Any agreement that takes more than a year to complete
Deals that continue after one party dies
Contracts that include the transfer of property when one party passes away
If you need help taking the other party to small claims court, you should turn to DoNotPay.
How To File a Breach of Contract Lawsuit With DoNotPay
If the situation escalates, and you have no other choice but to file a lawsuit for a breach of contract, DoNotPay can help. You will be safe in DoNotPay's award-winning hands—we received the Louis M. Brown Award for Legal Access in 2020.
Using our app will boost your chances of winning the case because we will prepare you for your court appearance. DoNotPay will:
Gather necessary paperwork for the lawsuit
Fill out all the required court forms
File the complaint on your behalf
Make a script with persuasive arguments for your hearing
Before you resort to potentially lengthy legal procedures, you should create a breach of contract demand letter and try to resolve the issue out of court. If you want to save time and receive a rock-solid document at an affordable price, you should turn to DoNotPay for help.
Compose a Breach of Contract Demand Letter With DoNotPay
To avoid suing your client in small claims court, you can draft a demand letter and send it to them. This legal document must contain the necessary information about the breach of contract elements and is tricky to compose. Online templates are usually inappropriate because the letter needs to be case-specific.
If you lack the legal knowledge to handle this delicate task, let DoNotPay take over. These are the only instructions to follow:
Choose the Client Breach of Contract product
Answer some questions about the client and the agreement you had
Include a payment deadline for the client
Add photos as evidence if you have any
We will help you tackle various related issues, such as the affirmative defenses to breach of contract and more.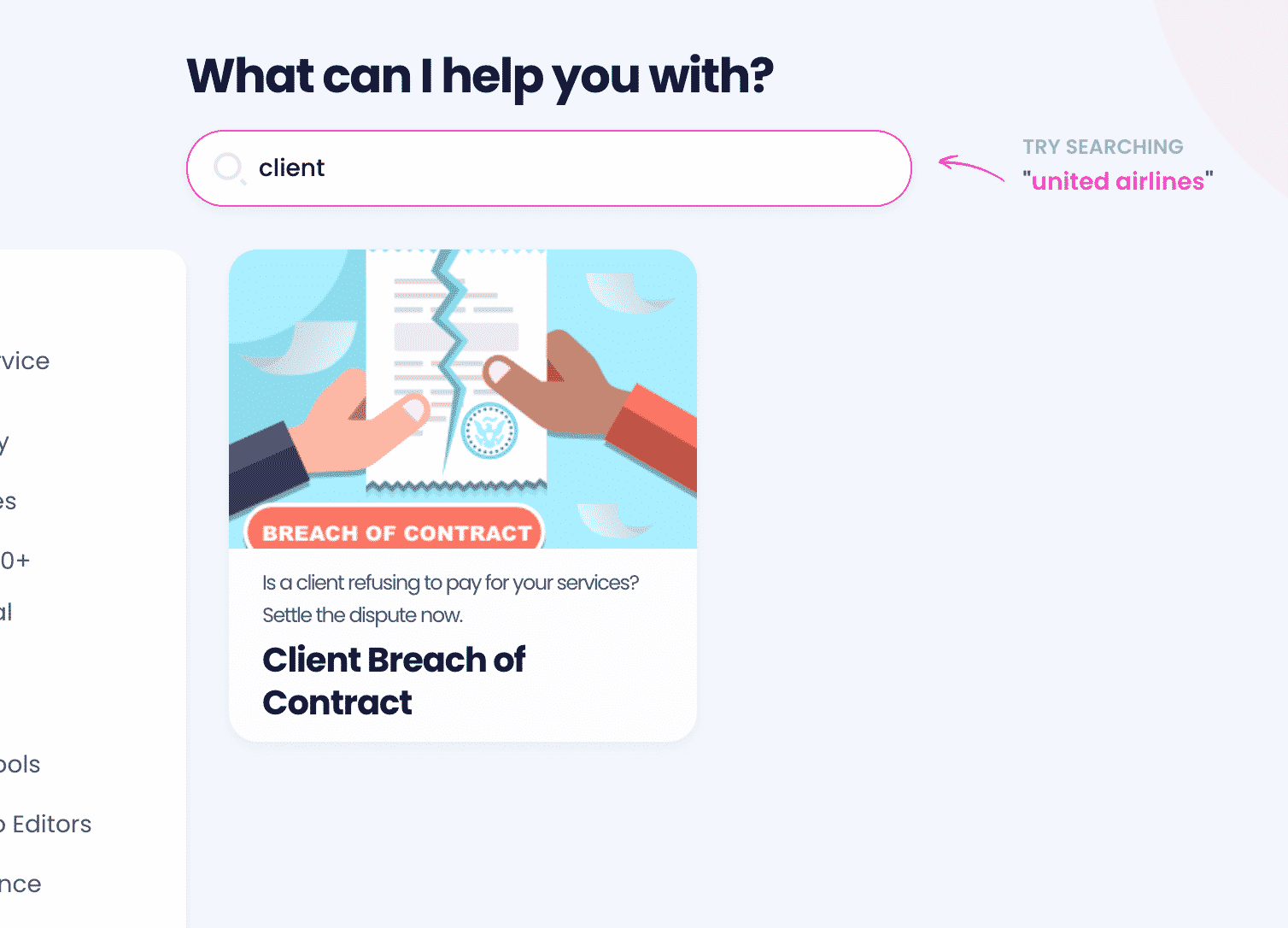 If you would like to learn about the state-specific breach of contract rules, check out our practical guides in the table below:
What Happens if You Successfully Sue for Breach of Contract?
If you win a breach-of-contract lawsuit, you are entitled to one of the following legal remedies:
Compensatory damages include payment by the breaching party
Nominal damages award small amounts of money when a breach occurred if there was no actual financial loss for the suing party
Liquidated damages include a reasonable estimate of actual damages that result from a breach of contract
Specific performance requires the breaching party to complete a task in a specific period
Injunction obligates the breaching party to stop specific activities because of the breach
Rescission allows you to cancel the contract instead of seeking monetary damages
DoNotPay Helps You Do Everything by the Book!
Are you confused by the numerous business-related laws and procedures? If you cannot seem to get the hang of all of the processes, you should rely on DoNotPay. Allow your robot lawyer to help you take care of Employer Identification Number (EIN) and DMCA agent registration in a matter of minutes!
Once you handle those tasks, you should consider using DoNotPay to register your business slogan, name, or logo as a trademark and protect your brand by allowing us to check for trademark violations regularly.
Not sure how to handle 83(b) election forms? Automate the entire process and have your employees fill out and submit the forms in a few clicks! We can even help you protect the privacy of your clients by filing a self-certification request with the Privacy Shield program on your behalf so your website complies with data protection requirements.
Running a Business Is Smooth Sailing With DoNotPay
DoNotPay has a solution for any business issue. We can help you:
Draw up a professional and convincing small business loan request letter and get the necessary funds for your business
Report unjustified negative reviews that could damage your brand until they are taken down
Request payment from clients who break the contract
Dispute chargeback requests when they are unfair
Send letters or paperwork without going to the post office