Breach of Contract in Illinois—Explore Your Options With DoNotPay
A breach of contract is an offense that can cause significant damage to the non-breaching party, so it is paramount to act on time and in accordance with local laws. Sign up for DoNotPay to understand what constitutes a breach of contract in Illinois and what course of action you should take.
We can also help you draft a breach-contract demand letter and sue the client in small claims court if necessary.
Are Only Written Agreements Valid in Illinois?
It is better to have a contract in a written form, but oral agreements are also enforceable in Illinois. Both need to contain:
An offer
Acceptance
Mutual assent
Consideration
It will also be much easier to prove the breach-of-contract elements if you have a written agreement.
What Are the Elements of Breach of Contract Illinois?
To take action against the violating party, you will need to prove specific breach-of-contract elements. Check out the table below for further details on the rules in the Prairie State:
| Elements | Brief Explanation |
| --- | --- |
| A valid and enforceable contract | You must prove the contract exists and is valid by showing that both parties agreed to the terms |
| Performance by the plaintiff | The plaintiff should provide evidence that they've completed all obligations stated in the contract |
| Breach by the defendant | You need to show that the defendant failed to complete their end of the deal. It usually requires a material breach of contract |
| Damage arising as a result of the defendant's breach | It is paramount that you demonstrate that the defendant's actions, or lack of them, have led to you suffering losses |
Illinois Breach of Contract Damages—How To Compensate for the Harm Done?
When a breach of contract occurs, the court will usually order the violating party to compensate the plaintiff for the harm done. The damages depend on the:
Type of the breach
Terms of the contract
Severity of the breach
Types of Contractual Breach Damages Available in Illinois
Depending on what the court deems suitable for your specific case, you can end up getting the following remedies in Illinois:
Monetary damages—Monetary damages are the most common compensation in the case of contractual breaches. They generally equal the amount you would have received if the contract had been honored. Monetary damages can either be compensatory damages or punitive damages
Liquidated damages—Contracts usually contain clauses specifying the amount of money to be paid in the event of a breach. Those are known as liquidated damages
Restitution—This remedy is designed to restore the non-breaching party to its pre-contract position. Restitution is used when the court voids the contract
Rescission—This remedy terminates the contractual duties of both parties. You can choose to have the contract voided or set aside by the court
Specific performance—The court can force the breaching party to perform as promised in the contract and complete the terms. This option is usually used when:

Money damages are inadequate
The goods or services are unique
No other remedy will suffice
How To Demand Compensation in Illinois
To demand compensation for breach of contract in Illinois, you can opt for one of the following choices:
Hiring a collection agency—You will need to pay a significant amount of money for the services
Hiring a lawyer—This option also involves paying sky-high lawyer fees
Writing a demand letter yourself—This option is suitable only for individuals with proper legal knowledge. You should not try using online free templates because they tend to be generic and outdated
Using DoNotPay—If you decide to use DoNotPay for the task, you will save money and get great results
DoNotPay Can Create a Demand Letter for You in a Matter of Minutes
If you want to have a rock-solid demand letter, you should look no further than DoNotPay. Our app can help you handle the task fast and without trouble. You only need to:
Choose the Client Breach of Contract product
Provide requisite info about the agreement and the client
Include a payment deadline for the client
Attach photos as evidence (if you have any)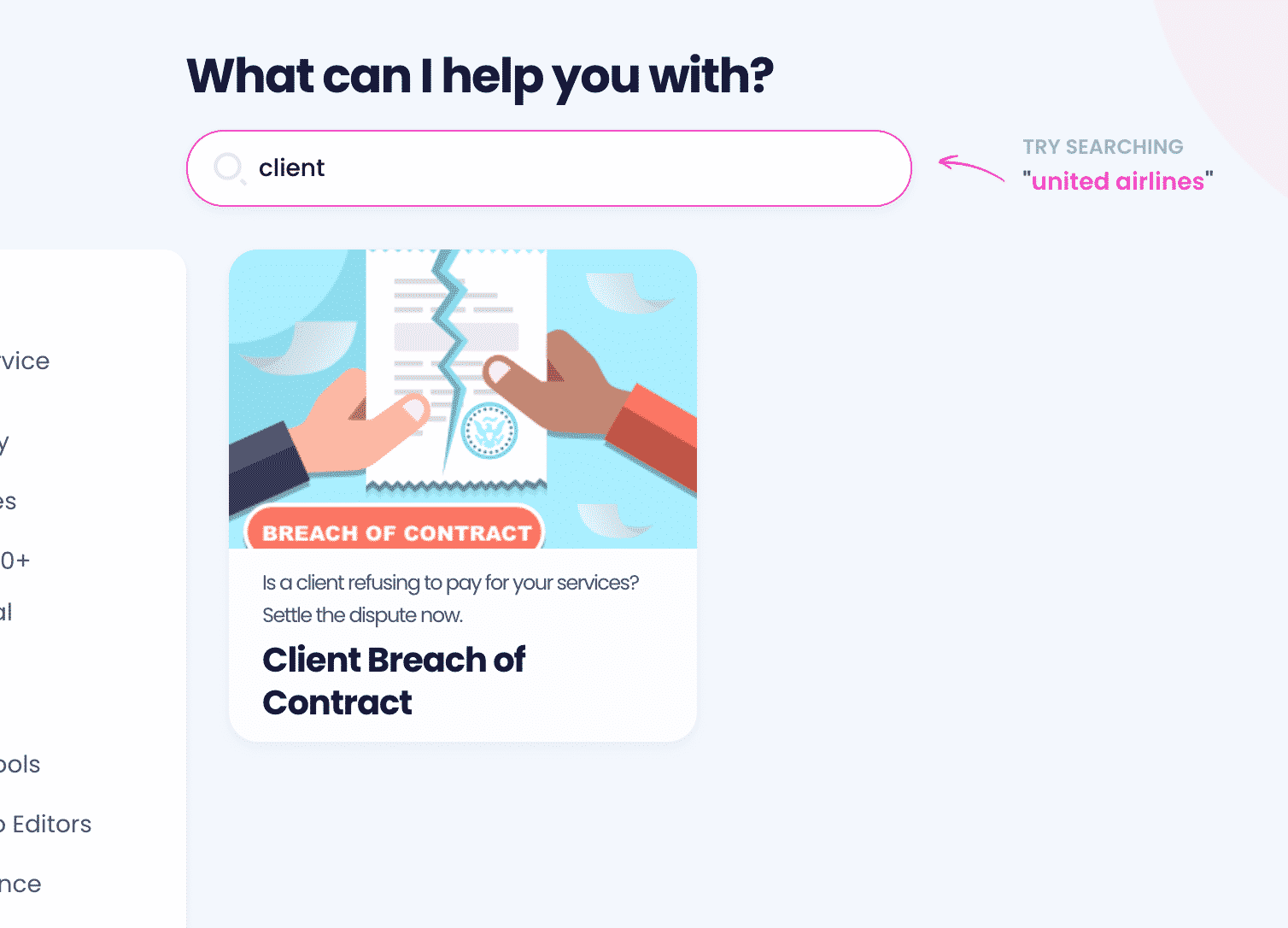 DoNotPay also presents all the necessary information about the affirmative defenses to breach of contract, so you will be better prepared for a lawsuit.
Need To Take Further Legal Action? Sue the Client in Small Claims Court
If the demand letter does not resolve the issue, you can file a lawsuit against the violating party. DoNotPay can help you take the defendant to small claims court and seek justice properly. Our app was recognized by the Louis M. Brown Award for Legal Access in 2020, and we will make sure to follow the legal requirements for the process.
We can help you collect the necessary paperwork, complete all the forms, and provide you with a script with strong arguments to use in court. You also won't have to worry about filing the complaint—we can handle this part as well.
DoNotPay Has Everything You Need for Your Small Business
Navigating numerous business procedures can be overwhelming, especially if you don't have much experience. DoNotPay strives to make the situation easier for business owners, which is why we offer a number of simple-to-use products that can help you take care of various processes, including DMCA agent and Employer Identification Number registration, Privacy Shield program self-certification, and trademark registration and protection.
If you are not sure how to manage the filing of 83(b) election forms, DoNotPay has a solution that will automate the entire process and help you save time. Our app can even generate a convincing small business loan request letter for you. Don't feel like walking or driving to the post office to send the letter? Use DoNotPay to fax or mail any document in a matter of clicks!
DoNotPay Helps You Deal With Bad Clients
If you need help handling unpleasant situations with your clients, you can rely on DoNotPay. We have created various products to assist you in:
Making sure your business is free of negative, illegitimate online reviews—DoNotPay will analyze the review in question, estimate the best reason for reporting it, and report the review until it is deleted
Dealing with clients who breach the contract and refuse to pay—We will generate and send a demand letter requesting what's rightfully yours
Fighting unjustified chargebacks—Our app will create a personalized chargeback refusal document to help you keep your revenue
Resolve various business issues without wasting time or money—DoNotPay has got your back!