Settle a Dispute Over a Breach of Contract in Georgia Easily
While a breach of contract is not unusual in business deals, it is a nuisance. You have counted on those goods, services, or payments you agreed on in the agreement.
What are your options now? You could forgive the other party for not respecting their end of the deal, try to resolve the issue by proposing a new deadline, or start a lawsuit to compensate for any damages.
If you decide on the latter two options, you need to get familiar with your state laws to ensure you do everything by the book. How do you do that in case of a breach of contract in Georgia? This article presents essential information and different paths you can take
What Constitutes a Breach of Contract in Georgia?
A contract is a legally binding agreement between at least two parties providing the basis of a business relationship.
A breach of contract is when one party fails to live up to or perform their obligations agreed upon in the contract. If the breaching party does not provide reasonable justification and is not willing to resolve the problem, the injured party should file a claim for breach of contract.
Georgia Breach of Contract—Elements
If you decide to sue for a breach of contract in Georgia, you will need to prove the following elements:
You Need To Prove
Details
The existence of the contract and its material terms
For most written contracts, this is a simple task. A trial judge or jury might need to decide in case a contractual provision:

Is not clear
Requires additional evidence

Another party has breached the contract
While you—i.e., the plaintiff—should provide evidence, it is up to the judge or jury to decide whether the breach has occurred. Keep in mind that the breaching party could raise affirmative defenses that might:

Make the contract unenforceable
Let the breaching party renounce the contract

You have suffered damages
You need to present what:

Harm or injury you have suffered as a result of the breach
Methods you have used to try to prevent or reduce harm once the breach happened (sending a demand letter could help in this stage)
Can You Sue for a Breach of Oral Contract in Georgia?
Most implied or oral contracts are equally enforceable as the written ones according to the law. Keep in mind that proving breach of contract elements—including the existence and terms of the agreement—can be more difficult than with a written contract. Before you sue, you should gather evidence of an oral contract.
To prove the existence of an oral agreement, a judge will normally:
Take your, the breaching party's, and witnesses' testimony and statements
Look for evidence of circumstances—e.g., how you and the other party acted
You should be aware that under the Georgia Statute of Frauds, some agreements must be in writing to be enforceable. These contracts include:
Promises to:

Lend money
Pay another person's debts

The sale of:

Real property and land
Goods that are over $500

Agreements with obligations that cannot be fulfilled in less than one year
Georgia Breach of Contract Law on Damages
If a company or individual does not honor their contractual obligations, you can recover your damages by:
Negotiating with the breaching party—Settling the dispute out of court might be the easiest and fastest way to resolve the problem
Suing the other party—While you can seek damages or other remedies in court for material breach of contract—or any other type of breach—litigation can be an expensive and time-consuming process
Under Georgia law, you—i.e., the injured or non-breaching party—have the right to recover any damages that have:
Arisen from the breach of contract
Incurred out of your compliance with the contractual obligations and costs
Aside from these expenses, you can recover litigation expenses and attorney's fees if the:
Contract has been:

Secured by fraud
Entered into in bad faith

Breaching party—i.e., the defendant—has refused to negotiate and resolve the issue out of court
Try Settling a Breach of Contract Dispute Out of Court
To avoid complex and lengthy litigation, you could try to negotiate with the other party. Not only can this process turn out to be successful, but if you end up suing for a breach of contract, a judge and jury will find it beneficial that you have tried to mitigate harm and resolve the issue.
Here is how you can settle a dispute with the breaching party:
Prepare a breach of contract demand letter—Register for DoNotPay to draft an airtight demand
Inform the other party they have breached the contract—While it might seem impossible that a contractual party is not aware that they are in breach, some might not be
Propose a solution—You could suggest how to resolve the matter to the mutual satisfaction
Create an Efficient Demand Letter With DoNotPay
There is no need to hire an expensive lawyer or use unreliable demand letter templates. Our AI-powered app is familiar with state laws and can help you prepare a watertight demand letter in a matter of minutes.
The process is fast and straightforward. Subscribe to DoNotPay and follow these steps:
Open the Client Breach of Contract product
Provide answers to our chatbot's questions about the breaching party and your contract
Choose the payment deadline
Describe the performed services
Upload files or photographs that could serve as evidence, if available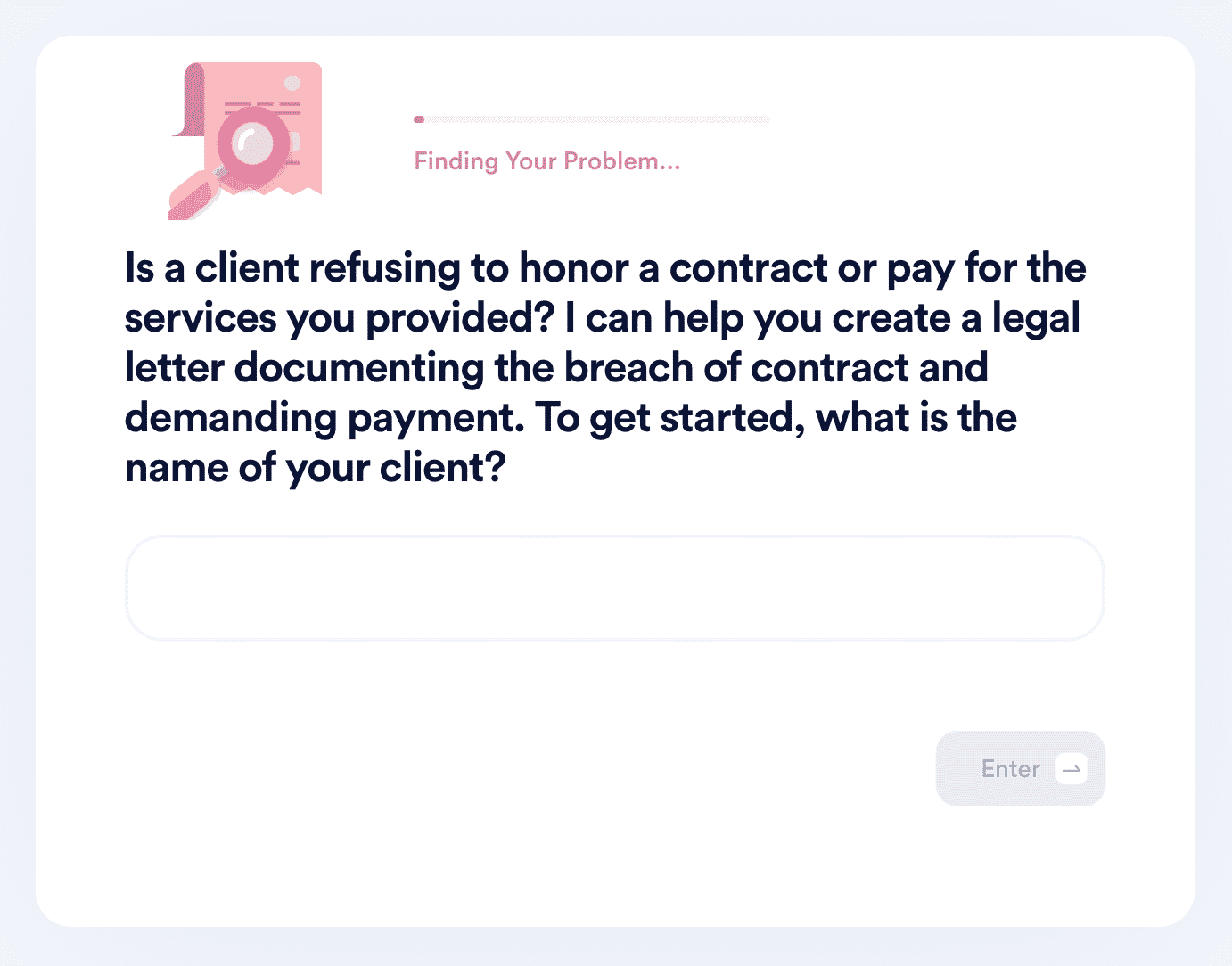 Using the provided data, DoNotPay generates a demand letter automatically.
If the other party does not reply or sends an unfavorable response, you should use DoNotPay to sue in small claims court.
DoNotPay Offers More Help for Your Business
Running a small business is no small feat. When you're drowning in red tape, DoNotPay is here to lend a helping hand. Whether you need to register your trademark or protect it later on, we have got it covered. With our help, you will keep your logo, slogan, and business name safe.
Are you also yet to register for an Employer Identification Number (EIN)? Not to worry—our app can file the IRS SS-4 form in a few clicks. With the world's first robot lawyer at your fingertips, you will also be able to create your 83(b) election forms with ease—ready for your employees to sign them right away.
In case you are struggling financially, we can assist you with a business loan application.
Communication Has Never Been Easier With Our App
Keeping up with clients can be challenging, especially if each has a preferred method of communication. Luckily, our multifunctional app makes it easy to both fax and mail contracts, letters, and documents.
You can also count on our assistance when you need to:
Fight fake negative reviews online
Deal with a client regarding a breach of contract
Dispute fraudulent chargebacks
Thanks to DoNotPay, there is no need for back-and-forth communication. We will handle the necessary demand letters and forward them on your behalf.
We can also help you manage your DMCA agent registration and Privacy Shield program self-certification.