DoNotPay Explains Breach of Contract in Florida
Breaches of contract are common in any state, but related laws and legal remedies differ across the country. Sign up for DoNotPay to learn about the statute of limitations and breach-of-contract elements in the Sunshine State.
We will explain what to do if a breach of contract in Florida occurs. You can use our app to send a breach-of-contract demand letter and sue the violating party in small claims court if they do not comply.
Florida Law—Breach-of-Contract Essential Information
In Florida, a breach of contract occurs when one party does not honor the obligations stated in the agreement by failing to:
Complete a service
Pay for goods or services
Deliver goods on time
Deliver the right goods
Finish the agreed-upon task
What Are the Florida Breach of Contract Elements?
To demonstrate there was a breach of contract, you must prove specific breach-of-contract elements. In Florida, they are:
Existence of a valid contract
Losses you suffered due to the breach
Proving the Validity of the Contract
The basis for legal action is proving that you signed a contract with the violating party. In Florida, a valid agreement stipulates that:
One party made an offer, and the other accepted it
Both parties gave consideration
The contract terms were legal
The parties had the capacity to enter the contract
A law in Florida called the statute of frauds requires particular contracts to be in a written form to be enforceable.
Proving There Was a Material Breach of Contract Caused by the Defendant
You need to prove that the breaching party:
Failed to do something essential which the contract required them to do
Did something which the contract prohibited them from doing
This breach also needs to be significant, causing actual loss or harm to the damaged party. You should anticipate numerous defenses for breach of contract and get ready to deal with them efficiently.
Proving the Defendant's Actions Led to Losses
Once you prove that the defendant failed to complete their end of the deal, you must demonstrate that you were harmed by their actions or lack thereof.
What Legal Remedies for a Breach of Contract Are Available in Florida?
If a material breach of contract occurred and you proved all the elements, the court will enforce legal remedies and award compensation, including:
Rescission—Both parties are relieved of their obligations under the contract
Restitution—The damaged party must be returned to the same position they held before the agreement was made
Specific performance—The court orders the violating party to perform their obligations under the contract
Compensatory damages—The guilty party must cover material losses resulting from the breach
What Are the Ways To Demand Compensation in Florida?
You can choose between a few ways to demand compensation for breach of contract in Florida, but not every option is equally effective. Check out the following table for more info:
| Demand Compensation By | Explanation |
| --- | --- |
| Creating a demand letter | You should only go with this option if you have the required legal knowledge. Do not rely on free online templates because they are not tailored for your specific case |
| Hiring a lawyer | This option will get you the wanted results but at a high price. Lawyers overcharge their services, and your wallet will be emptied |
| Hiring a collection agency | Similar to hiring a lawyer, choosing this option is effective yet expensive |
| Using DoNotPay | If you opt for DoNotPay, you can expect to get the wanted results at an affordable price |
Create a Breach-of-Contract Demand Letter With DoNotPay
DoNotPay offers you a straightforward way to create a demand letter if you need to deal with a contract violation. We will make sure the legal document contains all the necessary information and protects your interests. Here are the only steps to follow:
Choose our Client Breach of Contract product
Provide some information about the client and the agreement you had
Add a payment deadline for the client
Include photos as evidence, if you have any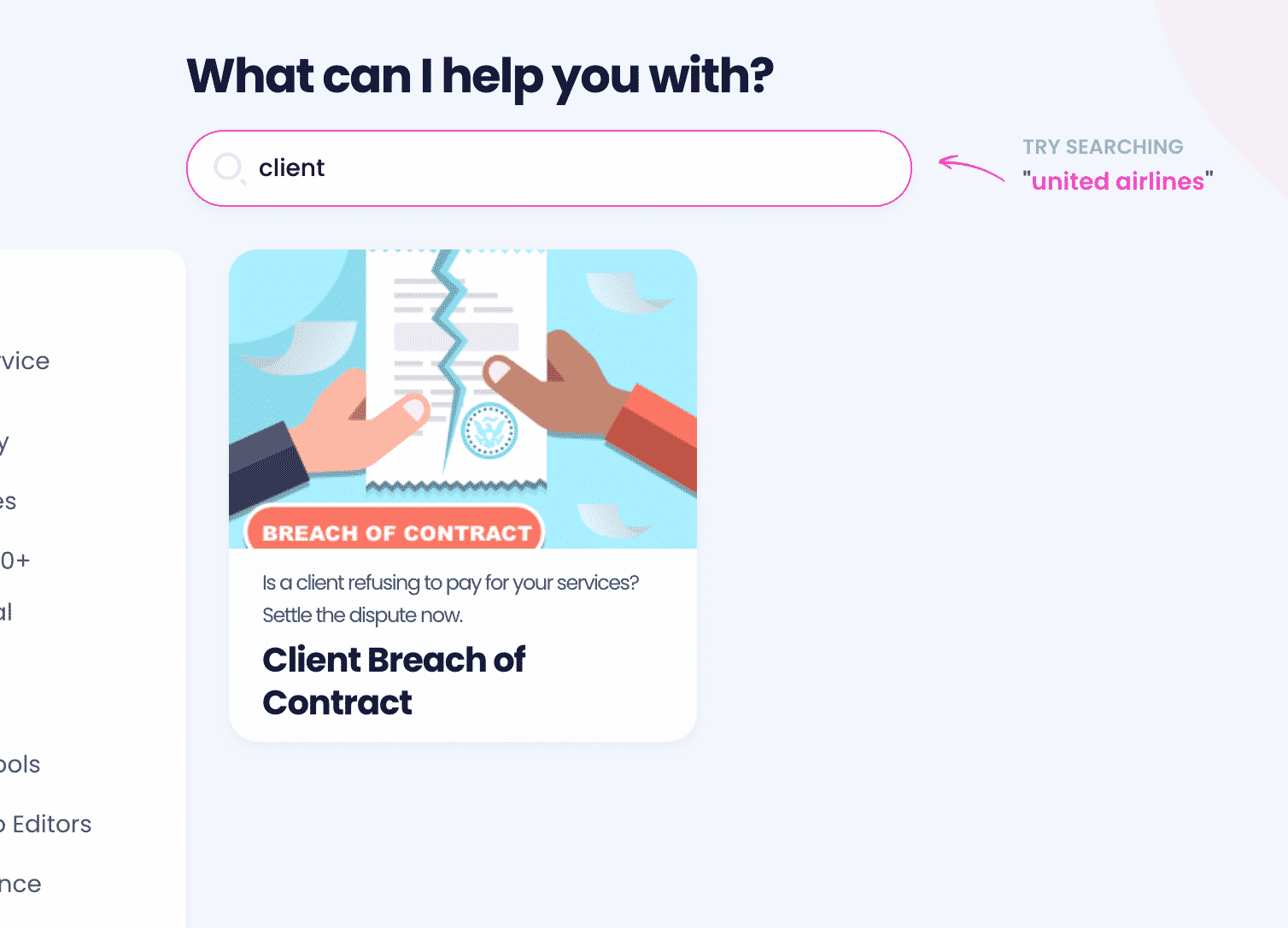 How Long Is the Statute of Limitations for Breach of Contract in Florida?
The statute of limitations refers to the deadline for filing a lawsuit for breach of contract. If you miss it, you will not be able to take the violating party to court or get compensation. The clock starts ticking the moment the contract is violated. In Florida, the statute of limitations is five years for a written contract, four years for an oral agreement, and one year for specific performance.
Want To Sue the Client in Small Claims Court? DoNotPay Can Help
If the situation escalates, you might need to take the process one step further and sue the client for breach of contract in small claims court. The good news is that you do not need to deal with the situation alone—DoNotPay can help you.
Our app has received the Louis M. Brown Award for Legal Access in 2020 and can increase your chances of winning the case. We can assist you with:
Collecting the mandatory paperwork
Filling out the necessary court forms
Drafting a script you can use in court
Filing the complaint for you
DoNotPay Has Everything You Need for Your Small Business
Navigating numerous business procedures can be overwhelming, especially if you don't have much experience. DoNotPay strives to make the situation easier for business owners, which is why we offer a number of simple-to-use products that can help you take care of various processes, including DMCA agent and Employer Identification Number registration, Privacy Shield program self-certification, and trademark registration and protection.
If you are not sure how to manage the filing of 83(b) election forms, DoNotPay has a solution that will automate the entire process and help you save time. Our app can even generate a convincing small business loan request letter for you. Don't feel like walking or driving to the post office to send the letter? Use DoNotPay to fax or mail any document in a matter of clicks!
DoNotPay Helps You Deal With Bad Clients
If you need help handling unpleasant situations with your clients, you can rely on DoNotPay. We have created various products to assist you in:
Making sure your business is free of negative, illegitimate online reviews—DoNotPay will analyze the review in question, estimate the best reason for reporting it, and report the review until it is deleted
Dealing with clients who breach the contract and refuse to pay—We will generate and send a demand letter requesting what's rightfully yours
Fighting unjustified chargebacks—Our app will create a personalized chargeback rebuttal document to help you keep your revenue
Resolve various business issues without wasting time or money—DoNotPay has got your back!