Should You Initiate Legal Proceedings for a Breach of Contract in Federal Court?
Being on the other end of a breach of contract—i.e., the injured party—is not a pleasant experience, to say the least. If you have suffered significant material or other business losses, filing a lawsuit for a breach of contract in federal court or another venue might be the only solution.
Breach of Contract—Jurisdiction
Unless your contract states where exactly you must file a claim in case of a breach, you can file it in various courts, including the following:
State Court
Federal Court
You could file a breach of contract claim in state court:

Where the defendant resides
If it can exercise authority over the defendant
Where the agreement has been negotiated or entered into

You can file a claim in federal court in case:

Your lawsuit includes federal issues
You and the breaching party reside in different states
The jurisdictional amount will be over $75,000
Keep in mind that, while you can file a claim in different courts, some jurisdiction laws might have more favorable conditions. You should also consider the fact that filing a lawsuit for a breach of contract in federal court is often more complex, expensive, and time-consuming than a state court action.
Prepare for a Breach of Contract Complaint in Federal Court
While litigation in federal court can be lengthy and complicated, preparing a complaint for this court is the same as for state court. Your complaint needs to state the following:
Facts of the case
Terms of the agreement
Obligations you and the breaching party have performed
Contractual terms that have not been fulfilled, i.e., what caused the breach
To draw up a federal breach of contract complaint, you should either:
Hire an experienced lawyer—Make sure you are familiar with the attorney's fees to avoid any unpleasant surprises and delays
Do it yourself—Most courts offer Pro Se forms that you can either download or get at the clerk's office and fill out on your own
If you opt for the latter option, you should:
What To Include in a Complaint for Breach of Contract in Federal Court
The following table presents what your breach of contract complaint should contain:
What To Include
Details
Breach of contract elements
Your complaint should prove the following elements:

The existence of a valid contract—You should confirm that there has been a(n):

Offer
Acceptance
Consideration

You—i.e., the plaintiff—have performed your contractual obligations
The other party—i.e., the defendant—has not fulfilled their agreed-upon commitments
The breach has caused you harm or injury that you seek remedy for
You have informed the breaching party that they:

Have failed to honor their obligations
Are in breach of contract (e.g., a material one)

Information about contractual parties
You should describe the following in your complaint:

Contract goals
Your businesses
The course of performance
The importance of the agreement

Explanation and estimation of suffered damages
You should list and explain any damages you have suffered in terms of:

Direct
Incidental
Consequential

If you have not experienced any financial losses, you should provide a detailed explanation and estimation of any harm and damages the breach has caused you
Try To Reach an Out-Of-Court Settlement
Since litigation can cost you time, money, and nerves, you might want to try to negotiate with the breaching party before taking them to court. You should also keep in mind that the other party can provide defenses that might prolong your process and make it more expensive.
If you would like to resolve the dispute without judges and expensive lawyers, you should:
Specify all case facts—It serves both as a reminder for the breaching party and proof for the court that you have tried to resolve the dispute
Propose a solution to the issue—You should be the one to offer new terms or deadlines since the breaching party needs to compensate you for the suffered losses
Prepare a breach of contract demand letter—To create a valid demand letter, you need to ensure that it includes all significant elements and complies with state laws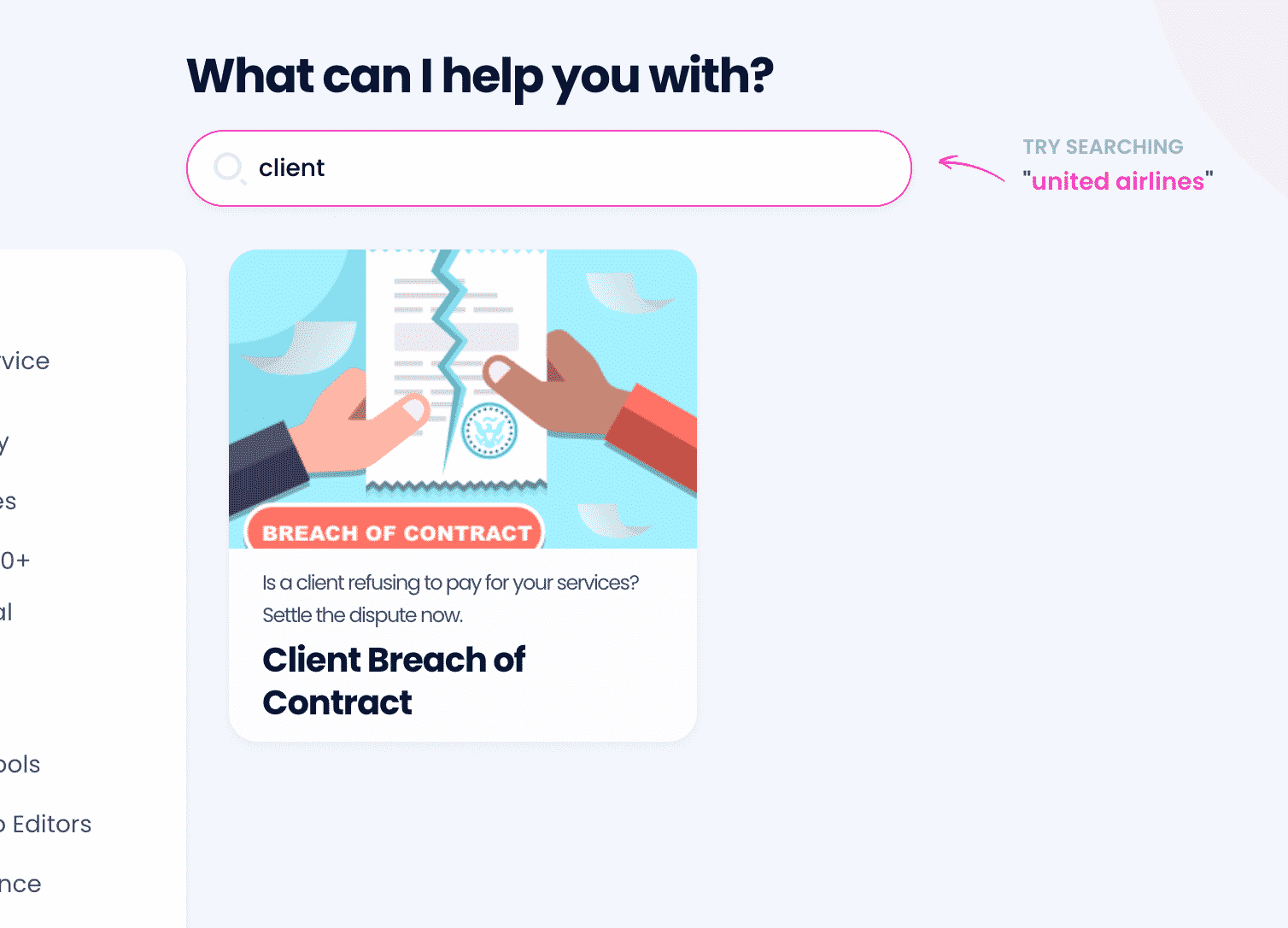 Use DoNotPay to draft a rock-solid demand letter that fulfills all requirements and meets your case needs.
Rely on DoNotPay's Generator of Demand Letters
To draw up a demand letter, you do not have to waste time, energy, or money on finding:
An attorney or collection agency as their services can be extremely costly
A template that might not be appropriate for your specific circumstances
Our AI-powered app is familiar with all applicable regulations and can help you create many legal documents, including a breach of contract demand letter.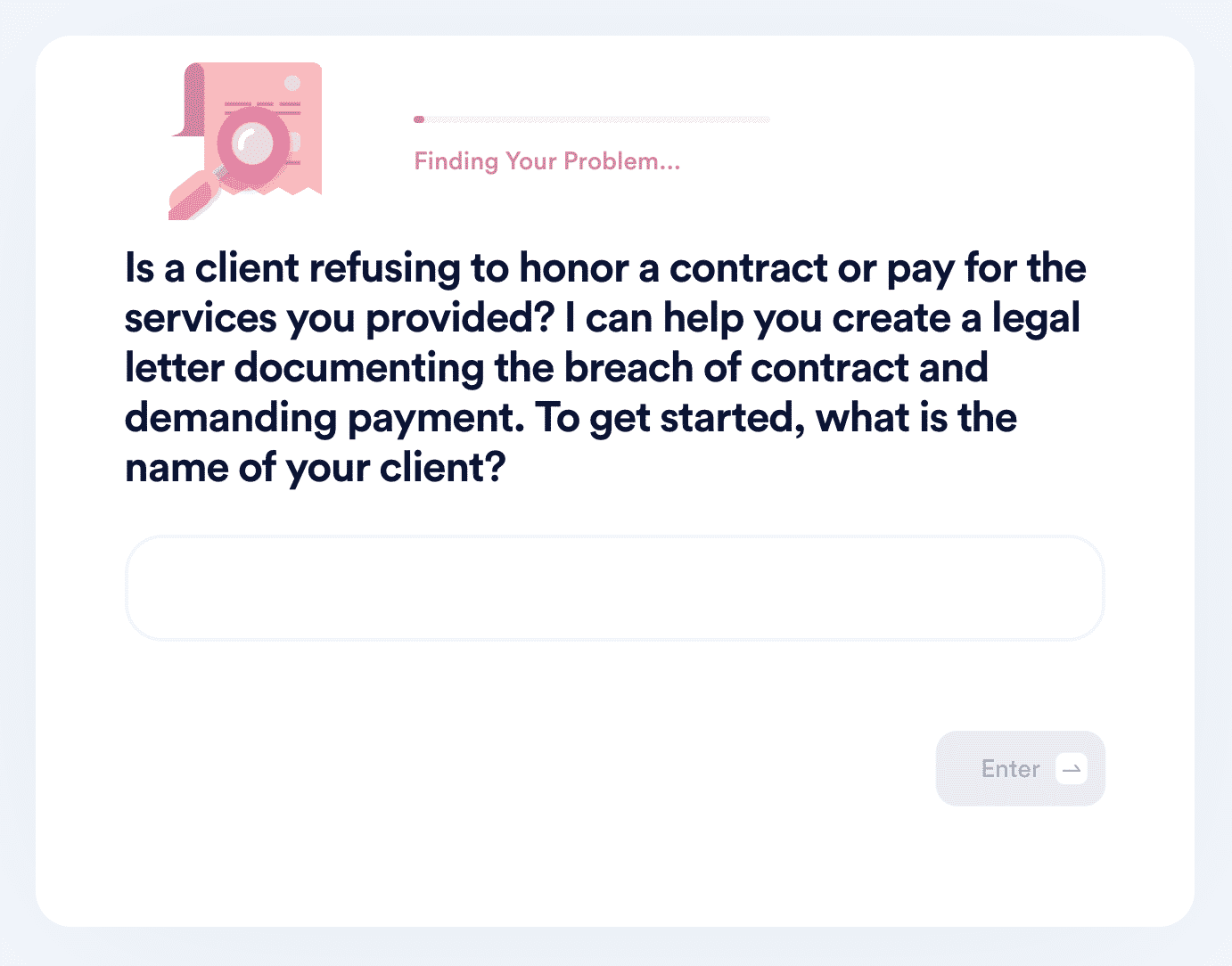 To get an airtight demand letter, subscribe to DoNotPay and:
Locate the Client Breach of Contract product
Provide answers to our chatbot's questions regarding the other party and the agreement
Choose the payment deadline
Describe the services that have been performed
Upload files or photographs that could serve as evidence, if available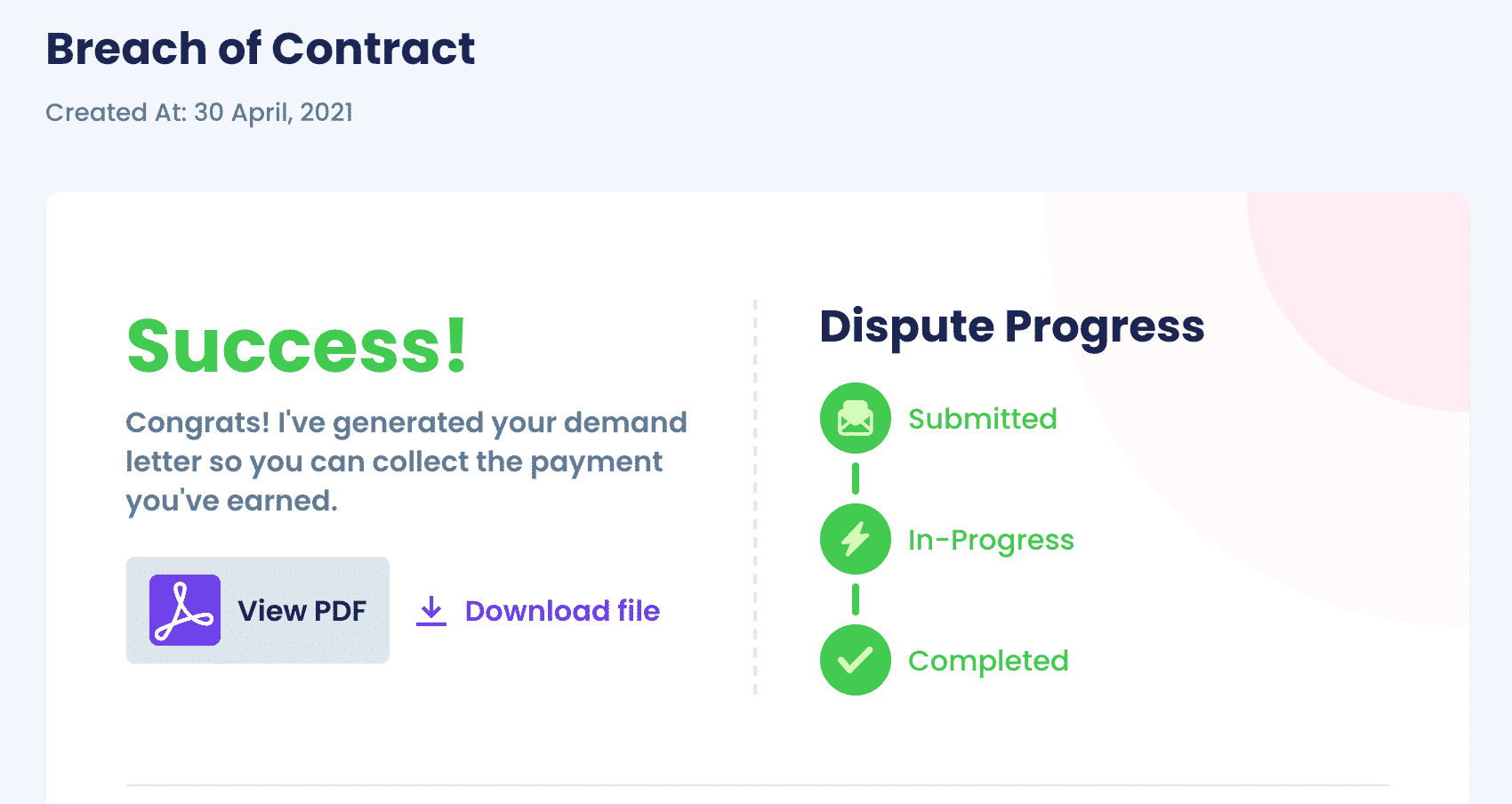 If the breaching party is not willing to meet with you and negotiate alone or with the help of a mediator, DoNotPay can help you file a claim in small claims court.
Get the Upper Hand With DoNotPay
The business world is extremely competitive—that is why it is always good to have some extra capital set aside when you need to invest in your company. You can leave the bureaucratic task to us—DoNotPay will draw up business loan request letters in your stead.
If your finances are taking a hit, rely on our app. With our assistance, you will be able to:
Fight fraudulent chargebacks
Remove fake negative reviews online
Register and protect your trademark
Send mail and faxes at no additional cost
Handle clients breaching contracts and get what you are owed
Whatever the task at hand, our AI-powered app will see it through successfully.
DoNotPay—The Assistant Every Business Needs
You cannot escape bureaucracy in business. What you can do is let DoNotPay deal with it. Whether you need to register a DMCA agent or complete an Employer Identification Number (EIN) registration, our app will lead the way.
Using DoNotPay, you will also not have to worry about 83(b) election forms or Privacy Shield self-certification. From generating to filing important documents and from dealing with employees to handling clients on your behalf, our AI-driven app is your go-to solution.
Grow and protect your business with the world's first robot lawyer!