Breach of Contract Elements in South Carolina You Should Know About
You need to weigh your options if another party has breached a contract you have entered into. It is up to you to choose whether to give up, convince the breaching party to perform the agreed-upon obligations, or start a lawsuit to compensate for your losses.
What are breach of contract elements in South Carolina? This article explains what you need to prove to file a claim for a breach of contract in SC. Once you register for our platform, DoNotPay will help you warn the other party first by preparing an efficient breach of contract demand letter.
A Breach of Contract in South Carolina
According to South Carolina law, a contract is an agreed-upon exchange between two businesses or people. It is either a written or verbal agreement in which both parties agree to the terms specified in the contract.
A breach of contract happens if one party does not perform or deliver their part of the contract. While disputes are common in the business world, resolving a contract problem might lead either to:
A fast and easy settlement
A complex and lengthy litigation
Here are some examples of a breach of contract in SC:
A contractual party:

Breaches material terms of the contract
Declares they will not comply with the agreement
Refuses to perform their agreed-upon obligations
Makes it impossible for the other party to complete their contractual duties

The agreement uses vague language, making it difficult to understand
Prove Breach of Contract Elements in South Carolina To File a Lawsuit
To file a lawsuit in South Carolina, you—as the plaintiff—need to prove the following breach of contract elements:
A contract exists and is valid under South Carolina law
You have performed your contractual obligations
The other party—i.e., the defendant—has breached the contract by failing to perform their duties under the agreement
You have suffered harm or injury as a result of the contract breach
Keep in mind that you need to gather and provide evidence showing that the defendant has:
Breached the contract
Caused you harm and injury by not fulfilling their duties under the contract
While contract litigation can sometimes be a fast way to collect damages, some trials could be time-consuming and expensive, taking from a few months to a couple of years.
To prevent lengthy and complex proceedings—especially if the breaching party gives affirmative defenses—you could try to settle the dispute out of court.
Resolve a Contract Dispute Out of Court
You should keep in mind that some:
Contractual parties are not aware that they have not fulfilled the terms of the contract
Contract violations are immaterial and not worth suing over
To ensure the other party is familiar with the breach and to give them a chance to resolve the problem, you should:
Send them a demand letter informing them about the breach and proposing a solution
Negotiate the terms if the other party responds favorably and is willing to discuss and correct the breach of contract
Create a settlement agreement
DoNotPay Can Help You Create a Demand Letter
If you are not familiar with state laws, drafting a demand letter on your own can be risky. While you could use online templates, you should be aware that some are not reliable and might require lots of changes to suit your case.
You do not have to use a costly attorney's assistance either since our AI-powered app can draw up a trustworthy demand letter tailored to your specific situation seamlessly.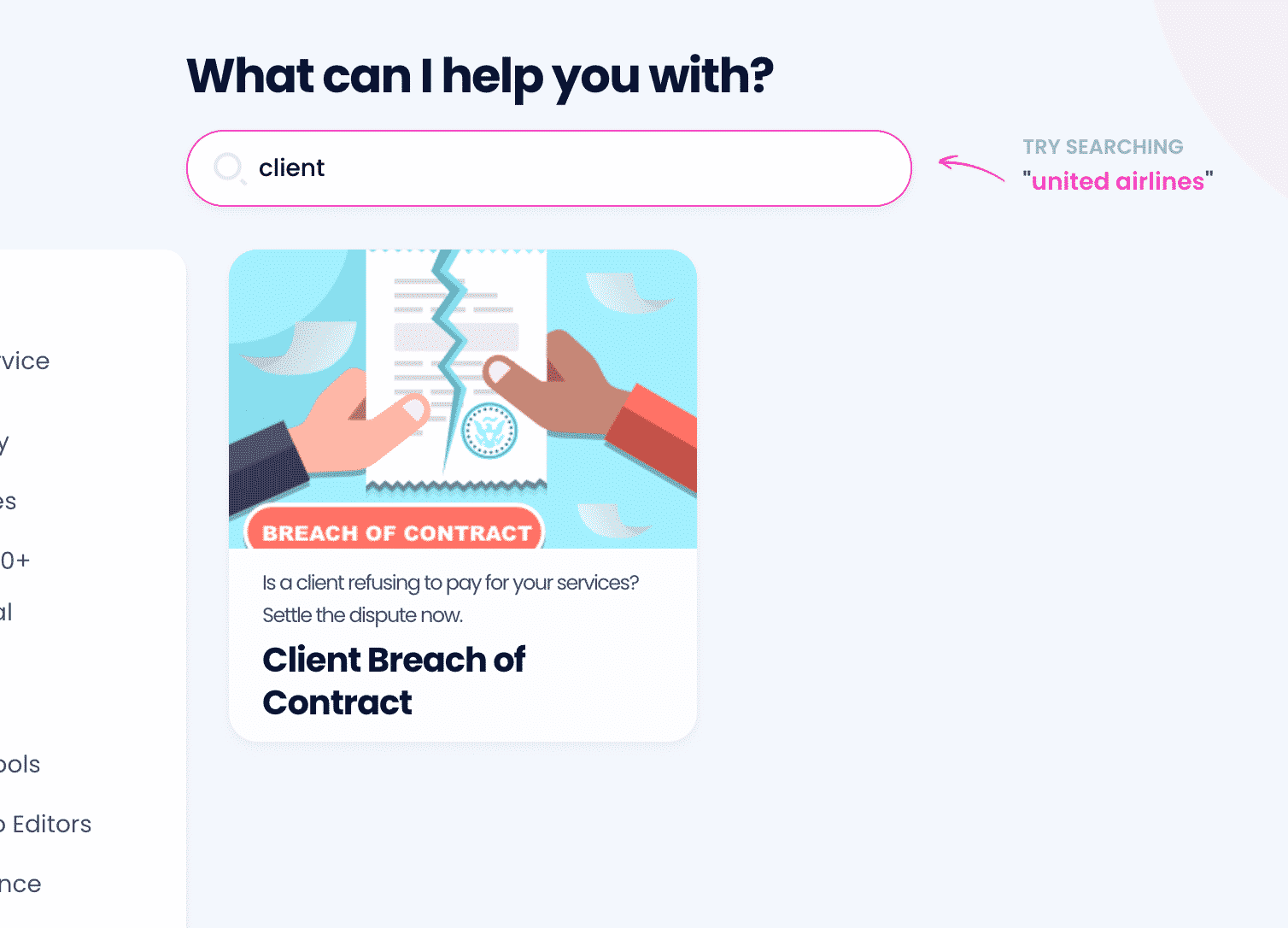 Subscribe to DoNotPay and take these simple steps:
Choose the Breach of Contract product
Answer a few questions about the contract and breaching party
Select a final payment or delivery deadline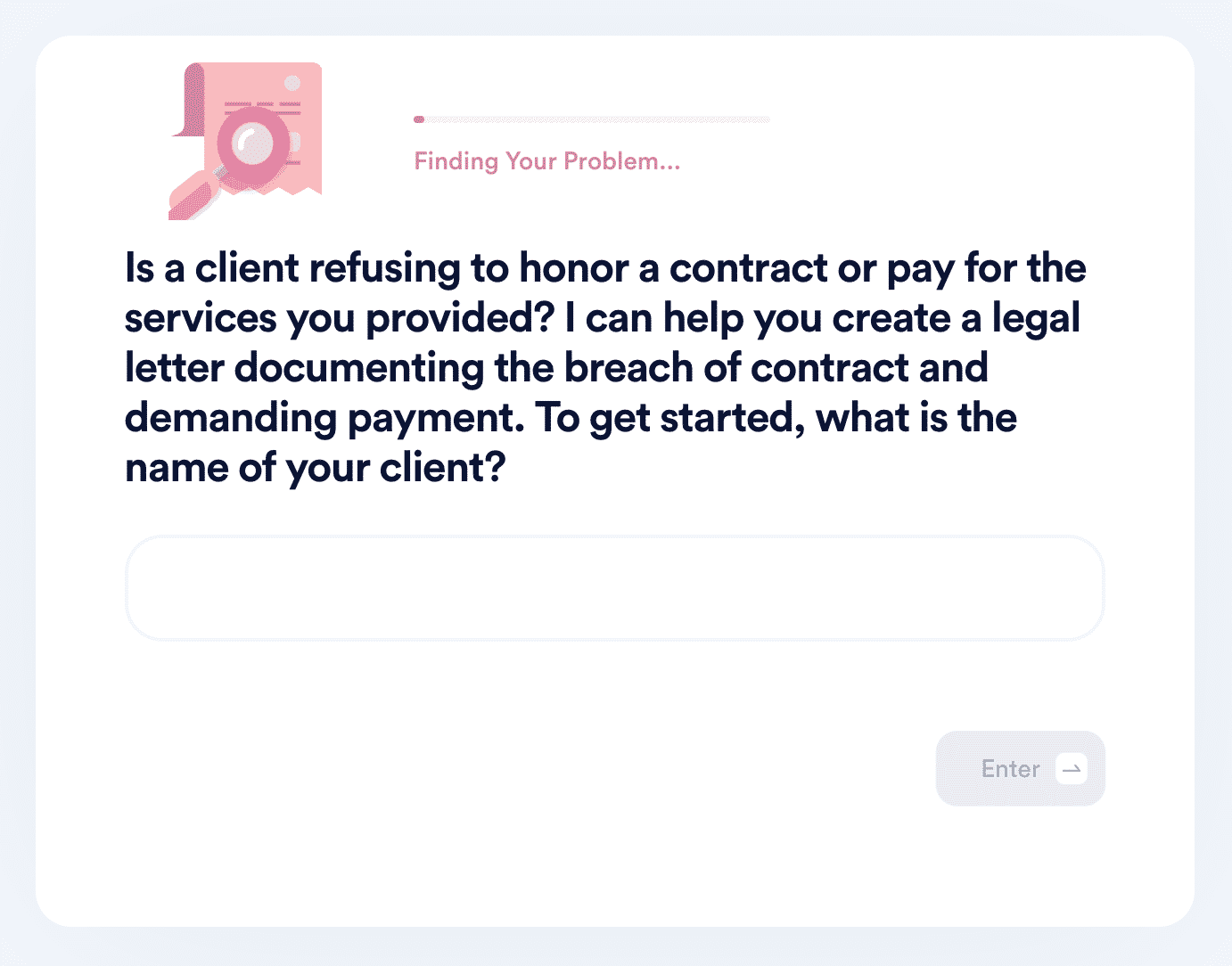 Once you have entered the necessary information about your case, DoNotPay generates the demand letter covering all required elements. If the breaching party does not reply or refuses to negotiate, you should start a lawsuit.
DoNotPay is the world's first robot lawyer that:
Damages and Remedies Available in South Carolina Breach of Contract Lawsuits
If you end a contract dispute successfully, a judge could award you damages or another type of remedy.
The following table provides examples of damages and remedies you could expect to receive:
Damages
Remedy
You could get the following damages:

Compensatory—Given for your financial losses
Liquidated—Received if they are specified in the contract
Incidental and consequential—Awarded for expected losses
Punitive—Given when a contractual party has behaved in an offensive or fraudulent manner

You may be entitled to the remedy of specific performance if:

Monetary damages are insufficient for your losses
A judge requires the breaching party to fulfill contractual terms—This type of remedy is often used in real estate contract disputes
Aside from the above-listed damages, a judge may award the following:
Attorney's costs—If required by the contract
Reformation of the contract—Amends the original contract to show the actual intention of both parties
Recission of the contract—Terminates the agreement and returns any advanced money
Get Down to Business With DoNotPay
If your to-do list is getting longer by the day, we offer numerous solutions. You can focus on growing your business while we handle the endless administrative tasks.
Here are some of DoNotPay's products and services that will assist your company tremendously:
DoNotPay Feature
Our App Will
Trademark Registration

Complete your company name, logo, or slogan registration application
Submit the application in your stead

Trademark Protection

Perform monthly checks
Notify you in case there is any trademark infringement
Help you file cease and desist letters

EIN Registration

Fill out and file your Employer Identification Number (EIN) application
Notify you of your new EIN

Register a DMCA Agent

Complete the DMCA agent registration process
Register the designated agent with the U.S. Copyright Office
There Is Even More We Can Do for You
Navigating the business world can be overwhelming. If your paperwork is piling up and disputes keep emerging, start using our app and declutter your workday from numerous chores.
The world's first robot lawyer can help you deal with the following:
Chargeback scams
Business loan applications
Faxing and mailing
Negative online reviews
83(b) election forms
Self-certification with the Privacy Shield program