Create an Efficient Breach of Contract Demand Letter
When a party breaches a contract, you have two options—forget about the actions and terms you have agreed on or claim your damages.
If you opt for the latter option, you can try to resolve the dispute by sending a breach of contract demand letter to your opponent. DoNotPay presents useful information about this type of formal letter and the most efficient way to create one.
What Is a Breach of Contract Demand Letter?
A demand letter for breach of contract is a formal notice that:
Reminds another contractual party that they have not fulfilled the terms of an agreement
Includes proposed solutions allowing both parties to resolve the matter outside court
Precedes a breach of contract lawsuit
Can be used in the litigation proceeding
A Sample Demand Letter for Breach of Contract
When you start preparing your breach of contract demand letter, you need to ensure the following parts are included:
What To Include in a Demand Letter
Details
Date
While it might seem irrelevant, you need to put the date since it will serve as:

The record of when you formally informed the other party of the breach of contract
Evidence if your case ends up in court

Description of the breach
You should state concisely and clearly what part(s) of the contract the other party has breached, i.e., if they:

Have not paid or implemented the activities agreed upon in the contract
Make it impossible for you to implement your activities
Have said that they do not want to perform their obligations in the future

Solution
A demand letter should:

Propose a solution to the breach of contract
Serve to terminate the contract and seek remedies (if the problem cannot be solved)

Deadline
You should provide a specific date by which the other party can fix the breach of contract
Keep in mind that while you can send a demand letter for any type of breach, courts are most concerned with a material one since this type:
Ends the agreement
Destroys the contract value
What To Avoid in Demand Letters for Breach of Contract
To keep a professional tone in a breach of contract notice letter, you should not threaten the other contractual party because you:
Want to come to an arrangement as soon as possible, and provoking the other side lessens your chances of success
Need to keep in mind that a judge might:

Read your breach of contract demand letter if you go to court
Find you hostile because of your unprofessional and impolite letter (especially if the other party raises duress as one of their affirmative defenses)
A Response to a Breach of Contract Letter
You can receive different responses to your breach of contract demand letter—here are the most common ones:
No response—If you do not get a response after a couple of weeks, you could:

Send another letter that refers to the date and terms of the first one
Consult a lawyer
Start litigation

The recipient of the letter claims they are not in breach of the contract—You need to review the breach of contract elements and consider the response carefully since the other party might be correct
The other party requests a meeting—While this is the best way to resolve the problem as it suggests the breaching party wants to negotiate, you need to be careful when agreeing on a solution. If you are not certain, you should seek advice from an attorney
The other party agrees they are in breach of the contract—In this case, you can sign a settlement agreement
How To Write a Demand Letter for Breach of Contract
To create a demand letter, you could explore the following options:
Hire an attorney—Keep in mind that while you can engage a lawyer to draft this type of letter for you, this service can be extremely costly
Visit a collection agency—Debt collectors can help you get the money you are owed, but it can be time-consuming and pricey
Try to do it by yourself—You can:

Get familiar with state laws to make sure you do not omit any important parts
Use a demand letter template—Make sure you inspect the template carefully since most online samples are too general and might not apply to your specific case

Use DoNotPay—Our app has a vast database with state and local regulations to help you prepare an airtight breach of contract demand letter efficiently
DoNotPay Is the Right Way to a Reliable Breach of Contract Demand Letter
DoNotPay is the first robot lawyer that:
Is familiar with legal requirements
Can generate a breach of contract demand letter within minutes
The process is straightforward and fast—sign up for DoNotPay and take these steps:
Open our Client Breach of Contract product
Enter the specifics of your contract by answering our chatbot's questions
Choose the payment deadline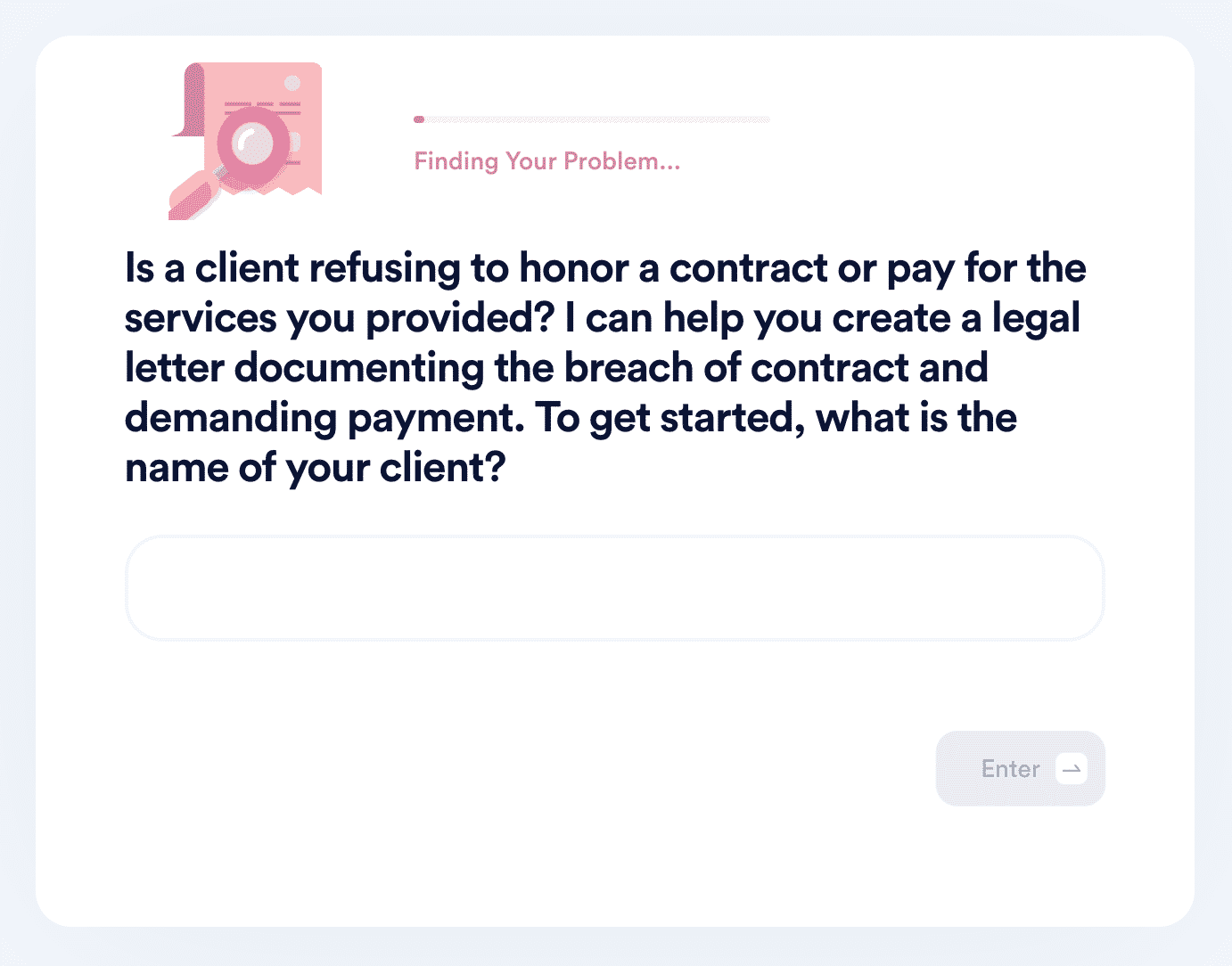 Once you have completed these easy steps, DoNotPay generates a breach of contract demand letter to help you resolve your dispute fast.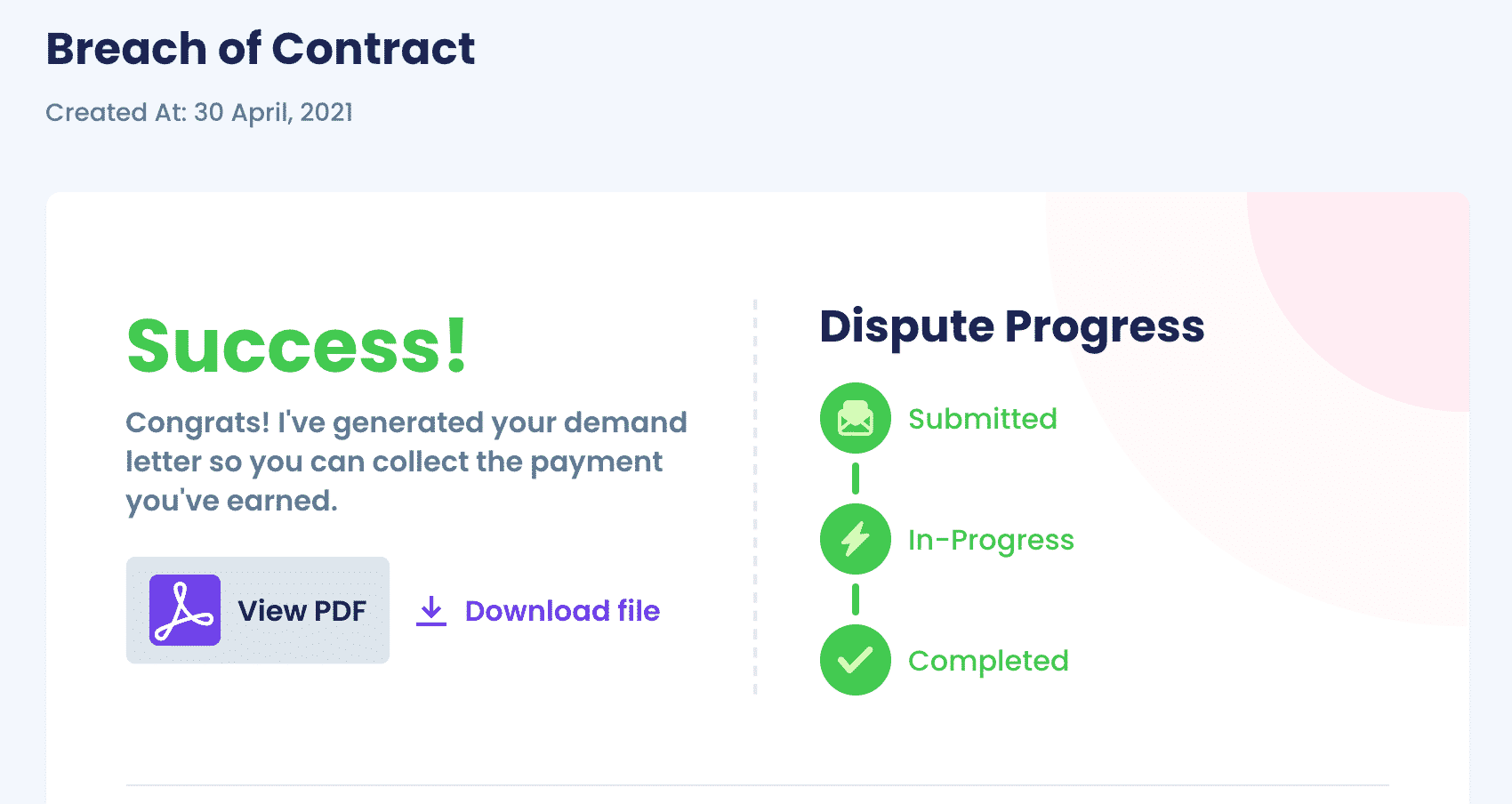 To check state-specific regulations regarding breach of contract, you should take a look at the following table:
Get the Upper Hand With DoNotPay
The business world is extremely competitive—that is why it is always good to have some extra capital set aside when you need to invest in your company. You can leave the bureaucratic task to us—DoNotPay will draw up business loan request letters in your stead.
If your finances are taking a hit, rely on our app. With our assistance, you will be able to:
Fight fraudulent chargebacks
Remove fake negative reviews online
Register and protect your trademark
Send mail and faxes at no additional cost
Handle clients breaching contracts and get what you are owed
Whatever the task at hand, our AI-powered app will see it through successfully.
DoNotPay—The Assistant Every Business Needs
You cannot escape bureaucracy in business. What you can do is let DoNotPay deal with it. Whether you need to register a DMCA agent or complete an Employer Identification Number (EIN) registration, our app will lead the way.
Using DoNotPay, you will also not have to worry about 83(b) election forms or Privacy Shield self-certification. From generating to filing important documents and from dealing with employees to handling clients on your behalf, our AI-driven app is your go-to solution.
Grow and protect your business with the world's first robot lawyer!