Breach of Contract: Definition, FAQs, and Examples
It can be stressful if a contractual party does not perform their obligations. You can suffer losses and harm if agreed-upon assets are not delivered.
If you would like to learn about the breach of contract definition and the aspects and elements you need to pay attention to, you have come to the right place. This article provides information and offers useful tips for settling a dispute fast.
What Is a Breach of Contract?
A breach of contract is any type of violation of terms and obligations specified and agreed upon in an agreement.
A contractual party can be in a breach of contract by, for instance, being late or failing to deliver the agreed:
What Happens if There Is a Breach of Contract?
While some agreements specify how to deal with a breach of contract, others do not. If a breach is not included in your contract, then you—i.e., the injured party—can:
Send a demand letter to the breaching party
Try to settle the dispute with the other party directly, i.e., out of court
Start a breach of contract lawsuit
Claim damages
Seek other remedies
Breach of Contract Law
You could go to court if your claim has the following breach of contract elements:
Existence of a valid contract—A valid contract must include:

Offer
Acceptance
Consideration

Evidence of the breaching party's failure to perform—You need to show that the breaching party—also called the defendant in court—has failed to perform their obligation(s)
Proof of the plaintiff's performance—You—as the injured party—must show that you have:

Met all the contract requirements
Suffered losses or harm in a certain way or amount
Notified the defendant that they are in breach of contract
Forms of Breach of Contract
Here are some common types of contract breaches:
Forms of Breach of Contract
Details
Minor breach
A minor—also called partial and immaterial—breach of contract occurs if you do not get the agreed-upon goods or services by the due date (i.e., the breaching party delivers them late)
Material breach
A material breach is a failure to perform the contract that:

Is significant enough to destroy the contract
Defeats the purpose of creating the agreement in the first place

Anticipatory breach
This type of contract breach happens when one party indicates or says in advance that they will not meet their obligations under the terms of the contract
Actual breach
An actual breach of contract occurs when one contractual party refuses to fulfill contractual terms and perform their obligations in full
Reasons for a Breach of Contract
If you decide to sue the breaching party, you should know that they could try to:
Prove they have not breached the contract
Offer a reason why the breach should be excused
Here is a list of common breach of contract defenses:
Fraud—The defendant claims the contract is not valid because you have:

Not disclosed something important
Made a false statement about a significant fact

Duress—A judge will deem a contract invalid if one contractual party has compelled the other one to enter into a contract by using threats or physical force
Undue influence—If the defendant uses this type of defense, they claim the plaintiff has used a power of advantage over the defendant to force them to sign the agreement
Mistake—The contract could be found invalid if the defendant can prove that both contractual parties have committed an error about the subject matter
Statute of limitations—Most cases have precise time limits and can be filed by a certain deadline. If that time has passed—i.e., the statute of limitations has expired—a court might not accept your case. Keep in mind that the statute of limitations varies by state
Try To Settle the Dispute Before Suing for Breach of Contract
Keep in mind that resolving a problem outside court could be the least expensive and time-consuming option.
To settle a dispute outside of court, you should:
Draft a breach of contract letter—Sign up for DoNotPay to create your letter fast
Offer a solution and new deadline for the breaching party to fulfill their contractual obligations
Take the necessary additional steps in accordance with the other party's response or lack of it
Is There an Easier Way to Settle a Breach of Contract Dispute?
There is no need to:
Hire a pricey lawyer to draw up a demand letter for you
Inspect numerous demand letter templates only to find them unsuitable for your specific case
Our AI-powered app keeps track of relevant state laws and can use that knowledge to create a demand letter tailored to your needs in a matter of minutes.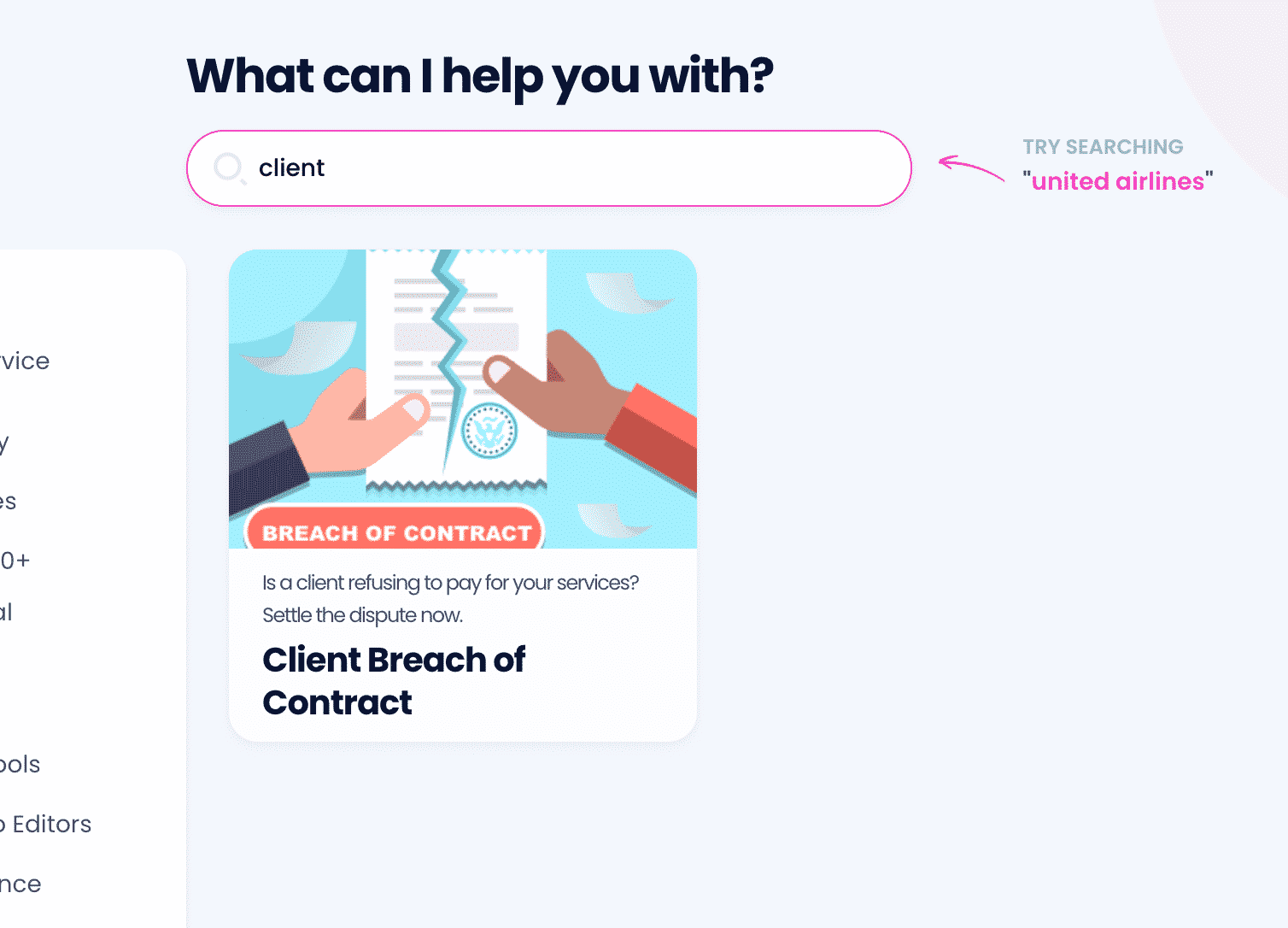 Subscribe to DoNoPay and:
Find the Client Breach of Contract feature
Provide data about your agreement, including:

The name of your client
The terms of your contract
Due date of payment
The owed amount

Enter the final due date for the payment before taking legal action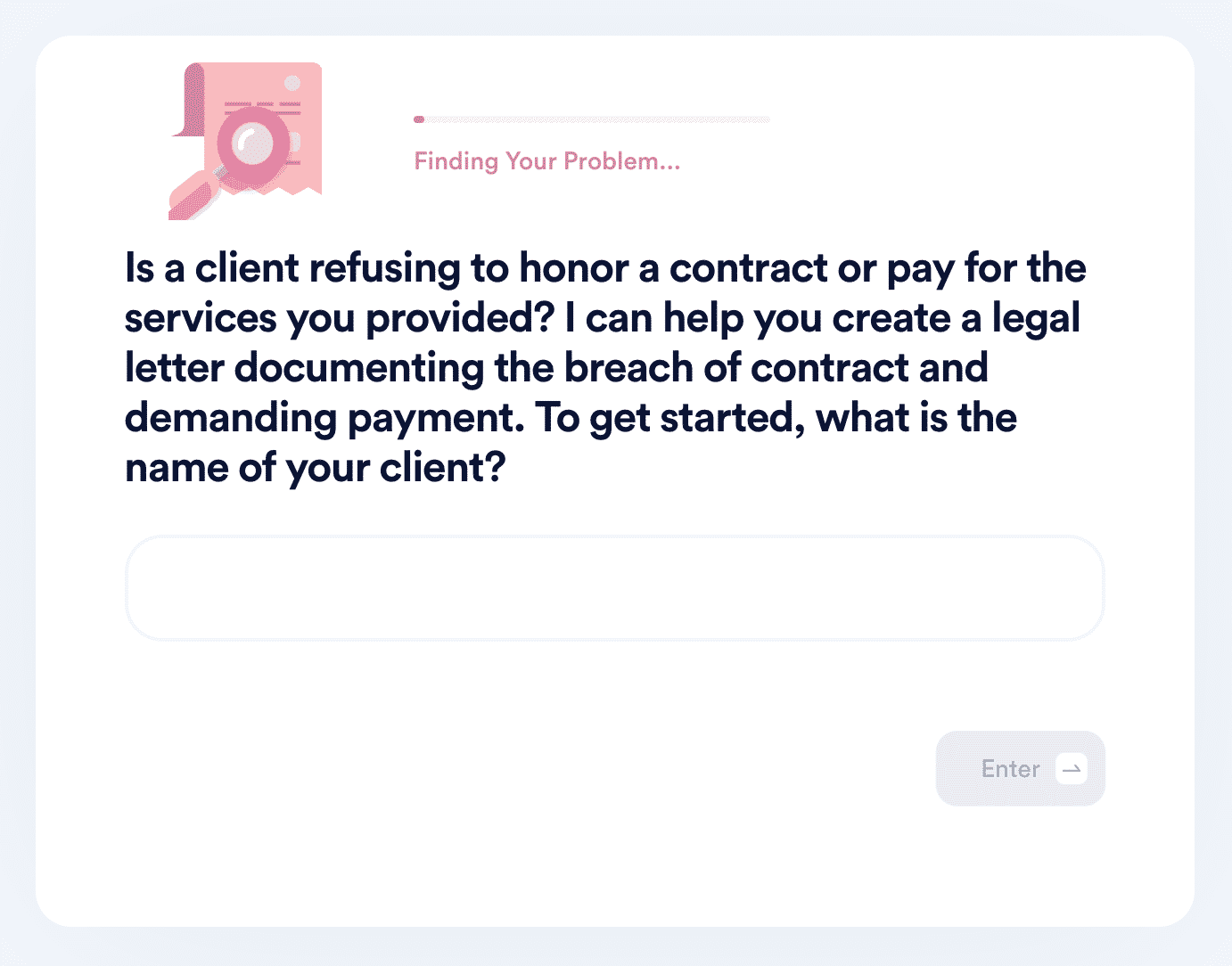 DoNotPay will automatically draft a demand letter using the provided information. Once we generate your letter, you can print it, send it to the breaching party, and wait for their response.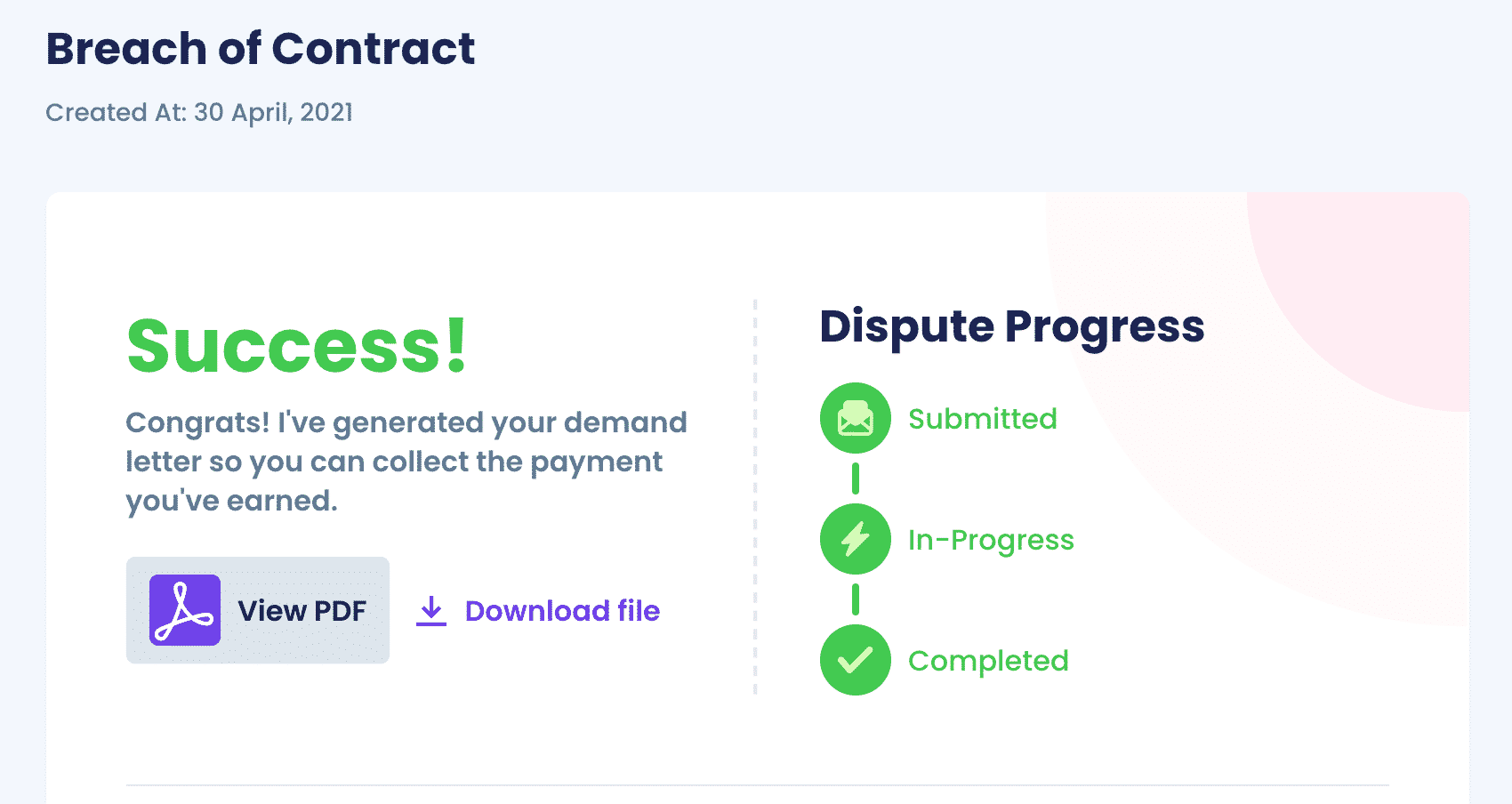 In case the other party sends an unfavorable response or does not reply at all, DoNotPay can help you sue them in small claims court.
If you would like to get familiar with breach of contract regulations in different U.S. states, you should take a look at the following table:
Get Down to Business With DoNotPay
If your to-do list is getting longer by the day, we offer numerous solutions. You can focus on growing your business while we handle the endless administrative tasks.
Here are some of DoNotPay's products and services that will assist your company tremendously:
DoNotPay Feature
Our App Will
Trademark Registration

Complete your company name, logo, or slogan registration application
Submit the application in your stead

Trademark Protection

Perform monthly checks
Notify you in case there is any trademark infringement
Help you file cease and desist letters

EIN Registration

Fill out and file your Employer Identification Number (EIN) application
Notify you of your new EIN

Register a DMCA Agent

Complete the DMCA agent registration process
Register the designated agent with the U.S. Copyright Office
We Have All the Resources You Need
Navigating the business world can be overwhelming. If your paperwork is piling up and disputes keep emerging, start using our app and declutter your workday from numerous chores.
The world's first robot lawyer can help you deal with the following:
Chargeback scams
Business loan applications
Faxing and mailing
Negative online reviews
83(b) election forms
Self-certification with the Privacy Shield program
Breach of Contract — Frequently Asked Questions
What are the consequences of breaching a contract?
When a breach of contract occurs, the aggrieved party is entitled to take legal action and sue for damages in small claims court. The easier method is to use DoNotPay's "Sue Now" product, which allows you to sue anyone at the press of a button.