Is Filing a Breach of Contract Complaint in Florida Your Only Option?
When someone is in breach of a contract—i.e., does not respect what they have agreed upon—it can cause a lot of problems. You could assess whether giving up on the deal is the best option for you. If you have suffered losses, you should consider other choices.
Filing a breach of contract complaint in Florida might be a solution to your problem, but there is something else you could try before starting a lawsuit.
Steps To Take Before Filing Florida Breach of Contract Complaint
To be prepared for the legal process well, you should take the following steps:
Check the statute of limitations
Confirm the type of breach
Consider mediation and arbitration
File a breach of contract complaint
Get Familiar With the Statute of Limitations
If you have mulled over the idea of suing for breach of contract for a few years, you need to check what the statute of limitations is for your type of contract.
While the Florida statute of limitations is five years for most contracts, it can vary by:
The specific type of contract
Certain special situations
Determine the Breach Type Before Filing a Florida Complaint for Breach of Contract
Under the law, a breach of contract in Florida has to be material for you to be able to:
Sue the other party for it
Receive a financial recovery for resulting damages
It means that before filing a complaint for breach of contract in Florida, you need to prove:
The necessary elements
You have suffered significant (material) losses as a result of the breach
Creating a Demand Letter Might Be the Answer
Instead of suing the breaching party right away, you could draw up a demand letter to fulfill the following requirements:
You Should Prepare a Demand Letter To
Details
Formally inform the other party of the breach
While it might seem obvious, some contractual parties might not be aware that they are in breach. You should list all the facts in this document since it can be beneficial for you if you end up in court
Propose a solution
Aside from stating the obvious information from the contract, you should also offer a solution to the problem. You can do that by suggesting, for instance, a new date for:

The delivery of services or goods
Payment for your performed services or delivered goods

Show you are serious
Preparing a Florida demand letter indicates that you:

Are not willing to give up on the agreed-upon terms under the contract
Will start a lawsuit in case the defendant does not want to negotiate an out-of-court settlement
Register for DoNotPay to create an airtight demand letter without:
Spending money on expensive lawyers of collection agencies
Wasting time inspecting and adjusting generic online templates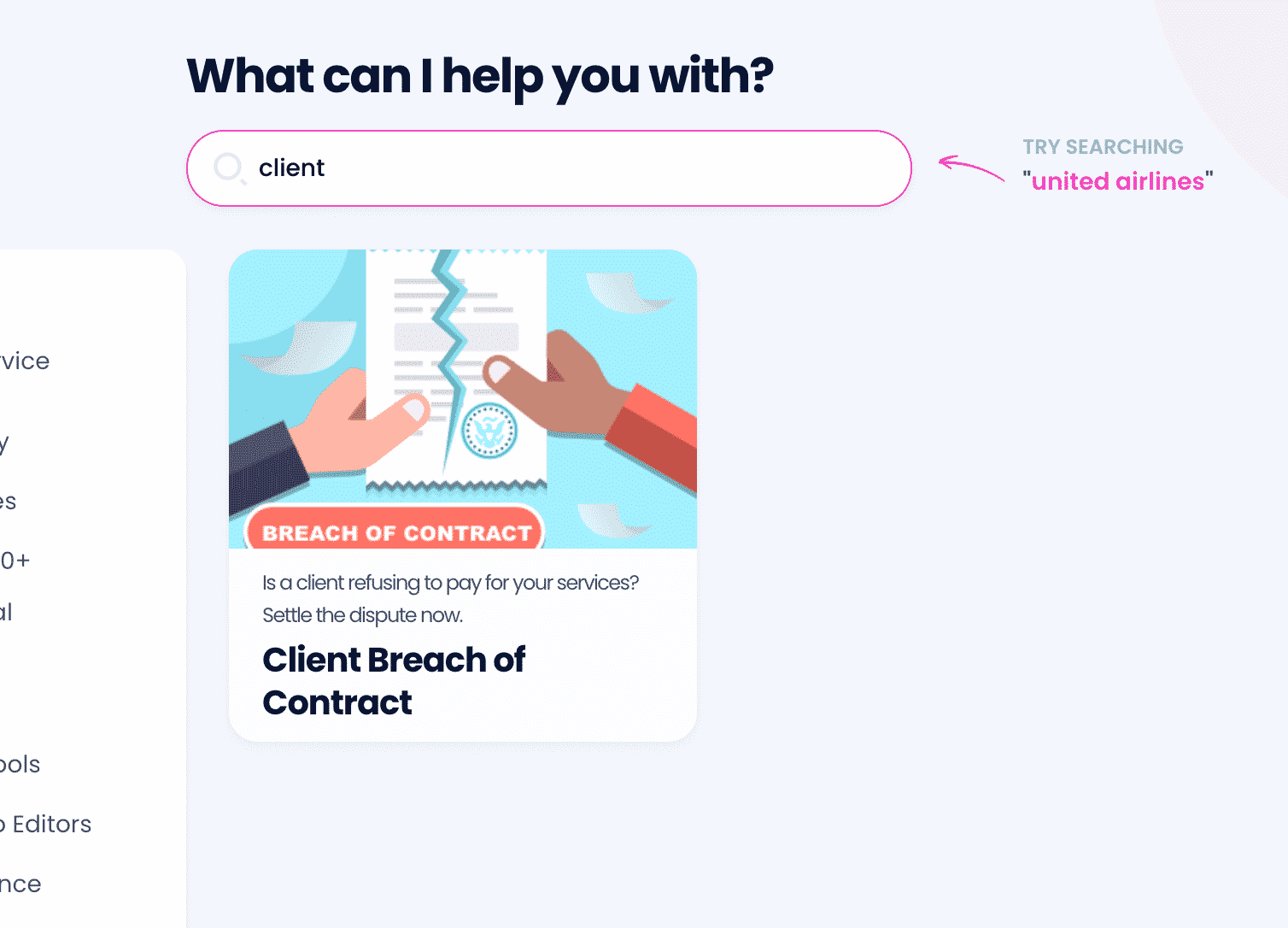 DoNotPay Generates Demand Letters Efficiently
Our app is an affordable AI-powered lawyer that can help you:
Draft numerous

legal documents

, including a breach of contract demand letter
Sue in small claims court if the other party does not reply to your demand letter or sends an unfavorable response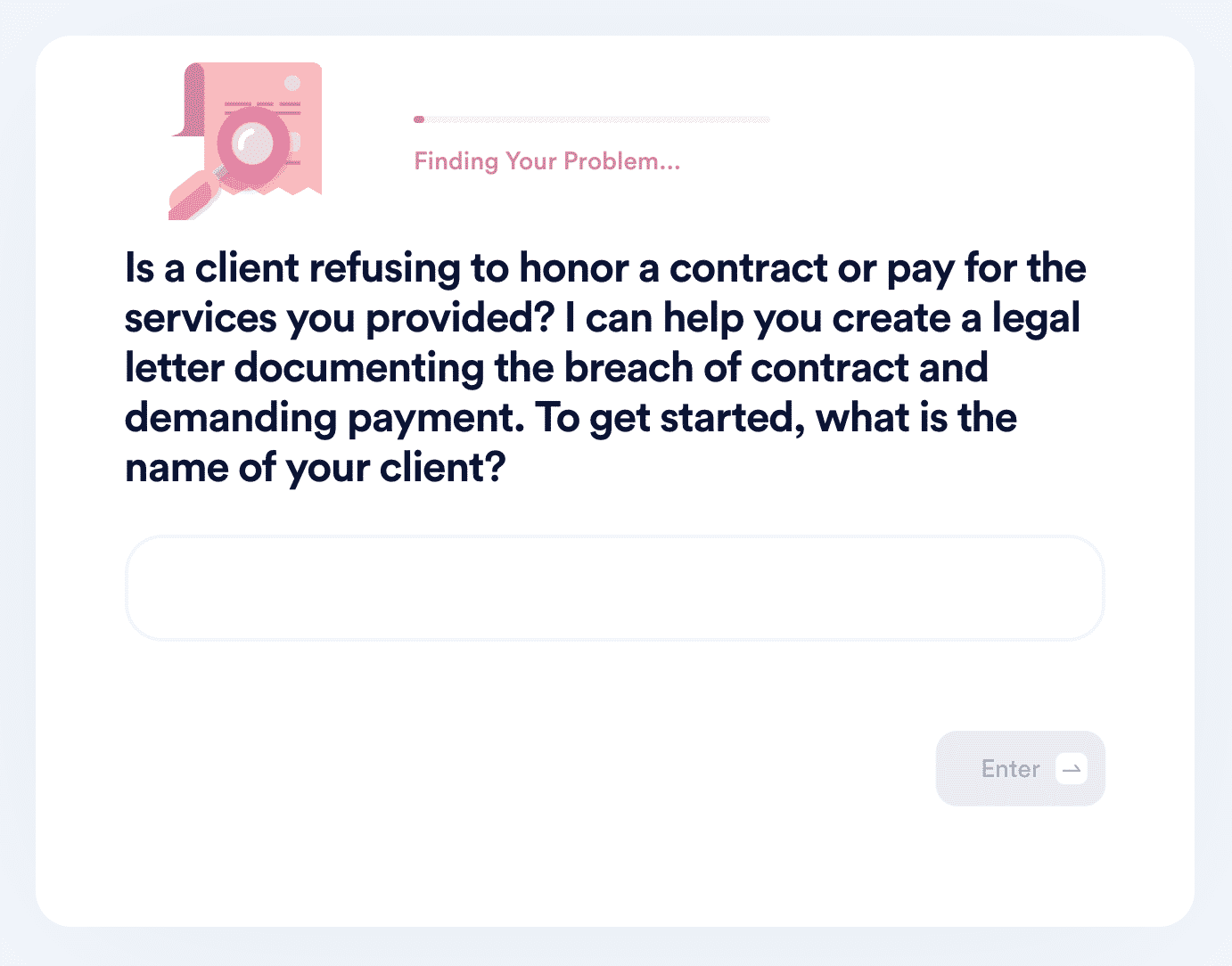 The process is straightforward—subscribe to DoNotPay and follow these steps:
Access our Client Breach of Contract product
Provide information about the contract and breaching party by answering our chatbot's questions
Enter a new deadline for payment or delivery
Describe the performed services
Upload any documents that could support your claim (if available)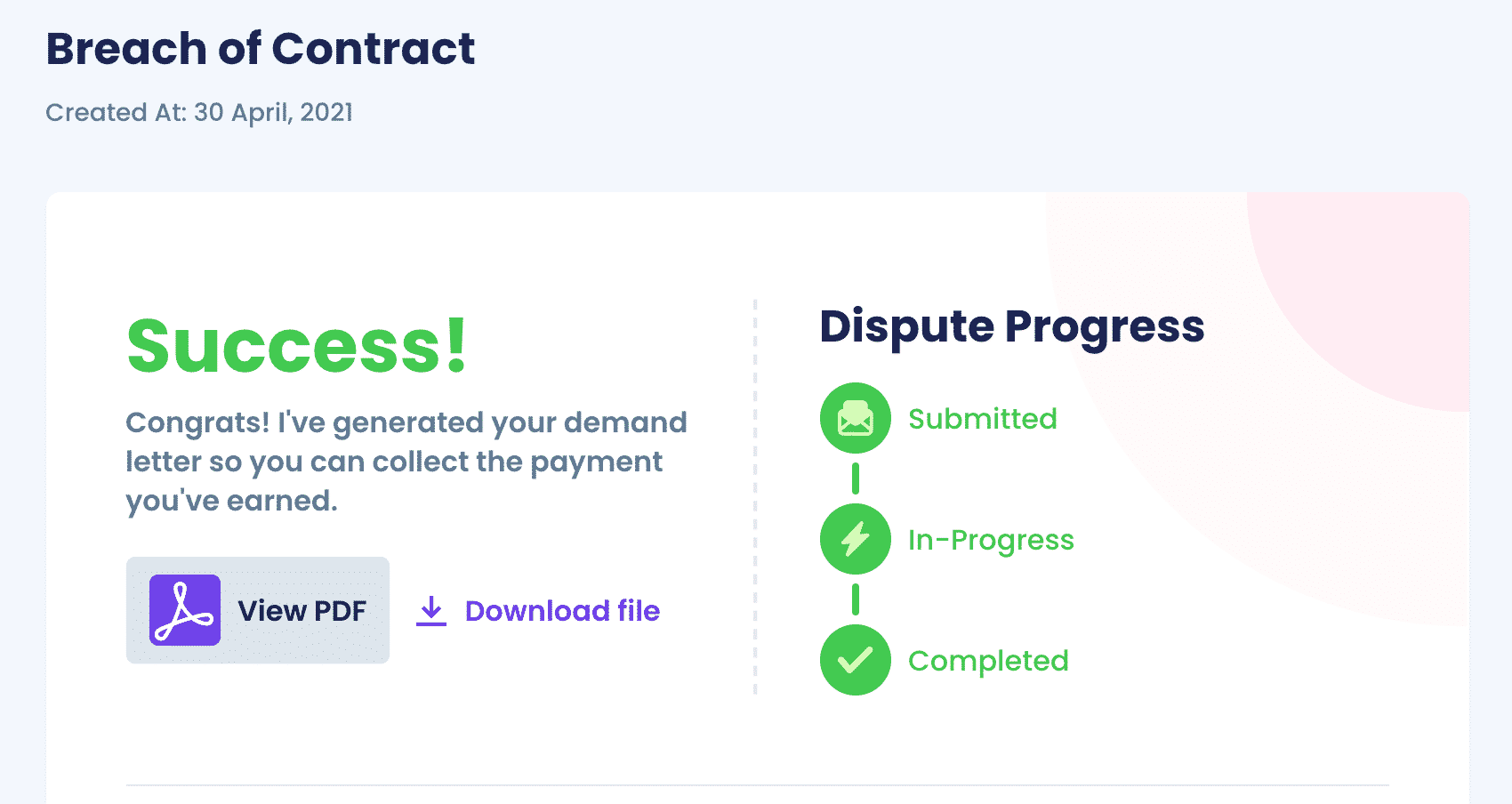 As soon as you complete these steps, our AI-powered app prepares a demand letter that:
Complies with your state laws
Meets the specifics of your case and circumstances
If the other party is not willing to discuss the problem, you should continue with the following steps before commencing legal proceedings.
Does Your Contract Have Mediation or Arbitration Clauses?
If your agreement includes mediation or arbitration clauses, you need to go to mediation or arbitration before pursuing a lawsuit. These contractual clauses give you and the breaching party a fair chance to resolve the problem outside of court.
Before the mediation or arbitration process, you should consider:
The damages caused by the breach of contract
A solution to propose to the breaching party
Defenses the other party might provide
The cost of taking the other party to court if you are not able to settle the dispute
What To Do To File a Florida Breach of Contract Complaint
If your demand letter and mediation process turn out to be unsuccessful, you should initiate a lawsuit to receive damages or other remedies.
Here is what you need to do to file a breach of contract complaint in Florida:
Determine what court to file a lawsuit in—You need to check whether you should file your complaint in small claims court or the state's civil court
Prepare the complaint—Gathering all necessary documentation is important for a valid complaint. You could prepare and file the complaint on your own by using a Florida breach of contract complaint form that might be available at the clerk's office or on the court's website
Check how to serve the defendant—Since you need to serve the papers to the breaching party, you need to ensure it is done correctly, e.g., through:

Summons
The sheriff's office
Private process server

Pay the filing fees—Aside from paying for papers to be served to the breaching party, you will also need to settle the filing fee
To resolve a dispute as soon as possible, you should try to exhaust other options—including preparing a demand letter and going to mediation—before initiating a lawsuit since litigation can be complex, lengthy, and expensive.
DoNotPay Offers More Help for Your Business
Running a small business is no small feat. When you're drowning in red tape, DoNotPay is here to lend a helping hand. Whether you need to register your trademark or protect it later on, we have got it covered. With our help, you will keep your logo, slogan, and business name safe.
Are you also yet to register for an Employer Identification Number (EIN)? Not to worry—our app can file the IRS SS-4 form in a few clicks. With the world's first robot lawyer at your fingertips, you will also be able to create your 83(b) election forms with ease—ready for your employees to sign them right away.
In case you are struggling financially, we can assist you with a business loan application.
Communication Has Never Been Easier With Our App
Keeping up with clients can be challenging, especially if each has a preferred method of communication. Luckily, our multifunctional app makes it easy to both fax and mail contracts, letters, and documents.
You can also count on our assistance when you need to:
Fight fake negative reviews online
Deal with a client regarding a breach of contract
Dispute fraudulent chargebacks
Thanks to DoNotPay, there is no need for back-and-forth communication. We will handle the necessary demand letters and forward them on your behalf.
We can also help you manage your DMCA agent registration and Privacy Shield program self-certification.